I have always enjoyed St. Patrick's Day Dinner, it's a favorite around my house, as we are IRISH!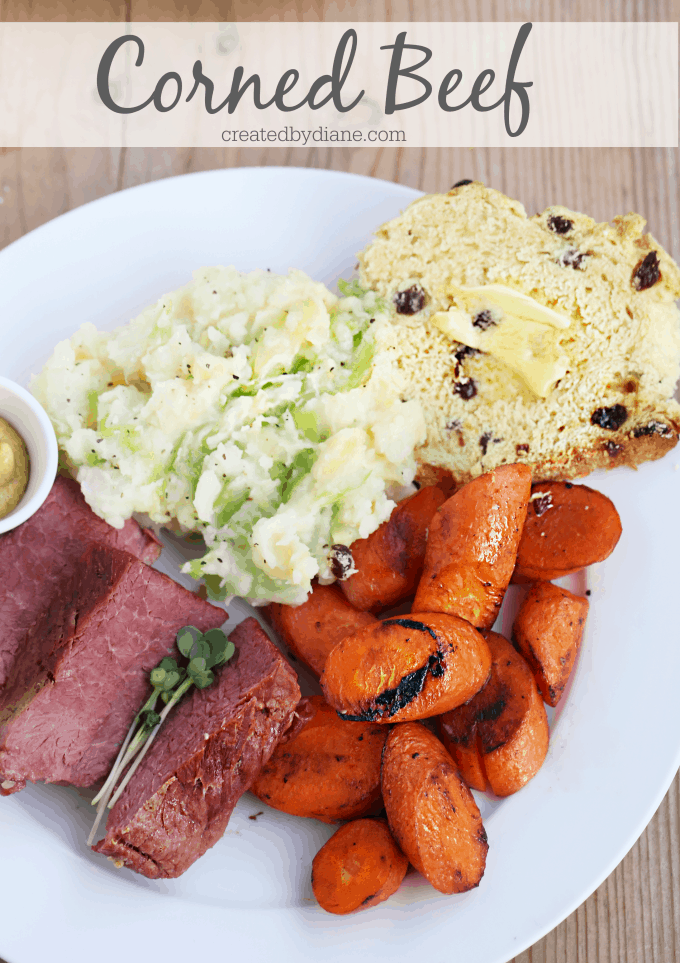 There are many ways to make the typical items of the ever-popular Irish meal, and I'll run them down for you.
Pressure-cooked corned beef is my favorite way to make the traditional main dish. Take a look at the list of traditional St. Patrick's Day Menu Items included below.
The typical items you'll see on a typical St. Patrick's Day meal
Corned Beef- a salt-cured biscuit of beef, I add some sugar and vinegar while cooking to counterbalance the saltiness.
Cabbage- a delicious green leafy vegetable that is easy to cook and goes with many meals.
Potatoes- one of the most popular root vegetables that can be prepared in numerous ways, and when asked by anyone in the EU… how many potatoes do you eat a week? That alone is a telltale sign you're Irish or English for that matter.
I love making Colcannon, mashed potatoes with cabbage, simply boil peeled potatoes and at the last two minutes add chopped cabbage, then drain, add butter, cream, salt, and pepper and mash with a potato masher. Loaded Colcannon can be served with ham, bacon, corned beef, and cheese for a fun meal.
Carrots- a tapering orange root vegetable with lots of vitamin K, and they're great a little burnt in a pan, roasted or grilled. Which also gives the orange color to associate the meal with the colors of the Irish flag along with the potatoes (white) and the green cabbage.
Irish Soda Bread– a delicious and tender quick bread made with buttermilk, can be made in a traditional round loaf, baked in a loaf pan, muffin size, or drop biscuit-sized portions. I've had other Irish Bread, brown bread when I was in Ireland it was homemade but not to my liking, but this is my FAVORITE and the ultimate item to round out this great meal.
I've been making a complete corned beef and cabbage meal for my family for many years even before I was married.
My now-husband and I made it when we were dating for everyone it was quite an accomplishment since I didn't pay much attention in the kitchen other than chatting with my mom while sitting on the counter every day.
I never was one to help much, and I think my mom preferred it that way (I'm kinda the same way) I work better doing 3 things at once than trying to explain to someone what to do.
I am not a great delegator!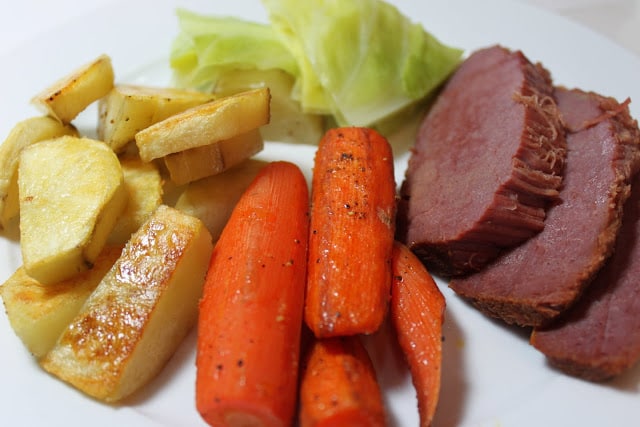 We were all planning to go over to my parents to enjoy this wonderful meal.
Until we realized a schedule conflict, so we made a plan to do it tomorrow.
All I have to say is I'm so glad that at 2:30 I bought the corned beef and decided to make it anyway and then be able to enjoy a corned beef dinner two days in a row and only have to prepare one. 
After picking up the kids from school, I put the corned beef into my pressure cooker and started making the Irish Soda Bread.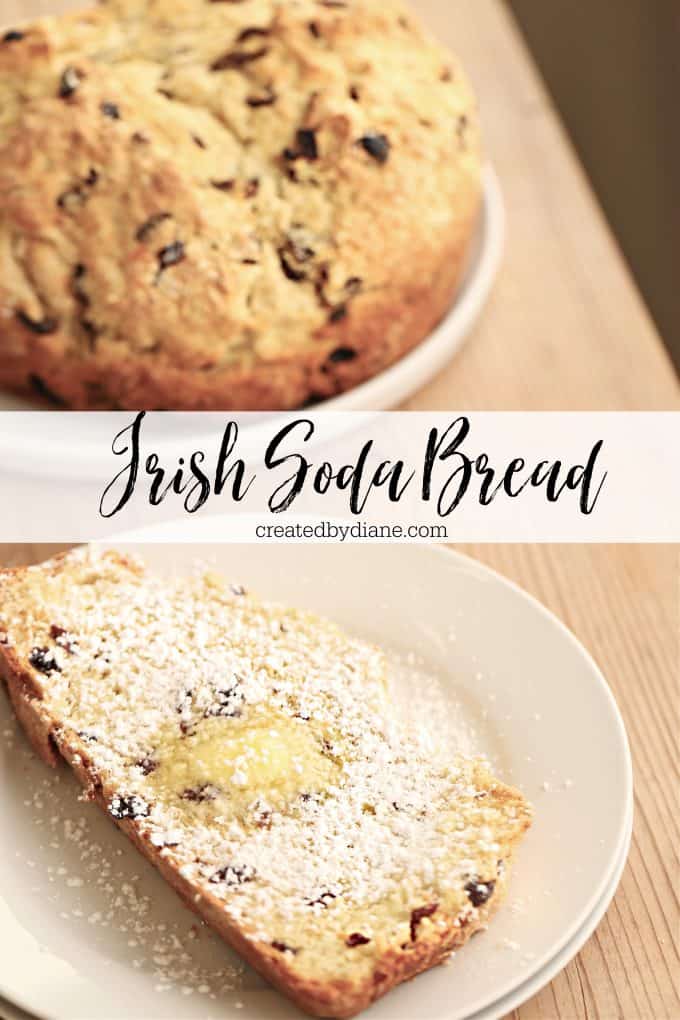 Irish Soda Bread is
a quick bread with no yeast, no rising, just a few steps and you'll have bread.
If you're going to try BUTTERMILK, this is the recipe to use it in! But I have a whole list of other great recipes to use it in as well I share those below.
This is my
favorite pastry cutter
, I've had many, broken some, and always fall back on the old-fashioned type.
It's pretty sticky, and only requires needing it 8-10 times, pretty simple
Can you make Irish Soda Bread without Buttermilk?
Yes, use heavy cream or milk in its place and add a tablespoon of vinegar. They sell dry buttermilk as well and it works well in this recipe if you don't have buttermilk. But if you do have extra buttermilk here are some great recipes to try.
If you want them done about the same time and begin them one after another like I did,
you may think hmm…that's an interesting pot to cook it in..yes it's a pressure cooker.
Haven't seen one since the 60's?  Now, they make them electric (Instant Pot) which is much simpler to use as you can set it and forget it like a slow cooker and it'll shut off, no monitoring needed.
There has been a RESURGENCE in the use of pressure cookers, and now they are even easier to use. The new Electric Pressure Cookers have taken over the internet…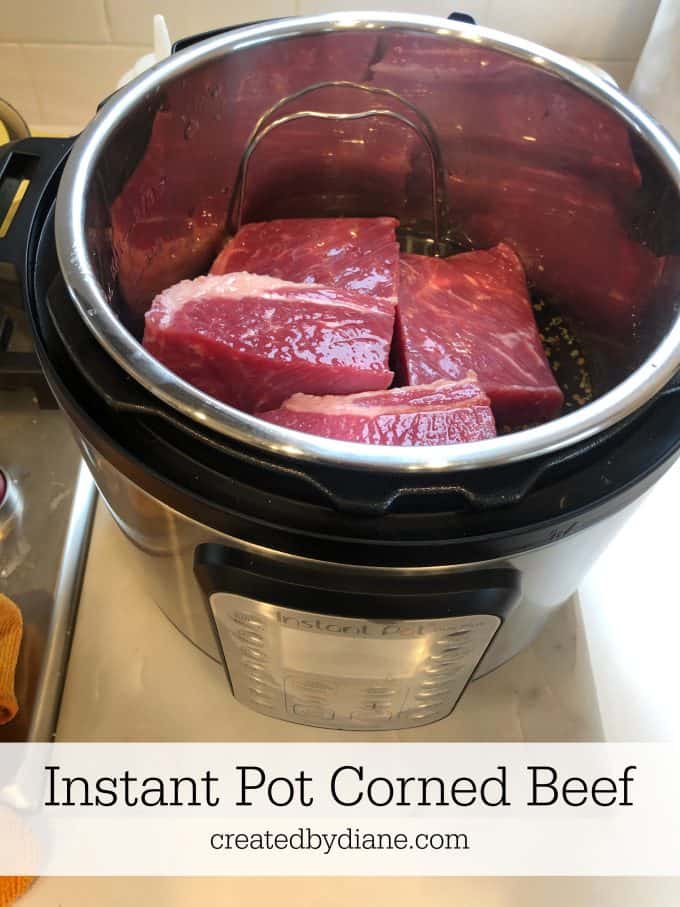 What cut of corned beef is best?
I  buy the

flat cut

, the pointcut is very fatty, the round is a great option but often hard to come by.
My 3.68 lb corned beef was finished in 1 1/2 hour (90 minutes) in the pressure cooker (it's the fastest way to cook corned beef and the result is so tender.
I put 1/4 cup vinegar and 1/4 cup sugar in the water.
I cut the meat into smaller portions so it fits easily in the pot, cooks evenly, and ensures the middle it's tough.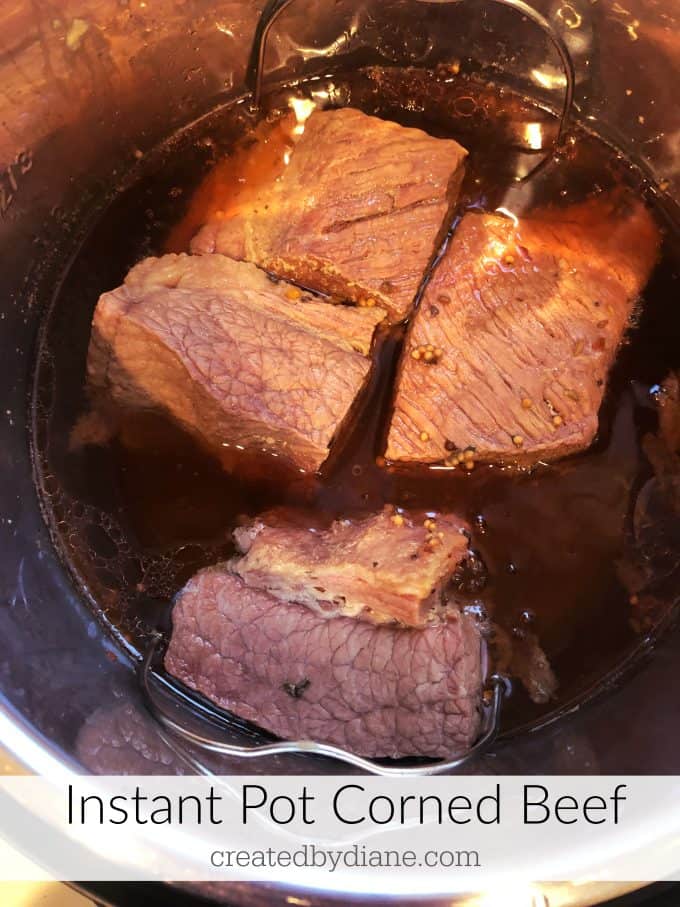 Timing all the recipes:
Timing items so everything is done at the same time can be challenging, but often some foods can be held over in a dish or tray in a low oven to keep them warm until serving time.
While I had the bread in the oven I decided to roast the potatoes and carrots in the oven as well because I had to leave the house and wouldn't be able to watch all these post cooking on the stovetop.
I coated them both with a little olive oil and then salt and peppered them and knew they would be finished right alongside the bread.
Since the corned beef in the pressure cooker and the bread baking take about the same time, start one then the other. I typically put the corned beef in first, then start the bread. 
When there are 30 minutes left over the timer for the bread, I begin the mashed potatoes, then cook the carrots and get the table set.
pressure cooker corned beef
this classic dish for St. Patrick's day comes together quickly using a pressure cooker.
Author:
Diane Schmidt Created by Diane
Recipe type:
Meat, Corned Beef, pressure cooker
Ingredients
3-4 lb corned beef
1 cup water
1/4 cup vinegar
2 tablespoon sugar
adjust the ingredients according to taste or size of the meat you'll be cooking
*I now cut my corned beef (or any meat) I'm cooking in a pressure cooker smaller, like in half so that the meat is tender all the way through without having to test it and turn it back on.
Instructions
Place the corned beef in the pot, and add a cup of water, vinegar, and sugar.
Set the time to 90 minutes for an electric pressure cooker.
Release pressure, remove meat, allow to cool for 10 minutes, then slice.
Cutting the large portions of beef in half or quartered allows the meat to cook a little quicker and truly ensures it will all be tender.
it really wouldn't be St. Patrick's Dinner without it.
I sure hope you all enjoyed your St. Patrick's Day.
Oh, and the other reason I'm glad I made the dinner today is we now have another conflict with dinner at my parents tomorrow and now they will have plenty of food and leftovers because we won't be able to make it.