Irish Soda Bread Recipe… I have always LOVED Irish Soda Bread it is one of the best parts of celebrating St. Patrick's Day, but this easy quick bread can be made to enjoy all year-long. There is no yeast needed and the recipes comes together quickly with a mixer or a bowl and a wooden spoon.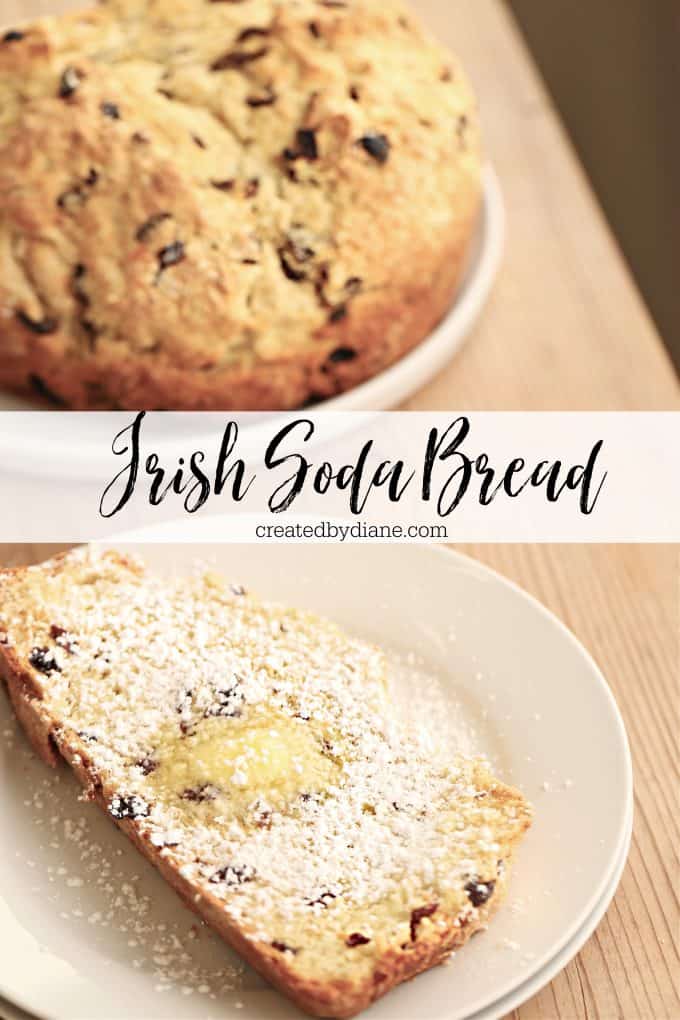 Irish soda bread is a quick bread, with no yeast, resting, or rising time necessary.
The only thing to really plan for is you need buttermilk to make it… oh and it makes it so delicious and tender.
This recipe is for a loaf of large Irish soda bread, you could make it into two smaller loaves, just roll the dough and cut it in half, then fold under the cut area and place both loaves in a loaf pan, casserole dish, or on a baking sheet. This recipe can also be baked as muffins.
Buttermilk is the star of this tender bread, I have more recipes using buttermilk if you have leftover buttermilk after making this recipe like…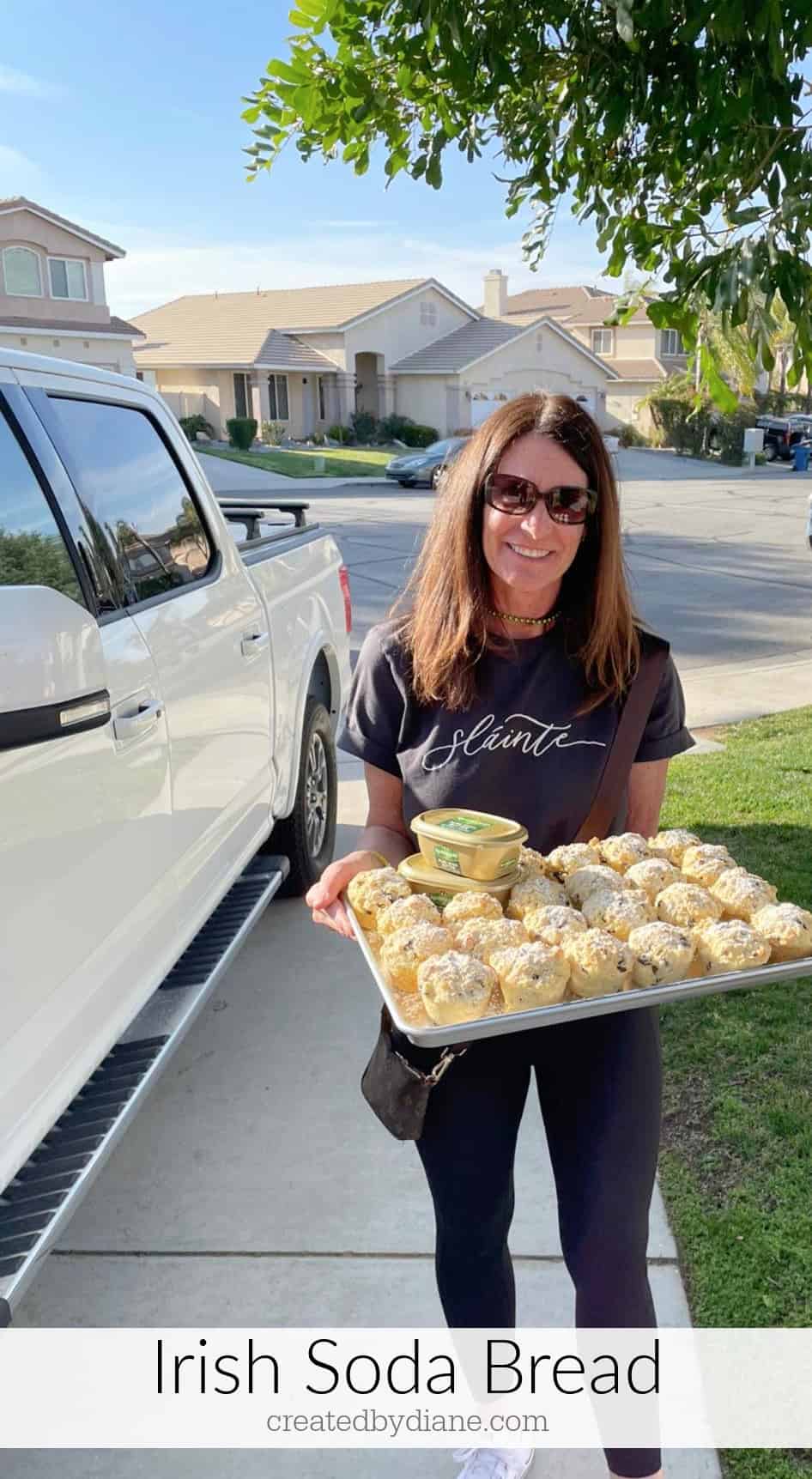 There are so many things I LOVE about this recipe. The recipe comes together quickly and easily, like a scone recipe. It's a quick bread, no yeast is necessary. 
Another great thing about this recipe is that you can make it into MUFFINS, they are not the light fluffy muffin type but more of a traditional scone, you can knead the dough, and cut it out in more traditional triangles or squares, but WOW just scooping 3 tablespoons of dough into each portion of muffin/cupcake pans is just so simple. You can spray each area with a baking spray or use cupcake liners.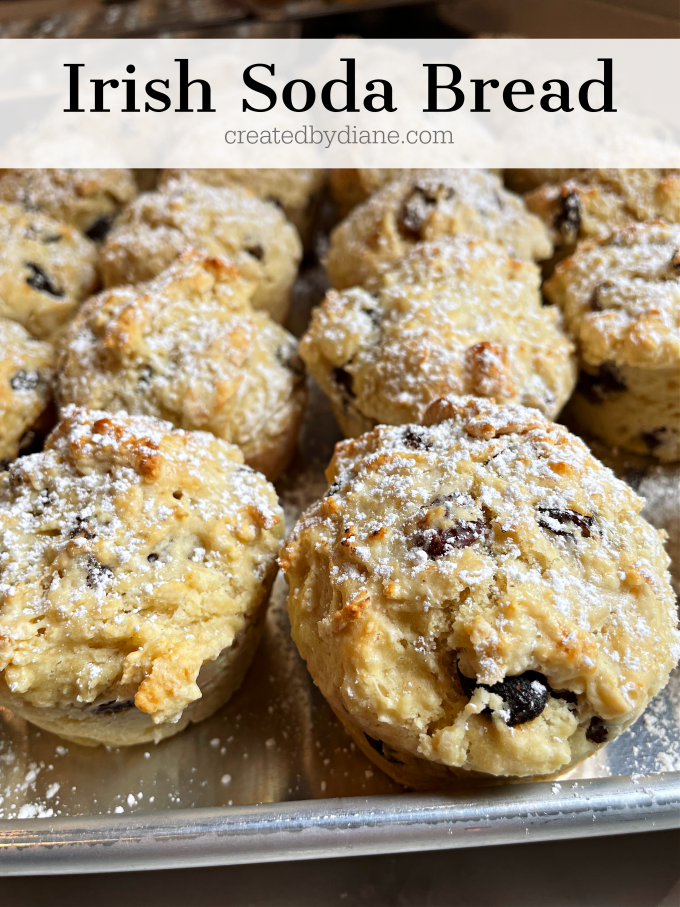 This muffin size bakes up in about 15 minutes, isn't that fast?!? 
I sure think so, one recipe will give you 18 "muffins". The recipe easily doubles to make 36, great for St.Patrick's Day celebrating… oh, and they sure get devoured!
Just dust with powdered sugar for that extra delicious classic taste.
Ingredients Needed
all-purpose flour
granulated sugar
baking powder
salt
baking soda
butter
eggs
buttermilk 
raisins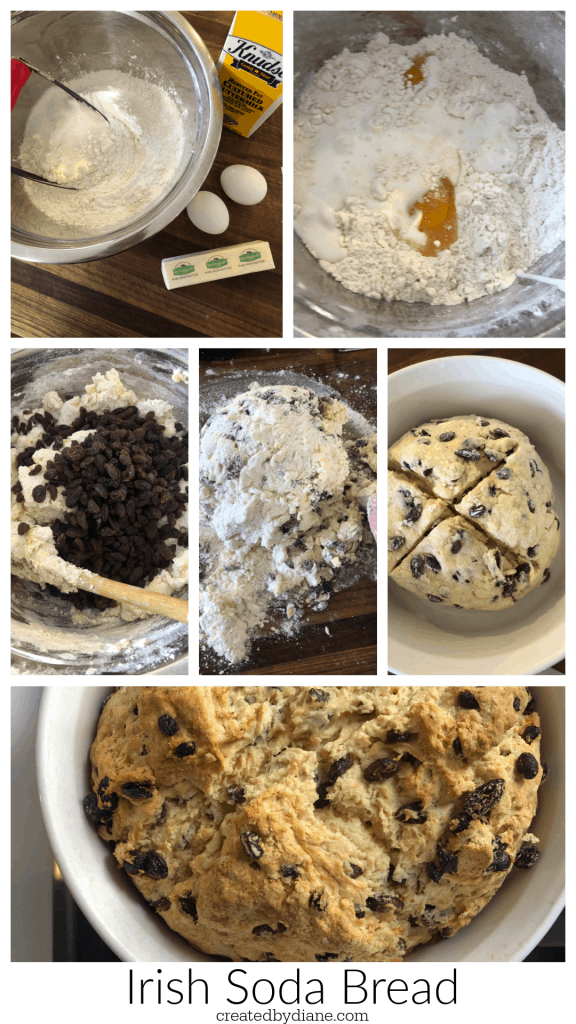 Cooks Tips
Be sure the butter and buttermilk are cold, it will yield a better texture bread.
Cut the butter into small pieces and place them in the freezer for a minute to firm back up before cutting the butter into the flour mixture or use a box grater to grate the cold butter, then mix it in.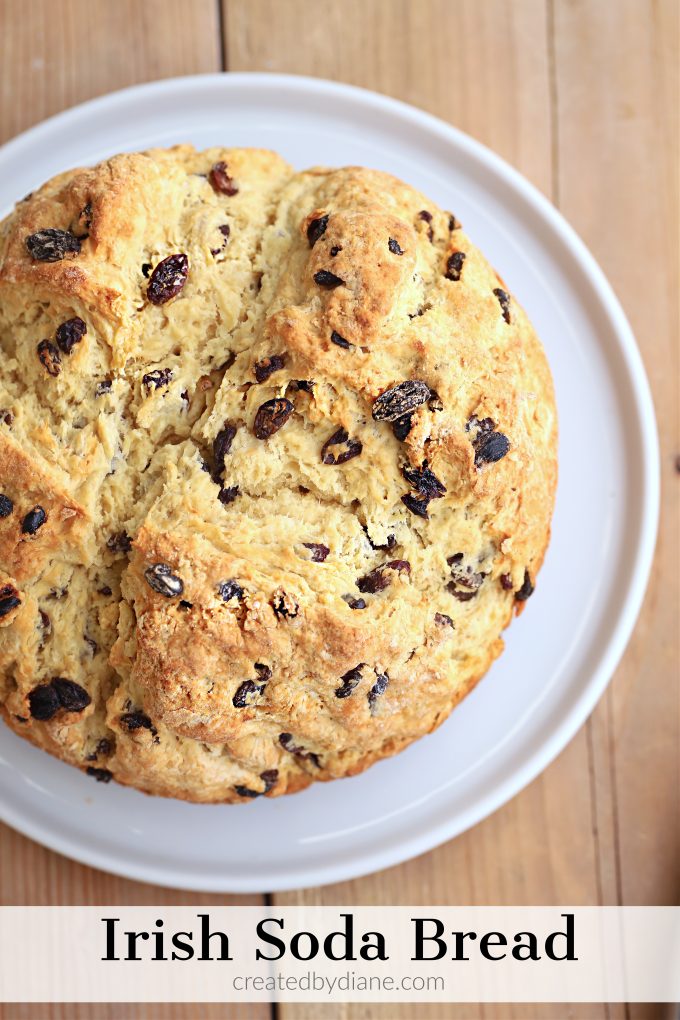 It comes together quickly if you are using a pastry cutter, then you'll knead it a few times and then start baking
You can add raisins, which is traditionally how it's served and really one of the only times I like raisins in baked goods!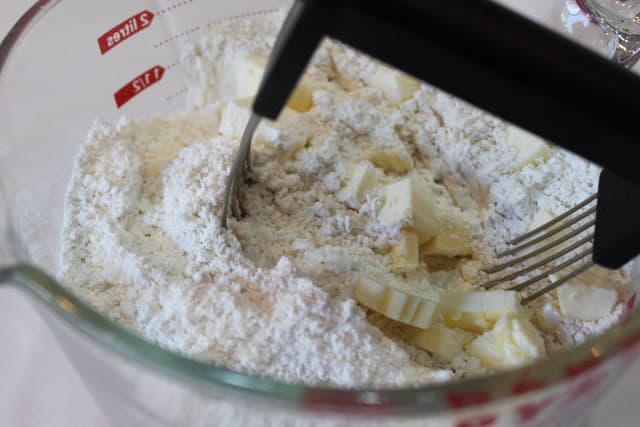 When cutting in butter into recipes, be sure the butter is ice cold, that is how baked goods turn out so yummy!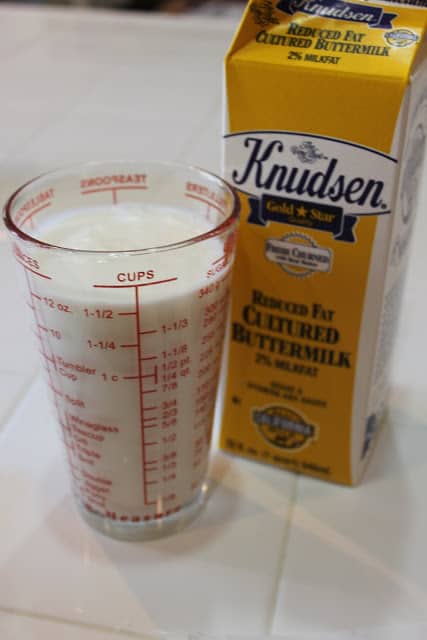 This is the one time of year I typically buy buttermilk, I have used dry buttermilk that is available in the baking aisle with good results, or milk and vinegar, but I really like real buttermilk in this recipe best.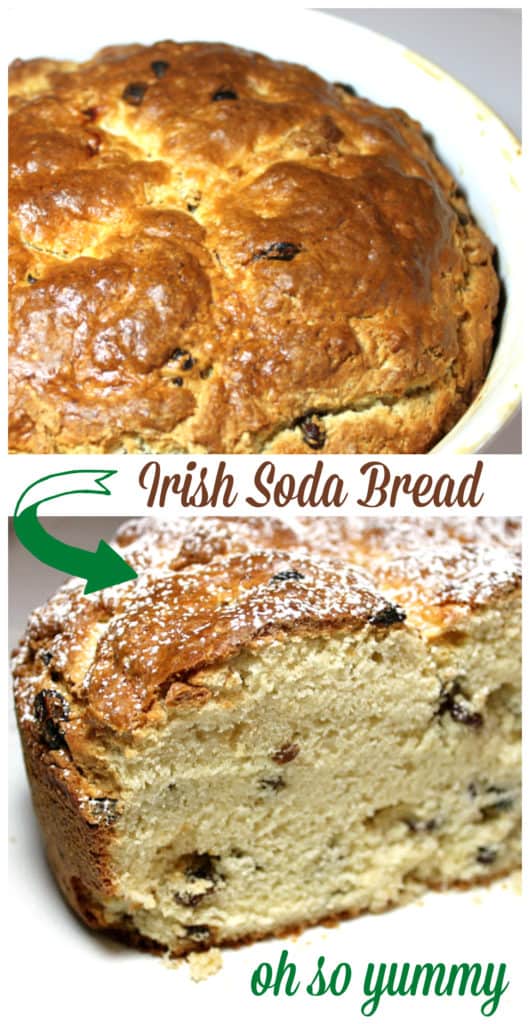 If you have extra buttermilk or want some more recipes using buttermilk look at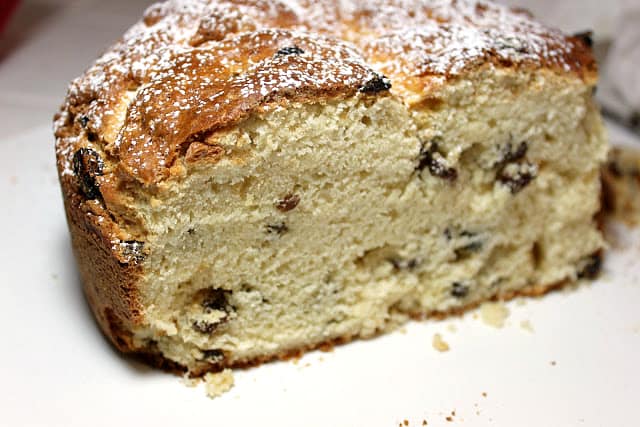 Dusting the bread with powdered sugar and having it served slathered with butter is my favorite.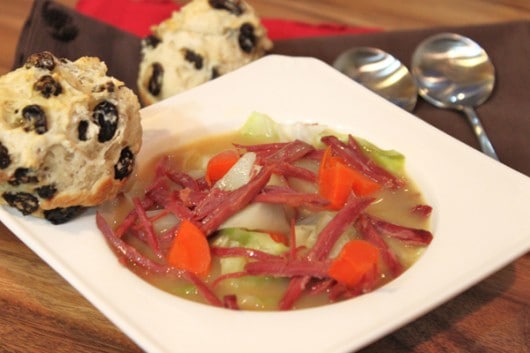 I've even made the dough and baked it as muffins and they are so delicious! Irish Soda BreadMuffins bak eat 350°for 15-20 minutes. These "muffins" are irresistible, they really are the perfect size (Scooped out with a 3T scoop and baked in a muffin pan sprayed with nonstick spray) and they are so great all year long… there is no need to wait until March to roll around!
But if you're here for all things Shamrock, green, and Irish celebrating:
Check out these other St. Patt's day inspired recipes: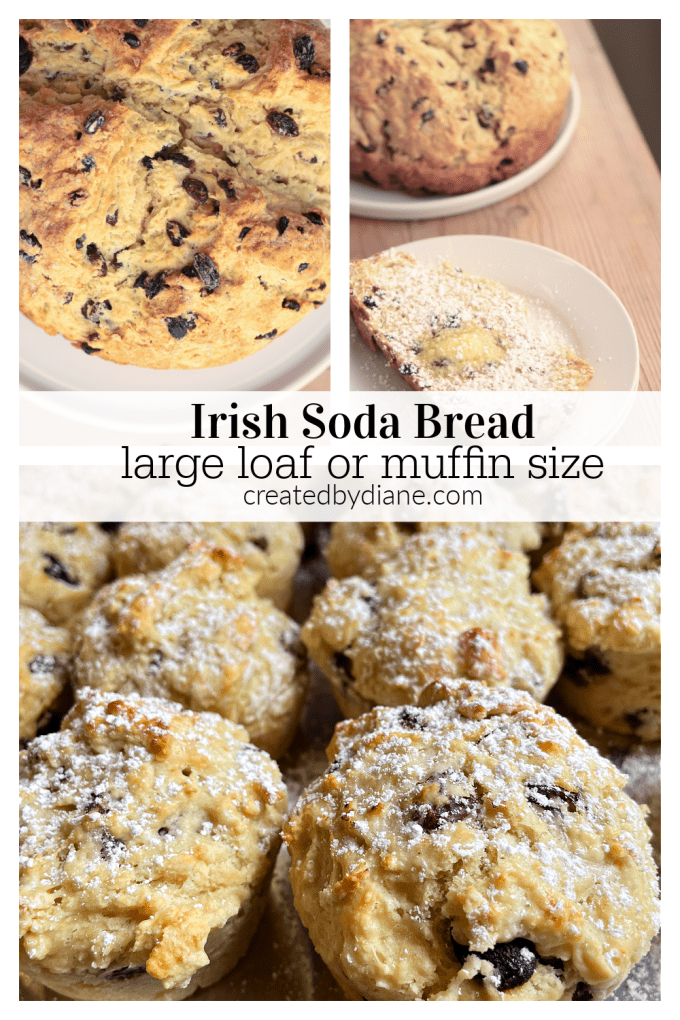 An alternative to making the Irish Soda Bread Muffins: this version comes out a little fluffier, but still delicious. You can make them in the bowl of a mixer, and use 1/3 cup heavy cream instead of butting in the butter. And the tops can be brushed with heavy cream as well. This is great for someone who finds the cutting in of butter too daunting or has sore/bad shoulders. 
Irish Soda Bread Recipe
A delicious and simple bread that requires no yeast, a semi-sweet bread with raisins, and the perfect accompaniment to corned beef dinner or dessert year-round.
Author:
Diane Schmidt, Created by Diane
Recipe type:
Bread, Dessert
Ingredients
4 cups all-purpose flour
3 tablespoons granulated sugar
1 tablespoon baking powder
1 teaspoon salt
1 teaspoon baking soda
6 tablespoons cold butter
2 eggs
1 1/2 cups buttermilk ( or dry buttermilk substitute mixed as directed to make 1 1/2 cups)
1 1/2 cups raisins
optional
2 tablespoons powdered sugar for topping after baked
Instructions
Preheat oven to 350°.
Prepare a 2.5 quart casserole pan (8x3) or muffin tin with a baking spray or butter.
Mix flour with sugar, baking powder salt, and baking soda in a large bowl. Cut in cold butter with a pastry cutter or two knives until it resembles coarse crumbs.
In a small bowl, beat the eggs and remove a tablespoon to brush on top of the muffins or the large bread before baking if you want them shiny. I have made it both ways with or without egg on top of great results.
Add buttermilk and eggs to the flour mixture, the dough will be very sticky.
You can mix it with a mixer and dough hook if you prefer or with a wooden spoon in a bowl.
Add raisins and mix together until they are incorporated.
Turn the dough onto a well-floured surface and with floured hands knead the dough about 10 times.
Place the dough formed into a ball into the prepared dish, and slice an x into the dough.
You can bake this in a 1 1/2 quart casserole dish at 350° for 1 hour and 10 minutes.
Or you can bake these as muffins, place three tablespoons into each well of the muffin pan and bake at 350 degrees for 15-20 minutes.
Insert a toothpick to check to see the bread is not moist inside.
Let the Irish soda bread cool and dust with powdered sugar before serving.
* You can find dry buttermilk, that you can add water to in the baking section. Buttermilk adds a rich flavor to scones, biscuits, cakes, and pancakes.