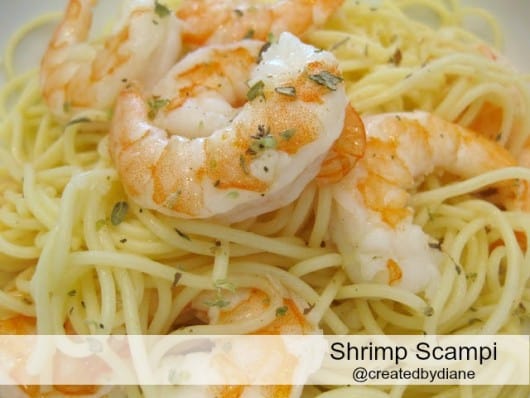 Don't you just love it when you feel like you could
just reach out and take a bite?
Well, that is what my friend said when she saw this photo I took of the dinner I made.
I think cooking is often easier than baking, very little measuring required-guessing works
Shrimp Scampi is a classic dish that can be served ANYTIME!
I cooked a pound of angel hair pasta-Barilla is my favorite.
In a frying pan, I put some olive oil and butter
6 cloves of garlic, minced
some white wine about 1/3 cup
juice from 1/2 a lemon
oregano
salt and pepper
added the shrimp (they cook quickly)
put the pasta over the sauce in the pan
gave it a toss and plate it.
quick &easy
top with grated Romano cheese
If you like this or any other recipe on Created by Diane be sure to share the post with the ones you love. You can click on the "share" buttons on the top and the bottom of each post, you can share it on social media or in an email.
~Sign up for email updates and GET delicious recipes delivered right to you! Plus get my free e-cookbook too.
Thanks ~Diane