Making pizza at home just got a whole lot easier, with a crispy crust this cast iron skillet pizza will have you eating pizza more and ordering take-out less.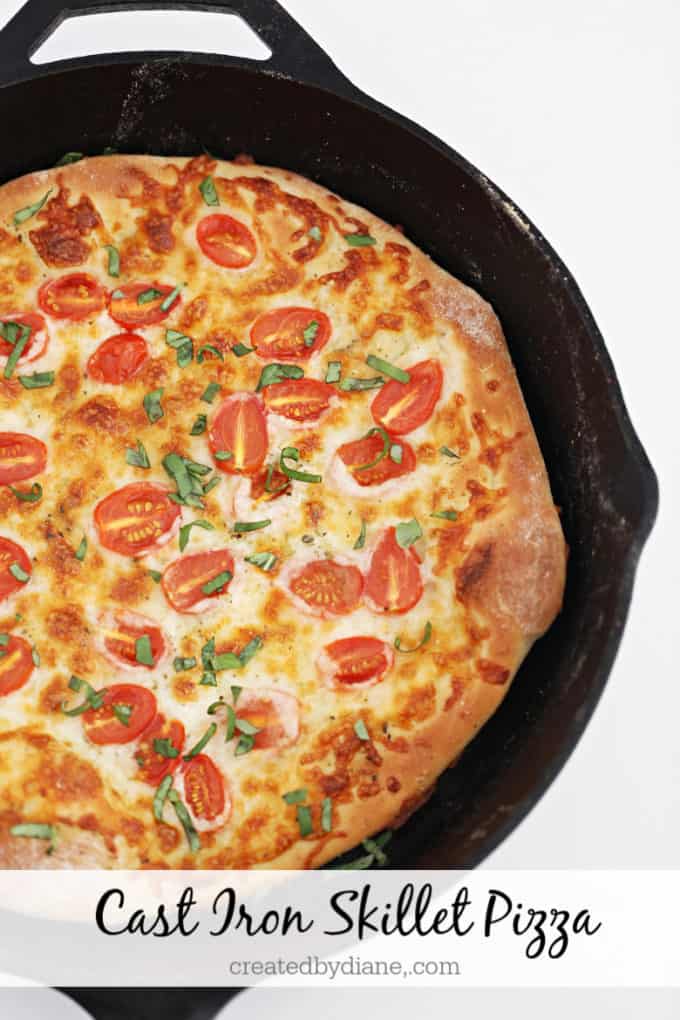 I love pizza and make it often. 
Today I decided to make it in my cast iron skillet. I typically bake pizza on this type of screen to be sure the bottom crust gets crisp. 
I know my cast iron skillet does a great job of getting a good crust on chicken and beef and roasts vegetables great too, so it was time to give pizza a try, I'm glad I did.
I know now, I can cook pizza anywhere I go, on a grill on in the oven with my favorite cast iron skillet. 
This is great for so many reasons,
like… when everyone wants their own special pizza, RV-ing I couldn't be without my cast iron, it's also great that the pizza stays hot for a while in the pan too!
Is Cast Iron good for pizza?
Yes, it heats up quickly and allows the bottom crust to become crisp.
Do you have to preheat a cast iron pizza pan?
Although not necessary when using a hot oven at 450°-500° the pan will heat up quickly enough. I did not preheat my cast iron before adding the pizza dough.
When grilling pizza, should it be covered?
If you have an open fire grill place foil over the skillet, otherwise if you put it on a grill that has a lid that will be sufficient.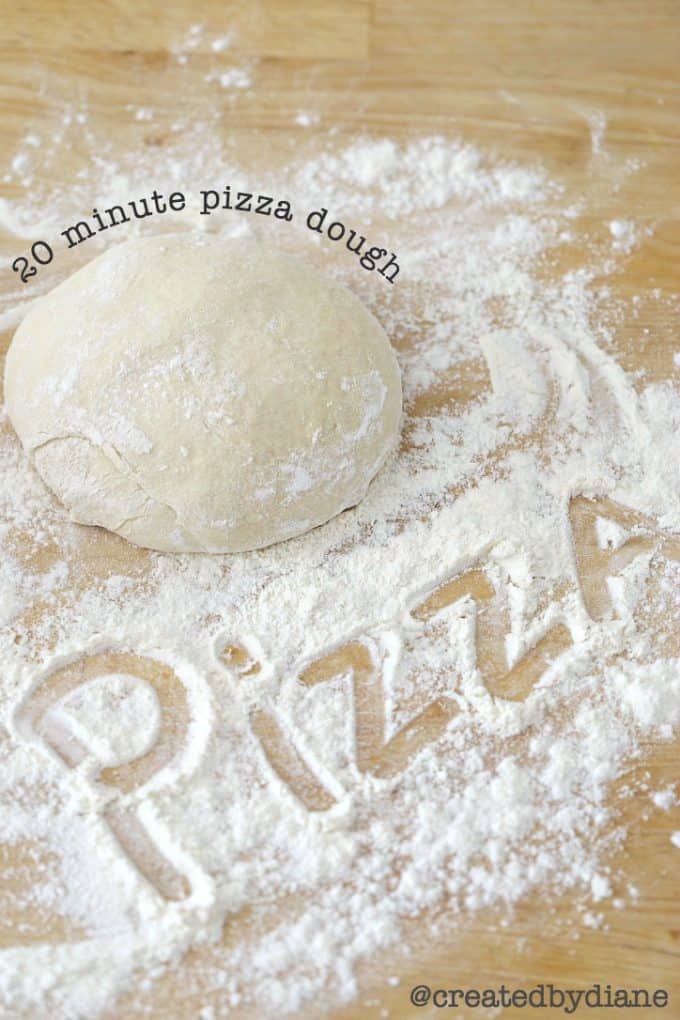 Popular Pizza Dough
20 Minute Pizza one batch makes 2-12″ pizza dough
Low Carb Pizza Crust Cauliflower Crust Pizza and a delicious Chicken Crust
Buy it from a pizzeria
Buy it from a grocery store, near me Barons, Trader Joes, and Winco all carry fresh pizza dough, some have it in the freezer sections and it'll take a few hours to thaw to room temperature.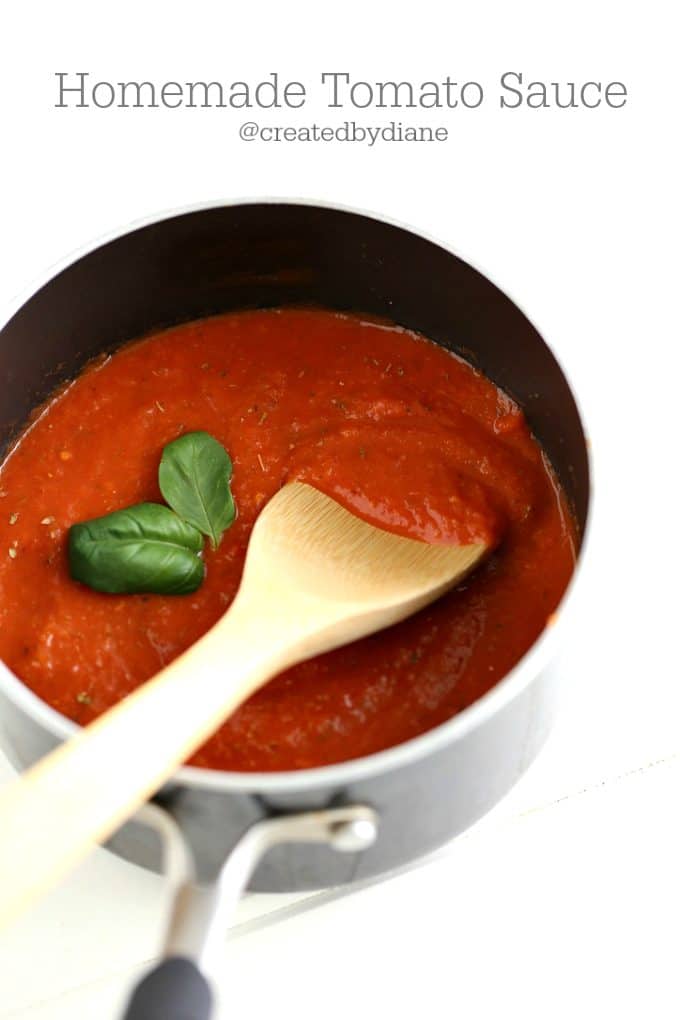 Popular Pizza Sauces
Tomato Sauce– typical pizza sauce is uncooked before it goes on the pizza, a great option for pizzerias, but for home use, tomato sauce will suffice. I often make it or use Barilla Marinara or Tomato Basil. Lots of pizzerias will sell you their sauce in a container, (they'll often sell pizza dough too)
Creamy Garlic Sauce – recipe coming soon to Created by Diane
Olive Oil, just drizzle some on or use a silicone brush to spread it around the dough. Add crushed garlic or garlic powder.
Pesto I usually purchase pesto and keep it int eh freezer and scoop out some or homemade is always a good option (puree: pine nuts, basil, garlic, olive oil, parmesan cheese, and salt)
BBQ Chicken Pizza mix tomato sauce with BBQ sauce, so the pizza isn't overly sweet, great topped with mozzarella cheese, red onion, cilantro.
Buffalo Chicken Pizza use all buffalo sauce or a mix of buffalo sauce and tomato sauce or buffalo sauce and yogurt or sour cream, top with mozzarella cheese, and cooked chicken pieces.
Vodka Sauce creamy and tangy and delicious and great on pasta, and pizza
Popular Cheese
Mozzarella Cheese whole milk ricotta is delicious on pizza, whole milk is creamy and stretchy and great on pizza
Ricotta Cheese great to add in dollops on top of your pizza, or in conjunction with mozzarella cheese 
Although if you'd like a specialty gourmet style pizza, feta, goat cheese, and blue cheese are all great crumbled on top, and great in combination with mozzarella cheese.
Popular Toppings
Vegetables- mushrooms, spinach, onions, peppers, tomatoes
Meats– pepperoni, sausage, meatball, prosciutto, bacon, chicken
Fruits- pineapple (popular with pepperoni, pear (popular with goat cheese or blue cheese)
Additions black olives, cashews, pepperoncini, Oregano (my favorite), Parmesan Cheese, Crushed Red Pepper, garlic powder
Some of my other fun pizza recipes include: Reuben Pizza, Scrambled Egg Pizza, French Bread Pizza, Chicken and Asparagus Pizza, Flat Bread Pizza, Jalapeno Pizza with Avocado, Zucchini Pizza, Asian Pear, and Gorgonzola Pizza, BBQ Chicken French Bread Pizza, and a Dessert Pizza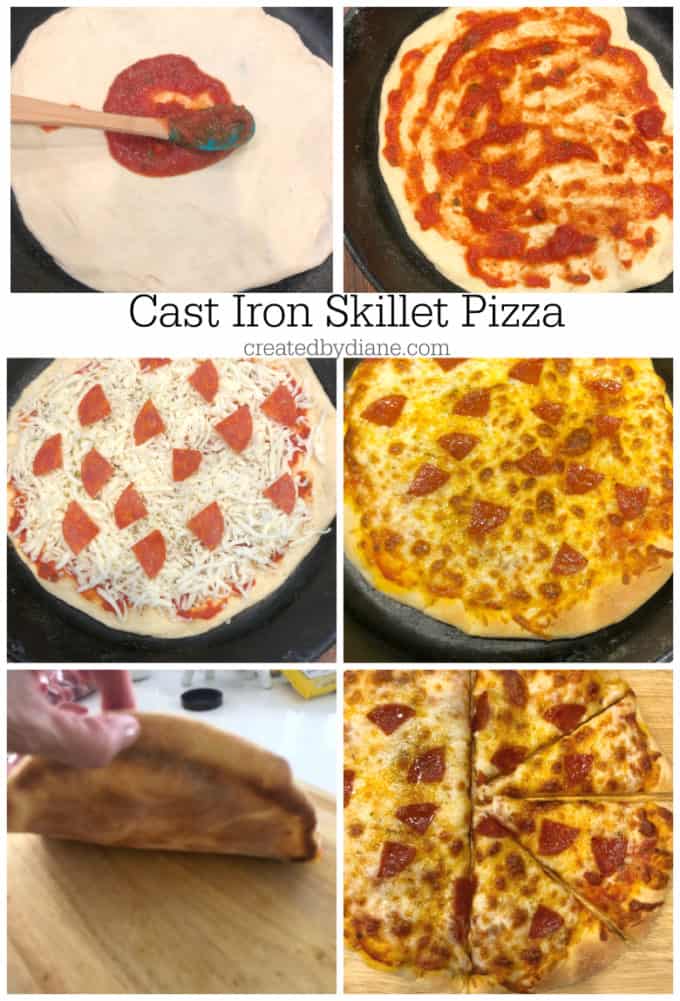 It's great when you can make each pizza exactly the way everyone will like it.
 Remember when adding sauce to the pizza dough, do not add a lot of sauce, it can make the dough heavy, preventing it from baking nicely. Just place a couple of tablespoons of sauce, then spread it out, you can see it's not all thick and covered completely by sauce, this ensures the pizza will put off and get a good crisp on the dough.
 As far as cheese goes, you can be generous, but over cheering a pizza will also create a heavy pizza so don't overdo it.
 Then onto the toppings, go light if you're using toppings that are "wet" like cooked vegetables, pineapple, and such. Raw vegetables are good, pepperoni, policies, meats and other dryer toppings won't weigh down a crust so you can use these more readily.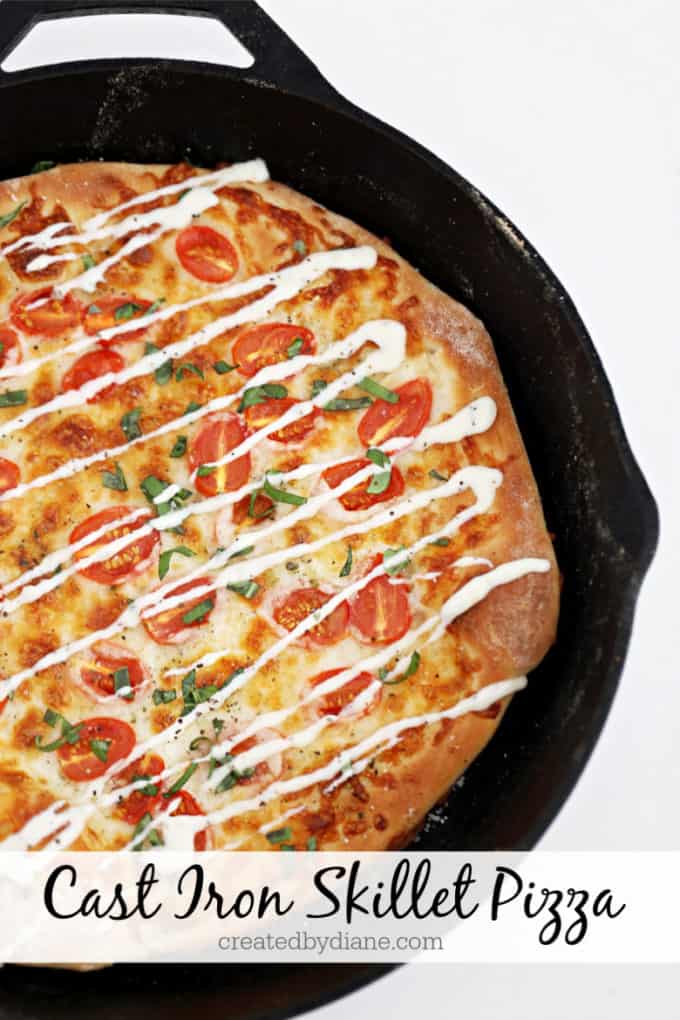 Now to top off my delicious pizza… I added a drizzle of Creamy Garlic Sauce! Oh, it's so flavorful and I not only use it on top of pizza, I often use it as a sauce for the base of the pizza and enjoy it over pasta, and it's great on veggies too.
My top tip for making pizza:
Be sure your pizza dough is at room temperature, it'll stretch better and you'll be able to shape it easily. Press out all the air, by pushing your fingertips all around the dough. Then flour your hands, pick up your dough, and stretch it around your knuckles into a circular motion. I have a video of this on my pizza dough post here.
You can also put cast iron pans on the grill, which makes this pizza great all summer long for easy meals, virtually no cleanup and meals ready in minutes.

Cast Iron Skillet Pizza
Bake or grill crisp pizza easily in a cast-iron skillet.
Author:
Diane Schmidt Created by Diane
Ingredients
Make pizza dough or purchase pizza dough, be sure it's at room temperature for best results
sauce
cheese
toppings
Instructions
Preheat oven (or grill) to 450°- 500°
Use a little bit of flour and press out the air of the pizza dough, stretch the dough into a circle the size of your pan. I use a 12" pan then place the dough inside the pan, then add the sauce, then cheese, and put on the toppings you'd like.
Cook pizza for 9-10 minutes. If you're using an open grill place foil on the top of the pan.
Check the bottom of the pizza crust by lifting it with a spatula to see that it's lightly brown and crisp.