If you like garlic, this sauce needs to go on your just make list. It's creamy and garlicky and not only great on pizza but so many other items.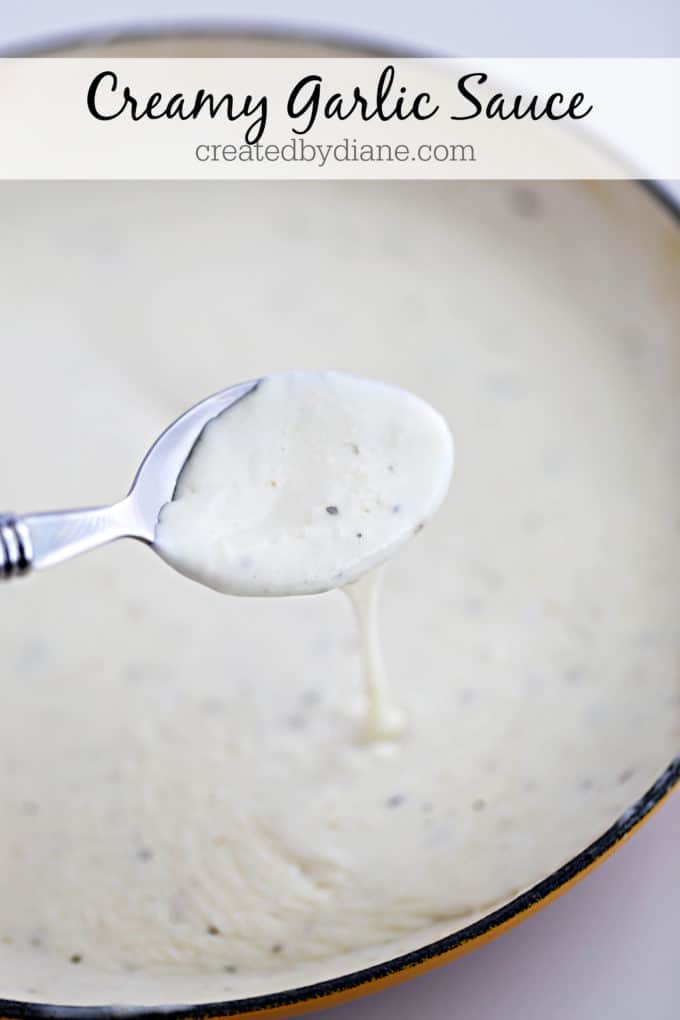 It's no a secret I love sauces and I'm a huge garlic fan,
this sauce combines two of my favorites!
Be sure to use some great tasting garlic when you make this, freshly minced, or a refrigerated paste work well in this. Some garlic items are soaking in ingredients other than oil and they will give an "off" flavor, this is not a recipe or those mass-produced giant jars you see at club stores. You'll want the best tasting garlic, so your sauce will be OUT OF THIS WORLD delicious.
This of it as a garlic gravy… whatever you'd put gravy on it'll be amazing, like mashed potatoes, drizzled over beef, for extra garlicky biscuits and so much more.
I mince fresh garlic or use Gourmet Gardens Garlic paste I actually use so much garlic here I keep at least a few tubes of the garlic paste in my fridge at all times.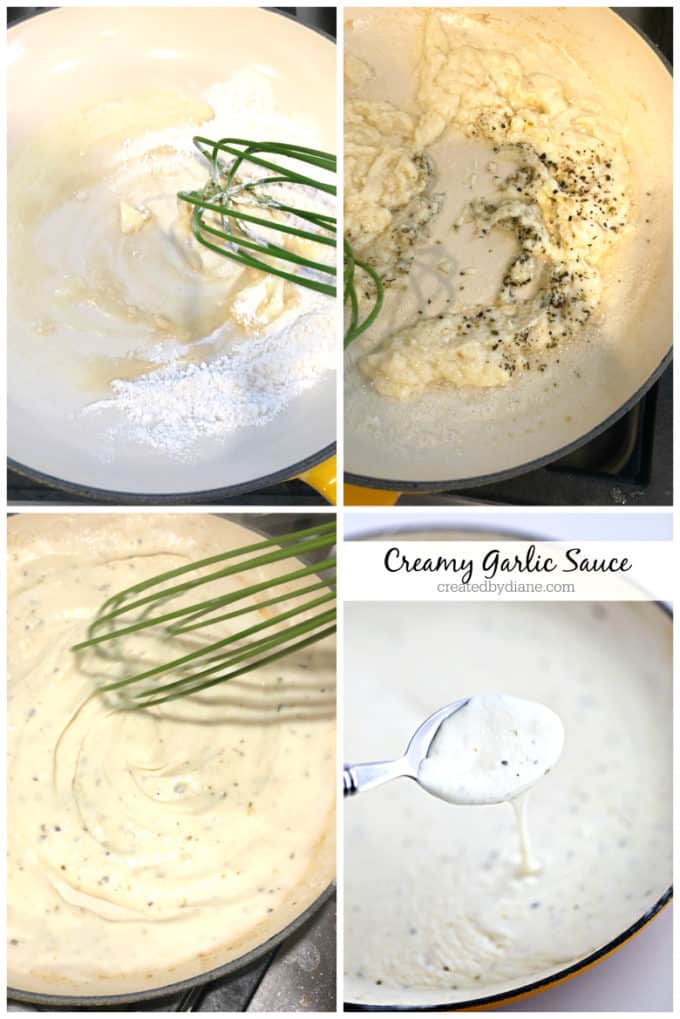 This can be considered a garlic gravy if you want… it starts off with a roux (butter and flour) mixed together in a pan over medium-high heat, then whisk in the garlic…. YUM! And then pour in the cream, add some garlic powder for extra garlic flavor.
Add some herbs dry or fresh ( I typically add dry oregano) if desired and finish the sauce off with salt and pepper. If you're looking to spice it up add some crushed red pepper flakes.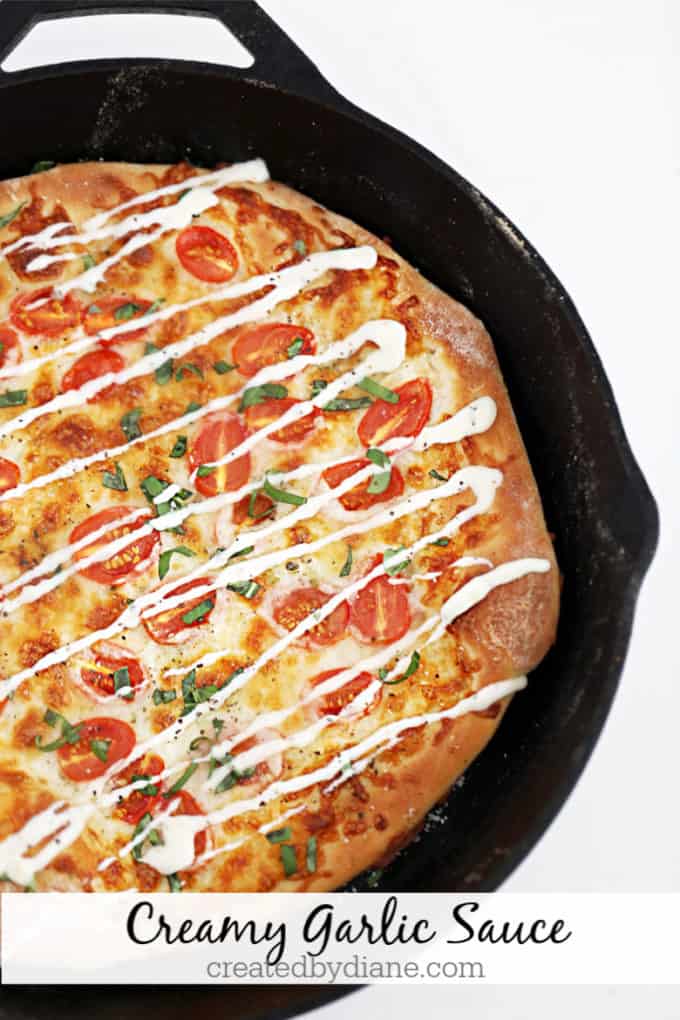 Since moving to Southern California from New Jersey I will never get over that people like ranch dressing on their pizza here… not me, give me a drizzle of this garlic sauce instead.
…and there doesn't seem to be as much garlic used in any restaurant here as there is on the East Coast. I used to be able to smell the garlic on a plate before it reaches the table, and I miss it!
So garlic lovers unite over this garlic sauce and tell me what you'll be putting it on.
This garlic sauce is great on pizza, you can use it as the sauce putting it on top of the pizza dough, and under the cheese, or drizzle it over the top… both ways are yummy! 
If you haven't made a sauce from a roux before check out my post How to Make a Sauce. 
The possibilities are endless with this sauce, pasta, rice, vegetables, breadsticks, it's so creamy and delicious, pour it over some sauteed mushrooms and you'll find it irresistible, or slice up some mushrooms to turn this into a garlic mushroom sauce. 
And yes you can pour some of this over potatoes, serve it alongside of any main dish, drizzle it over your protein, add in some cheese if you'd like. And for a kick, you can add some horseradish for a fun flavor combo with beef.
Creamy Garlic Sauce
a smooth and creamy garlic sauce great on pizza, pasta, and vegetables.
Author:
Diane Schmidt Created by Diane
Ingredients
1 tablespoon butter
1 tablespoon flour
1- 2 tablespoons garlic, fresh minced
1 cup heavy cream or milk or a combination of both (heavy cream will give you a richer tasting sauce. I typically use heavy cream)
pinch dry oregano
*Add 1/4 teaspoon granulated garlic powder for a stronger flavor
salt and pepper
add fresh herbs if desired, basil, oregano, parsley are all great in this sauce
add 1/4 cup grated parmesan if you want the sauce cheesy
Instructions
Heat a skillet over medium heat, add butter and flour and whisk until combined.
Add in garlic and stir.
Then slowly pour in cream and whisk so the liquid combines with the roux mixture.
Add in granulated garlic if using it, and then add oregano, and salt and pepper (to taste)
Serve as a base for pizza sauce, drizzle over the of cooked pizza, dip vegetables in it, or drizzle it over the top of your vegetables, it's also great on chicken and steak too.