This dessert pizza is easy to make, pretty to look at and…
OH SO YUMMY!
You can add any fruit you prefer, this would be great to celebrate Patriotic Holidays too.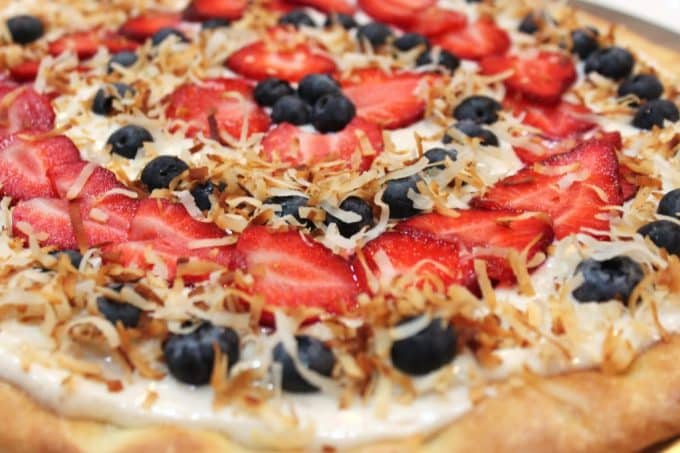 This pizza has the taste of a light cheesecake…..oh yes cheese cake on pizza….who knew how delicious it would be.
I baked a plain pizza dough at 450 degrees for 8 minutes, just so that it was a bit brown and crispy.
You will want it pretty firm so that the "sauce" doesn't soak in so quickly.
I then applied a mixture of 4 oz 1/3 less fat cream cheese mixed with 1/2 cup nonfat Fage' Yogurt, to that I added 1 teaspoon vanilla 1/8 teaspoon cinnamon and 1/2 cup marshmallow fluff plus three tablespoons powdered sugar onto the cooled pizza crust.
Add 6 sliced strawberries and 1/3 cup blueberries.
Almost done just one more thing….
Toasted coconut!
How to toast coconut:
Place 3/4 cup coconut in a saucepan on medium heat and stir until it is golden brown. Watch it carefully, it's burns easily.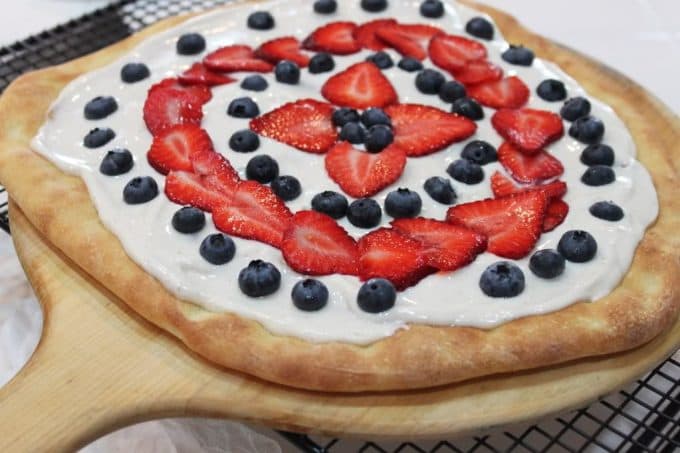 Add the coconut to the pizza and you are ready for DESSERT!
No better way to end the pizza week I've posted than with an easy dessert pizza. If you've missed any of my pizza creations here is the line up of what I've made.