French Bread Pizza… DINNER is just minutes away.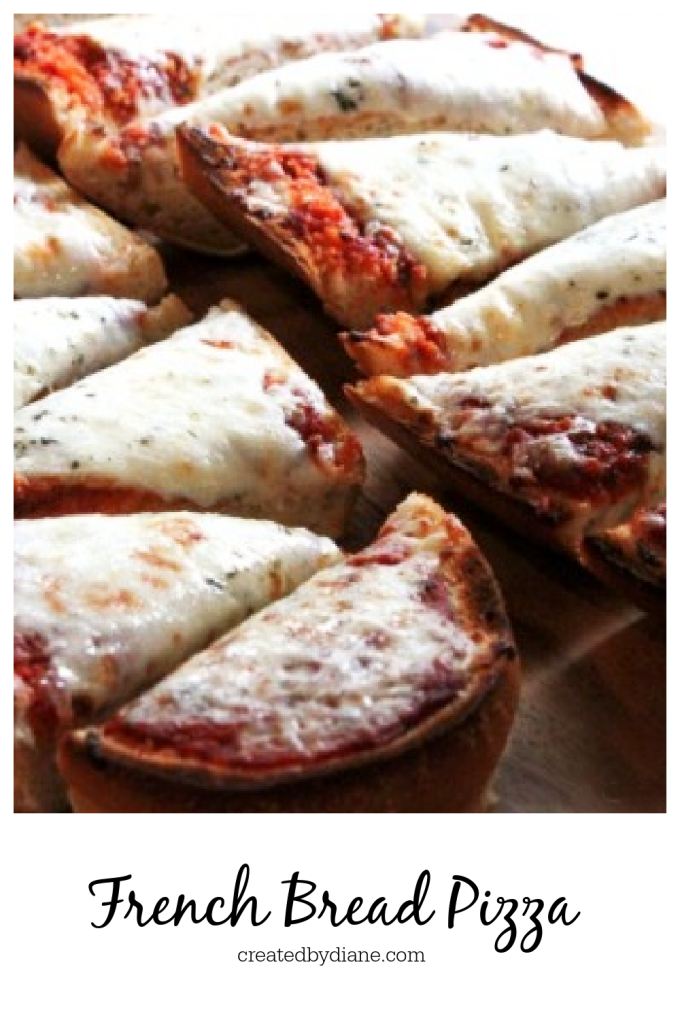 The other day I was thinking I haven't had French Bread Pizza since well….forever
I recall my brother and I getting some in the frozen section of the grocery store. It was perfect for quick food on the go, running around from practices to games and wherever else we teenagers we busy going.
We knew we were going to have some teens come by the other night, wasn't sure how many or at what time, so my plan to make pizza wasn't the best option for me and the fact that the kitchen would be a mess was also a big thumb down since I had just cleaned it all up. Even ordering pizza wasn't the best option, it was raining and well, how many should I order, when should I get it. I could order it and keep it hot in the oven and hope it doesn't dry out, not really what I was hoping for.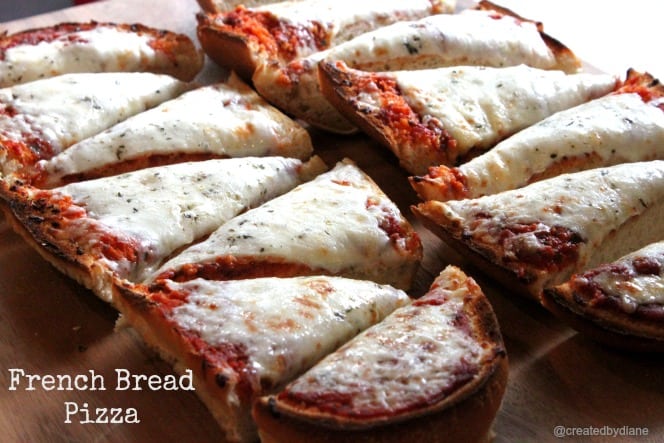 Instead, I stopped by the store picked up a couple of loaves of fresh-baked French Bread in the Bakery section, grabbed a jar of marinara sauce, some mozzarella cheese, and kept my fingers crossed it would be 10 times better than I remembered.
It was.
All I could think is WHY haven't I made this a MILLION times before!
Super-Easy, Super-Fast, and it tasted great.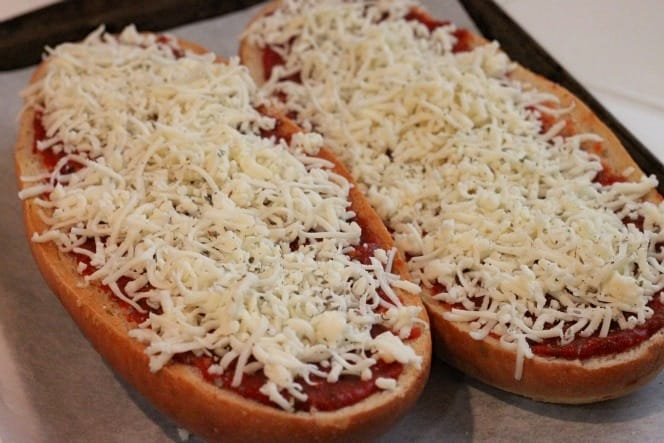 I crisped up the French Bread in the oven then added sauce and cheese…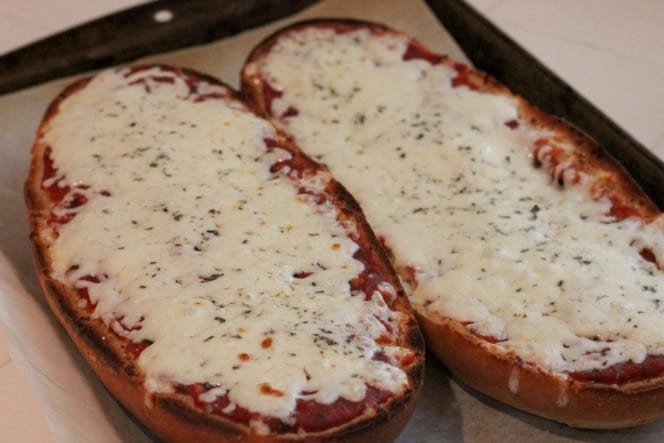 popped it back under the broiler and VIOLA!!!
Keep an eye on the pizza under the broiler, it's really not the time to answer the phone and turn your back on it, it will burn…
I tend to put the bread under the broiler all the time and forget to set the timer and have thrown out lots of charred bread!
Take my advice and SET the TIMER!
Perfect for an appetizer, game day food, party, teen hunger cure, lunch, snack, dinner…. yep pretty much I'll be making and eating this every meal for a couple months until I find a new obsession!
Single handily I'm bringing back the 80's at least to my kitchen!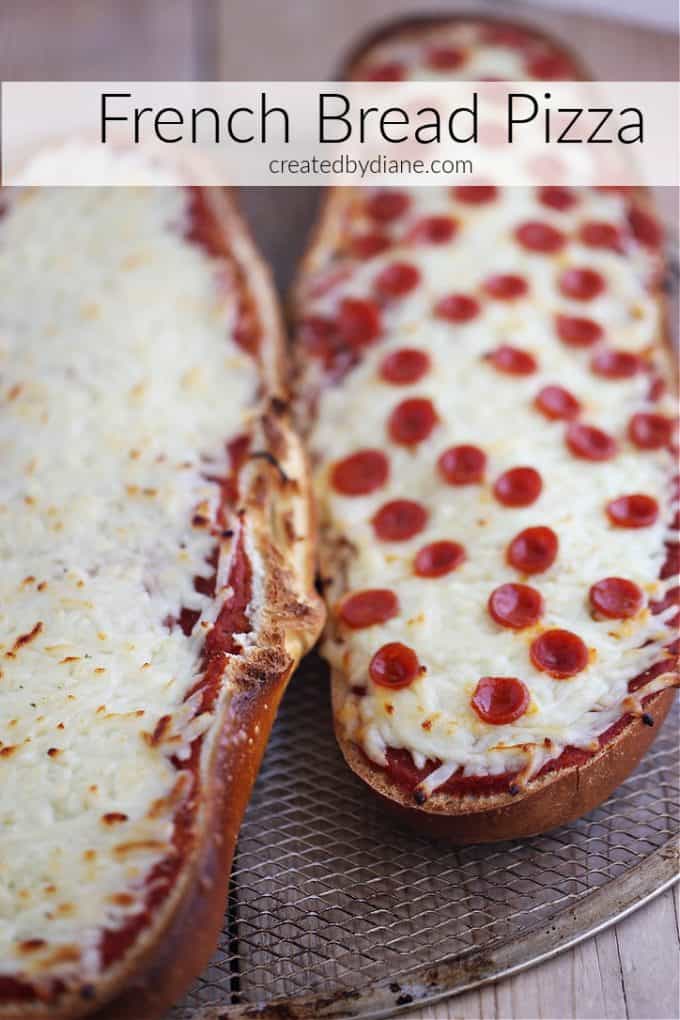 It's only 5 minutes total and you'll be enjoying this: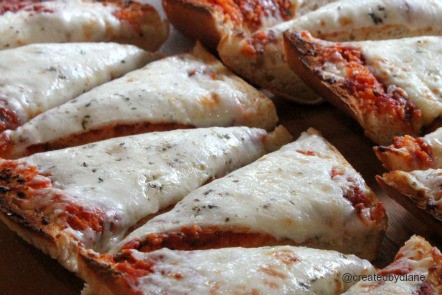 I can't wait to try some new versions of French Bread Pizza, like these pizza options I've made:
Asian Pear and Gorgonzola Pizza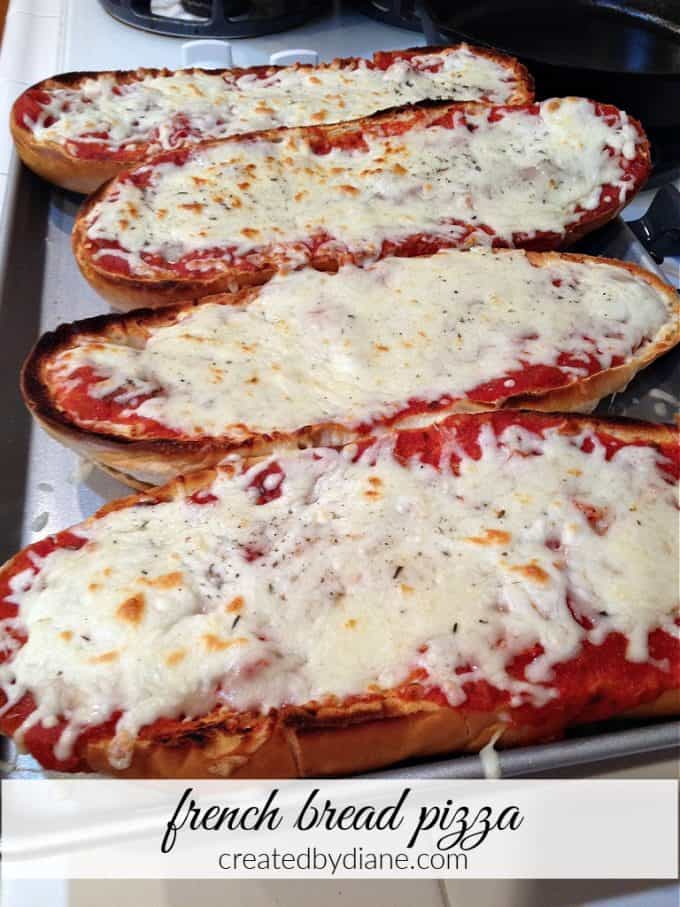 This recipe can easily be made in multiples, great for a fun Friday pizza night! Add on your favorite toppings for pepperoni fresh bread pizza, or add in some peppers, mushrooms, and onions for a veggie pizza. You can change up the sauce and use pesto, garlic sauce, or give my jalapeno pesto a try!

French Bread Pizza
Ingredients
1 loaf French Bread
8 tablespoons sauce
6-8 oz. grated Mozzarella Cheese
pinch of oregano
Instructions
Slice the French Bread in half length-wise.
Place on a parchment-lined baking sheet for easy clean-up if any cheese bubbles over.
Place it under the broiler on high for 2 minutes, just until the cut part is firm, not brown.
Remove from oven and place sauce on each side of the bread and spread it is smooth.
Then place the cheese on top and sprinkle on some oregano.
Put it back under the broiler on high for 3 minutes, or until the cheese is melted and bubbly.
Remove from oven and cut into triangles with a knife and serve.
Notes
If you like your pizza loaded up with topping go ahead and add them too. Pepperoni, peppers, onions, you name it, it will be delicious!