Broccoli and cheese combo is a true favorite with just about everyone!   
Broccoli Cheddarella Baked Ziti
Don't miss one delicious recipe from Created by Diane and get my FREE e-cookbook click here!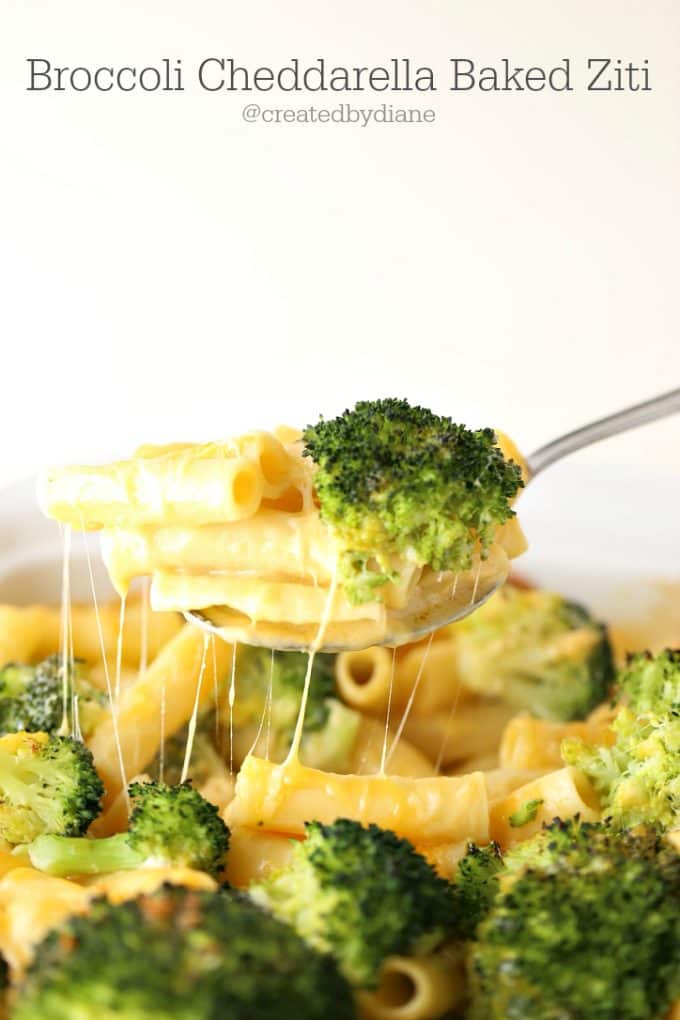 There are so many ways to enjoy broccoli and cheese,
I love a mixture of cheddar and mozzarella cheese,
it reminds me of these cheddarella stuffed potatoes I used to get that were HUGE, really I have no idea how they got ahold of such big baking potatoes, but they were larger than an adult putting their two hands together.
You can use this cheese sauce and broccoli over baked potatoes and believe me, you'll love it,
but today I'm sharing with you a Baked Ziti Recipe,
classic baked ziti includes ziti noodles, they are thicker than penne and have a really great bite to them, they have a great texture when baked in sauces and you can click HERE for my Classic Baked Ziti Recipe,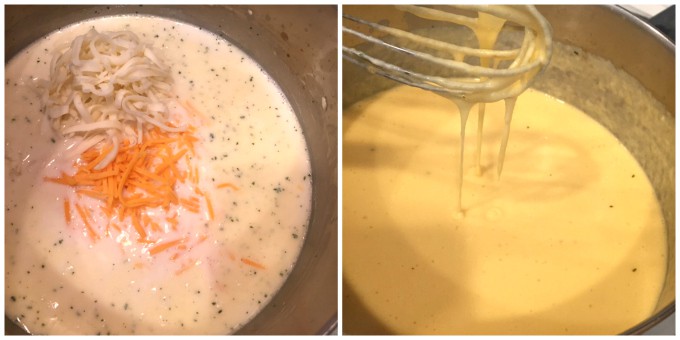 Make the cheese sauce while the pasta boils, it's full of delicious flavor. I add in chicken flavor to it and yes, of course, you can add chicken to this dish. 2 Cups of cooked shredded chicken will be great.
This is a great vegetarian meal, just use vegetable flavor.
Add chicken for some additional protein.
Bring this for game day, potluck and as a great side dish for dinners.
It goes great with ham!
The holidays are almost upon us and this will make having company easy, just pick up some ham, make this and keep it simple!
It's it great to have a go-to item that will WOW everyone, it's great with chicken or turkey as well.
More cheesy recipes:
and here is my yummy recipe for broccoli cheese soup!
This dish is great to bring to BBQ's and Cook-Outs and parties, it's always a great side dish to any type of protein, perfect to go with ham, turkey, and chicken, it makes a great dish to bring to holiday meals and travels well, so the next time you need to bring a dish, bring this deliciously cheesy dish that not only will everyone will love the kids will devour it too!
Broccoli Cheddarella Baked Ziti
Ingredients
1 lb baked ziti
2 tablespoons butter
2 tablespoons flour
1/2 teaspoons salt
1/4 teaspoon black pepper
2 teaspoons chicken bouillon (or vegetable bouillon)
2 cups milk
1 1/2 + 1/4 cups shredded cheddar cheese
1 1/2 cups shredded mozzarella cheese
2 lbs broccoli florets
Instructions
Preheat oven to 350 degrees.
Boil pasta according to package directions.
In a saucepan, heat butter and whisk in flour, bouillon, salt, and pepper.
Slowly whisk in milk, then cheeses.
Cook (steam) broccoli in a skillet with a 1/2 cup water, then drain.
In a 13 x 9 casserole dish layer pasta, broccoli and cheese sauce in two layers ended with cheese sauce.
Top with 1/4 cup cheddar cheese
Bake for 20 minutes or until cheese is all bubbly and golden in color on top.
Want to see my latest posts take a look here!
If you're looking for a particular post or want to search for an item here is my recipe index here.