Cheesesteaks are one of my all-time favorite sandwiches, this mac and cheese is a really yummy twist on the classic cheesesteak flavor.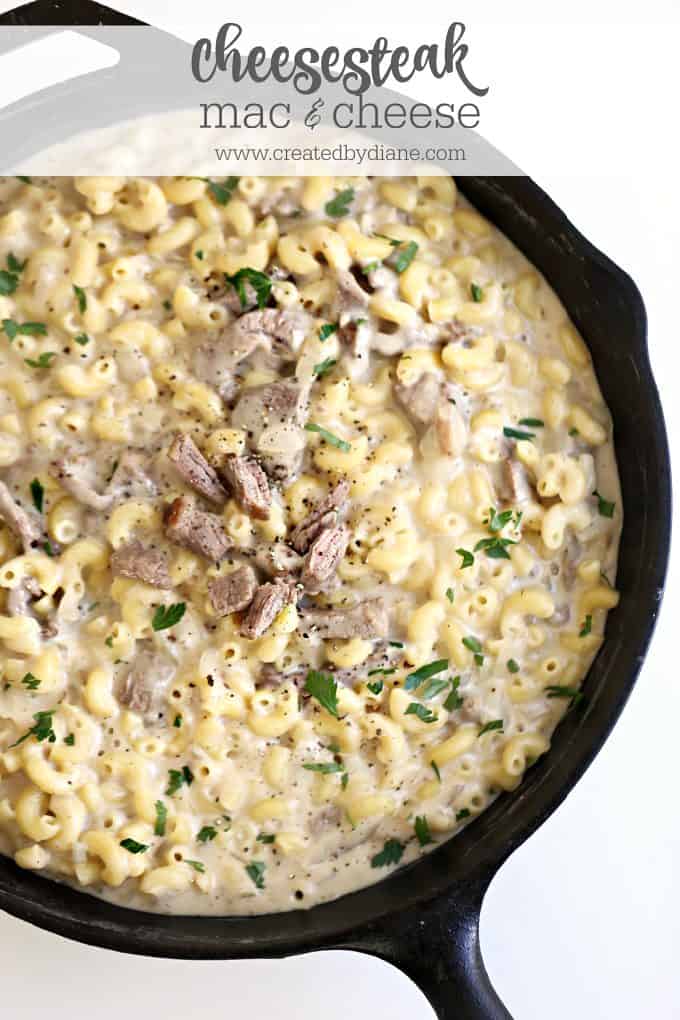 This creamy delicious dish will keep you happy all throughout the year especially when the weather starts cooling down.
It's comfort food at it's best as soon as the beef and onions hit the hot skillet the aroma is intoxicating!
There is something so fantastic about beef and cheese together, just think about it, like cheeseburgers… it's an irresistible flavor combo.
I have a somewhat picky eater in my home, but the number one request is beef and cheese,
quesadilla with taco meat or sliced beef, tacos, hamburger, meatballs with sauce and cheese. you name it
Getting a great meal ready fast is always the goal here, and this is a winner every time!
other great recipes using onions: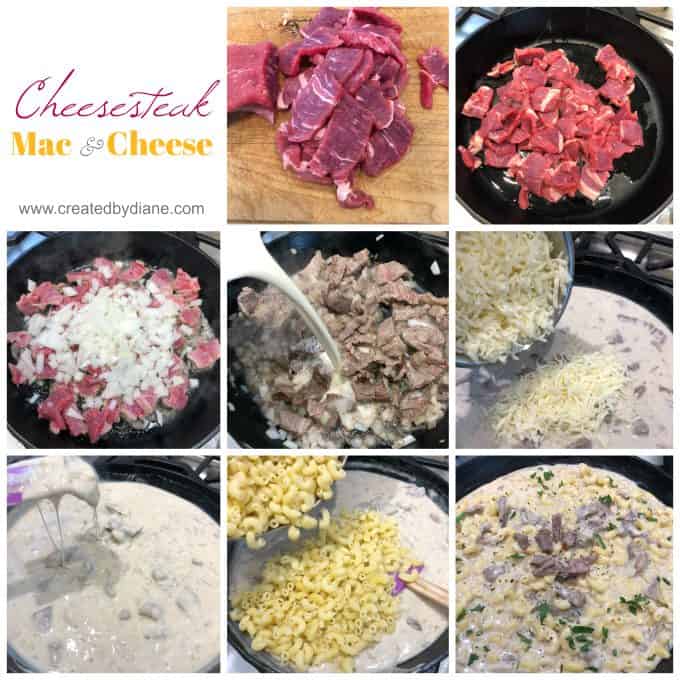 This has all the delicious flavors of a Philly Cheesesteak in a one-dish meal that is great to get on the table fast on weeknights, for game day, or a drizzly rainy afternoon to grab a bowl and watch a movie with.
You can add other items in this like: mushrooms, or peppers, or jalapenos to give it a little kick!
Now that the weather is cooling down one-dish meals that are hot and ready fast should be at the top of everyone's must make list!
Now if you need some more beef recipes, take a look at these:
Cheesesteak Mac and Cheese
Ingredients
1 lb tri-tip beef or tender steak sliced thin
1 cup diced white onion
1-2 tablespoons oil
1 tablespoon butter
2 tablespoon flour
1 teaspoon beef flavor (beef bouillion)
2 cups milk
2 cups shredded cheese (mild cheese like; provolone, mozzarella, Monterey Jack I used a combination of Jacka and mozzarella
8 oz pasta (cooked according to package directions with salt)
salt and pepper to taste
Instructions
In a large skillet on high saute beef with onion in oil, just until beef is cooked to 135°.
Add in the flour and beef bouillion.
Then slowly pour in the milk as you stir and blend it into a sauce.
Stir in cheese.
Add pasta.
Add salt and pepper to taste.
Notes
You can use a whole pound of cooked pasta, just add another 1/2-1 cup milk so there is enough sauce to coat the pasta nicely.