Looking for a side dish, that takes just MINUTES to make…   
Sweet Potatoes & Onions
Don't miss one delicious recipe and get my FREE e-cookbook click
These easy sweet potatoes are ready in minutes and won't crowd your oven on busy holidays, and they are perfect for everyday dinners too.
This is simple and a great way to serve sweet potatoes.
This is a no-fuss side dish,
grab your skillet!
 These sweet potatoes are perfect with chicken, turkey, ham, beef and I just LOVE them with a fried egg on top!
Great breakfast option with scrambled egg also.
I love when I have some leftover and can eat them with eggs for breakfast or make them up for an easy "brinner" option.
Sweet Potatoes and Onions
Serves:
8 1/2 cup servings
Ingredients
2 large (4 small) sweet potatoes chopped medium-small dice (4 cups diced)
1 white onion chopped (1 cup diced)
2 scallions diced
2 teaspoons olive oil
salt and pepper
Instructions
In a large skillet on high heat
Add olive oil then add onions and sweet potatoes.
Cook for 8-10 minutes until sweet potatoes are tender but not mushy.
Add salt and pepper to taste
Add green onions before serving.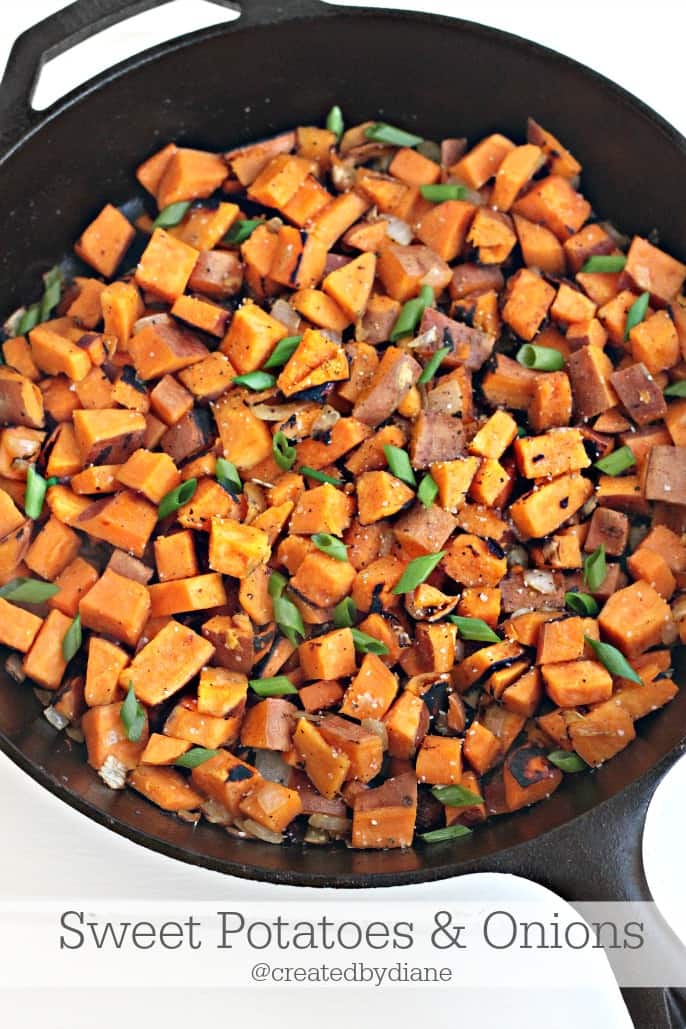 Enjoy!
Ned more holiday ideas:
How to Roast a Turkey Overnight
Sour Cran and Onion Mashed Potateos