This easy appetizer can be ready in just minutes which is why it should go to the top of your go-to list for appetizers.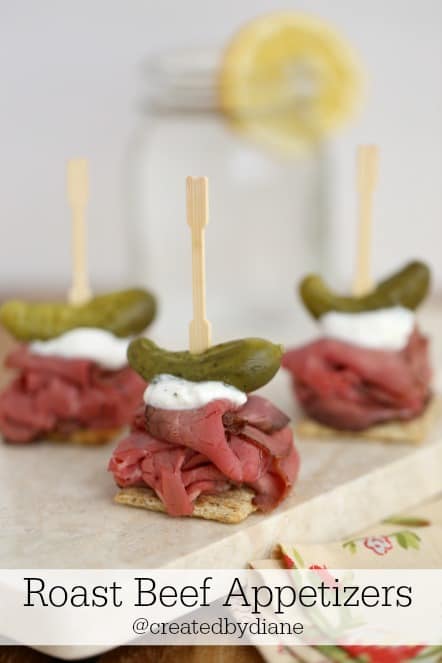 There is not a doubt in my mind that having an appetizer or snack that is actually filling and delicious and doesn't have you wanting to devour a whole tray is a winner in my book. But it's great if they taste like you "could" devour the whole tray, but because all your taste senses are stimulated you won't need to. 
This is quick and easy and OMG so delicious. 
You'll need:
Roast Beef
Pickles (or olives)
crackers or small slices of bread, toasted
The magic sauce on these is creamy horseradish sauce, you could alternatively use mustard.
It's a simple list, 
you heard me right…
Roast Beef, creamy horseradish sauce, and a pickle…
oh just wait until you bit into one of these…..
It's sure to feel like LOVE.
My whole family loves roast beef,
and when it comes to snacking….the heartier the better around here.
When I think of roast beef one story comes to mind, years ago I was at a buffet and could not stop getting up to get the roast beef and creamy horseradish sauce…
I had more than five helping.
Someone at the table commented that I must have a wooden leg and was hiding it all in there. I just laughed and got up and got another serving 🙂
rss-cut]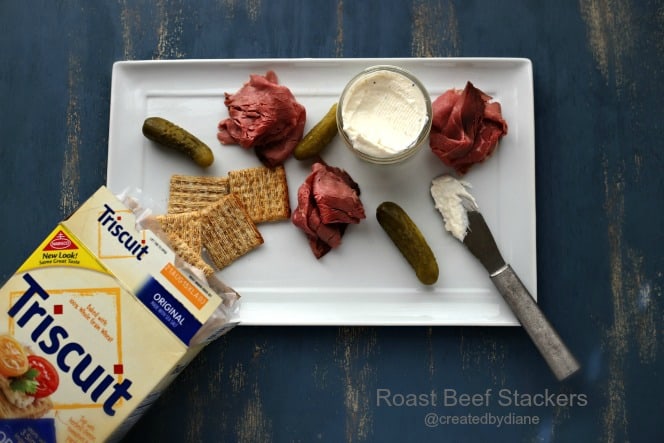 Now fitting the creamy horseradish into that wooden leg sounds kind of messy to me,
but oh how I love creamy horseradish sauce. HERE is my lightened up version: Creamy Yogurt Horseradish Sauce Recipe
Now onto the topper, let's talk pickles…
I just love them, tangy and crunchy and so very perfect with roast beef.
These are no fussy flimsy appetizers here, these are appetizers made to be piled high and pile them high I did.
I piled everything high on Triscuit Crackers. They are the perfect cracker for such a mouth full, and they hold their crunch, which is SO important to me.
Triscuit Crackers are delicious on their own but are made for more, the more I piled on the better it seemed! It's go big or go home with roast beef for me.
Get Creative the next time you break out a box of Triscuit Crackers and along with this idea, you may come up with another creative idea you love too.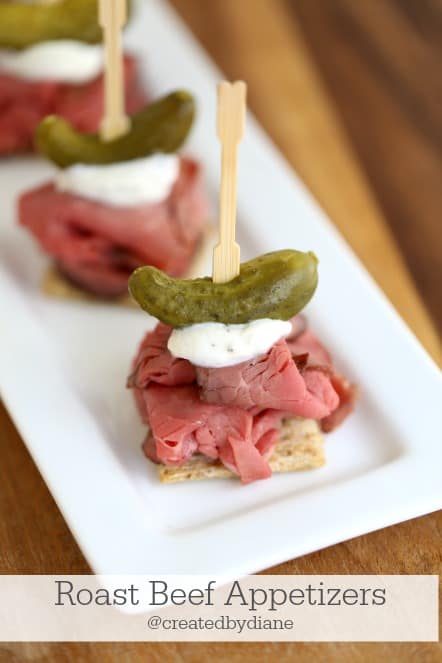 a great low carb option is to replace the crackers with zucchini slices!
Roast Beef Stackers
simple ingredients make for this most delicious snack or appetizer, the perfect thing to make when you need something of substance fast.
Author:
Diane Schmidt, Created by Diane
Ingredients
2 crackers or thinly sliced baguette, toasted
2 oz. roast beef
1-2 tablespoons creamy horseradish sauce
2 pickles (gherkins dill pickles)
Instructions
Pile each cracker or bread with 1oz of roast beef
Add up to a tablespoon of horseradish sauce
Top it with a pickle.
To hold it all together, use sandwich picks.
Can be made ahead of time and placed in the refrigerator until serving.
Notes
Multiply ingredients to make many servings
Triscuit sponsored this blog post. The opinions and text are all my own.