If you love Salisbury Steak, keep scrolling to see the post…   
if you're not sure…
let me convince you this is for you if you love hamburgers,
this is for you, if you love comfort food, this is for you,
if you want to fix a delicious meal in 30 minutes that will take everyone just a few minutes to devour……
try this….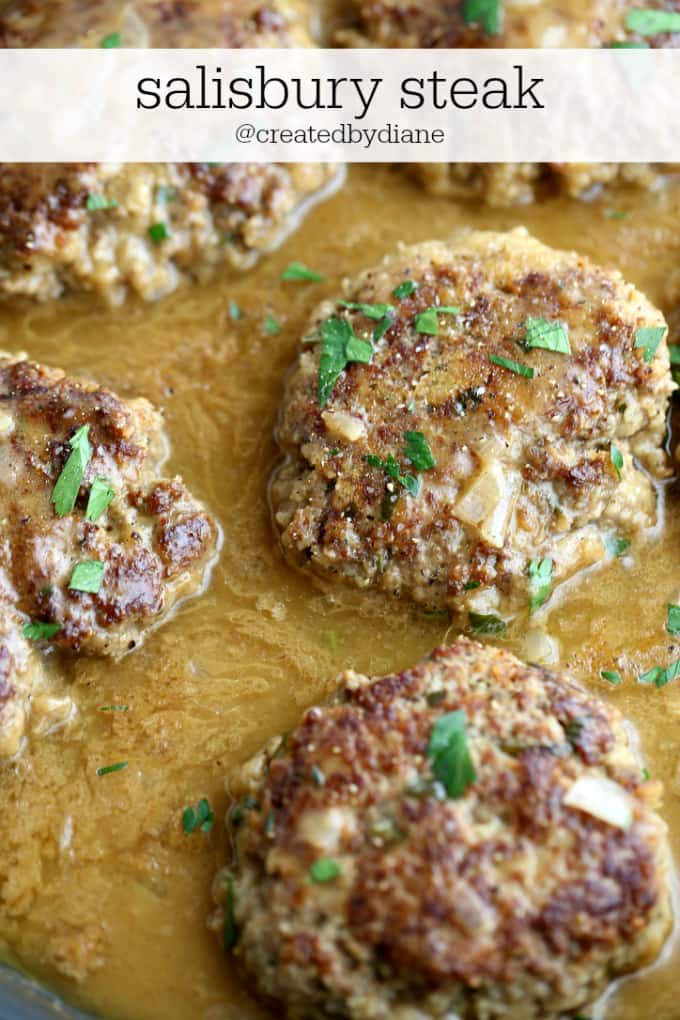 I have to confess, I had not had Salisbury Steak since I think… I was in grade school.
And this is not that Salisbury steak! This is the idea of Salisbury Steak but in a much more delicious way.
I wanted a nice way to serve a hamburger, but with a gravy along with roasted potatoes and carrots and I wanted it to be done in 30 minutes.
We typically eat a LOT OF CHICKEN in our house, but lately one of us…. wants more beef and less chicken or no chicken at all I'm told… that would be challenging.
But I'm here to say, I LOVE hamburgers so making them without a bun, since that "someone" doesn't really care if there are hamburger buns or not this was THE way to go.
So with just a few ingredients, you can enjoy a whole plate of comfort food.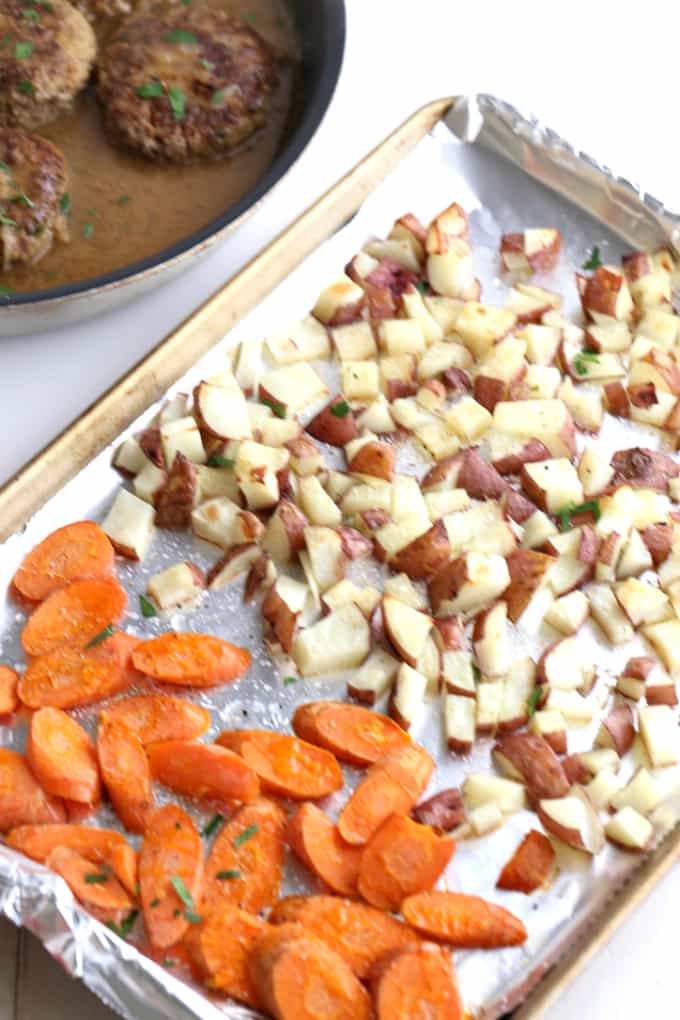 On a sheet pan I placed 4 potatoes I had cut up then microwaved until they were tender, along with 4 cut up carrots at 400° until they were cooked and roasted nicely (about 15 minutes) while the Salisbury steak was cooking.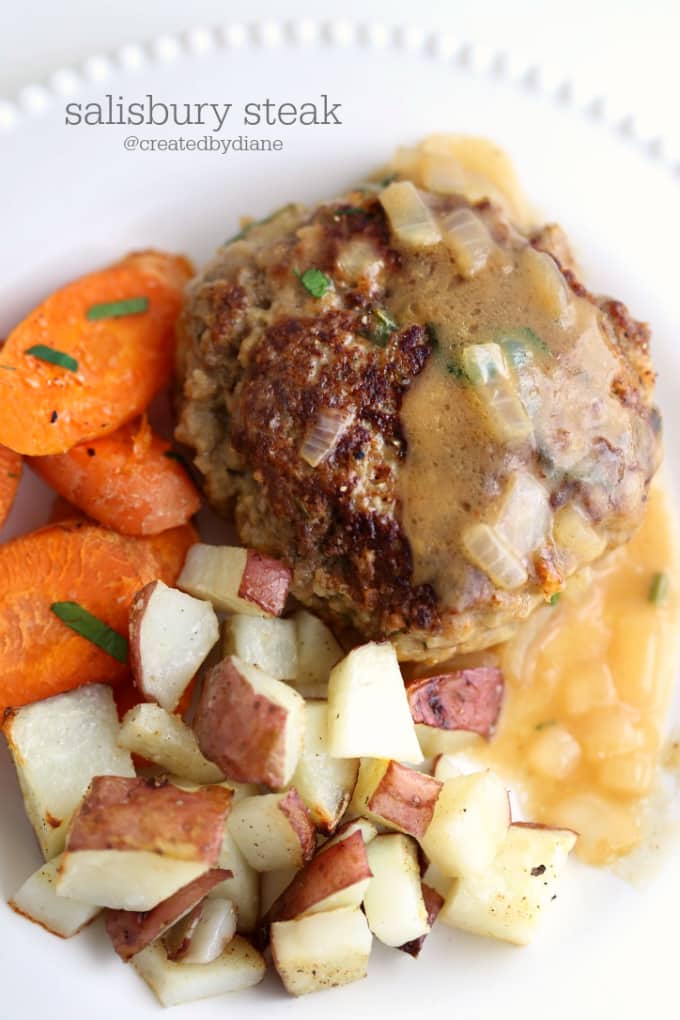 I've made this quite a bit lately, it's far better than fast food and it may just be the way to get your teens to sit down for two minutes before they are off running here and there… busy, busy, busy… everyone is so busy but this meal is worth slowing down for.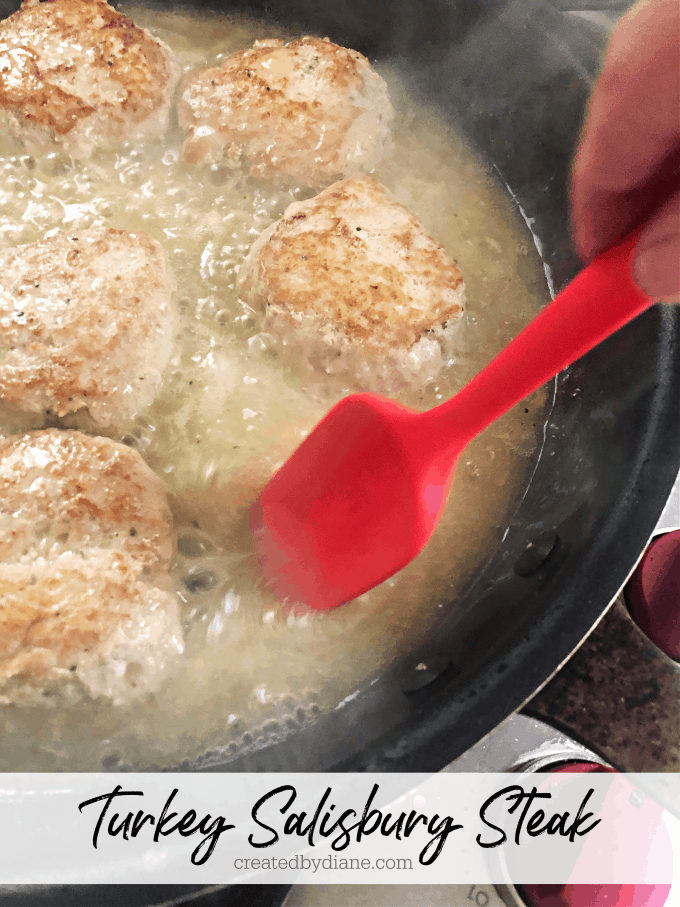 This recipe is also so delicious with ground turkey, be sure to give it a try as well. Ground chicken is another great option.
Salisbury Steak
Ingredients
2lbs ground beef
1/2 cup panko bread crumbs
2 eggs
1 teaspoon dry oregano
1/2 onion chopped
2 tablespoons cornstarch
1 teaspoon garlic minced/paste
2 cups broth (I used water and bullion both beef and chicken) you can use all beef if you prefer. Add additional beef or chicken concentrate to give the gravy a rich flavor.
1/2 teaspoon Worcestershire sauce.
Instructions
In a large bowl mix ground beef with bread crumbs, eggs, and oregano.
Form ground beef into 1/3 pound patties.
In a large frying pan on high brown the patties on each side.
In a measuring cup mix the broth with beef/chicken flavor, cornstarch, Worcestershire sauce, and garlic with a whisk.
Pour broth mixture around beef, add in the onions and turn stove to medium.
Cook for 5 minutes, turn each beef patty over and cover with a lid.
Cook beef until it reaches 160° on a thermometer.
The sauce will have thickened.
If the sauce is thin cook for a minute on a bit higher heat with the lid off.
Add salt and pepper to taste.
Serve beef patties with gravy poured over the top.