You are sure to find a new favorite among these 12 red velvet recipes!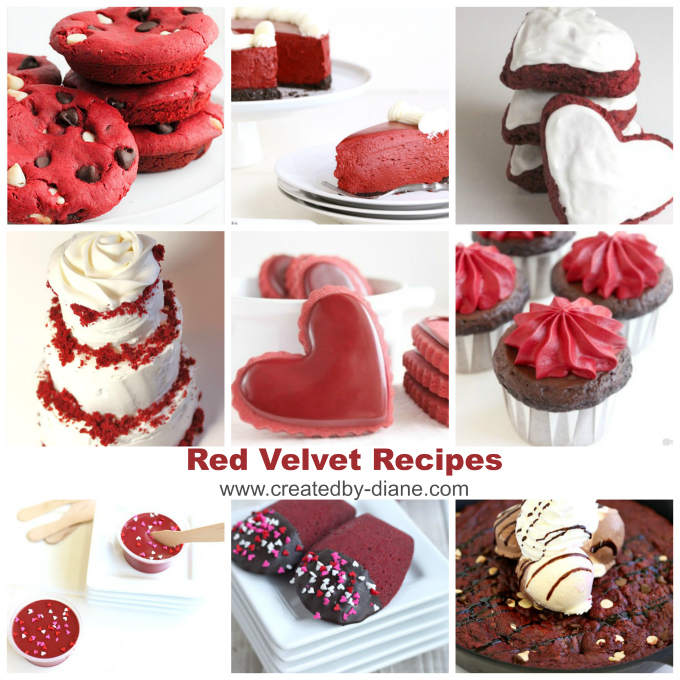 It's no secret I love red velvet,
the color always captures my eye.
I love the flavor, it's lightly chocolaty and has a tanginess that is just right….
and I do love RED!, so I've created many red velvet recipes, I gathered some right here in case you've missed any.
I've created many red velvet recipes, I gathered some right here in case you've missed any.
Dive right in and make one and find yourself a new favorite.

Red Velvet Deep Dish Chocolate Chip Cookies, these cookies are made in a muffin top pan and come out big and thick and are a real crowd pleaser.
Red Velvet No Bake Cheesecake, no only is the color gorgeous, this red velvet cake has an oreo crust and tastes fantastic.
Red Velvet Scones, wake up to a fresh-baked batch of these to start your day off extra special.

Red Velvet Cake, a true southern classic made in a mini version. Perfect for everyday celebrating! The cake crumbs make for a really simple and pretty decoration great for people intimidated by perfectly frosted cakes
Red Velvet Cut Out Cookies, these are a favorite ALL the time, cute and delicious.
Red Velvet Frosting, a true must make for any red velvet lover.
Red Velvet Fudge, easy to make and can be put in small containers for easy sharing.
Red Velvet Madeleines, these cake-like cookies are dipped in chocolate and all decked out to be devoured.
Red Velvet Chip Skillet Cookie, perfect for a quick dessert.

Red Velvet Pancakes, for breakfast or dessert these red velvet pancakes are a real pleaser.
Red Velvet Cupid Cookies, using a gingerbread cookie cutter for these cuties, you can make your own homemade edible Valentines!
Red Velvet Biscotti, a really fun treat no one will expect to taste so amazing!
Below you will find items I love using to make red velvet items with:
LorAnn's Red Velvet Baking Emulsion
Saco Dry Buttermilk
Americolor Super Red Gel ColoringHere are some links to these items on Amazon for you to see what they look like or to easily order.
*This posts includes Amazon Links and if you were to purchase an item I may earn a few cents from it. I prefer to be honest about links I may earn money from. Hope you find these links helpful.