Red Velvet Biscotti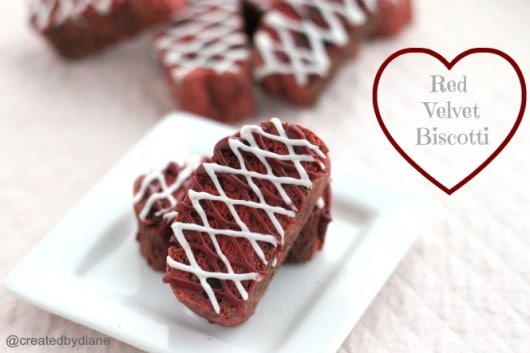 It's always the right time for Red Velvet if you ask me.
It doesn't have to be near Valentine's Day, but it's certainly fine if it is.
You see I really like red velvet.
I'm make Red Velvet Cake and Red Velvet Cookies and well I thought it was time to make some Red Velvet Biscotti.
I'm so glad I did and you will be to if you're anything like me and enjoy red velvet and all things pretty and red and well there are chocolate chips too! You know you can't go wrong if there are chocolate chips involved, or at least that is what I think.
And with Valentine's Day just around the corner I'm going to tell you…..
you sweetie….who ever they may be will just LOVE you more if you make them some of these.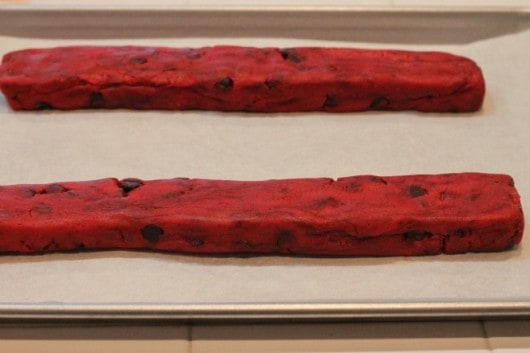 Form biscotti into two logs on your prepared baking sheet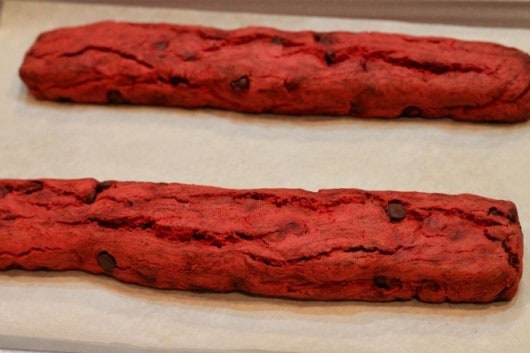 Once the biscotti is baked and cool enough to handle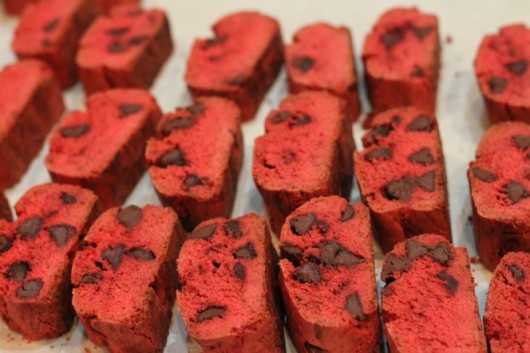 Slice the biscotti and lay them on their sides to bake again.(That is if you don't eat them ALL first)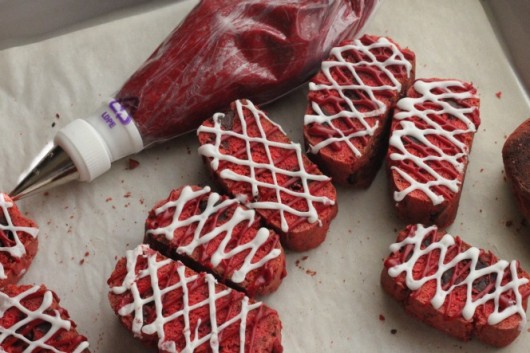 Pipe icing onto biscotti and allow icing to dry completely before stacking.
Red Velvet Biscotti
Ingredients
1/4 cup butter
1 cup sugar
2 eggs
1 teaspoon vanilla extract
2 teaspoons red velvet emulsion
2 1/2 cups flour
1 teaspoon baking powder
1/4 teaspoon salt
2 teaspoons dry buttermilk
2 teaspoons cocoa
3/4 cup chocolate chips
icing
2 cups powdered sugar
1 tablespoon corn syrup
2 teaspoons water
1 teaspoon vanilla extract
1 tablespoon cocoa
3 drops white coloring for white icing
Instructions
Beat butter with sugar until fluffy.
Mix in one egg at a time along with extracts.
In large bowl combine, flour, baking powder, salt, dry buttermilk and cocoa.
Add in dry ingredients one cup at a time until all incorporated.
Stir in chocolate chips.
Knead dough and separate into two logs.
Bake at 350 preheated oven for 35 minutes or until bottoms are firm and lightly golden.
Remove from oven and when cool to touch, slice with a serrated knife and lay pieces on their sides on baking sheet.
Bake slices for 10 to 15 minutes.
Cool Biscotti on cooling rack
Mix up icing
Mix powdered sugar with corn syrup, water and extract of choice.
Place icing into piping bag and pipe onto biscotti and let dry before stacking.
I was inspired to bake Biscotti thanks to my friend Julie (The Little Kitchen) She posted Meyer Lemon and White Chocolate Biscotti and I made some the next week and couldn't wait to start baking more! Julie is so wonderful I am always thanking her for helping me, some day I hope I can figure out something to help her with but I doubt it, she is just that GREAT already! Today is Julie's birthday, so stop on by and wish her a HAPPY BIRTHDAY, she'll be glad you did and you will be glad you got to see all the yummy things she's got going on in her kitchen!