Red Velvet Scones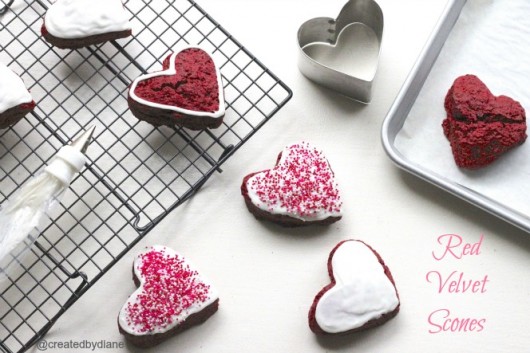 What can I say..
I can't help myself…
I just LOVE scones.
I've made many…many varieties of scones and it was high time I made some Red Velvet Scones, don't you think?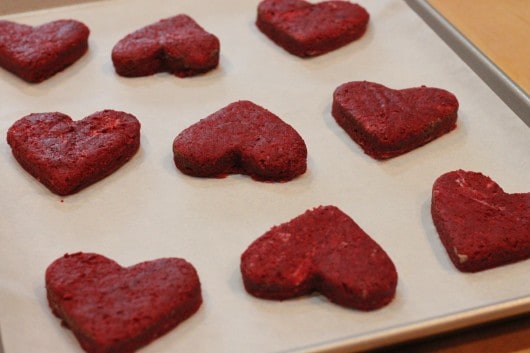 I just love that in a few minutes scones are all ready to eat…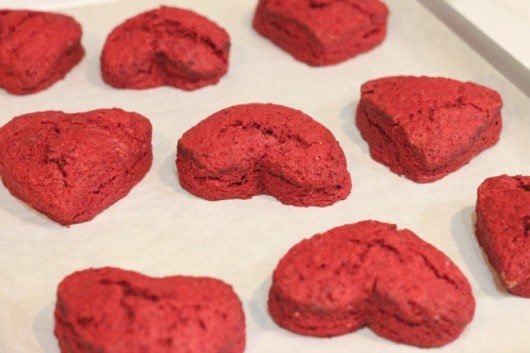 hot out of the oven,
slathered in butter,
or cooled and then iced with cream cheese icing…
with sprinkles for some extra fun too.
Red Velvet Scones
Ingredients
2 cups flour
1/4 cup sugar
3 teaspoons baking powder
1 teaspoon salt
1/2 cup cold butter (diced)
1/2 cup heavy cream
2 tablespoons dry buttermilk
1 teaspoon vanilla extract
3 teaspoons Red Velvet Emulsion
3 tablespoons Ghirardelli sweet ground chocolate and cocoa
2 eggs
Cream Cheese Icing
1 oz cream cheese
1 cup powdered sugar
2 teaspoons heavy cream
1 tablespoon corn syrup
4 drops white Americolor food coloring
Instructions
Mix flour, sugar, baking powder and salt together.
cut in cold butter until mixture resembles coarse crumbs.
Add cream, buttermilk, vanilla, red belvet emulsion, chocolate and eggs.
Knead mixture on floured surface, add flour as needed.
Roll scone dough 1/2 inch thick.
Cut with cookie cutter.
Place scones on parchment lined baking sheet.
Place baking sheet with scones in fridge for 10 minutes.
Bake at 400 degrees 10-12 minutes.
Prepare icing
Mix cream room temperature cream cheese with powdered sugar, along with heavy cream, corn syurp and food coloring until smooth.
Pipe icing onto cooled scones, add sprinkles if desired before icing hardens.
*Be sure the butter is ice cold. I often dice it up on a piece of wax paper and place it in the freezer while I gather everything else and begin mixing.
*LorAnns Red velvet Emulsion imparts both flavor and color.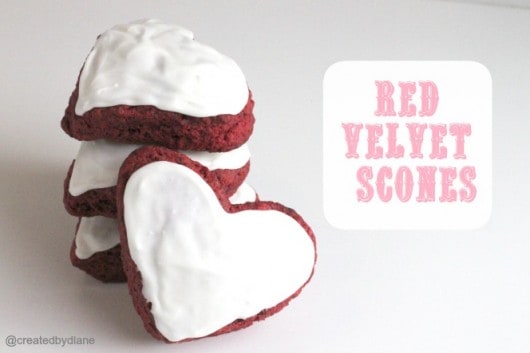 Once the icing dries, these can be stacked up and you can take them over to your sweetie and enjoy!
Or you can keep them all to yourself. It's perfectly reasonable to hide some and keep them all to yourself if you ask me.