Red Velvet is so pretty and delicious, I decided to make a new Madeleine recipe with Red Velvet.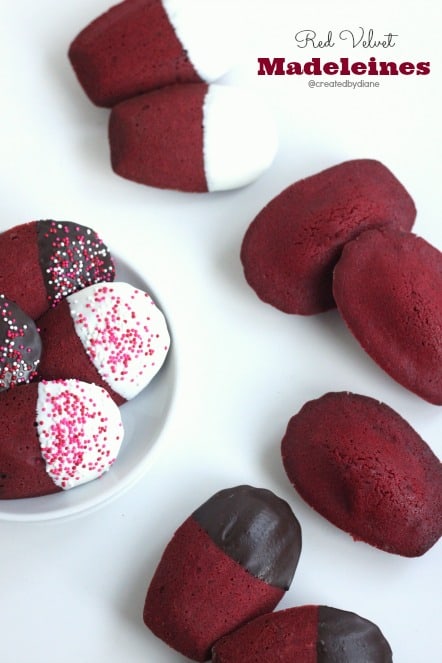 Doesn't anyone say they are sorry anymore,
if you hit my car with your car, I expect you to say your sorry.
If you pull your car over in the red zone at a cross walk and start to drive ahead with out looking up from your phone after you children safely cross the street, but find my child directly in from of you in the drivers seat and begin to give me an attitude when I tell yell at you that you were within an few inches of running over my child, you shouldn't tell me the child is wrong, especially when you are half parked in the cross walk and apparently the child was disturbing you from your phone call. You should say you are sorry and be sure the child is ok. You don't need to hit a child to say your sorry, I think you scared them enough to warrant an apology.
Yes, it's been a rough week with idiot drivers.
Is is too much to ask for people to be concerned for more than themselves.
Well to make it all better, I baked these.
Believe me, these were a big help. They practically made me forget all the wackos driving around my town,…well almost. I think I may need another batch for that to really happen.
*rant over for now.
Now onto the COOKIES,
yes cookies are always where it's at, they are easy to make and bite sized which makes them perfect in my book.

Red Velvet Madeleines
Ingredients
10 tablespoons unsalted butter (melted and cooled)
2 eggs
⅔ cup sugar
1 teaspoon vanilla extract
1-1 1/2 tablespoons red velvet baking emulsion (available at baking supply store or Amazon)
1 teaspoon dry buttermilk
⅛ teaspoon salt
1 tablespoon butter and 3 tablespoons flour for preparing pan
4 oz chocolate for dipping and assorted sprinkles
1 cup flour
Instructions
Preheat oven to 375
Prepare Madeleine Pan by buttering and flouring pan.
Beat eggs and sugar with mixer, add vanilla, red velvet emulsion, buttermilk and salt.
Mix in flour until blended.
Pour butter in a stream and mix on low until well blended.
Place 2 tablespoons of batter into each madeleine area of the pan.
Bake for 12-14 minutes or until just golden.
Remove pan from oven and turn onto a cooling rack.
Allow Madeleines to cool completely.
Melt chocolate and dip edges of Madeleines into it, then shake on sprinkles and allow the chocolate to set before stacking.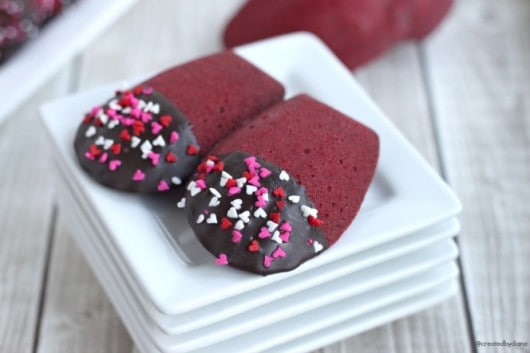 Celebrate this Valentine's Day or really any day with these delicious Red Velvet Madeleines!