Get ready for this super delicious easy and fun dessert!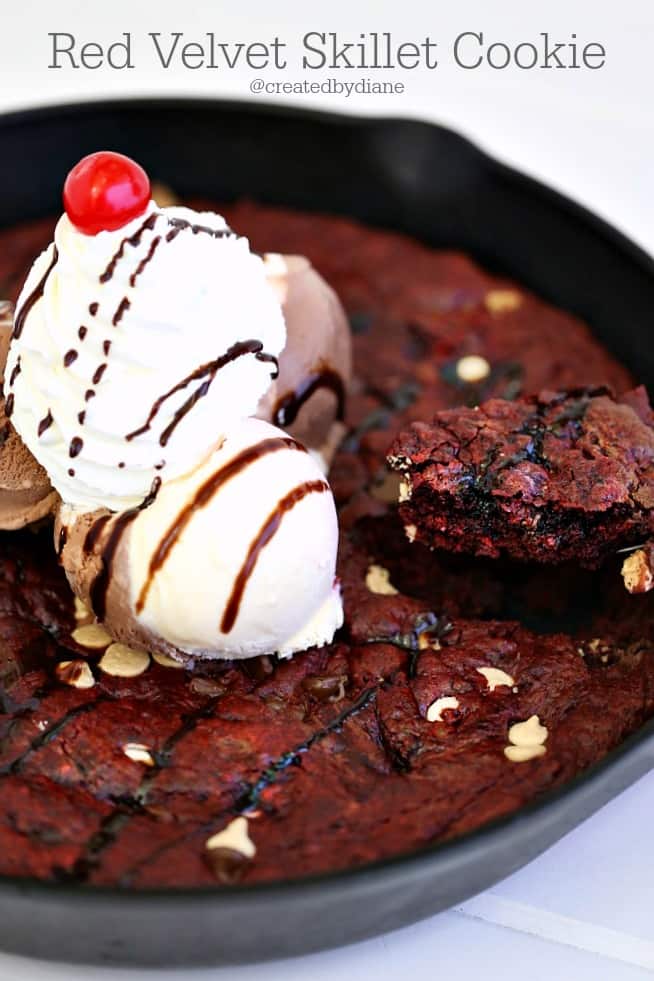 Red Velvet Skillet Cookie
Don't miss one delicious recipe and get my FREE e-cookbook click here!
Chocolate Chip Cookies get kicked up in this Red Velvet Skillet Cookie,
This is ready from start to finish in under 30 minutes,
perfect to finish off any meal.
Top it with ice cream and whipped cream and a drizzle of chocolate for some extra fun.
There is nothing like eating dessert all warm out of the oven,
I just love this dessert, it stays warm in the skillet, and before you know it everyone will be dipping their spoon into it to get some!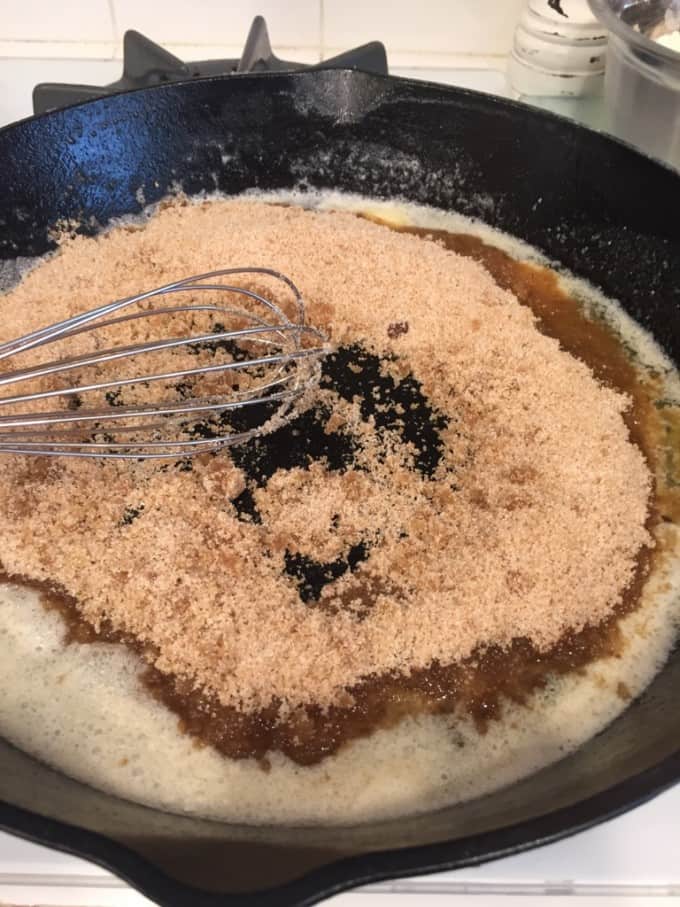 Once the cast iron skillet is hot, melt the butter, then whisk in the sugars.
The baking time is not long since the skillet is hot before even beginning the mixing.
If you don't have a cast iron skillet, you can prepare the cookie mixture and place it in a round 8 to 10-inch pan and bake it in there. Test the cookie 2 inches from the edge to be sure it's cooked, but if you want to eat it warm and chewy don't over bake.
But there are so many great things about a cast iron pan, it's a perfect time to get one!
Then you can start making more cast iron recipes, Skillet Apple Crisp, Cranberry Cornbread, Cherry Cheesecake Skillet Cookie, Caprese Chicken with Basmati Rice, Shrimp Roll with Lemon Basil Aioli, How and Why I Cook Chicken for the Week all at Once.
THIS is the skillet I use and love and I use it so much I have 3 of them and more in other sizes too, it's a kitchen must have.

Red Velvet Skillet Cookie
Ingredients
1/2 cup butter
1/2 cup sugar
1/2 cup brown sugar
4 tablespoons dutch cocoa
2 tablespoons dry buttermilk (I use Saco Brand and it's in the baking aisle of grocery stores)
2 tablespoons red velvet extract (or red food coloring)
2 teaspoon vanilla extract
1 1/2 cups flour
1/2 teaspoon baking soda
1/4 teaspoon salt
1 egg
1/2 cup white chocolate chips
1/2 cup chocolate chips
Instructions
preheat oven to 350 degrees
Heat a 12 inch cast iron skillet over high heat on the stove.
Have everything ready to go into the skillet (all measured out) you'll be adding the items quickly.
Place the sugars in one bowl, the dutch cocoa, dry buttermilk flavors, flour, baking soda and salt in another bowl, beat the egg in a separate bowl and have the chips measured out.
When the skillet is hot, turn it to medium heat.
Add the butter and once it's all melted whisk in the sugars
then pour in the flour mixture and whisk or mix with a spatula, when it's half way mixed add in egg, then finish mixing.
Stir in chips and press smoothly into a skillet with a spatula.
Bake for 15 minutes, or until a toothpick inserted into 2 inches from the edge of the skillet comes out clean. Don't over bake or it will become dry as the skillet cools.
Notes
if you use a smaller skillet such as a 10" skillet, the cookie will take typically 8-10 minutes longer to bake, and it will bake up higher.
ENJOY!