This whipped feta cheese is so creamy and is a great quick recipe to keep on hand for everyday snacking.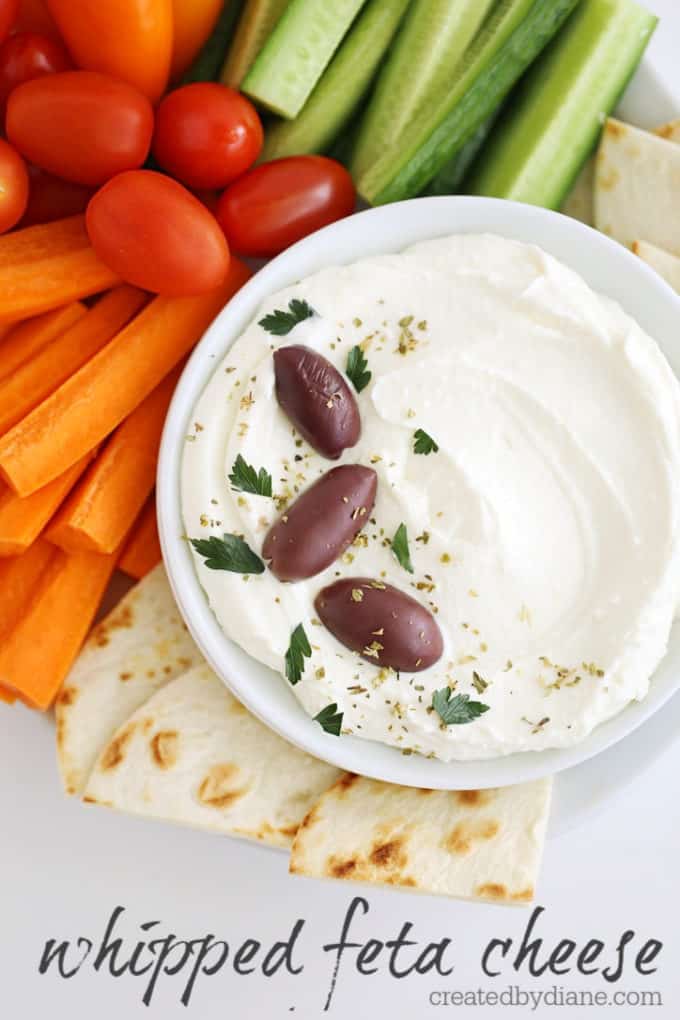 Crumbly and a bit grainy, Feta is a fresh cheese – meaning it's unaged. It's perfect for a snack beside the pool, or as an Hors d'oeuvre for company, great year-round.
Delicious on top of salads of all types, including this pasta salad, Feta brings flavor to any dish it's in. Combined with cream cheese – it's a double threat. And today we will be turning this grainy sheep's cheese into a smooth and creamy dip perfect for veggies or pita.
We'll add garlic and Oregano for a bit of spice and lemon to cut through the heaviness one might expect with a cheese dip, making it a perfectly light tasting treat.
And Feta has a long history! Documented in Greece from the 8th century BC, it was widely consumed in ancient Greece and is first recorded in the Byzantine period under the name prósphatos, meaning 'recent' or 'fresh'.
And don't even think of feeling guilty about eating this dip, Feta is one of the healthiest cheeses you can eat – it's packed full of protein and calcium, has a lower fat count, and it is rich in Vitamin B6, Vitamin A, and Phosphorous. On top of all of this, it's an excellent probiotic.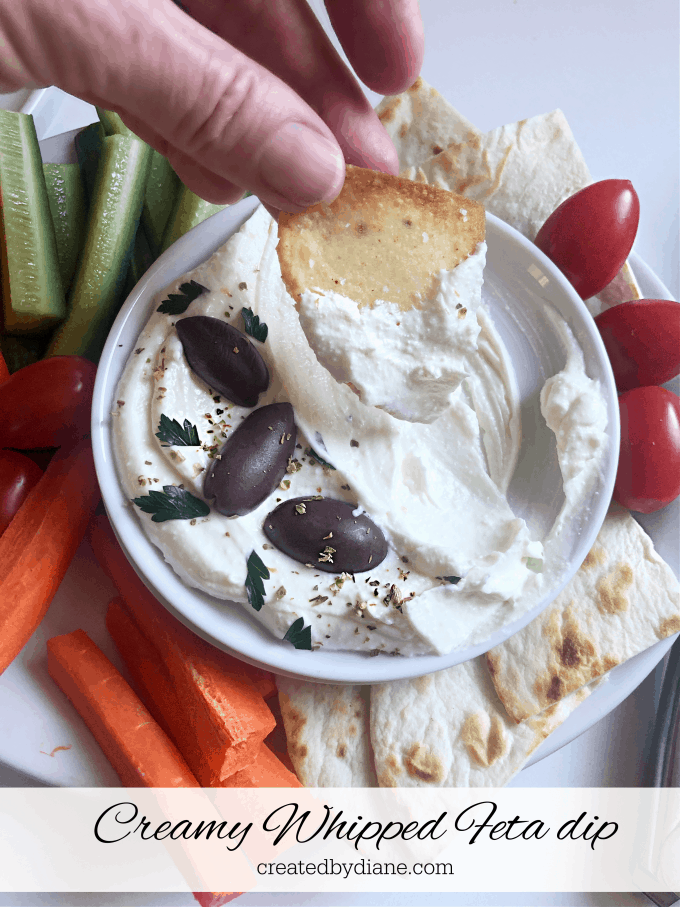 I use a food processor to make this as it's quick and offers easy cleanup, however, you can use a hand mixer and achieve the same results.
In a food processor blend your feta cheese, cream cheese, lemon juice, salt, oil or sour cream, garlic, and oregano until smooth.
Place into a serving dish, this can be a bowl or a deep plate, and serve with your choice of vegetable or bread.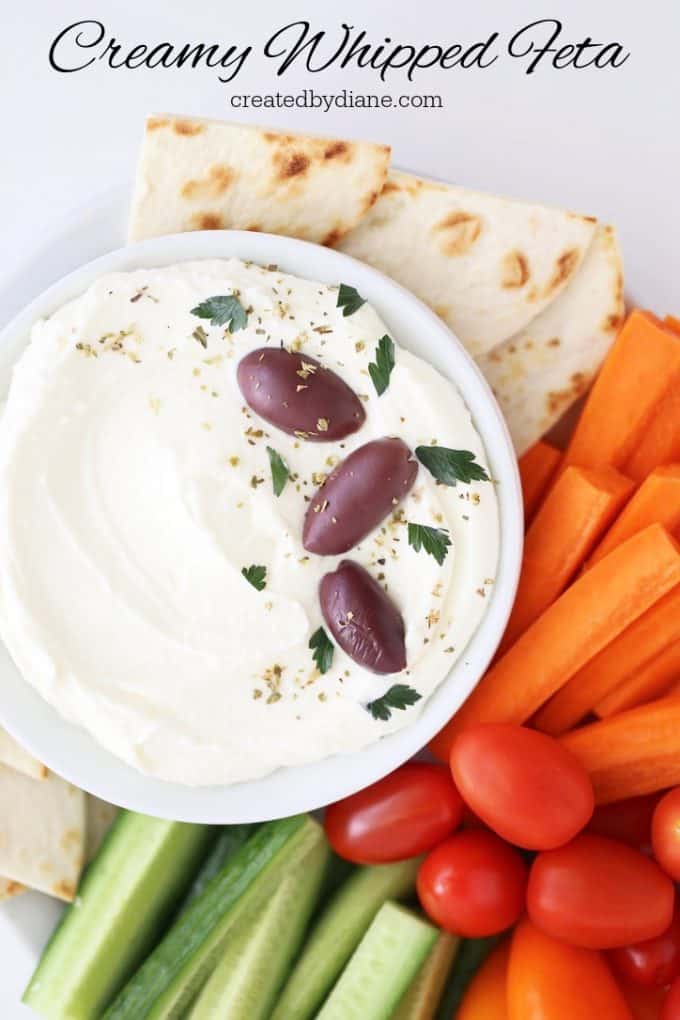 NOTE: For a lower fat option, you can replace the cream cheese and sour cream with a low-fat kind. Not all low-fat products are created equal, so I do recommend a name brand.
Can I do this by hand?
You could, though it requires some muscle and a good strong mixing spoon. Allowing the cheeses to come to room temp can help make them easier to work with. Once you have everything roughly combined, use a whisk to work out any lumps and smooth everything.
I don't have a lemon, is there a substitute?
Lime will be a little bit tangier, but it will work!
Feta cheese dips are flexible as they are mild in flavor and lend themselves to all kinds of eating including these Fried Spinach Ravioli with Feta Cheese Dip.
How long can this be stored in my fridge?
Feta is a fresh cheese so it will break down faster than normal cheeses. And though I don't expect there to be any left once this dip is served, it can be stored in your refrigerator for up to 5 days.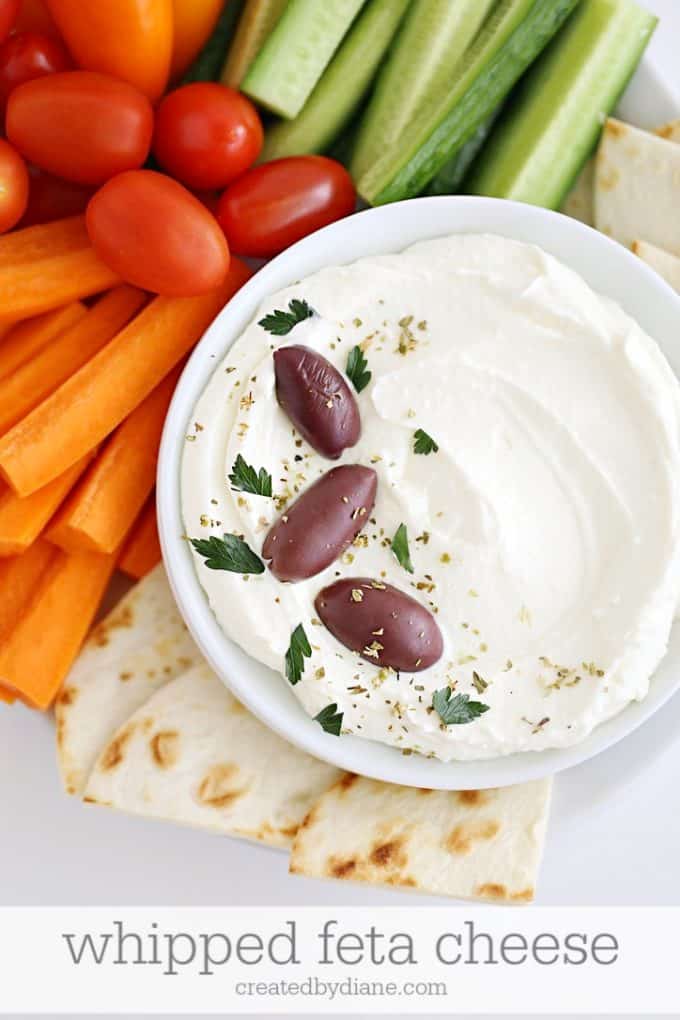 Great served with pita bread, pita chips, vegetables, with greek salad, chicken kabobs, burgers, and more.
I love small batch recipes like this and use my small food processor to make them.

Whipped Feta Cheese
creamy feta cheese great for dipping chips, vegetables, spread don beef sandwiches, dipping chicken into and alongside Greek salad
Author:
Diane Schmidt Created by Diane
Recipe type:
Appetizer, Dip, Cheese
Ingredients
4 oz feta cheese
2 oz cream cheese, Greek yogurt or sour cream
1 tablespoon lemon juice
1/2 teaspoon salt (coarse kosher salt, use less if using table salt)
2 tablespoons oil or sour cream (can add up to 4 tablespoons)
1/2- 1 teaspoon garlic paste or powder
1/4 teaspoon oregano
garnish
Instructions
In a food processor mix the feta cheese, cream cheese, lemon juice, salt, oil or sour cream, garlic, and oregano until smooth.