This is a super tasty appetizer and one EVERYONE seems to LOVE, really what's not to love… mozzarella, tomato, basil, and BREAD.
I'll show you how to put this together quickly and easily and you'll be able to enjoy it in no time at all.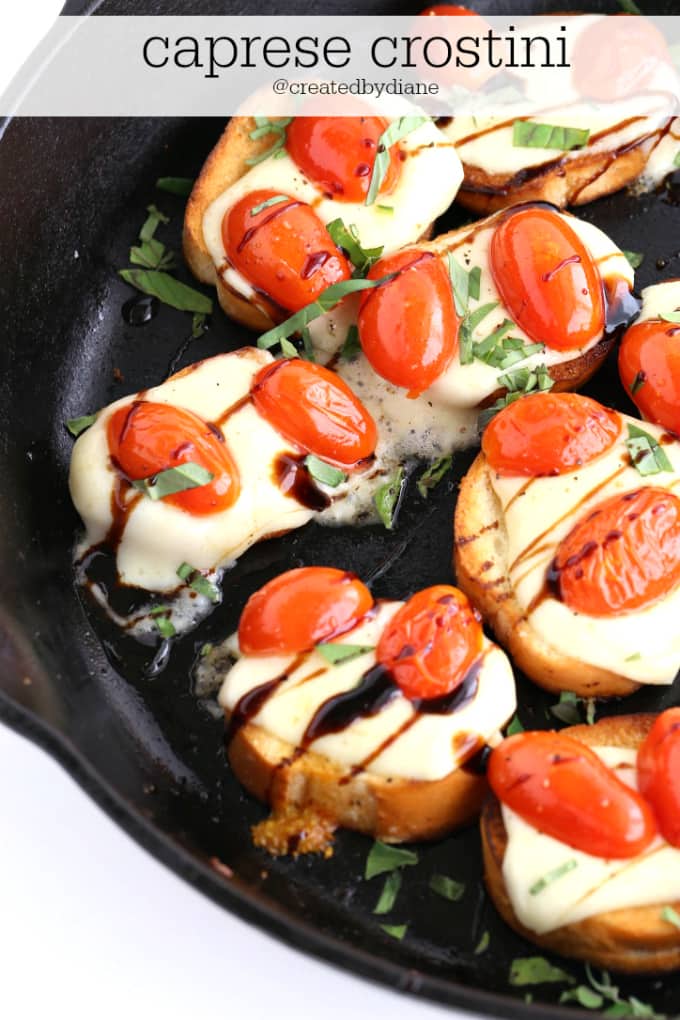 Give me some toasted bread topped with cheese and well,
yes…you had me and bread and cheese.
Bread and cheese, they really are the dynamic duo!
But with just a few minutes and a few more items, you will have something that is super terrific.
You may need to hide the plate as others breeze by the kitchen to be sure you can properly SAMPLE them…. or devour however you look at it!
I love cooking in a cast iron skillet, it toasts the bread so well and is really my go to pan.
If you like this post, you will most likely LOVE this Chicken Caprese with Balsamic Rice. Secondly, if you like pasta as much as I do, this Feta Basil Balsamic Pasta Salad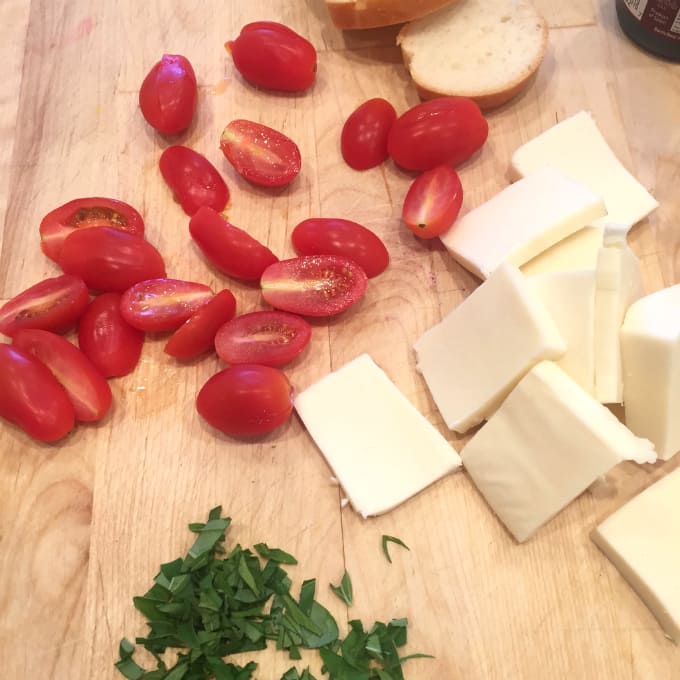 I used "slicing" mozzarella. It's firmer than regular mozzarella, but any mozzarella will work…  fresh, grated, it'll all taste good!
I added fresh basil and oregano, fresh basil is key to a Caprese. I really like fresh oregano, if you don't have any you can just omit it or use a small amount of dry oregano if you prefer.
Don't forget the salt and pepper!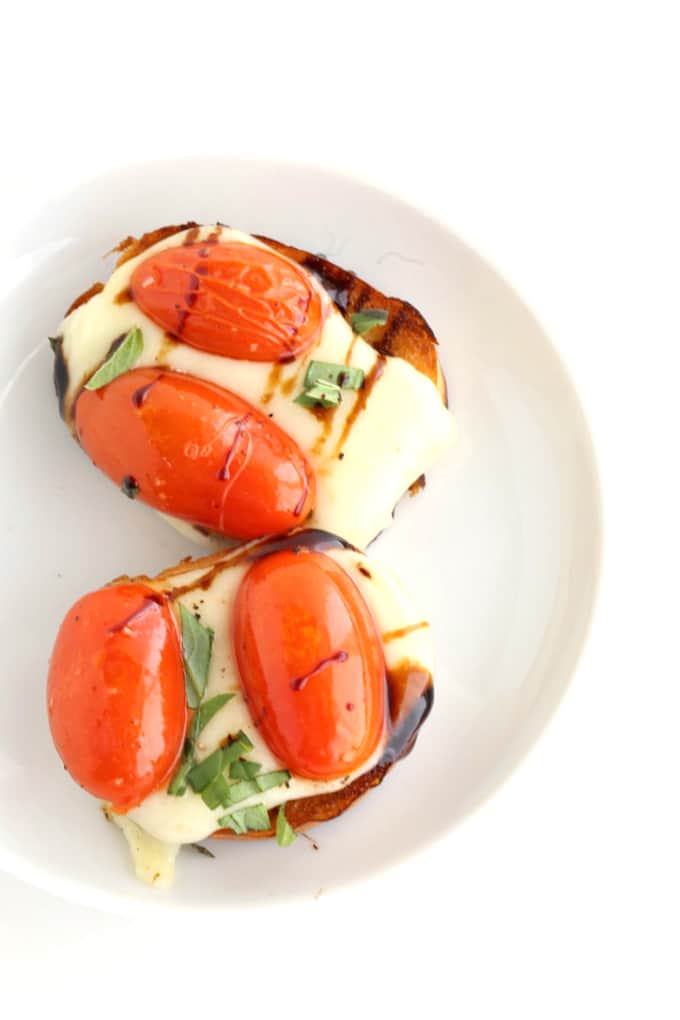 Add a drizzle of balsamic cream, it's thick balsamic and oh so wonderful on top of this.
I'm not telling how many of these I consumed. Let's just say they didn't fit on one plate!
THIS is the skillet I use and love and I use it so much I have 3 of them and more in other sizes too, it's a kitchen must have.
Caprese Crostini
Ingredients
baguette sliced
olive oil
grape tomatoes sliced in half lengthwise
mozzarella cheese ( I purchased "slicing" mozzarella which is firmer and easier to slice, but any mozzarella cheese will work) Slice cheese so it fits the size of the bread, or use grated mozzarella cheese.
fresh basil and oregano
balsamic glaze
salt and pepper
Instructions
Heat skillet on high, brush the sliced bread with olive oil.
Place the bread on hot skillet and brush the other side with olive oil, turn the temperature to medium flip when the first side is toasted and golden.
Top each slice of bread with cheese.
Place the sliced tomatoes in the skillet for 2 minutes and turn them over to heat them easily.
Then place the tomatoes on top of the cheese and cover the pan with a lid for a minute to two until cheese melts (or place it under a hot broiler for a minute or two).
Top the toasts with fresh basil, oregano, salt, and pepper with a drizzle of balsamic glaze.
Notes
for every 10 slices of bread, you'll need 20 grape tomatoes and about 4 oz mozzarella cheese, one stem of fresh basil and one stem of fresh oregano and two tablespoons balsamic glaze.

If you like this or any other recipe on Created by Diane be sure to share the post with the ones you love. You can click on the "share" buttons on the top and the bottom of each post, you can share it on social media or in an email.
Thanks ~Diane