Want an amazingly delicious bite size dessert that is a crowd pleaser…. these Gingerbread Cheesecake Bites are a true winner!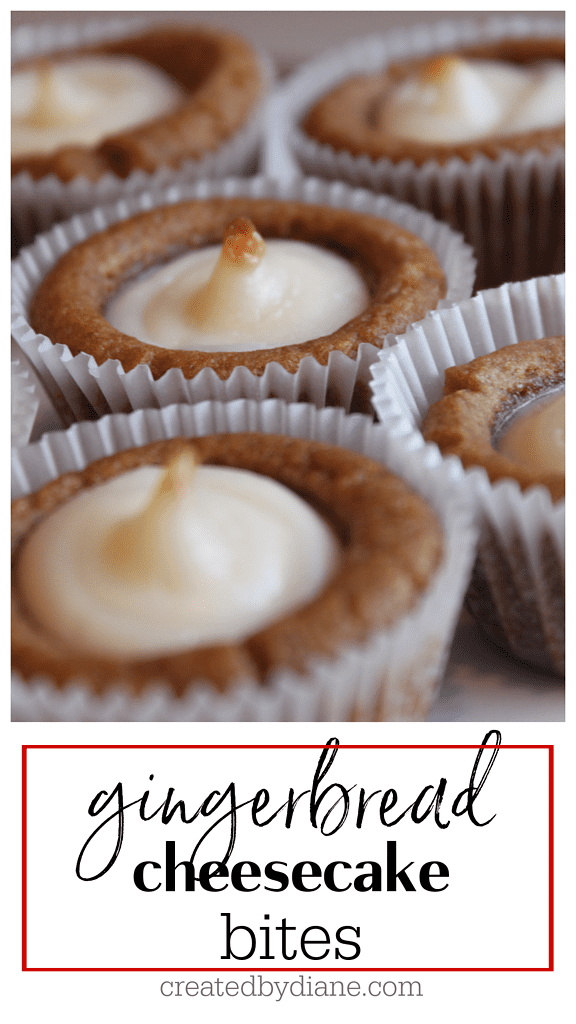 Gingerbread Cheesecake Bites
We woke to 39 degrees, it's much colder than the 95 degree days we had a week ago.
It's a hot tea and cookie type of day.
With the smell of gingerbread in the oven, I think I need to start writing my Christmas list…
Have you written your list yet? 
Do you have a running list that starts on Jan 1st and you just keep adding to it all year long?
Do you just jot down a few things it would be nice to have?
Do you rely on someone selecting the perfect gift with no list at all, or d
o you know exactly what you'd like to receive?
Just imagine the Christmas Carols playing in the background and the aroma of gingerbread baking in the oven.
Nothing says happiness at this time of year more than great baked goods, no matter what's on your list.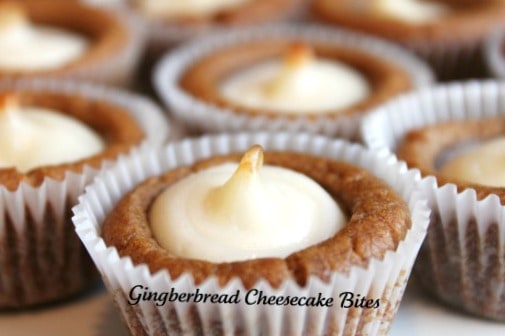 This recipe combines two great holiday favorite flavors, gingerbread and cheesecake, and a winning duo it is! 
One bite in and you'll know exactly why these are so popular, the cookies has a nice spicy crunch while the cheesecake filling is creamy and rich and oh so delicious.
.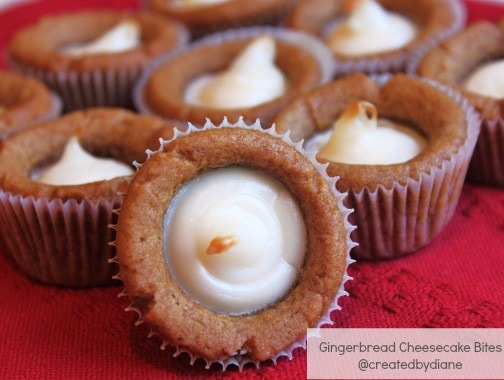 To help you get in the baking mood, I created these quick and easy cheesecake filled gingerbread cookies.
In just a few simple steps your kitchen will smell like the holidays too.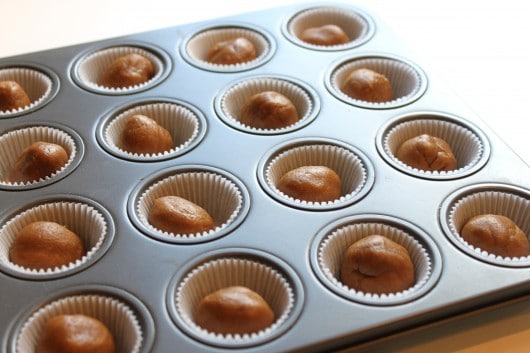 Begin with a 30 oz. roll of Pillsbury Gingerbread Cookie Dough or USE MY GINGERBREAD COOKIE RECIPE if you want it all to be homemade or you can't find the Pillsbury dough.
Roll 2 teaspoons of gingerbread dough into balls and place them into a mini cupcake/muffin pan with paper liners.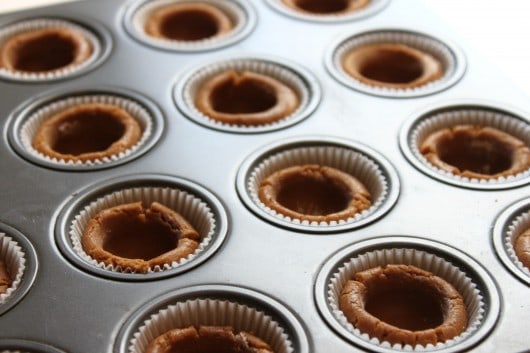 Make a well or indentation in each ball to fill the cookies.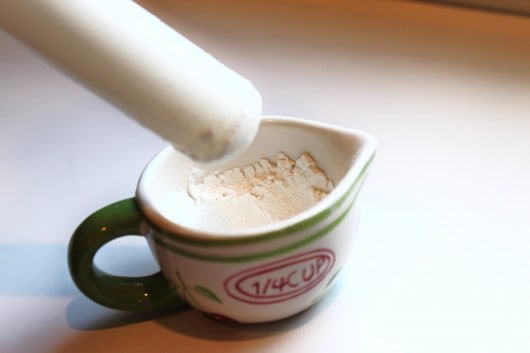 To create the indentations in the cookie dough, place the end of a mini rolling pin or back of a measuring teaspoon dipped in flour and press into the dough.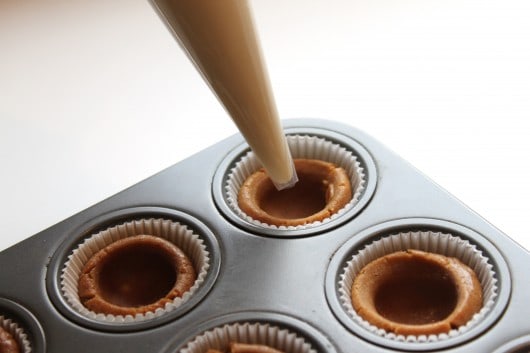 Beat cream cheese, powdered sugar, and vanilla to create the cream cheese filling.
Place filling into a piping bag, cut off the edge, and fill each with a teaspoon or so of cheesecake mixture.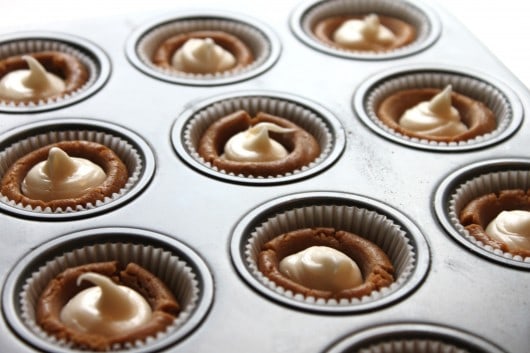 Do not overfill the dough, when the cookie bakes it will rise.
Take a look at the photos above and the final photos to see the difference.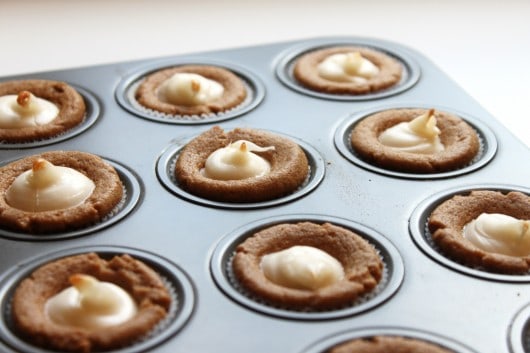 See the dough puffs up!
Bake at 350 degrees for 9 minutes, or until the cookie part comes out with a nearly clean toothpick,
they will continue to bake a bit when the pan is out of the oven cooling down.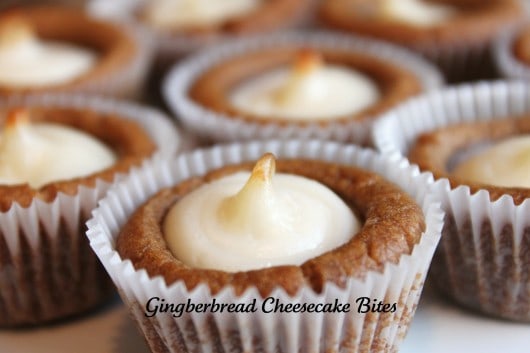 *****Substituting the gingerbread cookie dough has been a problem for many who couldn't find the Pillsbury Dough, some gingerbread cookie doughs are soft and then when they are baked the filling absorbs into the dough as it bakes. 
I have made these many times with my own gingerbread cookie dough recipe, it takes minimal ingredients and turns out great. So no need to hunt around for the cookie dough, you can make it.
CLICK HERE for the GINGERBREAD COOKIE RECIPE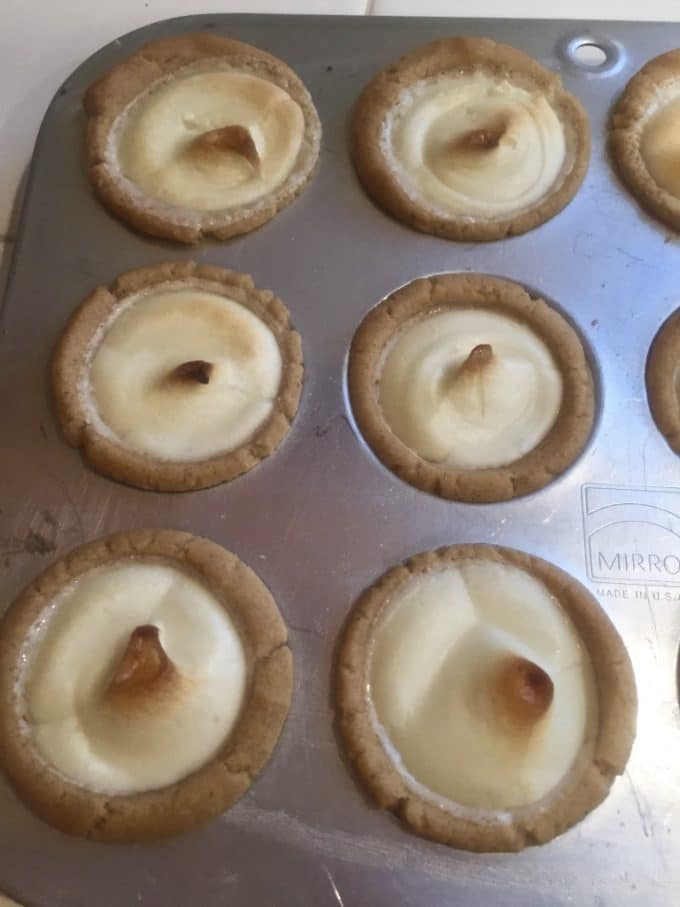 These were baked with my gingerbread cookie recipe.
But don't forget to put the paper liners in the pans. I tried them without liners and they were hard to get out of the pan.
Gingerbread Cheesecake Bites
A delicious gingerbread cookie baked into. a mini cup stuffed with cheesecake
Author:
Diane Schmidt, Created by Diane
Recipe type:
Dessert, cookie
Ingredients
1 batch of gingerbread cookie dough, my homemade recipe is linked in the post, you'll need to print it separately or use a (30 oz) package of Pillsbury Gingerbread Cookie Dough (refrigerated section)
4 oz cream cheese (room temperature)
2 cups powdered sugar
1 teaspoon vanilla
Instructions
Roll two teaspoons of cookie dough into a ball for each cookie. Place balls of dough into paper liners mini cupcake/muffin pan. Make a well/indentation into each ball of dough with a flour dipped mini rolling pin or the back of a measurement teaspoon.
Beat room temperature cream cheese with powdered sugar. Stir in vanilla. Place filling into a piping bag, cut off the edge of the bag. Place one teaspoon or so of filling into each area of cookie dough.
Bake at 350 degrees for 9 minutes or until cookie tested with a toothpick comes out almost clean.
Don't overfill the cookies with filling as they will rise when baked.
Let cool before removing it from the cupcake pan.
Notes
these keep well for the day at room temperature if you bake them ahead of time. Refrigerate them and remove from the refrigerator an hour before serving, so they can come to room temperature.
The cookie dough is firm.
If you use another cookie dough and it is on the soft side, add 1/2-1 cup flour. The cookie dough should be on the FIRM side so the filling does not get absorbed by the cookie dough as they are baking.
***update*** there is a bit of rise and fall when baking the gingerbread pre-made cookie dough. Add 1/4 cup flour to the cookie mixture and the dough will be a little firmer and will bake up with less puff, then there will be less collapsing of the dough when cooling. The gingerbread cookie and filling can be refrigerated to get them back to a cool temperature before baking and that too will help if the filling is melting or the cookie dough is rising too much. You can also bake the cookie cups empty and add the cheesecake filling when the cookie cups are cooled.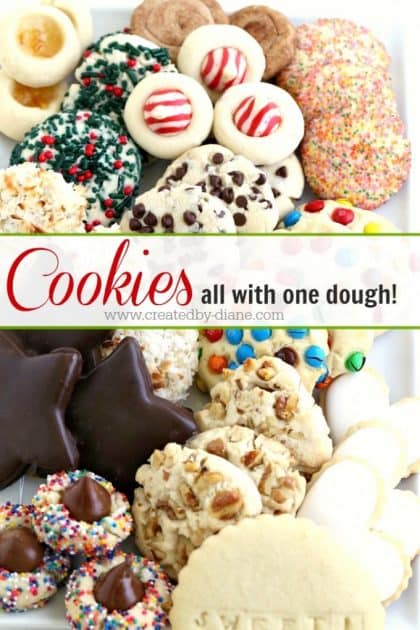 Take a look at this, make these Cookies all with ONE dough.
If you like PUMPKIN then you will LOVE these Pumpkin Spice Bites