Peppermint Cookie Cups with Fudge Filling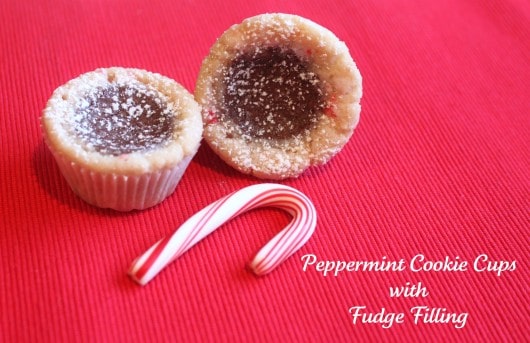 It's been a PEPPERMINT week her at Created by Diane. It started off with Peppermint Cookies and Peppermint Icing followed by Peppermint Scones and ending with these Peppermint Cookie Cups with Fudge Filling. These bite sized treats are rich and delicious!

For the ganache: bring one cup of cream to a boil then pour it over one cup of chocolate chips. Let the chocolate chips melt for a minute then stir until creamy. Let cool.

Once the ganache is cooled add it to 4 oz. cream cheese that you have lightly beaten. Mix until all the chocolate is incorporated. Place into a piping or plastic bag with tip cut off to make it easy to distribute into each cookie cup.
Now for the cookie part:
I used one 30 oz. Roll/Chub of Pillsbury refrigerated peppermint sugar cookie dough. If you aren't able to find this, my estimated guess on how to make it would be use a sugar cookie recipe and add about one cup peppermint white chocolate candy pieces chopped up and a teaspoon peppermint extract.***To the cookie dough: Add a cup of flour, so the dough doesn't swell and cave in when baked. I made this recipe three times. Trust me, add the flour.The 30 oz roll of dough made 48 cookie cups.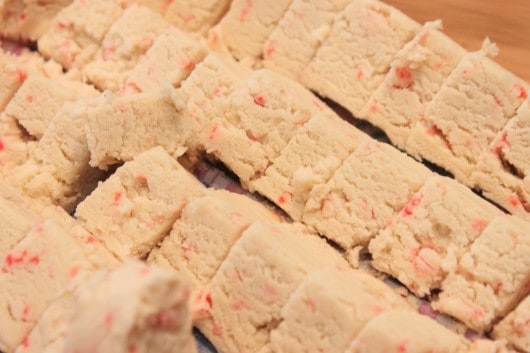 (this photo I took on the first try before I added the flour, but I'm showing you this photo for you to see if you re-roll the dough into a log how you can easily cut it into the 48 pieces)I added the cup of flour to the dough and rolled it into a log like they had it and cut the log in 1/2 then 1/2 again lengthwise. Then made 10 slices in the dough, and rolled each one into a ball and placed them into the mini cupcakes pan with paper lines.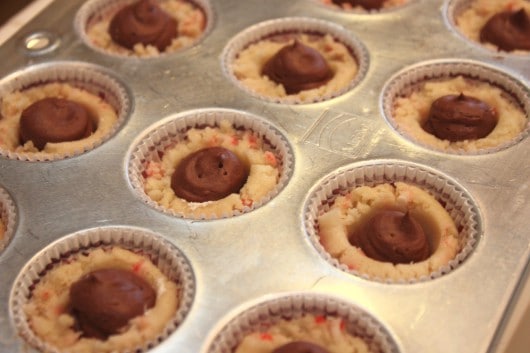 Make a well into each cookie dough ball so that you will be able to add the filling. This post has step by step instructions on how to make the wells into the dough if you'd like to see the cookie cups before they are filled. Note**it's not a little indentation, you press dough firmly to create a large enough well so you have plenty of filling.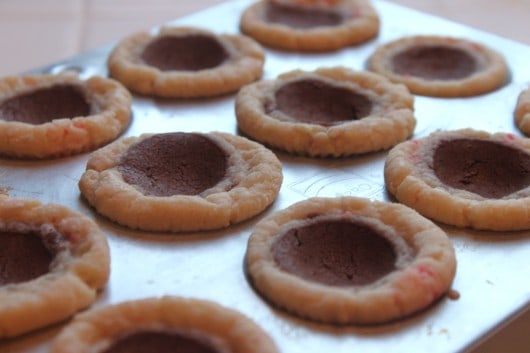 Place them into a preheated 325-250 oven, if you oven runs hot, bake them at 325. They won't swell up as much. If you are using nonstick pans bake at 325 degrees. Bake the cookies for 9-11 minutes, watch them. Take them out before they swell up TOO much over the edges of each cupcake area. They do sink a bit when cooling. As you can see in the photo below these are not the same as the Gingerbread Cheesecake Bites, that were quite full when cooled. You can test for the doneness of the cookie with a toothpick, some dough will stick on the toothpick, if nothing is sticking, most likely you over baked them.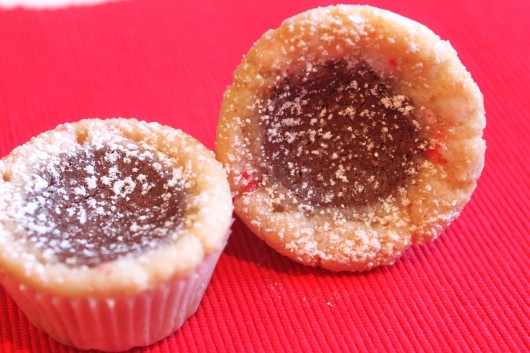 Dust with powdered sugar and pretend it's snowing! Unless of course you live where it really does snow, then sit by the window and watch the real snow fall!