Pumpkin Spice Bites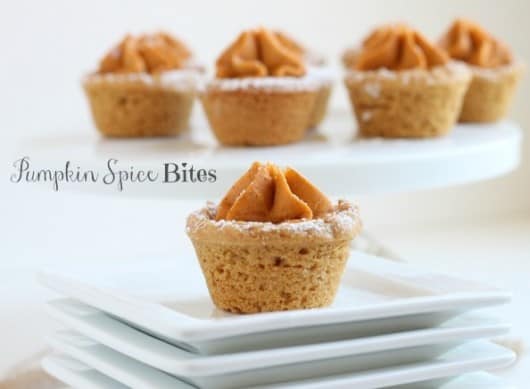 Do you love pumpkin spice?
I do and these little bites are super EASY to make.
They only take minutes to prepare and you will have 44 bite sized treats.
These will be my go to dessert all month, especially when I need them in a hurry which always seems to happen.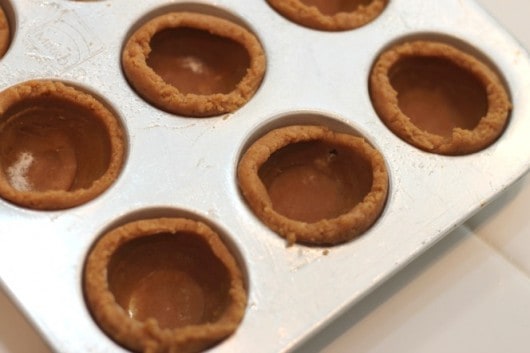 Roll dough into two teaspoon sized balls and place them into mini muffin pans. Make a well in the center of each ball by placing a mini tart shaper, or the end of a rolling pin, back of a measuring spoon or wooden tool into flour and pressing it into the dough to create a well. Step by step instructions can be found on my Gingerbread Cheesecake Bites.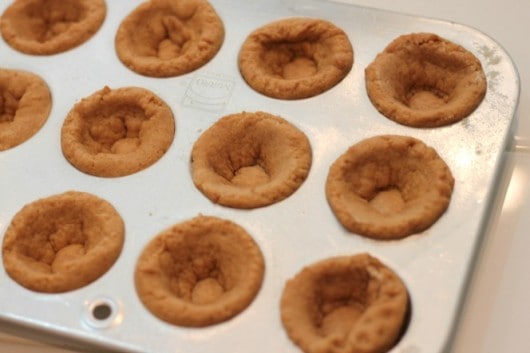 depending on how big you make the wells, will determine how much filling will go in the centers. You can press down a little or a lot. These are pressed a lot, the previous photo shows you how deep they were before baking.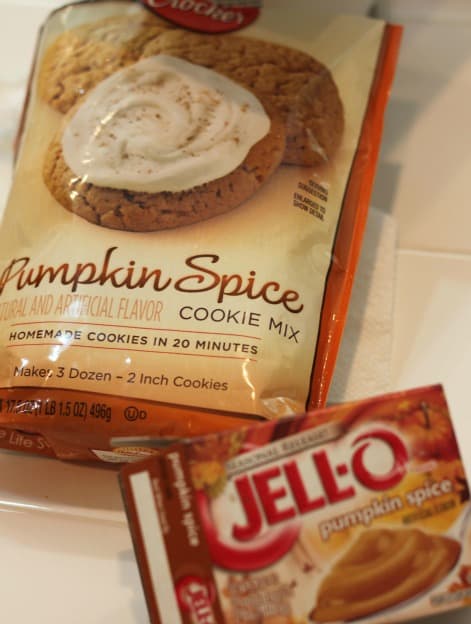 These are the two items you will need and you don't even have to tell anyone how easy these are, that part will be our secret….ok?
Typically find these types of "limited edition" items Holiday baking mixes at Walmart or Target in the Holiday Baking section, I have not found them in the supermarkets/grocery stores.
If you are unable to find them, don't worry. I have an alternative recipe that will work.
Use a package of sugar cookie mix, add a teaspoon or two of pumpkin spice and a drop or two of orange food coloring and even a teaspoon vanilla extract. Do the same to instant vanilla pudding mix. I did it with the pudding and it was great and I have no doubt it will work very well with sugar cookie dough as well.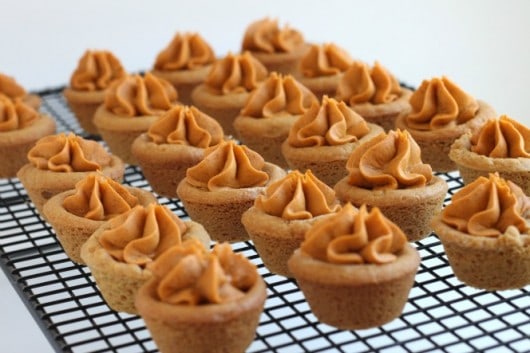 Pipe on the filling with a 1M tip and add powdered sugar on top of them.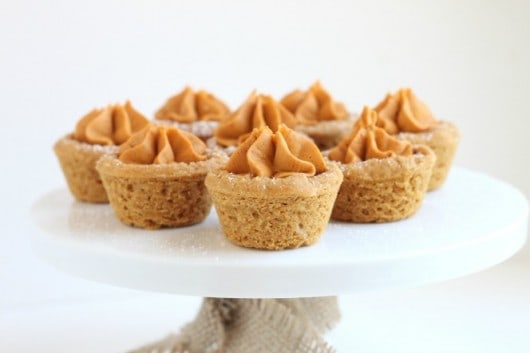 Pumpkin Spice Bites
Ingredients
1 package pumpkin spice cookie mix + ingredients listed on package to prepare
1/4 cup flour
1 package pumpkin spice instant pudding mix
1 cup heavy cream
powdered sugar for dusting on top.
Instructions
Mix pumpkin spice pudding mix with 1 cup heavy cream and whisk it until it's smooth, place in refrigerator so it will be thick and cold when you are finished baking the cookie bites.
Mix pumpkin spice cookie mix according to package directions and add in 1/4 cup flour to the mixture. This will make the dough a bit thicker so when they are baked they won't rise up too much and then sink when cooled.
Roll 1 teaspoons sized balls of cookie dough and place them into mini muffin pans sprayed with a baking spray so they won't stick.
Bake cookies for 10-12 minutes. Check with toothpick. Bake at 350, reduce the temp to 325 if using dark coated pans.
Let cool 5 minutes in pan, then remove the cookie bites from baking pan and cool completely.
Place filling into a piping bag fitted with a 1M tip and pipe filling onto cookie bites and dust with powdered sugar.
They will keep at room temperature for the day you baked them, otherwise refrigerate them until ready to eat, remove 30 minutes before serving so they will come to room temperature.