I'll take S'more….Peanut Butter S'more Bites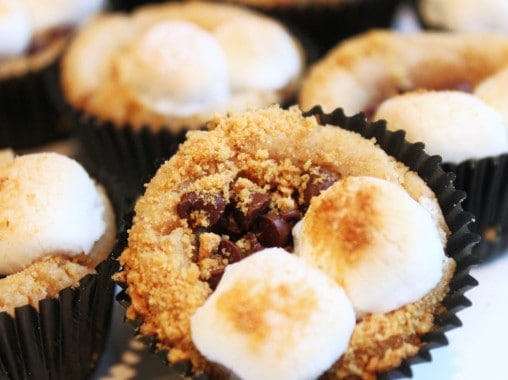 2011 has been filled with all sorts of goodness
I hope 2012 is filled with S'more!
S'more treats
S'more laughter
S'more happiness
S'more great memories
As you can see I can't get S'mores out of my head
I made these Peanut Butter S'more Bites to celebrate!
S'more Peanut Butter Bites
1 package Peanut Butter Cookie Mix (Betty Crocker*plus items required from package)
1 tablespoon water*
3 Tablespoons oil*
1 egg*
1 cup flour
1 cup cream
1 cup chocolate chips
3/4 cup mini chocolate chips
72 mini marshmallows
2/3 cup graham cracker crumbs
Makes 36 Peanut Butter S'more Bites

Begin by making the ganache filling:bring one cup of cream to a boil then pour it over one cup of chocolate chips. Let the chocolate chips melt for a minute then stir until creamy. Let cool.
Mix peanut butter cookie mix with water, oil, egg and flour.
Roll about two teaspoons of dough into 36 balls and place them into paper lined mini cupcake pans.
Create a well in the center of each. You will find step by step instructions here.
Place a teaspoon or so of the cooled chocolate ganache into each well and top with a few mini chocolate chips, two mini marshmallows, and graham cracker crumbs.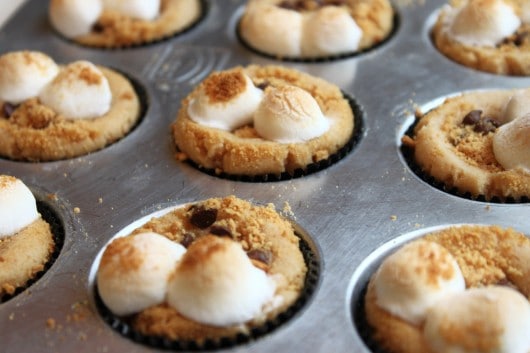 Bake at 350 degrees for 8-10 minutes.