I have loved fudge for as long as I can remember, and oh how fun this GINGERBREAD Fudge is!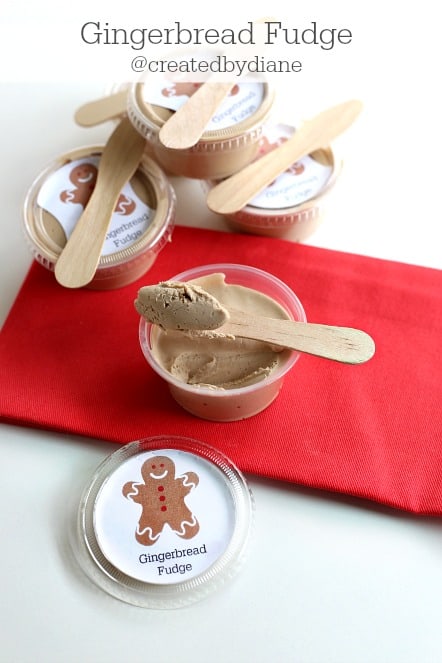 This recipes makes for an easy to give gift and also great for portion control snacking!
I've made Gingerbread Cookies, Gingerbread French toast with Gingerbread Butter,
Gingerbread Bread Sticks, Gingerbread Biscotti,
Gingerbread Cheesecake Bites, Gingerbread Scones,
but I had never even had gingerbread fudge and decided I had to change that FAST.
This fudge is creamy and delicious and just perfect for the GINGERBREAD lover in us all. We all like it right, it's just not me….or is it.
I love the smell of gingerbread!
You'll be surprised how easy this is to make and how quickly you can whip up a batch.
I am sharing the printable below if you wanted to make them into small 2 oz plastic containers with lids, perfect for gift giving.
Gingerbread Fudge
Serves:
18 2oz containers
Ingredients
14oz sweetened condensed milk
3 cups white chocolate (about 18 oz)
1/4 cup dark chocolate chips
2 tablespoon molasses
1 teaspoon pumpkin pie spice
1 teaspoons ground ginger
7 oz. marshmallow cream
Instructions
In medium saucepan place sweetened condensed milk and white chocolate in pan, turn heat on medium and stir the mixture until it's fully heated and all white chocolate is melted and mixture is smooth.
Remove from stove
Stir in chocolate chips,molasses and pumpkin pie spice and ginger and marshmallow cream
Pour into parchment lined 8x8 pan or into 2 oz plastic container like I did (then place lids on top)
put fudge into fridge until fully chilled.
After setting up, fudge will stay fresh at room temperature wrapped well for two weeks or three weeks refrigerated.
I found 2 oz plastic containers and lids at my local grocery store the company that makes them is Diamond (they also make toothpicks 🙂 and came in packages of 50.
I won't tell you how many packages I bought.
I think I went a little crazy with fudge this season…but that's ok, that means lots of yummy recipes I will be sharing with you.
Printable for Gingerbread Fudge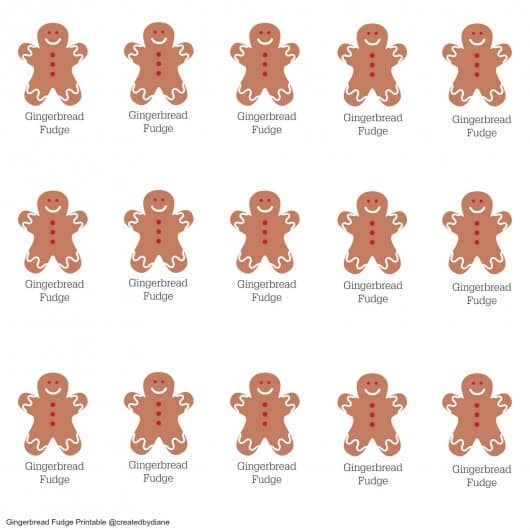 I printed this at 80% and cut it with a round cutter.
I'm still working on perfecting printables,
as you can see some my circles overlapped, but I still think they look cute,
I could have printed many copies, but it was late 🙂
I tied some wooden "spoons" to them with sting, but then found some glue dots I had and applied the sticks with those. I bought the wood spoons online and was glad to have some around for this project.
They remind me of eating Italian Ice as a kid from the ice cream man!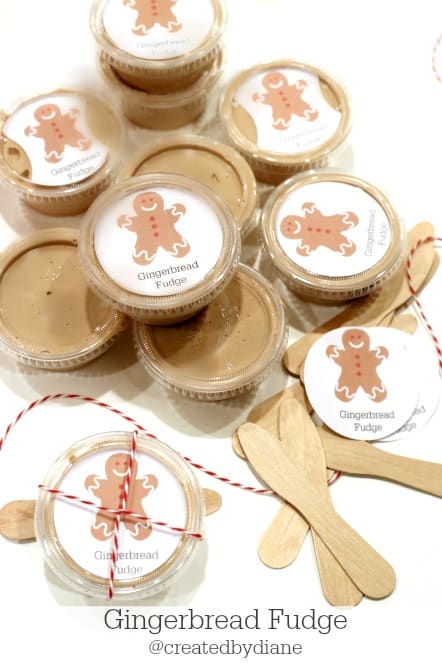 Here is my post on PUMPKIN PIE SPICE if you need it, and it makes a really sweet gift this time of year too!