I've been making corned beef for YEARS,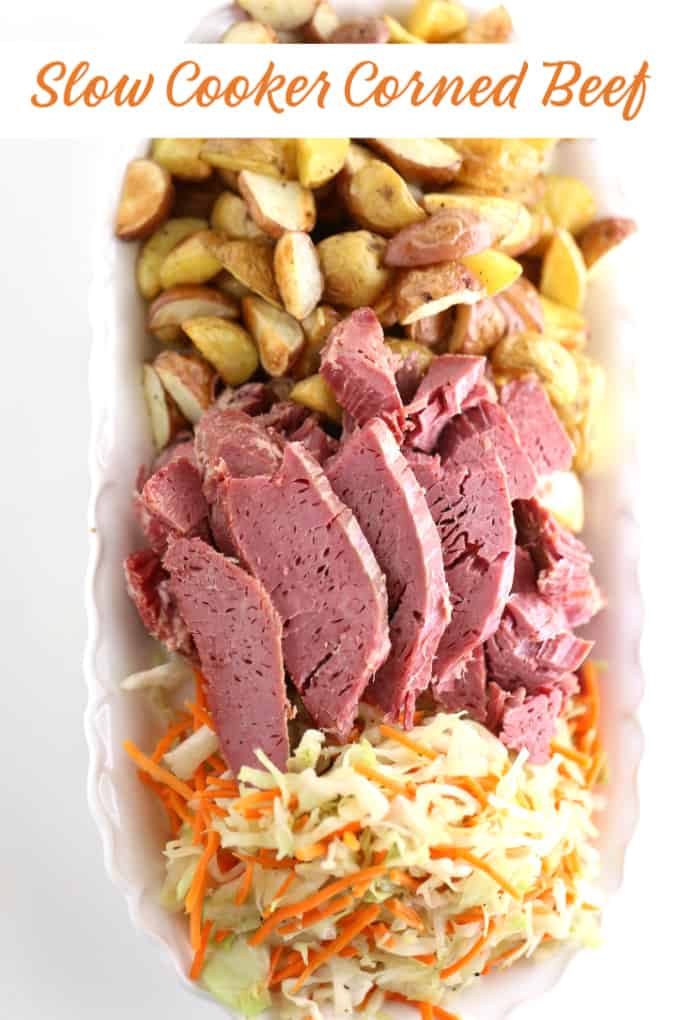 I typically make it on St. Patrick's day every year, and buy extra corned beef and make it about a month later, we all love it, we are IRISH after all!
Slow cooker corned beef is the set it and forget it method.
Corned beef takes time to cook so it's easy to have it cook in a slow cooker and get on with your day!
Just before the time to take it out of the slow cooker, I saute a package of coleslaw mix in a pan and then roast small potatoes cut and drizzled with olive oil, salt, and pepper for 20 minutes.
I don't prefer the potatoes and cabbage cooked with the corned beef, and like the fresh flavors of having them cooked separately.
But you can go the traditional route and boil some potatoes, with cabbage and carrots if you prefer.
I also make corned beef in a pressure cooker and you can find that info here… Pressure Cooker Corned Beef it's the fastest way to cook corned beef.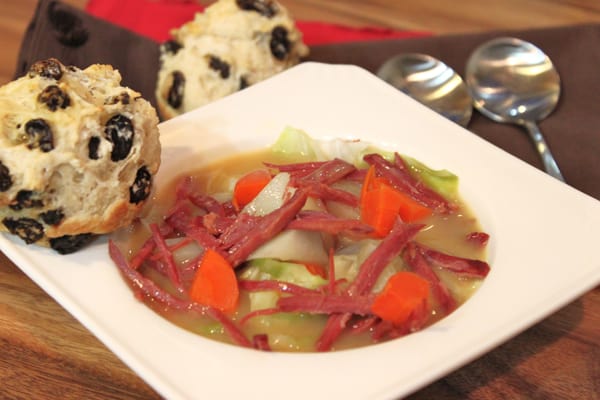 Here you can print out the recipe for my Corned Beef Soup here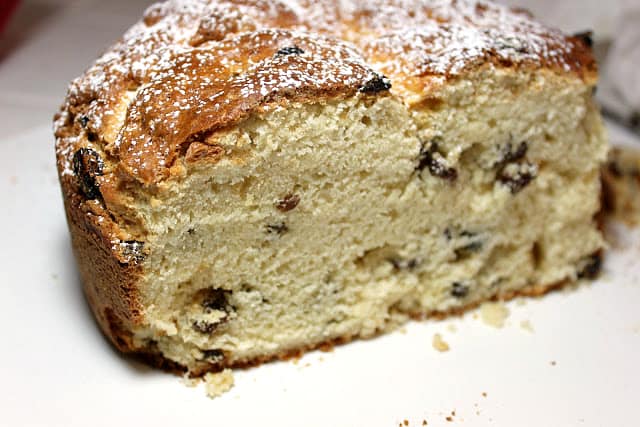 and My IRISH SODA BREAD RECIPE HERE!
I've been making Irish Soda bread for over 30 years, it's so delicious and nothing says St. Patrick's Day like a freshly baked loaf of Irish Soda Bread.
I sometimes make corned beef a day ahead then sliced it when it's cold which is great when I want more than one corned beef, or I want to make great sandwiches!
Now lots of people love corned beef but don't really like cooking it, and let me tell you when those times arise, simply purchase it in the deli section of your grocery store and make some great sandwiches. That's what I do when I really want some corned beef and no time to make it.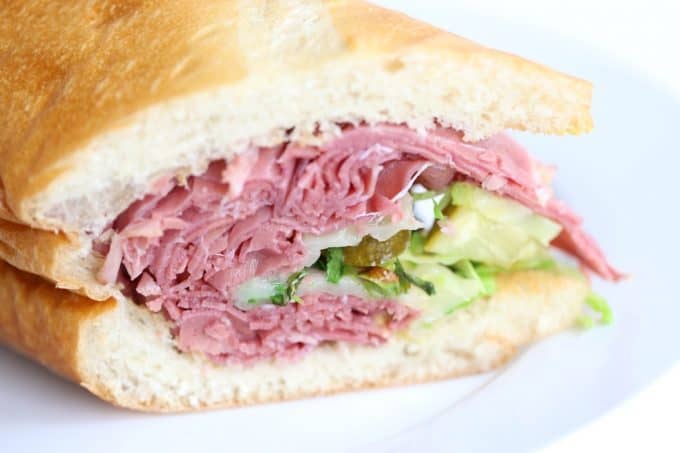 I like to toast hoagie rolls piled high with sliced corned beef and some swiss cheese or Monterey jack cheese in the oven until the bread is lightly crispy and the corned beef is heated, then add sauteed cabbage, lots of dill pickles and some mustard.
These sandwiches can be enjoyed hot or cold, so make extra and have plenty for the next days' lunch.
So when you see corned beef on sale at the store pick up extra and put it in the freezer for when you get a corned beef craving!
If you LOVE your slow cooker be sure to check out these recipes: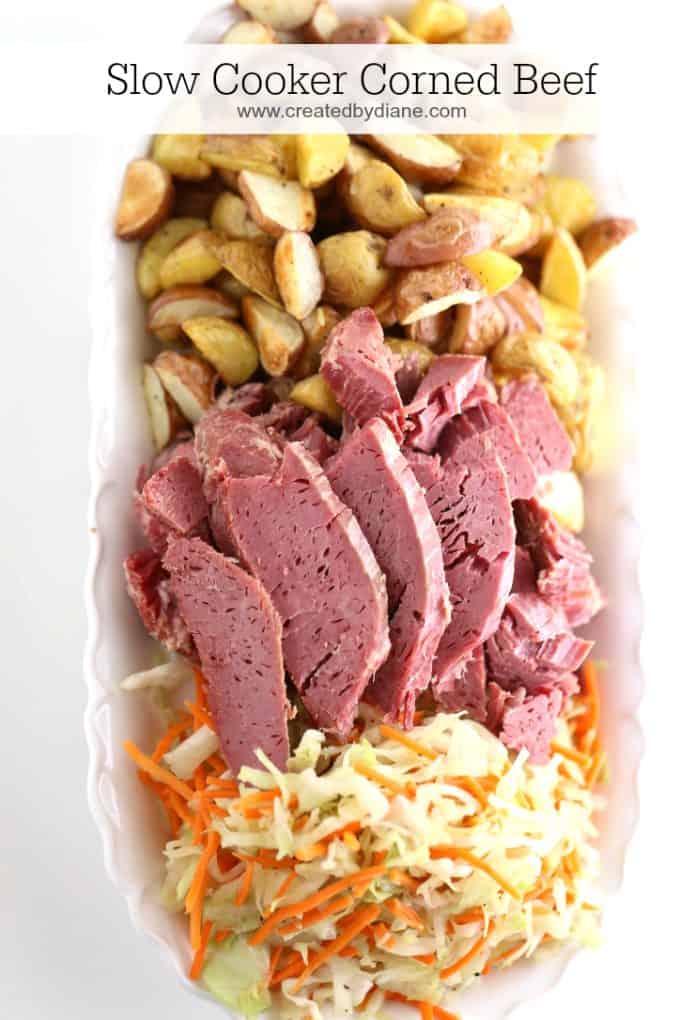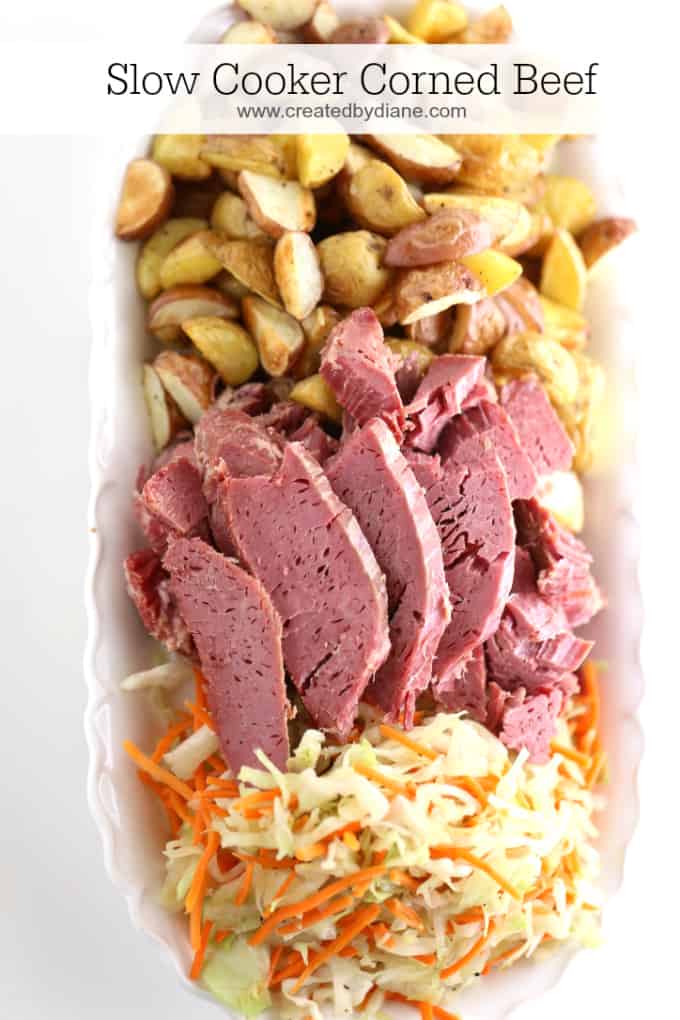 Slow Cooker Corned Beef
Ingredients
3 lb corned beef
2-3 cups water, enough to just cover the corned beef with water
1/2 cup sugar
1/3 cup white vinegar
Instructions
Remove corned beef from packaging, rinse corned beef, then place it in your slow cooker.
Add the water, sugar, and vinegar.
Set it on low for 8 hours, or high for 5 hours.
Remove the corned beef from the slow cooker, discard the liquid allow the corned beef to rest if you are slicing it, or shred it with two forks.
*Saute a package of coleslaw mix in a skillet and slice small potatoes then drizzle them with olive oil and roast them in a pan in the oven at 400° or in a cast iron skillet with a lid after they start to brown. They take about 15-20 minutes in the oven and on the stove if you have your cast iron hot.