Corned Beef and Cabbage Soup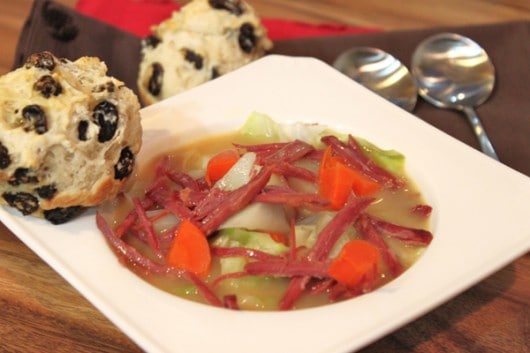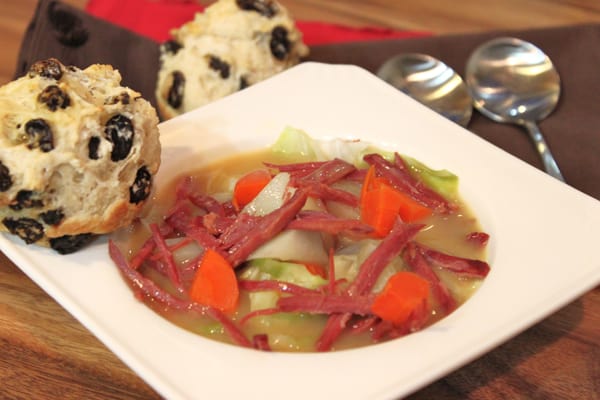 Corned Beef and Cabbage Soup with Irish Soda Bread Muffins
St. Patrick's Day is just around the corner and I don't know about you,
but my family looks forward to me making my traditional Corned Beef and Cabbage Meal with Irish Soda Bread. If there
If there are leftovers or I have extra corned beef this is what I like to make.
Because if I made two or three corned beef pieces we will eat them.
Sometimes three have been consumed. I did mention they LOVE this dinner, or didn't I?
Well this soup is great if you don't prefer to eat an entire three pounds of corned beef yourself, or if you have some leftover corned beef.If you want to make it really easy and get in the deli section of the grocery store. It does take some time to cook corned beef, so it's usually a plan
If you want to make it really easy and get in the deli section of the grocery store. It does take some time to cook corned beef, so it's usually a plan ahead meal. I have cooked corned beef in a pot on the stove, which took hours. I've used a crock pot and it was okay, but not as tender as I like it. I now always do my corned beef in a pressure cooker. Nothing is better than having it done fast, so if you're like me and are lacking in the patients area a pressure cooker is the way to go.
This soup is a great way to serve leftover corned beef. This is great for the day after St. Patrick's day if you already have the meat and vegetables cooked, it only takes minutes to put this together.
In a pressure cooker a three and a half pound corned beef takes about 1 1/2 hours to cook.
I buy the flat cut or the round cut if they have it.
I add 1/4 cup vinegar and a 1/4 cup sugar to the water in the pressure cooker to 2 1/2 cups water, which just has the water go up to the bottom of the beef.
Adjust how much liquid is needed depending on the size pressure cooker you have.
Corned Beef and Cabbage Soup
Corned Beef and Cabbage Soup
Ingredients
4 cups chicken stock
¼ cup flour
4 carrots diced
½ head cabbage chopped
4 large potatoes cooked and diced
1 pound cooked corned beef (if you have more, even better) they sell corned beef in many deli counters and that can be used as well. Chop it thin and it will work well, it's a quick substitute.
Instructions
If you are using leftovers, the potatoes, cabbage carrots and corned beef are already cooked you will place the chicken stock into a 4 qt pot and whisk in the flour, bring it to a boil and add leftovers and heat them thoroughly.
If you are beginning with your items uncooked, cook carrot, then add cabbage as it only takes a few minutes, cook your potatoes in the microwave then dice them and add them in, along with the stock mixed with flour, bring to a boil. Add cooked corned beef, I prefer it shredded in this soup. Heat thoroughly.
Irish Soda Bread Muffins
Ingredients
4 cups flour
3 tablespoons sugar
1 tablespoon baking powder
1 teaspoon salt
1 teaspoon baking soda
6 tablespoons cold butter
2 eggs
1½ cups buttermilk
1½ cups raisins
Instructions
Spray muffin pan with baking spray.
Mix flour with sugar, baking powder salt and baking soda in large bowl.
Cut in cold butter with a pastry cutter or two knives until it resembles coarse crumbs.
In a small bowl, beat the eggs and remove a tablespoon for to brush on top of muffins before baking.
Add buttermilk and eggs to flour mixture, the dough will be very sticky.
You can mix it with a mixer and dough hook. Add raisins and mix together until they are incorporated.
Turn dough onto well-floured surface and with floured hands knead the dough about 10 times.
Place three tablespoons into each well of the muffin pan and bake at 350 degrees for 15-20 minutes.
Insert a toothpick to check to see the aren't too moist inside.
Let muffins cool and dust with powdered sugar before serving.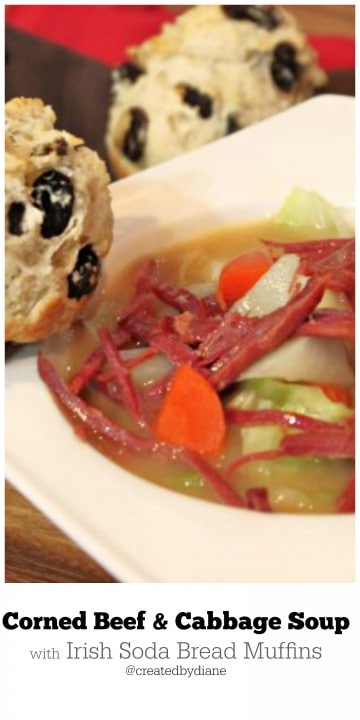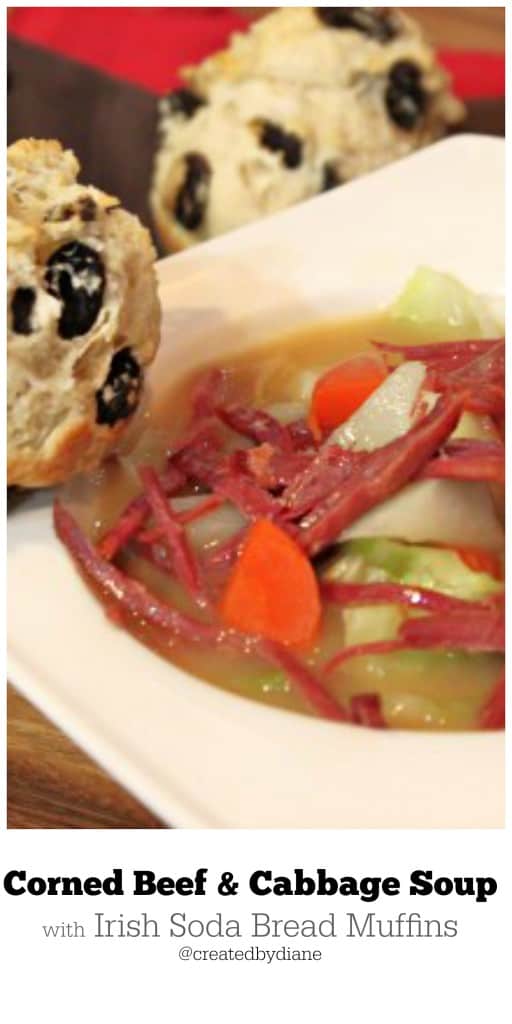 You can bake this in a 1 1/2 quart casserole dish for 1 hour and 10 minutes, if you prefer it to be a large loaf of bread. I have a photo of one I baked here.
* You can find dry buttermilk, that you can add water to in the baking section. Buttermilk adds a rich flavor to scones, biscuits, cake, and pancakes.