It is no secret…
I LOVE pasta!
This is one of the easiest pasta sauces to whip up quickly.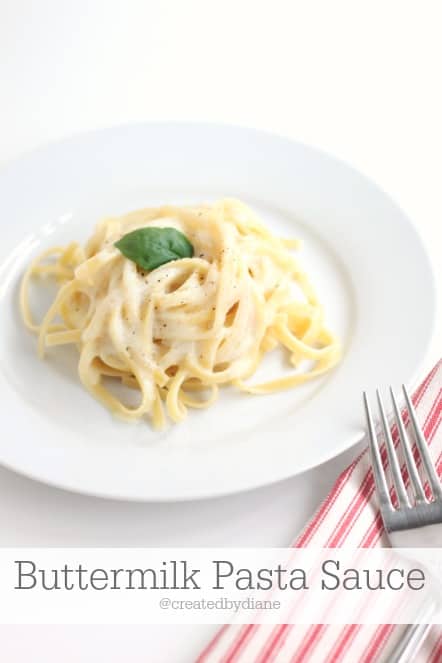 It's great for when you are cutting calories and want a creamy rich comforting pasta sauce,
but most sauces contain a lot of cheese.
This one doesn't.
I do think I could eat pasta EVERY day. Doesn't everyone? Oh it can't just be me, can it?
there are so many great pasta dishes,
but when I'm watching my carb in take I reach for this
a smaller portion of pasta with this tangy and delicious chicken flavored buttermilk sauce.
I get my pasta fill and the sauce tastes so good, I don't often miss the super cheesy heavy cream sauces.
I figure I can use the calories I save for a cookie,
cutting calories is hard and some days you NEED a cookie!
This sauce is also great to dip roasted veggies into.
You will find how to make a great substitute for buttermilk here you can make it with any type of milk.
Buttermilk Pasta Sauce
Ingredients
2 cups buttermilk - You will find a post on how to make buttermilk here
2 teaspoons chicken flavor
2 teaspoons cornstarch (if you'd like it thick add 2-3 tablespoons cornstarch)
salt and pepper to taste
Instructions
In medium saucepan heat buttermilk, chicken flavor and cornstarch mix with whisk and heat until it comes to a boil over medium heat.
Sauce will thicken as it cools.
Pour sauce over pasta and serve with salt and pepper to taste.
If you'd like the sauce to have a cheesy flavor add in some grated Parmesan or Romano Cheese or top with serving dish with some.
Notes
Instead of making buttermilk, you can use store-bought buttermilk or make buttermilk with dry buttermilk too it's available in the baking aisle.