It is no secret…
I LOVE pasta!
This is one of the easiest pasta sauces to whip up quickly.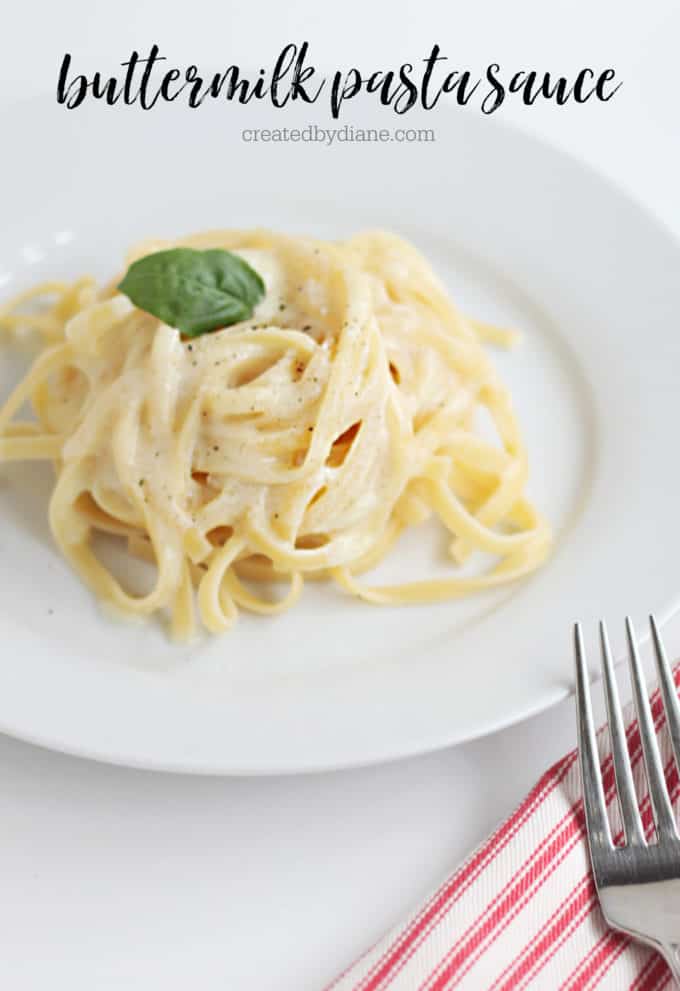 It's great for when you are cutting calories and want a creamy rich comforting pasta sauce,
but most sauces contain a lot of cheese. 
This one doesn't.
I do think I could eat pasta EVERY day. Doesn't everyone? Oh it can't just be me, can it?
there are so many great pasta dishes,
but when I'm watching my carb intake I reach for this
a smaller portion of pasta with this tangy and delicious chicken-flavored buttermilk sauce.
Serve it over some zucchini noodles for a real low-carb option.
I get my pasta fill and the sauce tastes so good, I don't often miss the super cheesy heavy cream sauces.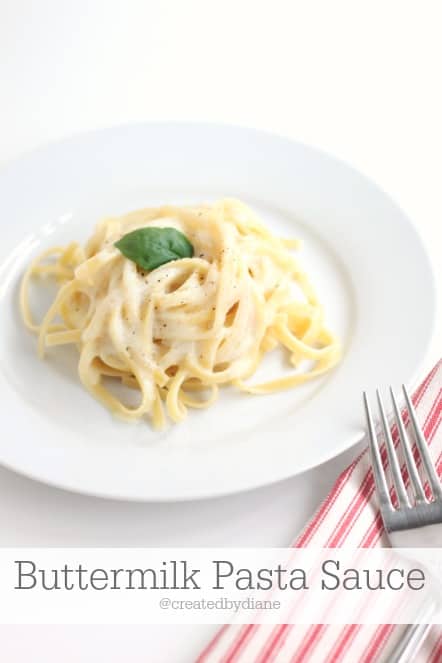 I figure I can use the calories I save for a cookie,
cutting calories is hard and some days you NEED a cookie!
Now if you're not cutting calories and looking for a recipe to use some buttermilk in, this is it! 
What else can be added to this pasta sauce?
turn this sauce into a great alfredo sauce by adding 2 oz grated parmesan or romano cheese
Add crushed red pepper for a little kick
Add garlic… yes a garlic-y flavor mixed into this creamy pasta sauce will win you over. Add a teaspoon or two of fresh style garlic, minced or paste, or even a little bit of dry garlic sprinkled in will taste yummy.
fresh herbs, add in some minced basil for a great fresh flavor. Parsley, basil, oregano, rosemary all geat options fo a delicious creamy sauce. Add garlic and onions for additional great flavor.
adding in some grape tomatoes sliced in half with garlic and onions is also a great option
add in some jalapenos and cilantro with some lime juice and cotija cheese for a Mexican flavor option
Add in lemon juice for a creamy tangy lemon sauce
This sauce is also great to dip roasted veggies into.
You will find how to make a great substitute for buttermilk here you can make it with any type of milk.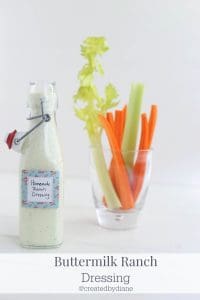 AND if you like buttermilk you'll love this homemade Buttermilk Ranch Dressing Recipe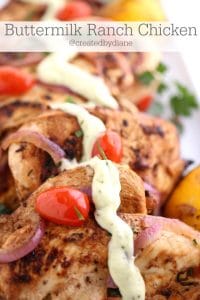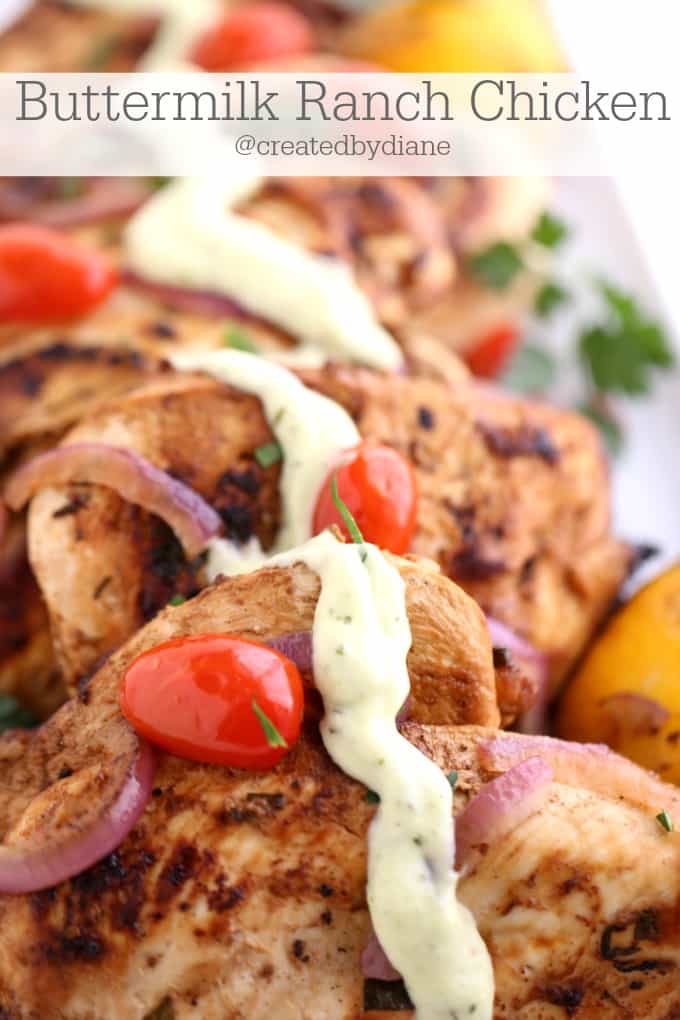 Here is my recipe for Buttermilk Ranch Chicken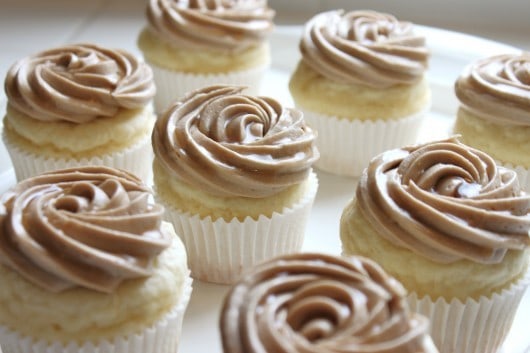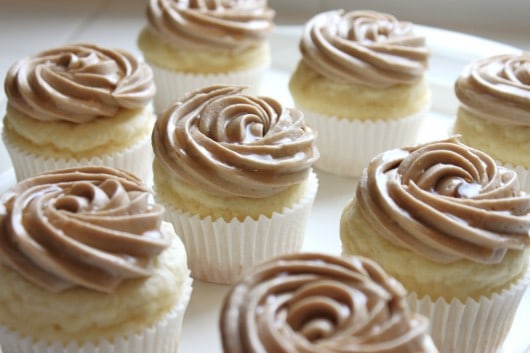 and here is a really great easy recipe you can also add dry buttermilk too.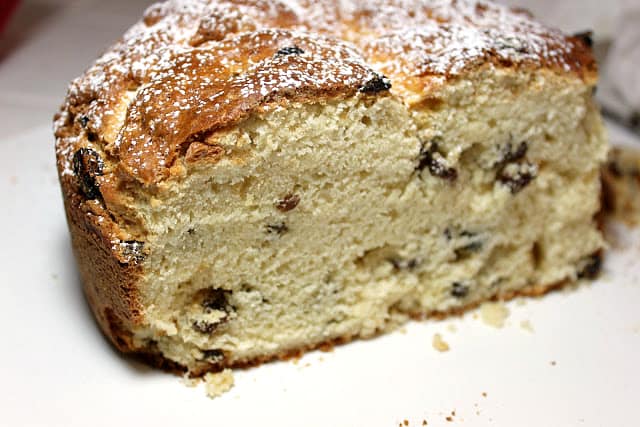 And if you're still looking to make things with buttermilk, don't forget an all-time favorite is Irish Soda Bread, it's so delicious!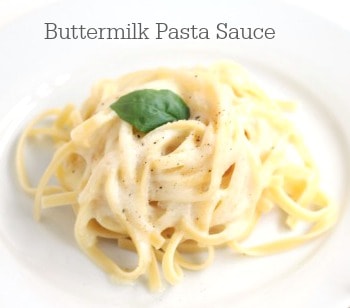 If you are looking for more PASTA recipe look here
and if you like sauces, take a look HERE.
Buttermilk Pasta Sauce
Ingredients
2 cups buttermilk - You will find a post on how to make buttermilk here if you don't have or want to purchase buttermilk.
2 teaspoons chicken flavor (they sell chicken flavor, bouillon in the soup aisle, granulated/powder or in a wet base that you refrigerate)
2 teaspoons cornstarch (if you'd like it thick add 2-3 tablespoons cornstarch)
salt and pepper to taste
Instructions
In medium saucepan heat buttermilk, chicken flavor and cornstarch mix with whisk and heat until it comes to a boil over medium heat.
The sauce will thicken as it cools.
Pour sauce over pasta and serve with salt and pepper to taste.
If you'd like the sauce to have a cheesy flavor add in some grated Parmesan or Romano Cheese or top the serving dish with some.
Notes
Instead of making buttermilk, you can use store-bought buttermilk or make buttermilk with dry buttermilk too it's available in the baking aisle.