Now let's talk corned beef… OH, the DELICIOUSNESS of corned beef! You'll want to dunk these in the cheese sauce and enjoy!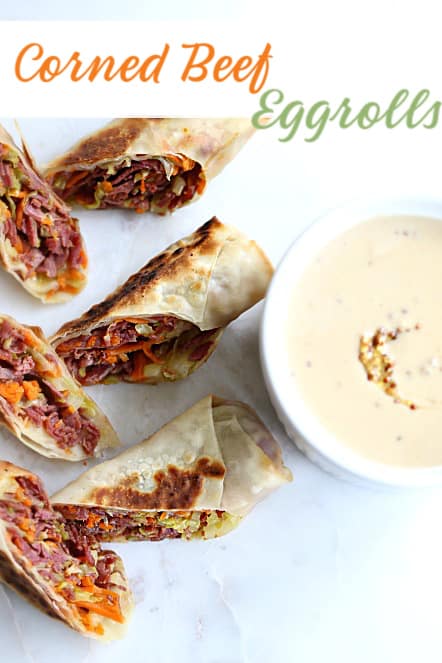 For as long as I can remember I've been enjoying corned beef and cabbage on St. Patrick's Day.
When I was about 20 I started making it and surprised my family with the whole meal, Irish Soda Bread and all!
I've cooked it many ways and found using a pressure cooker is quick and I like QUICK!
You can find info here where I cooked Corned Beef in a Pressure Cooker, I've also blogged a fun version of the dinner with Corned Beef & Cabbage Soup and Irish Soda bread Muffins here.
The fun doesn't stop there,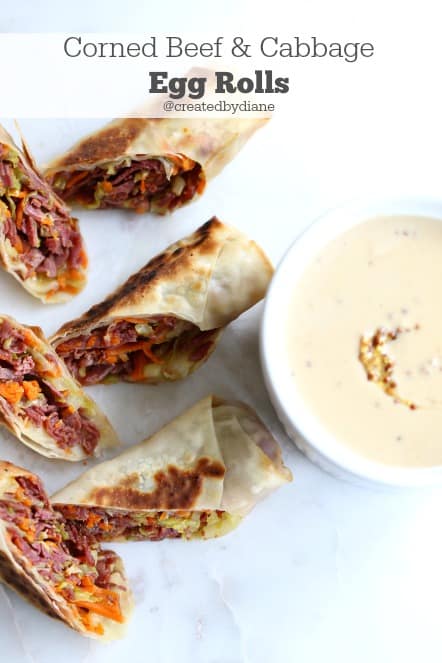 Today is bringing that same great flavors that is in the every famous dinner in an appetizer.
And believe me you could make a meal out of these… I just LOVE that!
I posted a Guinness & Mustard Cheese Dip that goes perfectly with these, the combo is a MUST make!
Have you make egg rolls before? If you have, yippee…this version is sure to be a taste bud pleaser.
If you haven't, don't be intimidated. Just pick up a package of egg rolls in the refrigerated section at the grocery store, and take a look at how to roll an egg roll from my photos below.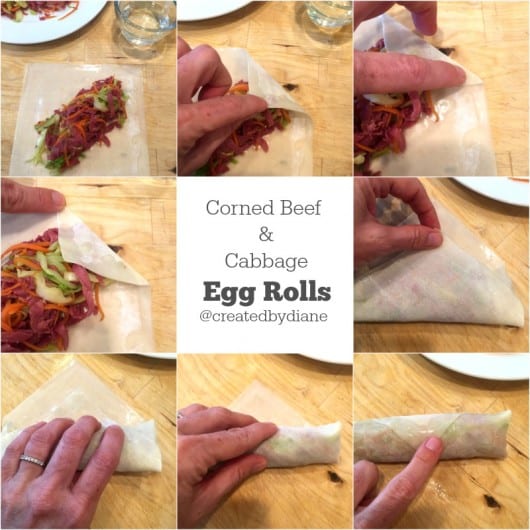 Place about 1/4 cup of filling onto the egg roll wrapper diagonally.
Dip your finger into water and run water around the edge of the wrapper.
Fold down the edge of the wrapper closest to the end of the filling.
Press the seam firmly, so that the filling does not come out when cooked.
This is one of the most important steps. Take a look at the photos to see where I'm pressing the wrapper down on the third and fourth photo.
Then repeat on the other side.
Finally, roll the egg roll from one end to the other and add a little more water to help seal the final edge.
I pan fried my egg rolls in two tablespoons of oil, but they can be deep fried or even bake them. Any way you cook them they will be DELICIOUS!
Corned Beef & Cabbage Egg Rolls
Serves:
makes 6 egg rolls
Ingredients
8 oz. cooked corned beef (leftover corned beef or corned beef from the deli counter work well)
6 oz. cabbage (shredded)
3 oz. carrots (julienned)
6 egg roll wrappers
Instructions
In a skillet on medium heat, cook cabbage and carrots for a couple minutes, then add cooked corned beef to heat it.
Add about 1/4 cup of filling to each egg roll wrapper.
Place water around the edge of the edges of the wrappers.
Fold the egg roll (photos in the post will help with this)
You can pan fry the egg rolls, deep fry them or bake them.
I pan fried them in a two tablespoons of oil, turning them to brown on all sides.
These are great with leftover corned beef or corned beef sliced from the deli counter which is great when you want to have a fun and different appetizer that takes minutes to make and be enjoyed by all your corned beef lovers!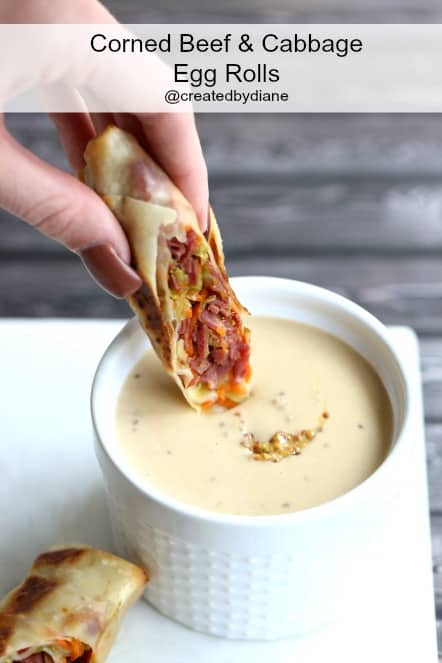 Then dunk them into the Guinness & Mustard Cheese Dip and Enjoy!
Happy St. Patrick's Day!