These pumpkin cupcakes are bound to become your new favorite item… These are made with a moist pumpkin cupcake batter and I've topped them with a cinnamon cream cheese frosting for extra decadence!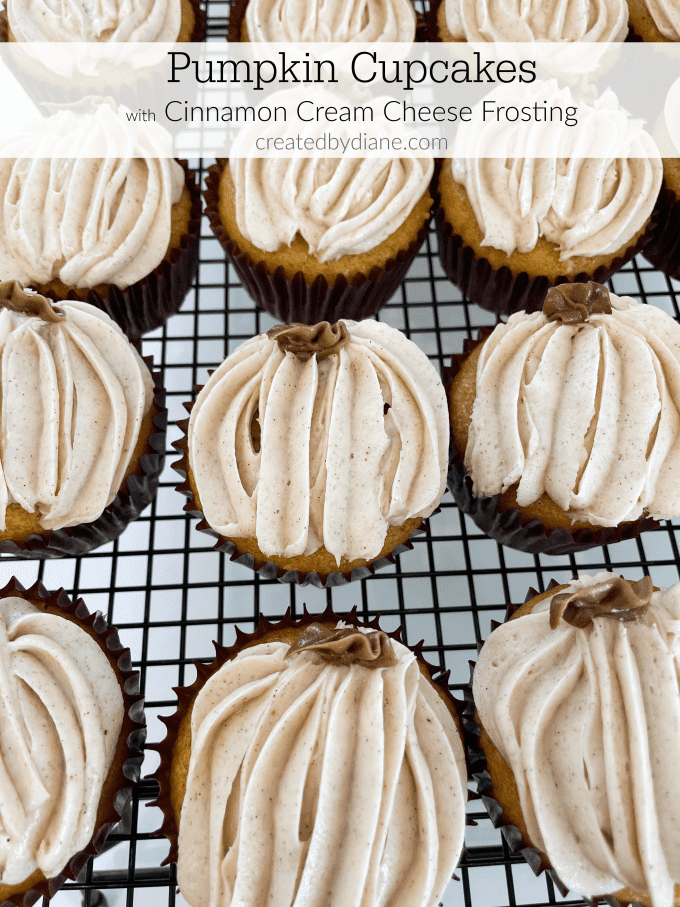 Let's start off with just how CUTE these are!
And when you see how simple it is to decorate them, you could have your very own cupcake pumpkin patch in your kitchen! I have a video showing how to pipe the same style pumpkins frosted on cookies here. Be sure to click that link to see the quick video.
I love the creamy white frosting with the cinnamon speckles, and I just added a drop of brown food coloring for the stem, you could make it green as well.
And now for the taste: OMG I just love the deliciously creamy texture of cream cheese frosting and now add to it some vanilla and cinnamon and WOW what a great warm flavor. You could add pumpkin pie spice to it as well.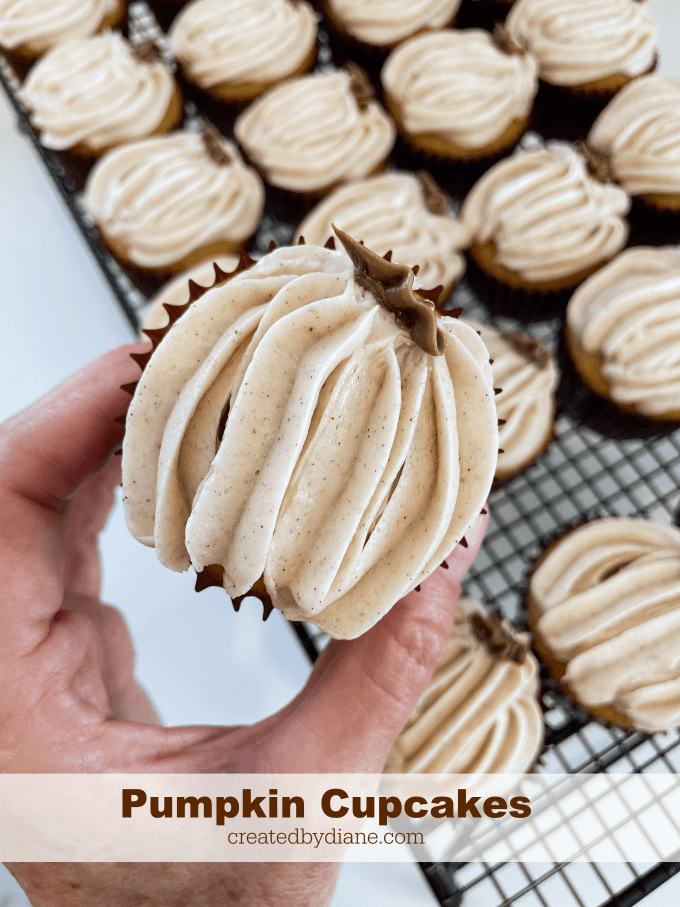 More of my pumpkin recipes that you don't want to miss:
I just love simple recipes like this, they are easy to put together, and since the cupcakes taste amazing… everyone will love them.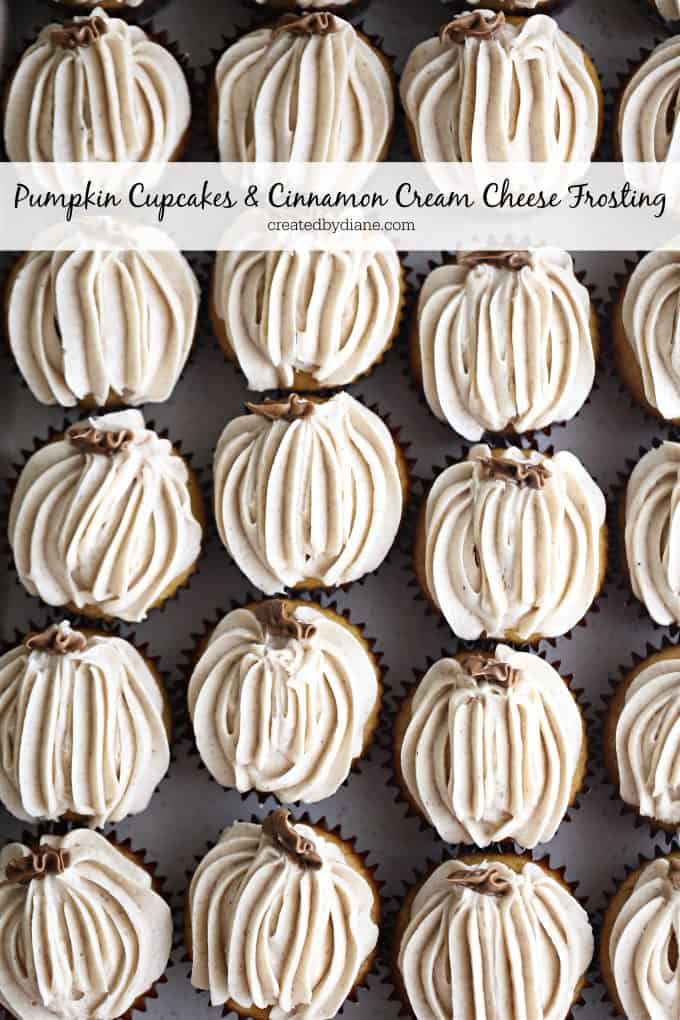 My tips for perfectly baked cupcakes:
use the proper pan, I prefer THIS shiny stainless cupcake pan
then I like using THESE glassine liners, they don't stick to the cake part and they hold their color
to be sure all the cupcakes are the same size, I use a scoop… it's less messy than lots of other methods of filling cupcakes
next, be sure the oven is really preheated well, cupcakes (like cakes and muffins) start to rise as soon as they go in the oven, so if the oven just comes to temperature and you open the oven and put the cupcakes in… the temperature can easily drop and depending on how long the oven was open for… it could affect the baking.
 
THESE are the piping bags I use
THIS is the piping tip I use to make the pumpkins…. and it also makes my signature rose cupcake!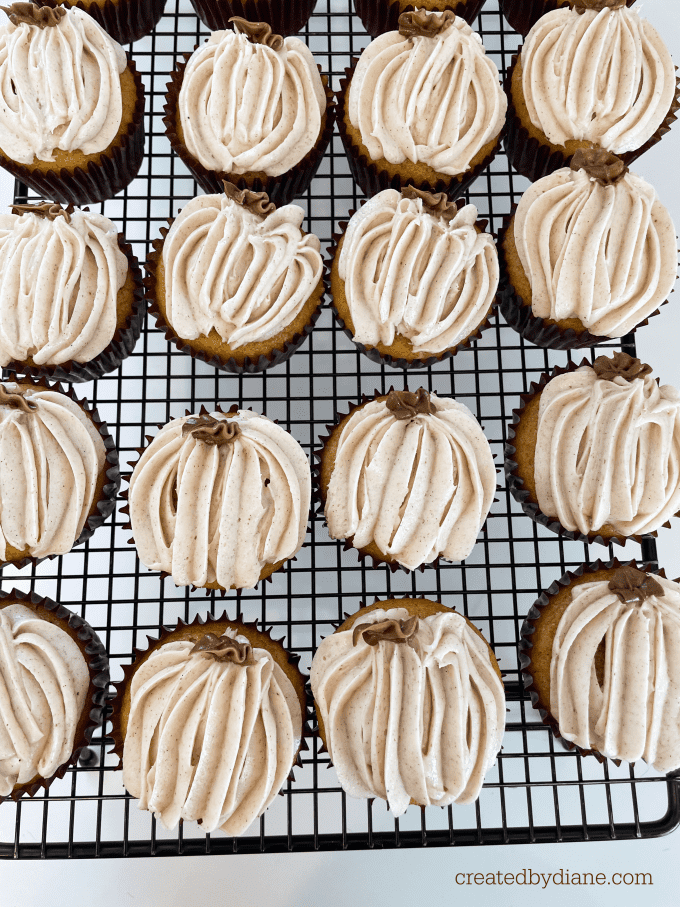 If you're looking for a fun chocolate frosting on top of these cupcakes, try this chocolate sour cream frosting it's soft and creamy or this chocolate fudge frosting… they are both yummy!
Pumpkin Cupcakes
Author:
Diane Schmidt, Created by Diane
Ingredients
2 cups sugar
4 eggs
2 3/4 cups flour
1 cup whole milk
1 cup canned pumpkin
1/2 cup butter, melted and cooled
1/4 cup oil
2 1/2 teaspoons baking powder
2 teaspoons vanilla extract
2 teaspoons pumpkin pie spice
Instructions
Preheat oven to 350https://easyrecipeplugin.com/videos/links-images-formatting°
Line 24 portion cupcake pan areas with liners.
In a large bowl whisk sugar and eggs.
With a spatula stir in flour, milk, pumpkin, butter, oil, baking powder, vanilla, and pumpkin pie spice until smooth.
Pour into pan and bake for 20-25 minutes or until tested with a toothpick just come out clean, not overly dry.
Allow cupcakes to cool in pan for 10 minutes, then turn out cupcakes onto a cooling rack until completely cool.
Cinnamon Cream Cheese Frosting
creamy and smooth cinnamon cream cheese frosting
Author:
Diane Schmidt, Created by Diane
Serves:
24 frosted cupcakes
Ingredients
3 oz cream cheese (room temperature)
1/3 cup butter (I use salted butter if unsalted is used add a small pinch of salt)
3-4 cups powdered sugar
1-2 tablespoons heavy cream
1/4-1/2 teaspoon ground cinnamon
Instructions
In the bowl of a mixer whip cream cheese with butter and whip it until it's silky smooth.
Add in the powdered sugar along with the heavy cream and cinnamon.
Place the frosting into piping bags,
reserving a small portion for the stems you can color brown or green using food coloring or a bit of cocoa powder for brown.
The stems were piped with a small leaf tip.
The cupcakes were piped with a 2D tip.
Pipe 4 striped from top to bottom on the cupcakes then add the stem.
Serve cupcakes the day they are made or place in the refrigerator for best results.