Pumpkin and Graham Cracker Scones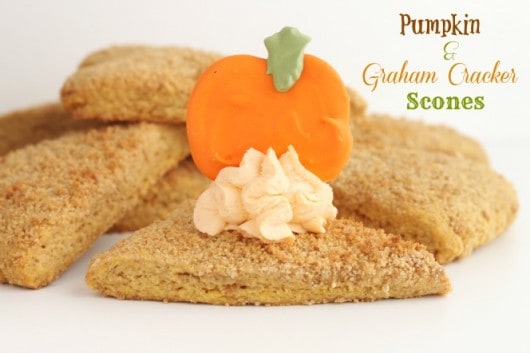 I had no idea Graham Crackers were created in New Jersey!
What a coincidence.
So was I.
Well that is the fun fact for today!
I just love the yummy taste of graham crackers and graham cracker pie crust so the thought of adding graham cracker crumbs to my favorite Pumpkin Scone Recipe seemed like it would be a perfect creation…..
and it is.
These scones are rolled in graham cracker crumbs and even have some of those delicious crumbs inside.
I added them to the batter then rolled the dough in the graham cracker crumbs.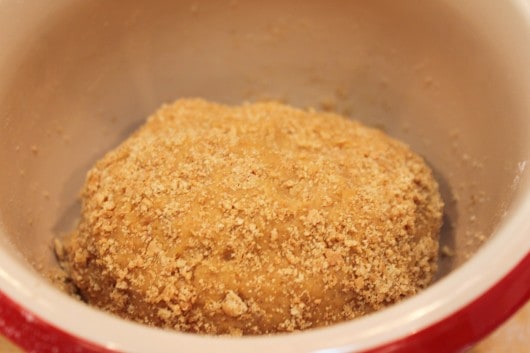 Coating the scone dough in graham cracker crumbs
Pumpkin and Graham Cracker Scones
Ingredients
1/3 cup brown sugar
1 cup graham cracker crumbs
4 tablespoon butter
2 cups all purpose flour
1/2 cup sugar
1 teaspoon baking powder
1/2 teaspoon salt
8 tablespoons cold butter
1/2 cup canned pumpkin
1 teaspoon vanilla extract
3 tablespoons heavy cream
1 large egg
2 teaspoons pumpkin pie spice
Instructions
Preheat oven to 425 degrees
Line a baking sheet with parchment paper.
In a bowl combine 4 tablespoons butter with 1/3 cup brown sugar and 1 cup graham cracker crumbs.
In a larger bowl combine flour, sugar, baking powder, salt and pumpkin pie spice and ½ cup graham cracker crumb mixture..
Cut in butter to flour mixture with a pastry knife, until mixture is crumbly with no chunks of butter.
Add pumpkin, cream, egg and vanilla extract.
Mix on low until combined and dough pulls away from sides of bowl. Don't over mix.
Cut ball of dough into two.
Roll each into a smaller ball.
Place one ball of dough in bowl of crumbs at a time and press crumbs into the dough.
Roll out dough about ½ inch thick or so, keeping it in a circle shape. Cut into 8 pie shaped pieces with a large knife. Do the same with second ball of dough
Bake for 15 minutes or until scones are lightly brown. Test with toothpick to be sure centers are not sticky.
Cool on rack.
Notes
Pumpkin Spice Whipped Cream ½ cup Heavy Cream 1 tablespoon powdered sugar ¼ teaspoon pumpkin pie spice 1 drop orange food coloring Whip cream together with sugar, spice and coloring on high until thick. Be sure cream is cold it whips easier.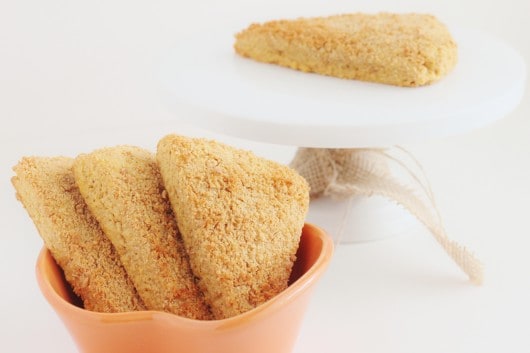 Since I made them a bit thinner than I usually do, this recipe made 16 scone. Plenty to share, or hide…whatever you like.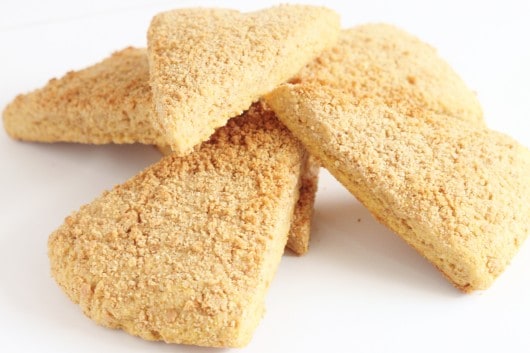 They may look crummy..
but they aren't crummy in a bad way.
I'm sure these would turn a crummy day into a better day!
If you like Graham Cracker Pie Crust, these are really my favorite little pies to make.