In minutes you could be snacking on your new Fall FAVORITE! Give this Pumpkin Spice Popcorn a try!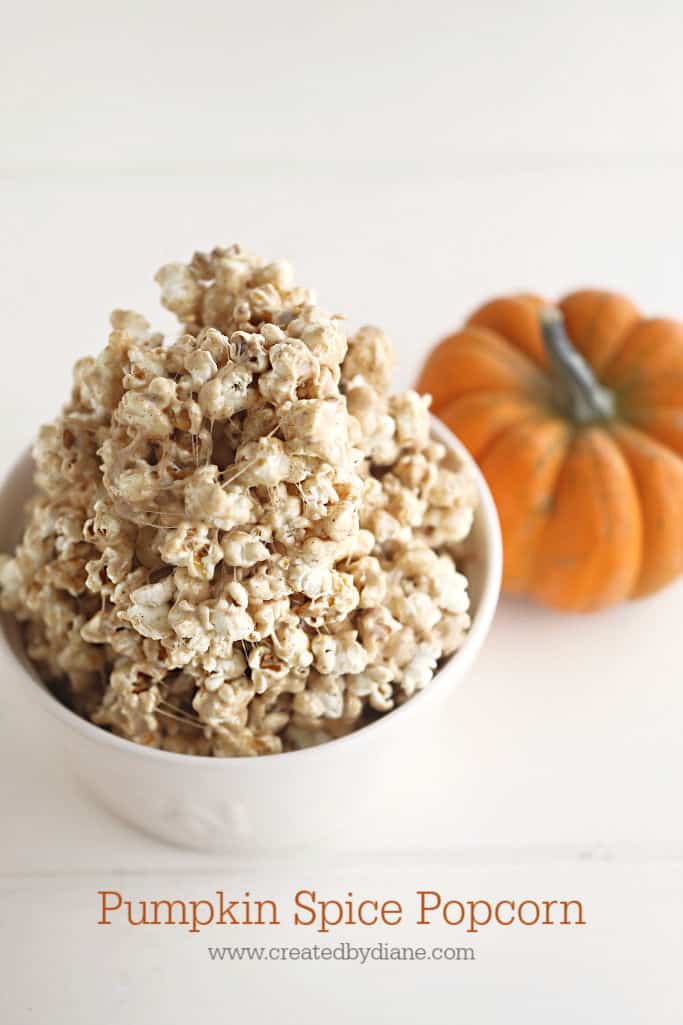 One whiff of this and everyone will have their hands in the bowl,
it's buttery and salty and sweet and sticky…
which means it's totally delicious in my book!
I love all things pumpkin and pumpkin spice as long as it doesn't taste like you bit into a candle…
I'm all about the delicious flavors of cinnamon and spice and apple cider and all sorts of sweet treats!
If  you're with me so far, 
you'll want to make a batch of this pumpkin spice popcorn pronto!
The real fun of this popcorn comes from the "sticky" sweet coating, 
it's made from marshmallows…
oh yes, the fun begins there.
This recipe only takes a minute to turn ordinary popcorn into your favorite fall treat!
some of my all-time favorite pumpkin items are:

Here is my post on mixing up pumpkin pie spice, if you bake a lot it's great to mix up your own, of course you can purchase pumpkin pie spice at most grocery type stores as well.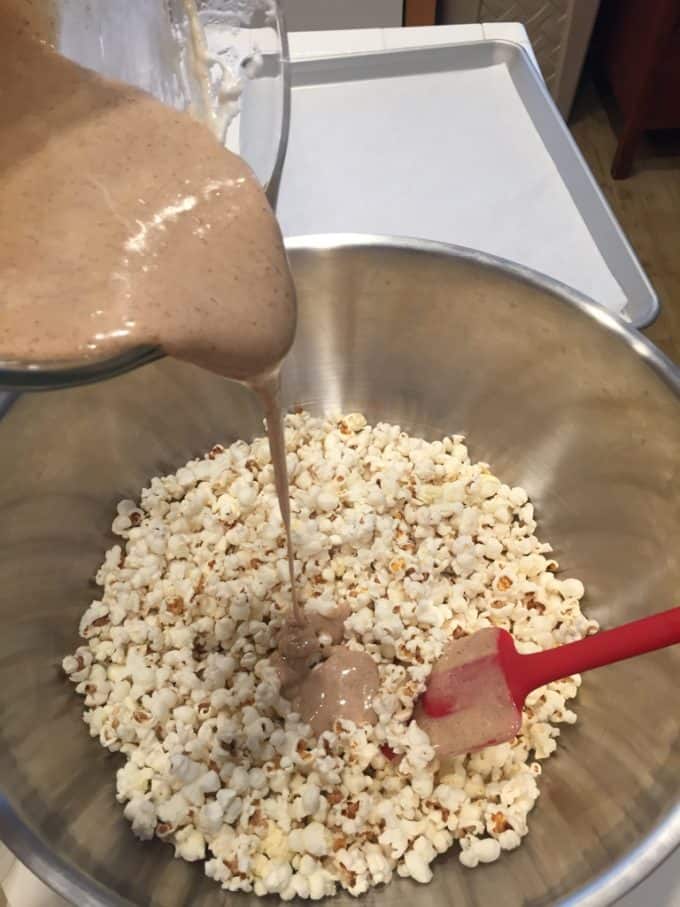 You'll start with popped popcorn, and heat up the sauce in the microwave, then pour it on top of the popcorn in a large bowl.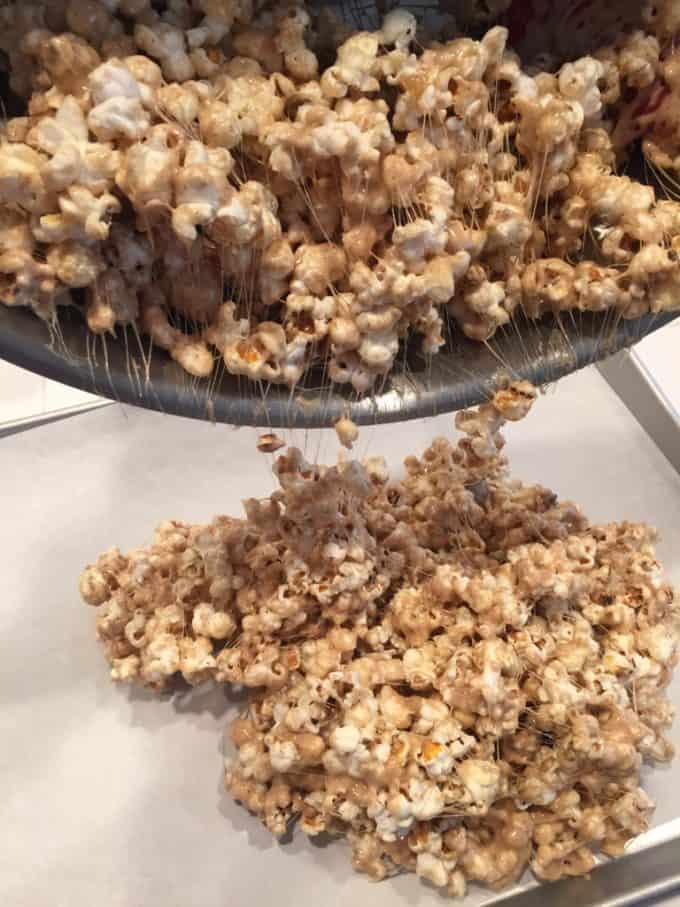 Then stir it well so all the popcorn is coated completely.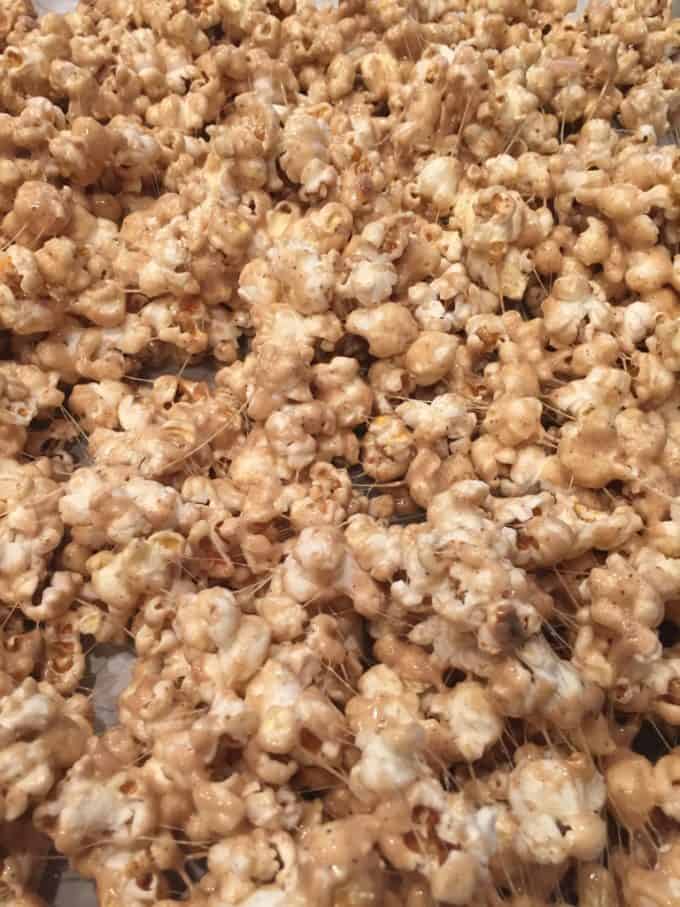 Then spread it out on a parchment-lined bakign sheet evenly to cool.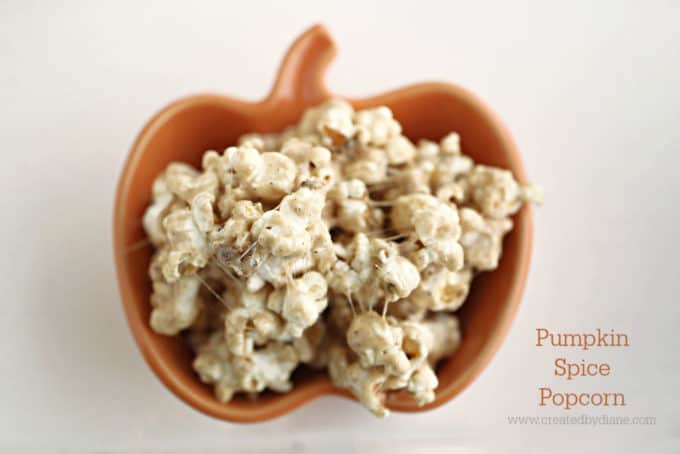 AND there you have it.. you're new fall favorite!
I have so many fun Halloween posts to share with you… 
this one not only has a great chili recipe, you can see some fun ways I decorated too.
And if you're looking for things OTHER THAN CANDY to hand out, this is a must see post.
don't miss these other pumpkin recipes:

See I wasn't kidding… lots and lots of related posts, Check out this list of HALLOWEEN, and PUMPKIN posts for more.

Pumpkin Spice Popcorn
Ingredients
1 cup popcorn kernels to yield 4 quarts of popcorn (or 2 bags of microwave popcorn)
1/2 teaspoon salt (If popping popcorn from kernels)
2 tablespoons melted butter (if popping popcorn from kernels)
8 oz marshmallows
1/2 cup butter
1/2 cup brown sugar
1 teaspoon vanilla extract
1-1/2 teaspoons pumpkin pie spice
Instructions
Pop popcorn, either in a large pot with a tablespoon of oil, or microwave popcorn.
Add salt while the popcorn is still hot.
Add a tablespoon or two of melted butter and stir well to combine.
Place the popped popcorn in a large bowl.
In a microwave-safe bowl place marshmallows, butter, brown sugar,
Microwave on high for 1:30-2 minutes until all is melted (stop microwave after 1 minute and stir, then start again)
The mixture is very sticky.
Add in vanilla and pumpkin pie spice to marshmallow mixture
Stir well, then pour over popcorn and toss popcorn well to completely coat all popcorn.
Place the coated popcorn on a parchment-lined baking sheet and allow popcorn to cool.