Skillet Chicken and Stuffing has all the taste of Thanksgiving dinner with only a fraction of the effort! Easily curb those comfort food cravings with this delicious dinner that the whole family will love.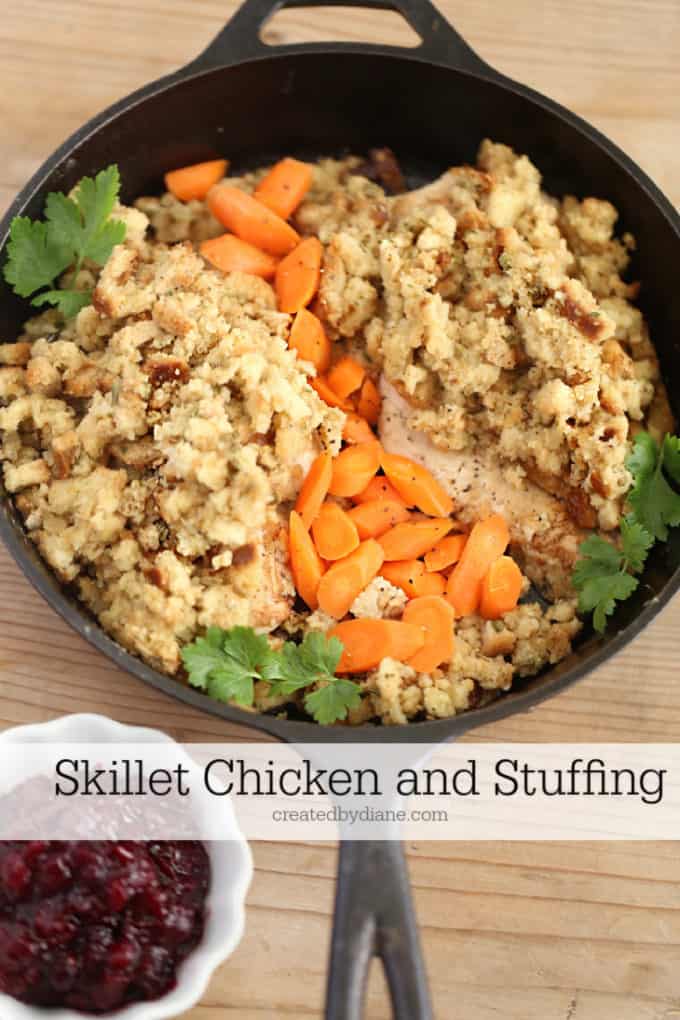 Doesn't this chicken and stuffing recipe just scream "cozy?"
I will fully admit that I crave Thanksgiving dinner a few times a year
it seems unfair to have such a great meal only once!
While I love the taste of the holiday meal, the preparation is not usually practical for a typical weeknight.
Enter this Skillet Chicken and Stuffing Recipe, simple… yummy… and ready quickly!
Served with simple homemade chicken gravy poured over the top, all you need are some mashed potatoes or roasted carrots and a can of cranberry sauce to complete the experience.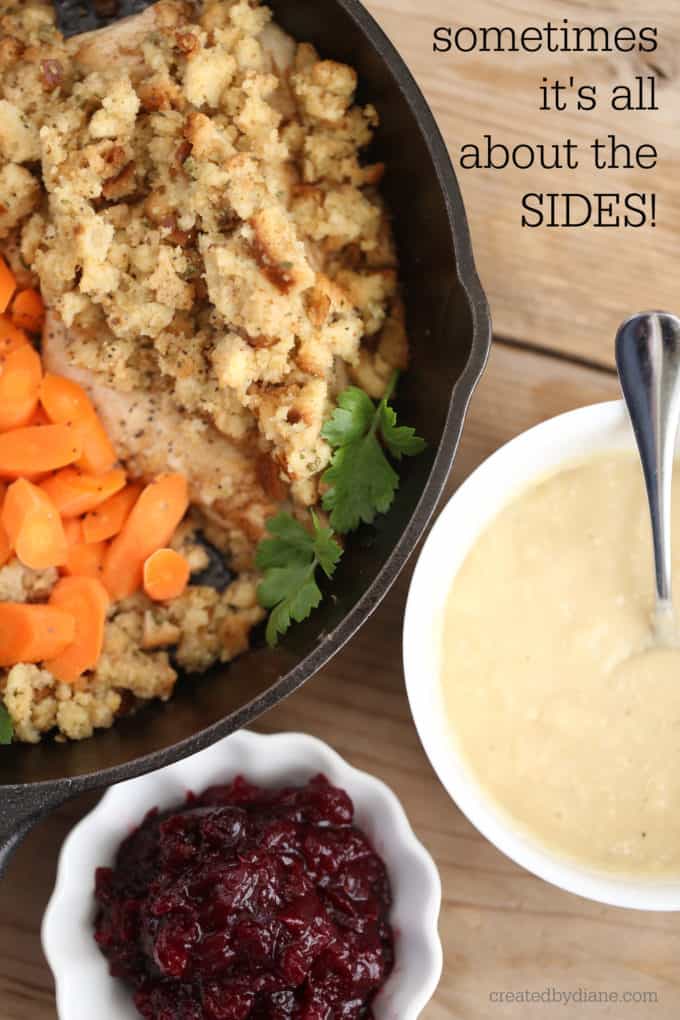 Thanksgiving dinner is all about the sides… and sides are awesome, so when making somethigns that resembles a holiday dinner don't forget you can also add more sides.
In the recipe box you'll find my quick chicken gravy instructions… so yummy. If you'd like to make a richer flavored gravy give my Great Gravy post a read.
Speaking of sides…

Other items you could add are some of my favorite holdiay sides like my
Can I Use Turkey Breast Instead of Chicken Breast in This Recipe?
You can definitely use boneless turkey breast instead of chicken in this Chicken and Stuffing Skillet Recipe. Simply slice the turkey into small, horizontal slices as you would the chicken in this recipe. Baking time will be the same.  
What Herbs Would Work Well in this Chicken and Stuffing Skillet?
If you would like to add fresh herbs to this recipe for flavor and color, I recommend rosemary, sage, or parsley. You can also dice white onion and a stalk of celery, sauté in butter until slightly soft and add to the dressing before baking this recipe. They add great flavor and a bit of crunch.
Should I Prepare Stuffing Exactly As Directed on the Box Before Baking It in the Oven?
You can use the same measurements of water and butter and prepare your stuffing as directed on the box if desired. Because I top this dish with homemade gravy, I prefer to use about half the butter called for in the stuffing. This is my personal preference –it is great either way! For enhanced richness and flavor, feel free to substitute chicken or turkey broth for the water called for in the stuffing instructions.

How Will I know if Chicken is Fully Cooked When Baked in the Oven?
My chicken was fully cooked in about 10 minutes. You will know it's done when juices run clear and the chicken has an internal temperature of 165 when tested with a meat thermometer.
THIS is the THERMOMETER I LOVE and use every day, what a difference a great thermometer makes to help you get the fastest most accurate temperature reading. Stop overcooking your food, this thermometer is SO FAST, you'll love it too.
How long are Chicken and Stuffing Leftovers Safe to Eat?
If covered tightly and stored in the refrigerator, Chicken and Stuffing is safe to eat within 3 days of baking.
This dish is so versatile and easy. It's special enough for a holiday but simple enough for a weeknight, which I love! Here are a few of my other favorite weeknight meals. I hope you love them!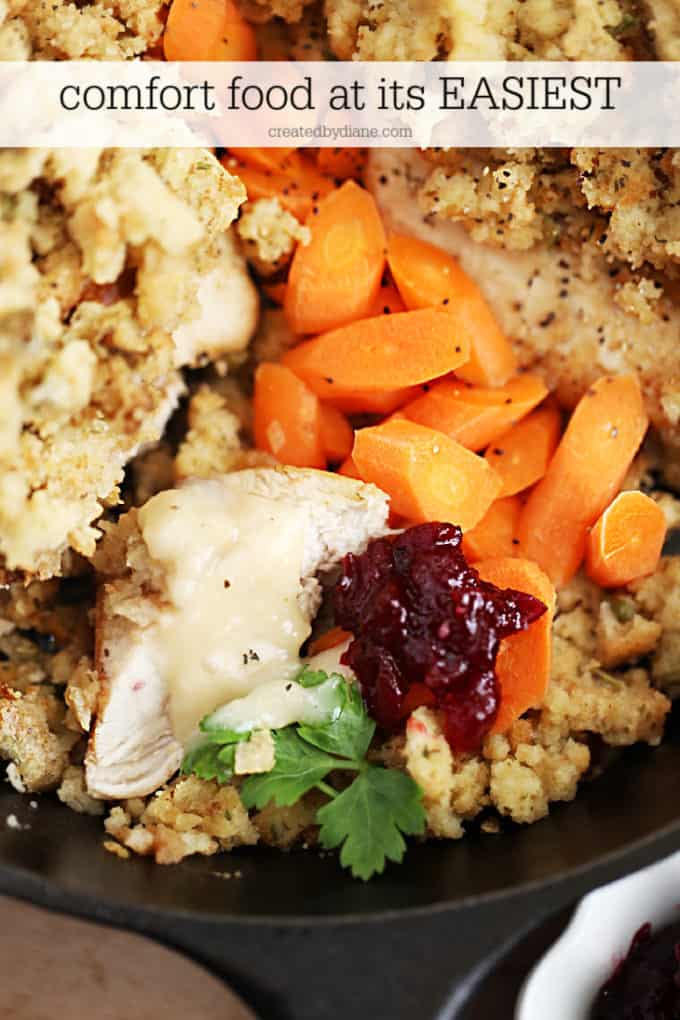 And if you happen to have leftover, you can always make a killer sandwich like Monica did on Friends! It's a classic episode. And give my Cornbread Waffles a try to use as the bread!
I used this 10″ casts iron to make this meal, I typically use a 12″ and use both sizes all the time.
Check out my other recipes I cook in CAST IRON, so many great recipes!
and be sure to look at my Turkey Stuffing and Meatball Recipe I also call it my Fake Thanksgiving Meal 🙂
If you're all about the real thing THIS post is how I slow cook my turkey every year.
This meal can easily be made with a turkey breast for a simple Thanksgiving dinner.
Alternatively, you can cook the chicken on a baking sheet with the stuffing on top for 30-40 minutes depending on how thick your chicken is.

Skillet Chicken and Stuffing
a simplified Thanksgiving dinner, you can enjoy as a quick weeknight meal.
Author:
Diane Created by Diane
Ingredients
1 lb boneless skinless chicken breast
1 6 oz. package stuffing mix, and ingredients to prepare stuffing to package directions. Usually a few tablespoons of butter and boiling water.
gravy
1 1/2 cups chicken broth
1 tablespoon flour
1 tablespoon butter
salt and pepper to taste.
Serve with a vegetable.
Instructions
Slice chicken so it's thin, the chicken breast I used was 1 lb, it was large and thick. I cut it horizontally to make it thinner, so it would cook quickly.
Prepare the stuffing according to package directions, I typically use half the butter called for this recipe as this dish will have gravy on it for serving.
Heat a skillet until it's hot, then add a tablespoon of oil.
Then place the chicken breasts into the pan and brown quickly on each side.
Then put the stuffing on top of the chicken, it's ok it some is just in the pan, it will get crispy on the bottom and that all good!
Cover the pan with a lid.
After 5 minutes test the chicken temperature with a meat thermometer, the chicken if fully cooked when it reaches an internal temperature of 165°. Mine took about 10 minutes. If your chicken is smaller or thinner it may take a shorter cooking time, or longer if it's thicker, or your cooking more than 1 lb of chicken.
While the chicken is cooking prepare gravy in another pan by placing the butter and flour in a hot skillet and whisking in the chicken broth slowly creating the gravy, stir and cook until it's silky smooth and simmering.
Pour gravy over chicken and stuffing just as your about to serve or serve it on the side. Add a vegetable and you'll have a complete meal.
This is one of those times that having a can of cranberry sauce in the pantry will come in handy.
Everyone will think it Thanksgiving!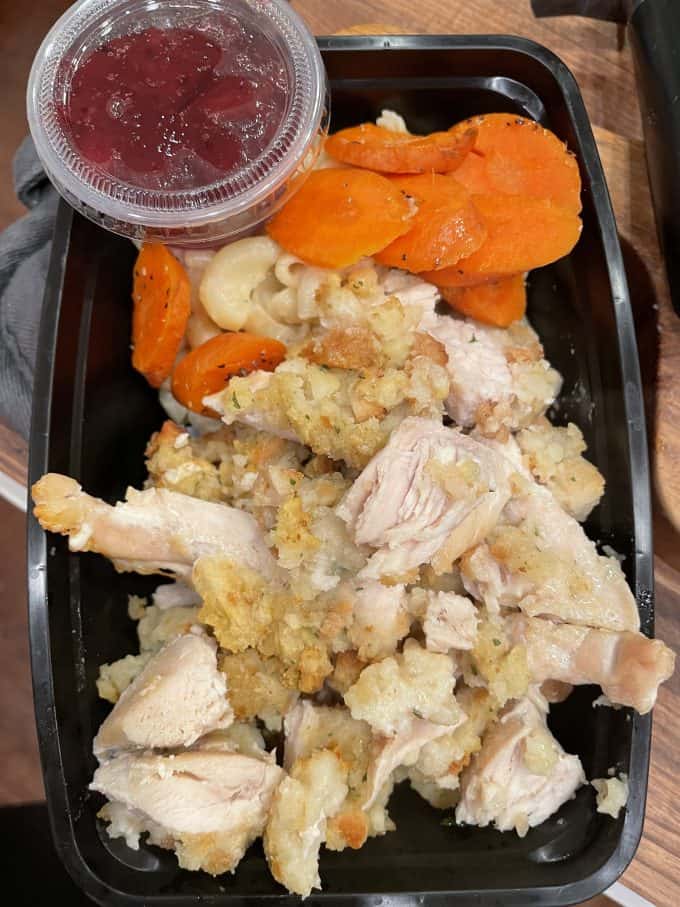 Cut everything up, place it in containers to-go and even add some cranberry sauce in small container for a delicious comfort food meal, ready to go all week!