Apple Cinnamon Scones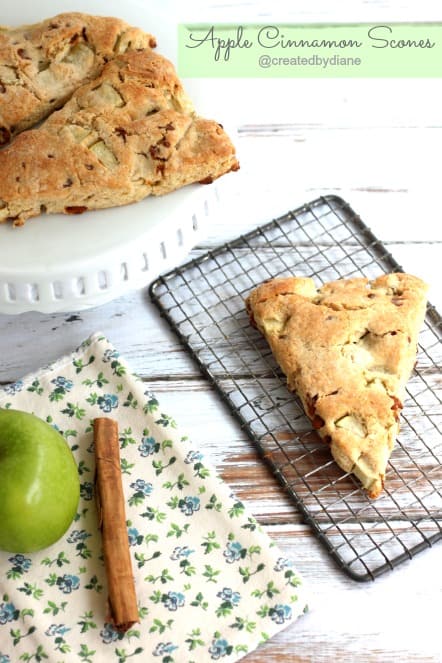 For the past few days I've been digging my toes into the sand and relaxing…
I just love summer getaways.
Some days are best with no real plan, aren't they?
One of my favorite things to do is find little mom and pop type places to eat and small markets that are filled with delicious food items.
It's funny to others just how many food photos I'll take, you can view my whole trip by what I ate.
I've done it for years so it really comes as no surprise to my family, others I think will never understand it.
If you are interested in seeing some of the fun things we saw, did and ate…I post some on Instagram, I really love Instagram it really is my favorite social media platform.
Now that we are back home, well I guess that means I have to bake my own breakfast yumminess.
Which is really fine with me,
especially since these are not only filled with apples and cinnamon, but they also have cinnamon chips in the scones.
I love the added cinnamon burst cinnamon chips give baked goods. I melted them and added them to these Cinnamon Madeleines, which reminds me, I need to make them again!
Apple Cinnamon Scones
Ingredients
2 cups flour
¼ cup sugar
3 teaspoons baking powder
1/2 teaspoon cinnamon
1/2 teaspoon salt
½ cup COLD butter
¼ cup skim milk
1 teaspoon vanilla
2 eggs
1 Granny Smith Apple, diced
½ cup Hershey's Cinnamon Chips
Instructions
Mix together flour, sugar, baking powder and salt and cinnamon.
Cut in butter until mixture resembles coarse crumbs.
Add milk, vanilla eggs.
Stir in apples and chips.
Knead on a floured surface (or parchment) lightly and pat into a circle, cut with a knife.
Transfer to parchment lined baking sheet. (I use two pastry scrapers to transfer the cut circle, then I separate them on the parchment lined baking sheet.
Bake at 400 degrees for 15 minutes or until lightly golden.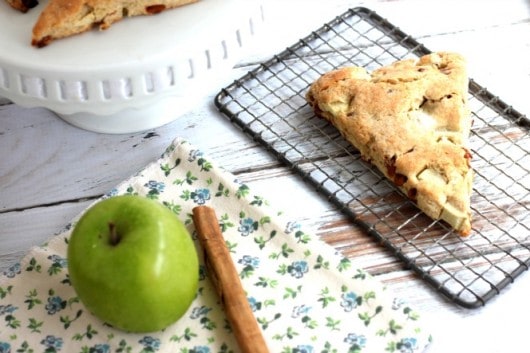 These are quick and easy and the best part is I seem to always have a few apples so these can really be made any time of year!