This savory roasted pork loin with sweet brown sugar apples would be a hit on any table.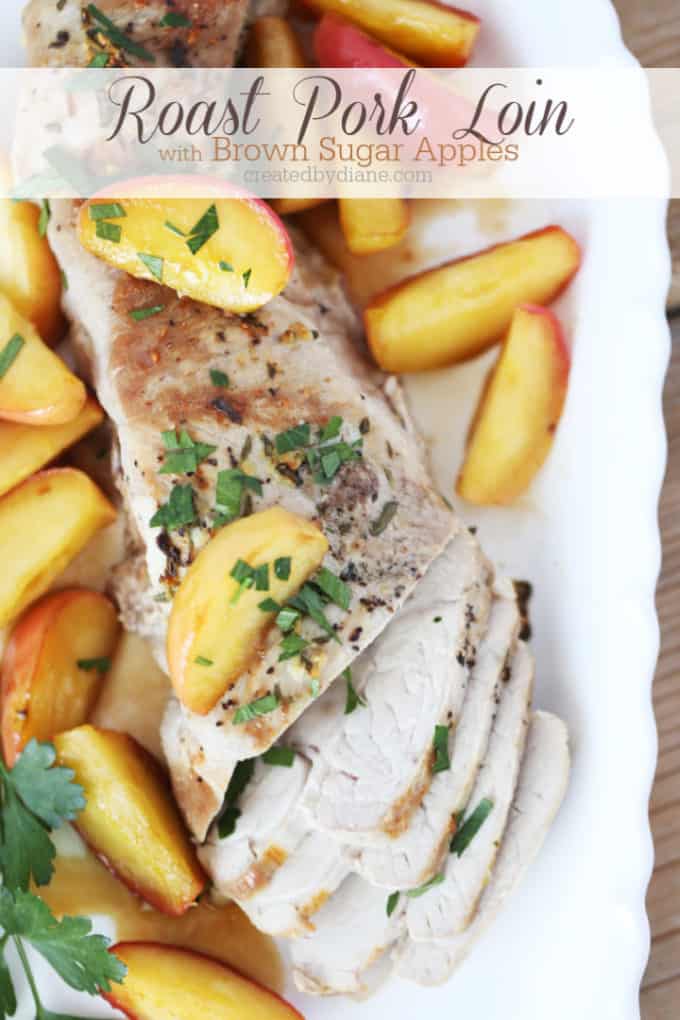 I love combining totally opposite flavors. They crash into each other causing an explosion of deliciousness.  This roast pork and brown sugar apple recipe comes together so easily,
giving you a lot of bang for your time.
You can cook pork in so many different ways, but roasting it is simple and not a lot of work.
It's perfect for a dinner party,
so you can mingle with friends while it's cooking, or even on a weeknight while you're helping the kids with homework. 
Pat the roast dry before you start. That way everything will coat it more evenly and stick to it better.
You start by coating the roast with butter.
Just make sure it's room temperature so that it easily spreads over the roast then add some salt and pepper.
You can add any fresh herbs you'd like at this time.
You can cook the roast covered or not, I cooked mine uncovered and allowed the roast to become golden brown.
What type of apples go well with pork?
Tart Granny Smith apples go well with pork as do Honeycrisp, which is what I used in this recipe. As far as apples go… you can use what's in your fridge or get specific at the store. Make sure you're using a mild to sweet firm apple.
Soft apples, like McIntosh apples, will become mushy while cooking, so make sure your apples are crisp. The brown sugar adds sweetness while cooking but it's more for caramelization. For this reason, using a mild to sweet apple allows you to use less brown sugar to make the apples sweet and the flavors of the herbs will be able to shine through.
Did you notice that I didn't peel the apples?
Leaving the skin on the apple adds color and a good bit of texture to the soft pork and cooked apples. Plus, there are a ton of vitamins, minerals, and health benefits in those skins. So, soak up the health benefits while enjoying this delicious dinner!
What vegetables go well with pork?
Brussels Sprouts, broccoli, and spinach go really well with pork, but feel free to serve your favorite vegetable with this dish. 
My Garlic Rosemary Skillet Potatoes is a great side dish with this pork, as well as some mashed potatoes.
I have a great recipe for sour cream and onion mashed potatoes or you could give these Slow Cooker Mashed Potatoes recipe a try, they are so yummy.
How to properly tell when the pork loin is done cooking?
As with cooking all protein, it's best to use a meat thermometer to test the doneness. THIS is my favorite thermometer it reads the temperature immediately so you won't have to hold your hand over the heat whether you are cooking in the oven, stove, or grill.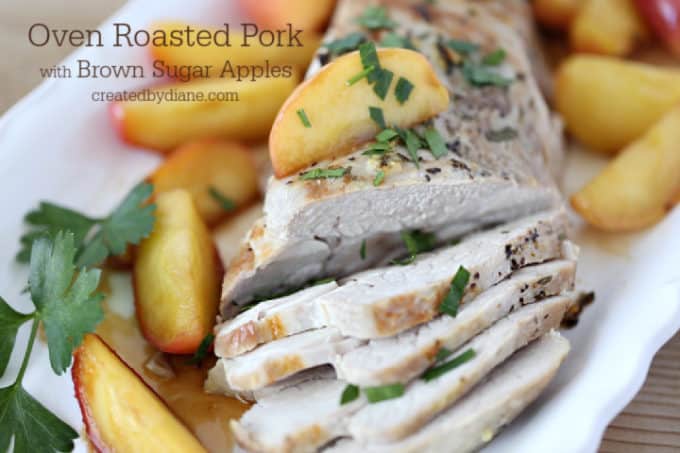 And if apples are a favorite of yours try these…
Roasted Pork Loin with Brown Sugar Apples
Roast pork loin with the comfort food flavor of brown sugar and apples for a delicious simple meal.
Author:
Diane Schmidt Created by Diane
Ingredients
1 3/4 lb boneless pork loin (or similar size)
2 teaspoons butter
1 teaspoon minced garlic, or garlic paste
pinch of salt and pepper
topping
2 apples, sliced (I use firm sweet, Honeycrisp apples)
1 tablespoon butter
1/3 cup brown sugar
2 tablespoons water or apple juice
Instructions
Preheat oven to 350°
In a roasting pan or dutch oven place the pork loin.
Rub or brush the butter over the meat, add garlic, salt, and pepper.
Bake for 30-40 minutes or until internal temperature is 145°, check with a meat thermometer.
Allow meat to rest for 10 minutes.
In a medium pan on the stove melt the butter, brown sugar and apples over medium-high heat just until the brown sugar melts and the apples get golden, add the water or apple juice and place a lid on for a minute to create the sauce.
Pour the apple mixture over the pork and serve.