Pasta salad is one of the ultimate dishes to make year-round, they are perfect in the summer, and great when heading to work, or off to school, it's also a great meal to have on hand for dinner. This Green Goddess Pasta Salad is amazing, and has become requested time and time again.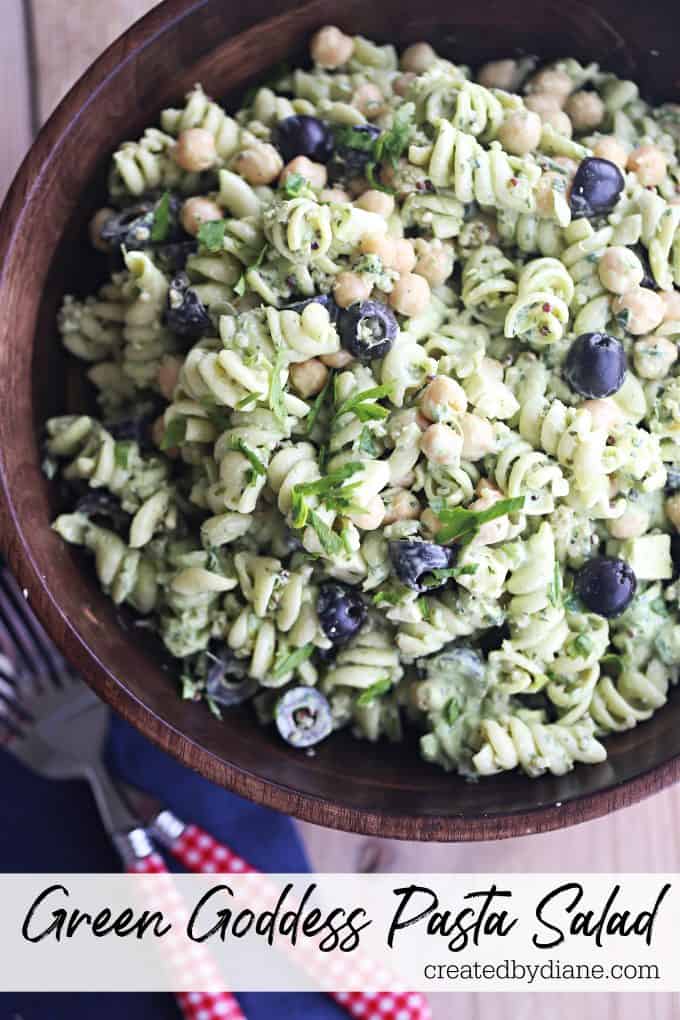 And this recipe is packed full of protein and flavor. The lemon and chives add a fresh element that compliments the creaminess and lightens the heaviness that pasta can have. And it's made using my homemade green goddess dressing which will knock your socks off! Simply put, this recipe is a keeper.
I've added quinoa and chickpeas to boost the nutrition in this – one cup of quinoa has eight grams of protein and five grams of fiber. It's a complete protein, which means it has all nine essential amino acids that our bodies cannot produce. And one cup of chickpeas contains a whopping 30 grams of protein. Plus, it's great for your bones as it contains calcium, magnesium, and fiber. It's also been connected to good mental health. By combining these two powerful ingredients, you get a pasta salad you can feel good about.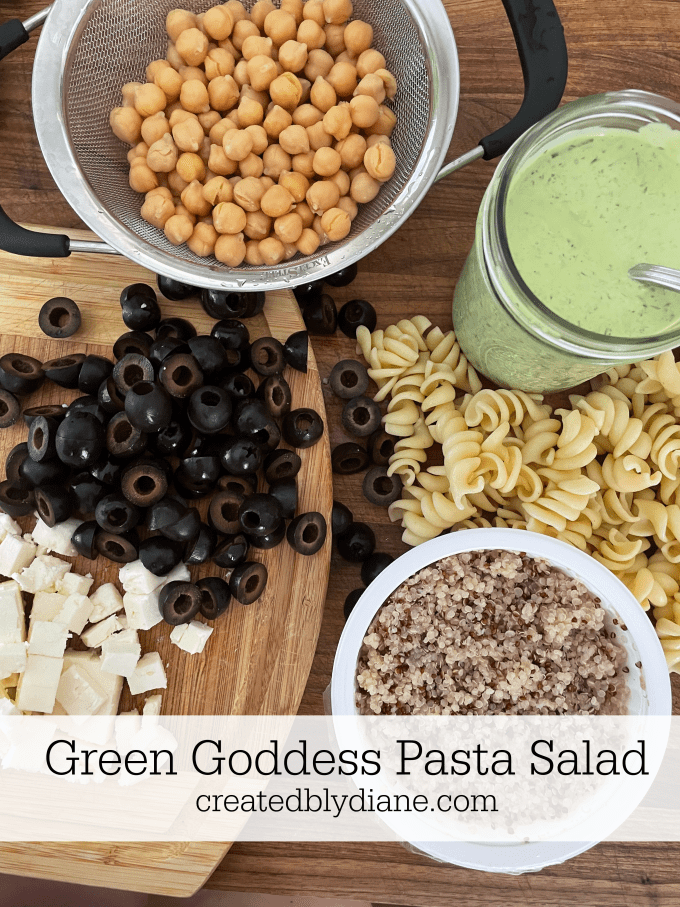 And a pasta salad I can feel good about is kind of a thing for me. I have lots of recipes with pasta and nutrition at the heart!
Here are two of my favorites:
Zucchini Pasta Salad with Balsamic Vinaigrette

– Zucchini is an obvious health food with high fiber content and low calorie count. But did you know that balsamic vinegar helios lower cholesterol and stabilize blood pressure? Well, now you do! And this recipe is delicious on top of being nutritious.

Lemon Tuna Pasta Salad

(with no mayo) – This is a wonderful salad without all the calories and cholesterol that mayo can add. And it is full of fresh flavors that will tingle your senses! Non-fat yogurt replaces the mayo, and fresh veggies such as carrots and celery are added in to give it a crunch. It's perfect for a warm evening!
You can find more pasta salad recipes HERE 
Back to the green goddess quinoa pasta salad…
One of the best parts of this dish is it's really easy to make it even more healthy. You can replace the pasta with 3 cucumbers. You can also replace or reduce the amount of mayo by substituting non-fat yogurt. Or use avocado in place of some of the mayo for more creamy goodness. And be sure to look at my "options" section at the end of the recipe for more great ideas!
Can I make this without pasta?
Yes, a great low-carb option is to use cucumbers instead of pasta, they add a nice texture and crunch filling you up without the high-carb pasta. But remember cooked and cooled pasta is resistant starch so you can add some without a huge worry.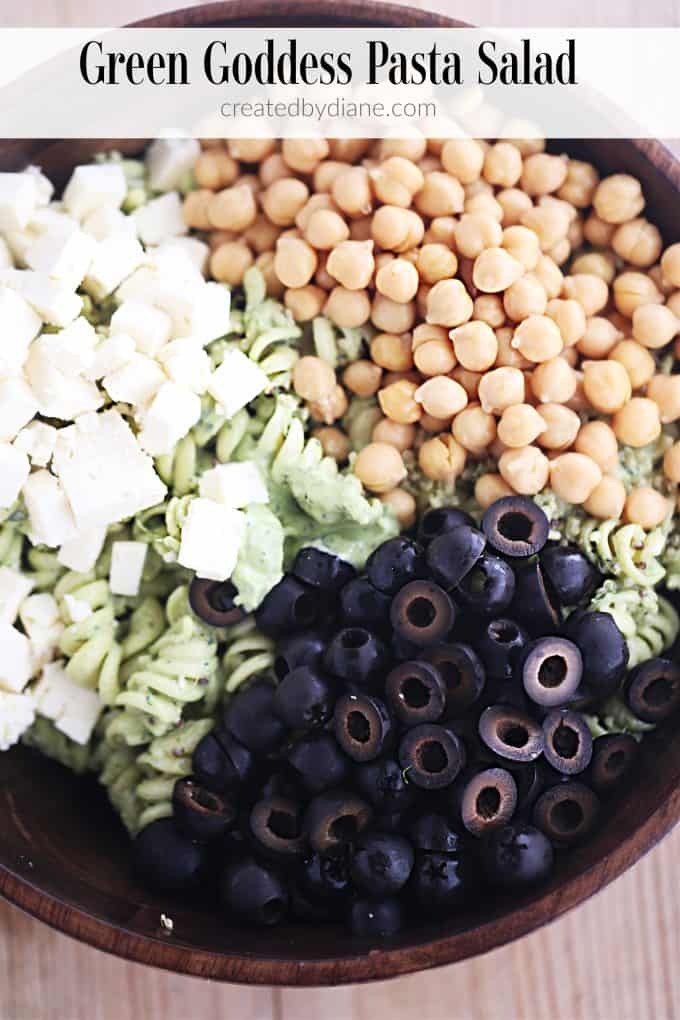 Okay, it's time to show you how to make this salad. It's really quick, and the best part is it stores easily. I often place it in 16 oz wide mouth glass jars which make it ready to go anytime. Make it ahead of time and have it at the end of a busy day, or have it on hand for weekend lunches, snack on when running errands, take it to a BBQ, stop by a friend's house and enjoy it with them!
To get started, Cook your pasta according to the package directions.
Cook your quinoa according to package directions.
Drain and run cold water over the pasta until the pasta is cold. If you're in a hurry, add some ice cubes or make the pasta ahead of time and place it in a zipper bag or container and chill for a few hours or overnight. Read m
ore about why it's a great idea to cook and cool pasta and resistant starch here.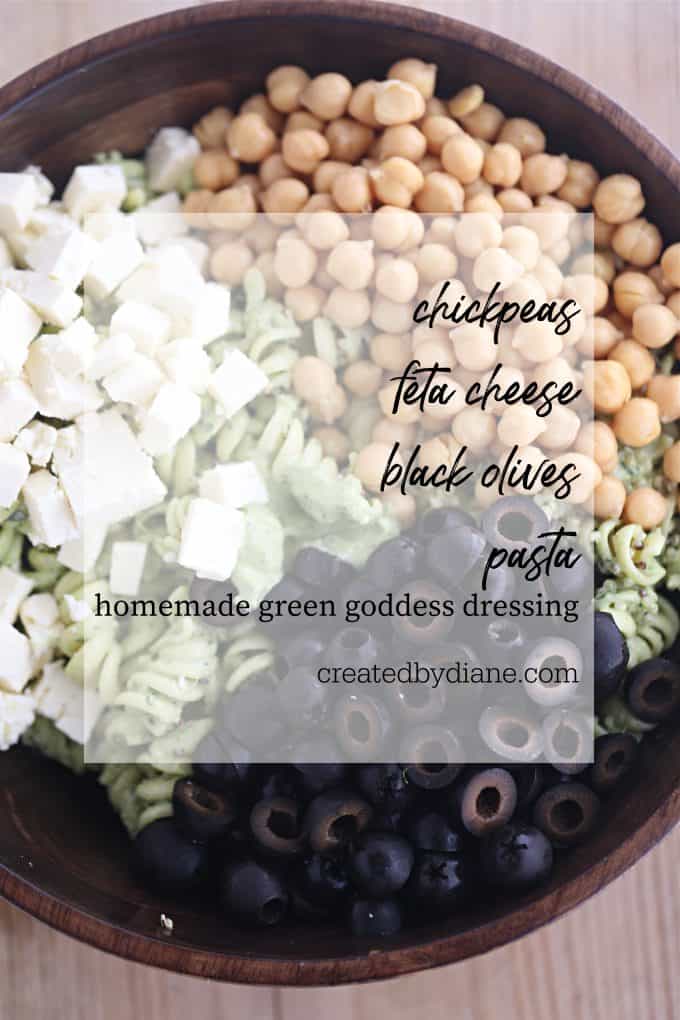 Prepare the green goddess salad dressing.
Place the pasta and quinoa in a large bowl. 
Add ⅓ of a cup of green goddess dressing and stir to combine. that way it'll be evenly coated.
Add in the chickpeas, black olives, feta cheese and toss to combine.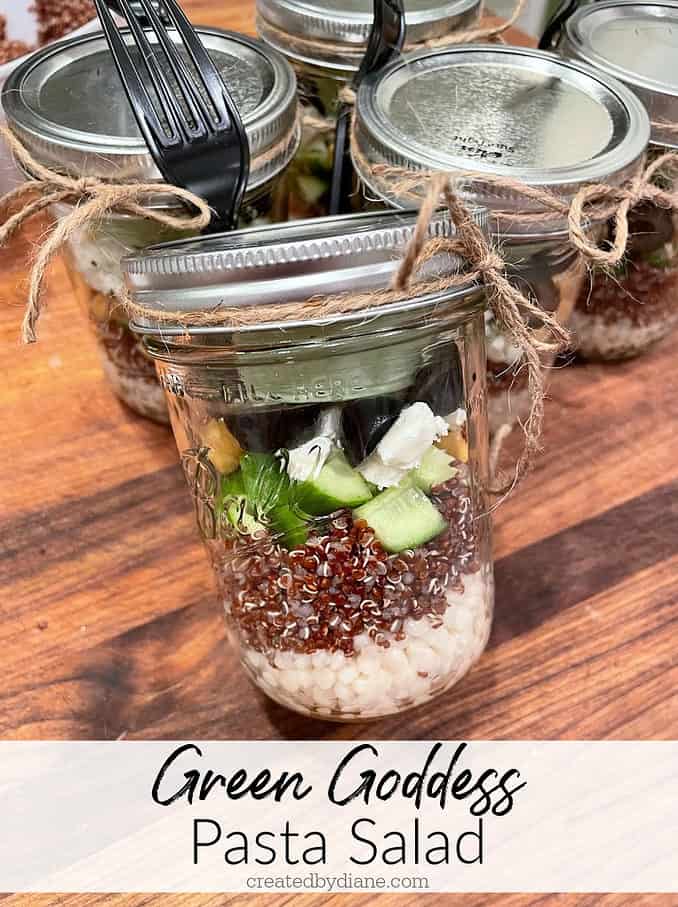 Pile all the items into 16 oz wide mouth glass jars and add the dressing in a 2oz plastic cup and tie it all up with a plastic fork for easy to-go eating! Perfect to bring for lunch, beach, anytime you want to prep out meals and have them at the ready!
Does it matter what kind of pasta I use?
You can use whatever small type of pasta you have on hand. I like rotini because it really grabs onto the sauce and the flavor of the pasta salad. But you could use bowtie, penne, ditalini, or elbows are all good options.
I've never cooked Quinoa before, any tips?
I always rinse my quinoa before cooking, as it can be bitter if not. You'll know the quinoa is finished cooking when you begin to see little "tails" attached to the grain.
Could I use dried herbs in place of fresh ones?
Fresh herbs really are key here. They add flavor you just can't extract from dried herbs, so in this recipe, fresh is best.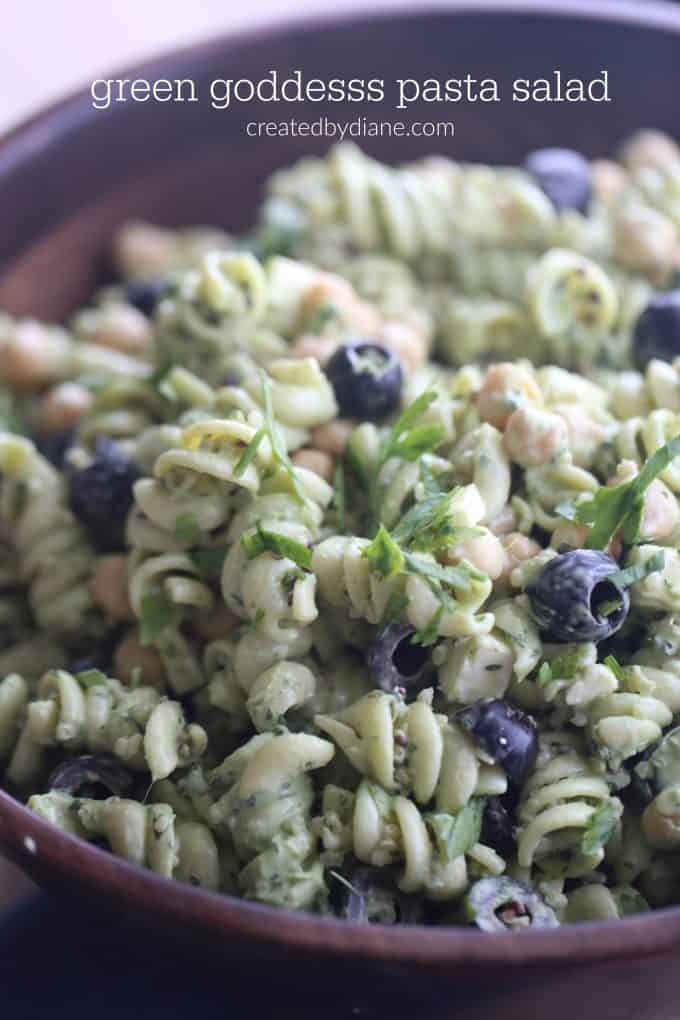 Recipe options:
Use more sour cream, or yogurt (or any portion preferred mayo, sour cream, yogurt)

If using all sour cream or yogurt add a tablespoon of oil

for more tanginess add 1-2 tablespoons capers

Use green onions instead of chives

diced cucumbers

sliced grape tomatoes

For more green deliciousness, add in an avocado and you can reduce the mayo, yogurt, or sour cream by half and still get a creamy sauce.

Use mint, parsley, tarragon, and dill (fresh herbs are key in this recipe)

Add oil instead of mayo, add more sour cream or plain yogurt

Looking to make a lower in carbs, just add 3 diced cucumbers instead of pasta
Green goddess pasta salad
A delicious and fresh tasting flavorful cold pasta salad with a homemade green goddess dressing has quinoa, chickpeas, olives, and feta cheese, it's a winner all around,
Author:
Diane Schmidt, Created by Diane
Ingredients
1 lb pasta (rotini or pasta shape of your choice)
15 oz can chickpeas, drained and rinsed
6 oz can black olives, sliced in half
4 oz feta cheese, diced
1 cup cooked quinoa
Green Goddess dressing (make or cut each ingredient in 1/2 for a smaller batch with no leftover)
½ cup mayo
½ cup sour cream
2 teaspoon anchovy paste
1 clove fresh garlic, minced
½ cup fresh parsley, chopped
3 tablespoon chives, chopped
2 tablespoons fresh lemon juice
Salt and pepper (coarse kosher salt is my preference and coarse black pepper)
Instructions
Cook pasta according to the package and then drain and rinse with cold water to cool pasta completely.
Prepare the green goddess dressing by mixing the ingredients in a food processor or in a tall glass with an immersion blender. You will have extra salad dressing, or you can cut the portion in half if desired.
Mix 1/3 cup dressing with pasta and quinoa.
Add the chickpeas, black olives, feta cheese
Add additional dressing or the options I gave for additional items if desired like diced cucumbers or sliced grape tomatoes.
Chill until fully cold.
Be sure to check out my post on Pasta Sauce Recipes, that include low carb options too.