If you're looking for a cool and refreshing drink, this simple cocktail is perfect for those warm summer nights! This grapefruit Paloma will win you over.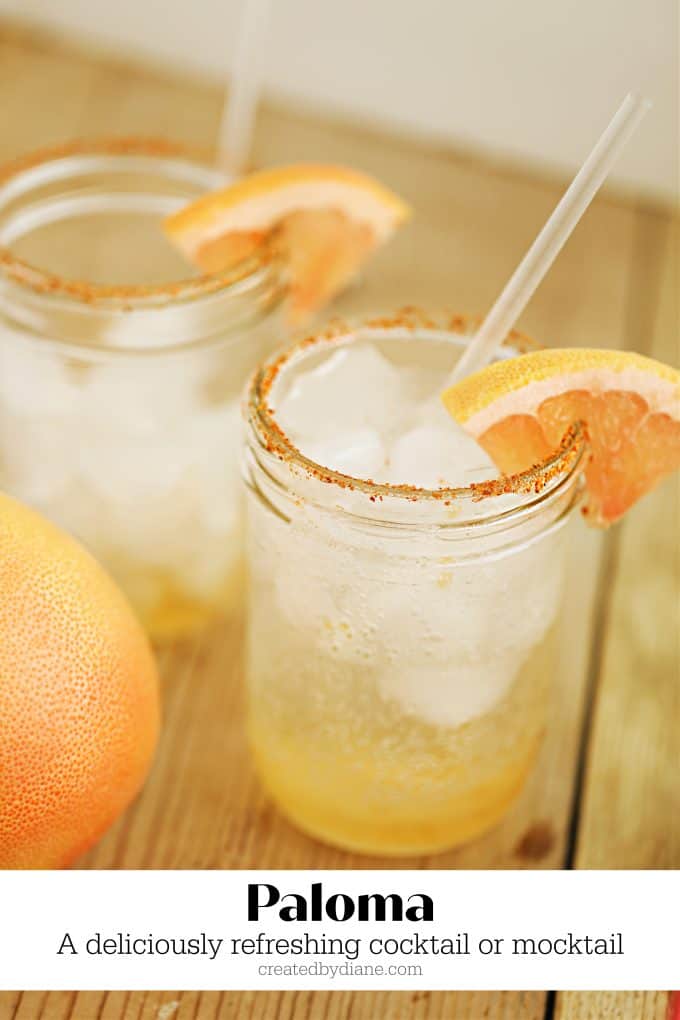 Whether you are a huge grapefruit fan or not, this drink is sure to please. Someone gifted me some fresh grapefruits freshly picked off the tree and I knew exactly what I was going to make with some of them… Palomas! There is nothing better than great-tasting citrus fruit and living in Southern California citrus trees grow and produce well here, it's been years since I had a really fresh grapefruit, but if you don't have a tree, store-bought will work as well.
Paloma's are made with tequila, but you can make it a mocktail and skip the tequila if you prefer.
Most cocktails predate Prohibition, but the Paloma didn't make its mark until after 1938. Originally it was Squirt soda with tequila, that's it. And it came about because Squirt began advertising itself as a mixer. But as the years passed, the Paloma went through changes, and now when you order this drink at a bar, you're going to get something more similar to the recipe I'm going to show you today!
What's great about this recipe is how easy it is, and it doesn't have all those mystery ingredients a can of squirt does. It's flavorful and sweet without being too sugary. Plus it's balanced with a little spice of chili and lime dusted around the rim of your glass. You'll get a little bit of sweet-tart from the grapefruit syrup, a whisper of spice from the Tajin, and the refreshing bubbles of sparkling water – it's undeniably delicious and refreshing!
And hey, if grapefruit isn't your thing, I have a lot of cocktails and summer drinks you can try your hand at! A few of my favorites for those hot summer days are:
Lemon Coconut Water Cocktail

– Lemon is my ultimate favorite summertime flavor, and this cocktail encapsulates the fresh and crisp flavors of lemons, along with the refreshing taste of coconut – all mixed with lemon vodka and Tuaca which gives it a hint of vanilla!

Cranberry Margaritas

– Of course, there's going to be a margarita recipe for summertime drinks! It's the ultimate cocktail for those warm evenings spent outdoors with friends. And this one adds the twist of cranberry, which brings a little bit of that tart berry flavor without overpowering the sweet lemon. It's delicious!

White Russian

– This milky goodness is an all-star – it's dessert in a glass. I love the creaminess with the deep and rich flavor of caramel. You have the balance and benefit of salt to keep it from being too sweet. For my sweet and salty lovers, this cocktail is for you! But if you're not sure about it, there are other White Russian variations in the link!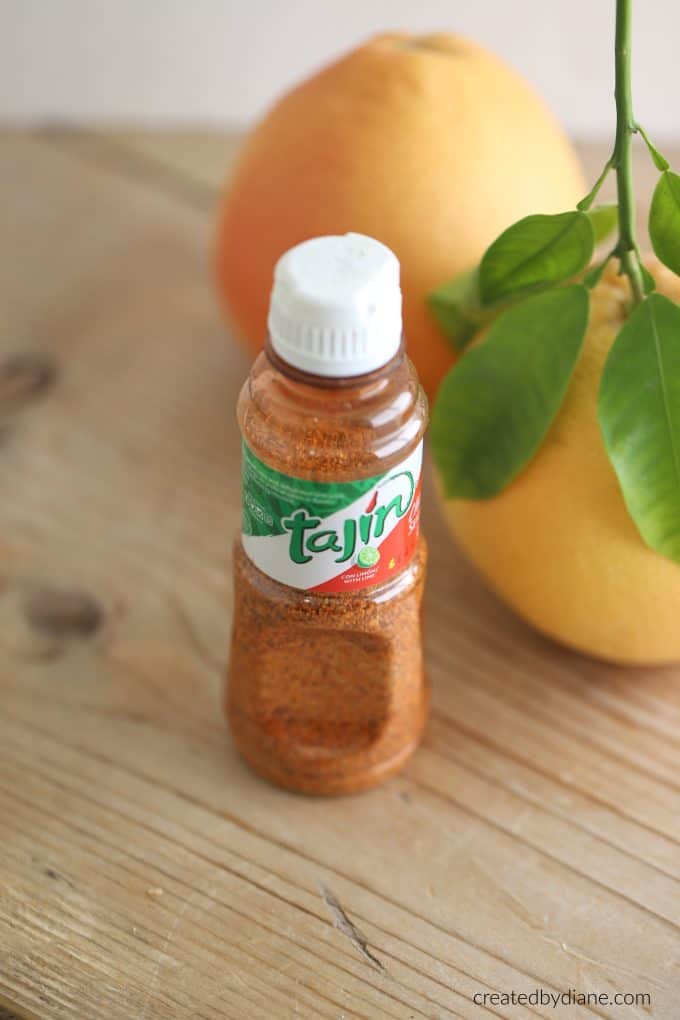 There's a drink for everyone on my blog. And if you don't drink alcohol, many of my recipes can be used as mocktails, just remove the liquor. 
Okay, let's begin by making our simple grapefruit syrup, which will be the base of our drink!
Grab a small boiler and bring 1 cup of grapefruit juice and 1 cup of sugar to a boil, cut the heat, and let cool. The mixture should thicken as it sits.
Once the syrup is cool, rim your cocktail glass with the Tajin. Alternatively, you could use sugar or salt.
Fill the glass halfway with ice, add your tequila, grapefruit juice, grapefruit simple syrup, lime juice, and stir to combine.
Next, pour the sparkling water or soda into the glass. I love topo chico for this, and especially their grapefruit-flavored sparkling water.
Add a fresh slice of grapefruit for garnish and serve!
Adjusting this for a mocktail is simple, just omit the tequila. Another thing I like to do to add a bit more grapefruit flavor is to make the ice cubes out of grapefruit juice – it adds a bit more tang and keeps the drink from getting too diluted of a flavor.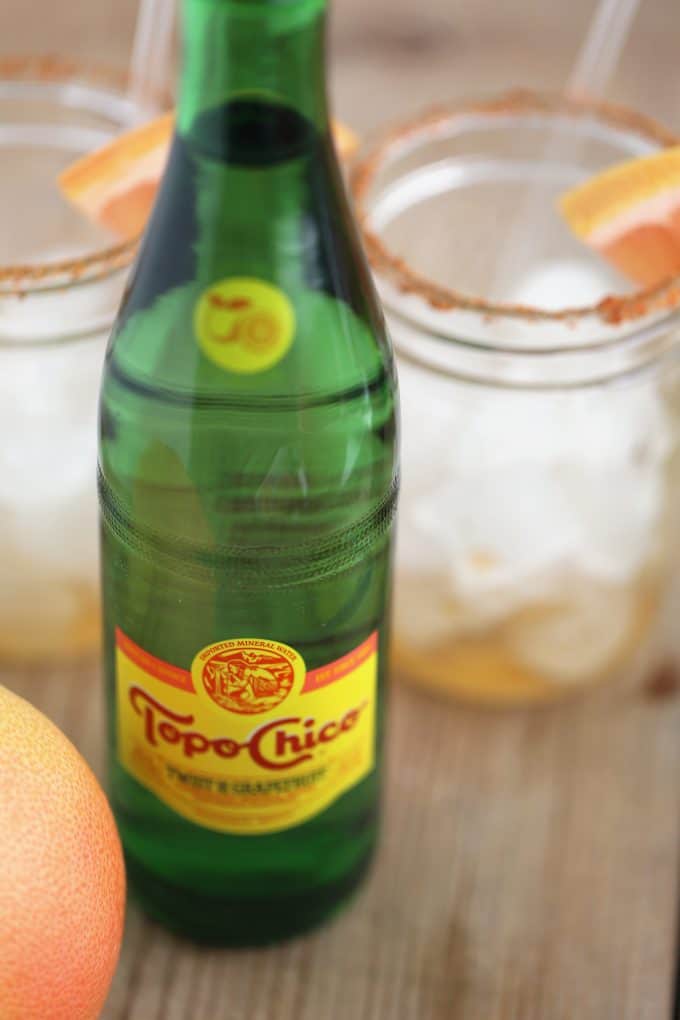 Now, you've got questions, I've got answers!
Could I use another citrus fruit in place of grapefruit?
Yes, this recipe would work just as well with oranges, or even lemon.
How long will the simple syrup last in the fridge?
On average, about a month if it's in a good air-tight container.
Instead of stirring the ingredients, could I shake them?
Yes, you could! Just be sure to omit the sparkling water/soda from the shaking part, or you're liable to have an erupting Paloma on your hands! Shake everything else, add to your glass and then pour your soda/water over.

How do I make grapefruit syrup?
Bring 1 cup grapefruit juice and 1 cup sugar to a boil, then allow to cool, or equal parts of grapefruit juice and sugar for the portion you'd prefer.
Paloma
Grapefruit flavored sparkling drink or cocktail, fresh grapefruit gives this drink the added freshness that is undeniably delicious.
Author:
Diane Schmidt, Created by Diane
Recipe type:
Beverage, Cocktail
Cuisine:
Mexican, American
Ingredients
2 oz fresh grapefruit juice
1 oz simple syrup/grapefruit syrup (I make homemade equal parts grapefruit juice and sugar boiled)
grapefruit sparkling water or soda (I like grapefruit topo chico)
2 teaspoons fresh lime juice
2 oz tequila, I use silver patron
ice
Tajin (chili lime spice for the rim, or you could use salt or sugar)
Instructions
You can make this drink as sweet as you prefer by adding more syrup or soda, I prefer using grapefruit topo chico which is not sweetened, and adding in fresh-made grapefruit syrup, I love the fresh flavor.
Begin by rimming a 16 oz glass with lime juice and tajin (salt or sugar)
Fill the glass halfway with ice, add in the tequila, grapefruit juice, grapefruit syrup, and lime juice, and stir to combine.
Then pour in the sparkling water or soda.
Add a fresh slice of grapefruit and serve.
For a mocktail or homemade soda, omit the tequila. Add as much syrup as you prefer, you can juice grapefruit and make ice cubes with the juice to give the drink added flavor.