These White Russians are about to become your new favorites!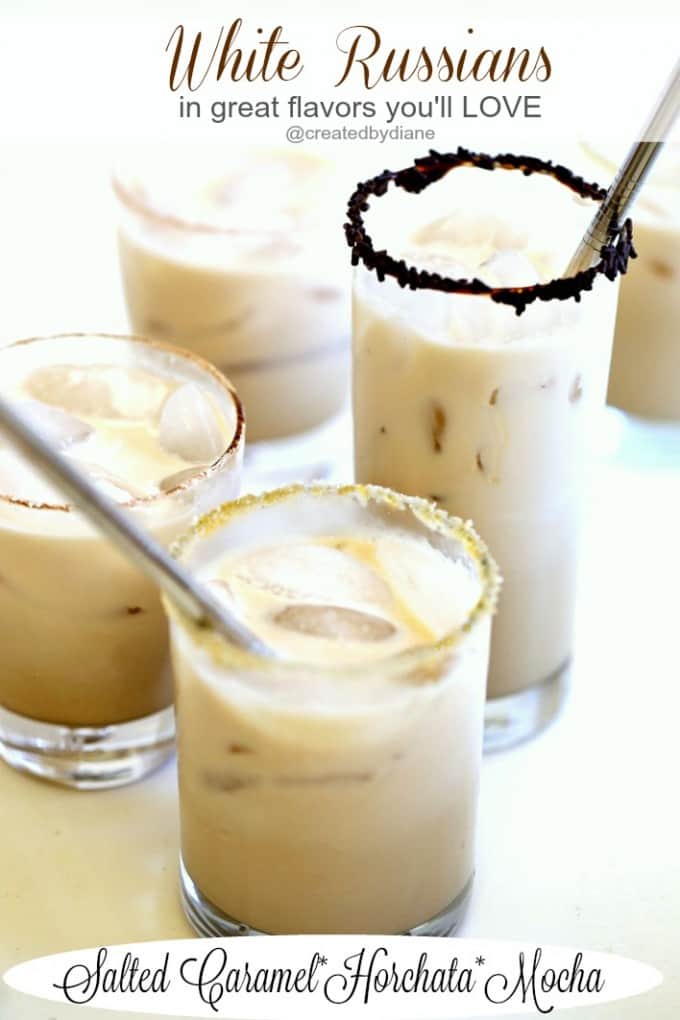 White Russians
Don't miss one delicious recipe and get my FREE e-cookbook click here!
White Russians have always been a favorite cocktail of mine, but it had been a while since I enjoyed one.
I asked a few friends and they said they hadn't had one in years.
I'm not sure why we all haven't had one in a while, they are DELICIOUS.
Now I'm got some new flavors of White Russians to share with you and they will be the HIT of the Holidays!
Salted Caramel seems to be all the rage these days and when Daily's Cocktails shared with me their Cream Cocktails which can be enjoyed on their own or used as a mixer, with their fun new flavors all I could think of was adding them to classic White Russians and kicking them up for the holidays.
White Russians are creamy and delicious remind me of enjoying them with my brother. It's always funny how drinks and food bring back memories so quickly and oh how I love reminiscing. I sure wish we took as many photos of things years ago as we do today. But I am happy I have such great memories spending fun time with my brother. I don't get to see him often with the many miles between us, but I sure wish we were enjoying these cocktails together.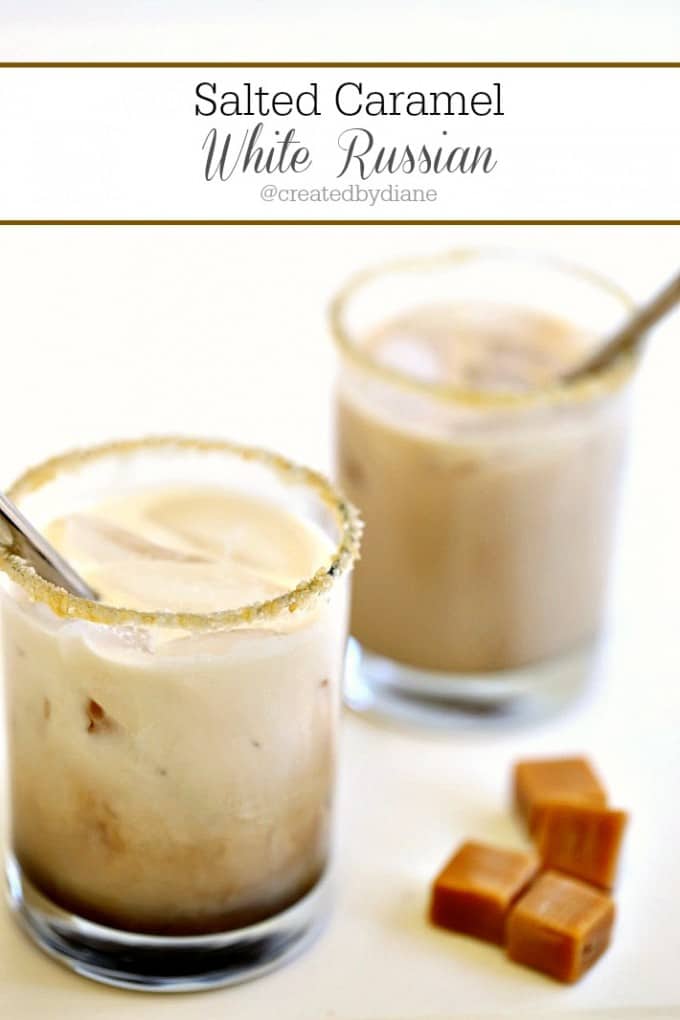 Salted Caramel White Russians
Sweet and salty is right up my alley and oh my goodness this is the perfect combo of fantastic flavor. I rimmed the glasses with caramel syrup and salt (the same salt you'd rim a margarita with) and then filled the glasses with ice and poured 1 1/2 oz vodka, 1/2 oz coffee liquor 1/2 oz heavy cream and 1/2 oz Daily's Salted Caramel & Cream Cocktail.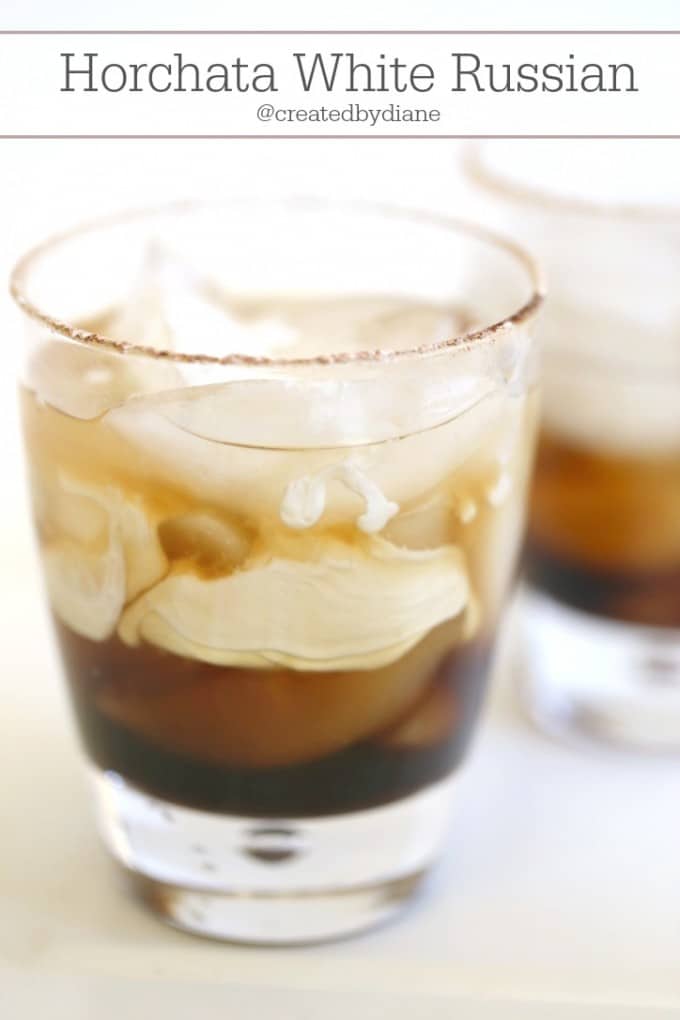 Horchata White Russians
Horchata is a really fun drink, it reminds me of rice pudding. For these beauties I rimmed the glasses with a little vodka and powdered sugar and cinnamon then filled the glasses with ice and added 1 1/2 oz vodka, 1/2 oz coffee liquor 1/2 oz heavy cream and 1/2 oz Daily's Horchata Cinnamon & Cream Cocktail.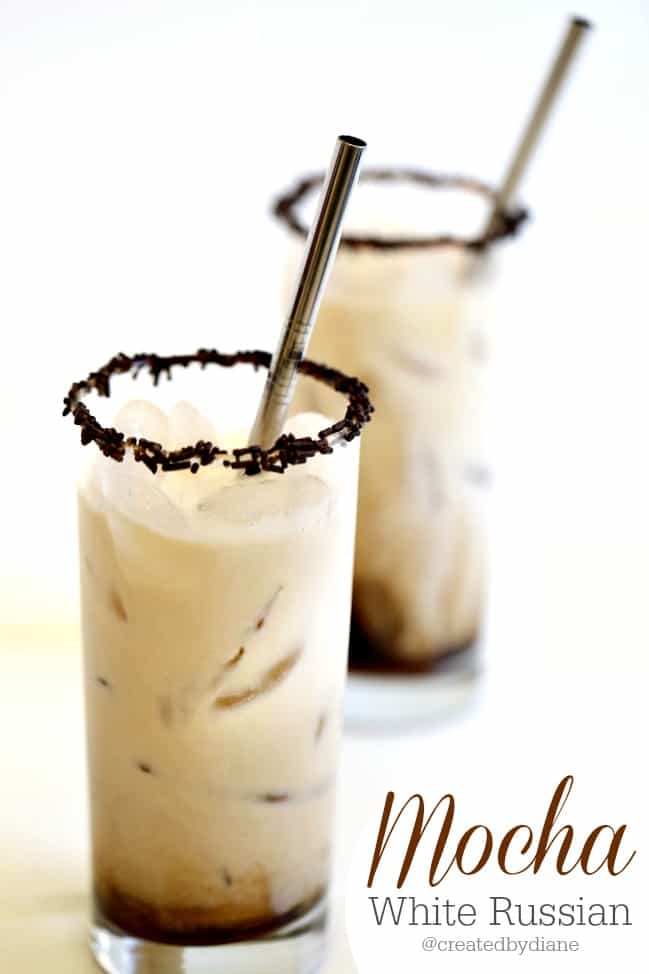 Mocha White Russians
There is never a time when chocolate is a bad decision, I rimmed the glasses with chocolate syrup and chocolate sprinkles then filled with glasses with ice and added 1 1/2 oz vodka, 1/2 oz coffee liquor 1/2 oz heavy cream and 1/2 oz Daily's Chocolate & Cream Cocktail.
Bring on the CELEBRATING this holiday with these delicious drinks.
These drinks remind me of desserts and well there has got to be nothing better than that! Pairing them with similar flavored desserts would be a great way to serve them. Like these Salted Caramel Cheesecake Oatmeal Cups, Horchata Cookies or Chocolate Cake with Coffee and Cinnamon don't you think?
Daily's Cream Cocktails can be enjoyed over ice, warmed up or added to hot beverages! The possibilities are endless with them. They are made with wine and blended with cream for delicious and cocktails.
These White Russians are sponsored by Daily's Cocktails® all opinions are my own. Please drink responsibly. Content intended for 21+.
NOTE: if you aren't able to find Daily's Brand, you can make the drinks with other brands of flavor syrup that you can readily find in stores. One brand I know is available lots of places is Torani, they are clear and you'll only need a small amount to make a drink, they have flavors like salted caramel and such. You could always add some flavored coffee creamers as well. ( I know they have those in the milk section of stores and offer a variety of flavors as well)