This Simple Chicken Salad is absolutely delicious, with lots of options on cooking the chicken and what to mix in to make it just perfect for you!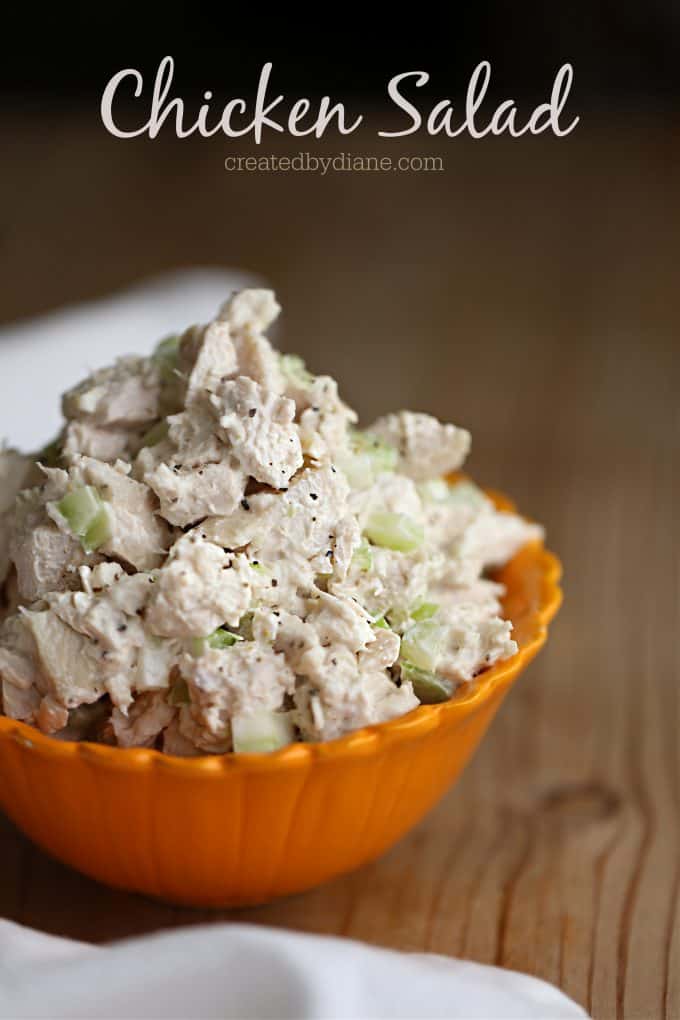 This is a classic American dish, almost everyone's mother or grandmother had this recipe up their sleeve.
And for good reason too!
It's quick to throw together and enjoyed any time of day.
For a fun and quick dinner idea, make some Chicken Macaroni Salad….you can add chicken salad to pasta! You'll need to add a ¼-½ cup more mayo to allow the chicken salad to spread evenly over noodles. Once you've cooked your pasta, rinse it in cold water and allow it to cool completely. Then mix your mayo and basic chicken salad in and smooth. I like elbow pasta the best for this dish but you could use any kind, bow tie pasta might be fun! Adding a grated carrot helps retain moisture when mixing chicken salad with pasta, and it adds a great color too.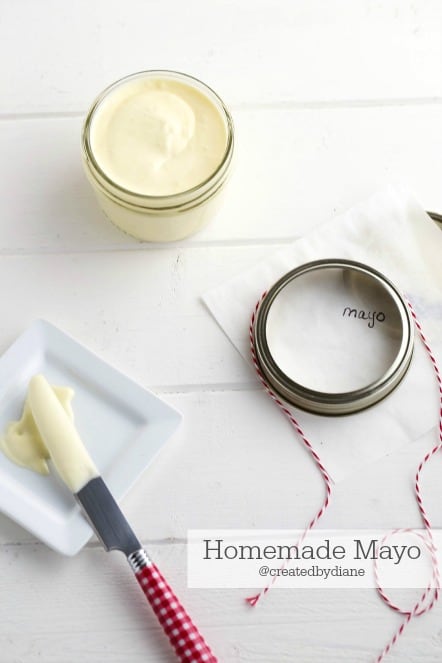 And I'm also a fan of homemade mayo, once you've had it and see how easy it is to make, you won't go back! This Homemade mayo recipe is my own tried and true recipe, I hope you love it as much as I do! If for some reason I am in a rush, and I need to use a prepared mayo,  I prefer using Hellman's/Best Foods brand.
 I've made this recipe using a rotisserie I picked up in the store, and I've made it with chicken breast I cooked especially for the salad. Either way, this basic chicken salad recipe makes the best chicken salad sandwiches or acts as a nice side to a green salad or wrapped in lettuce leaves. Find my post on over 30 Rotisserie Chicken Recipes Here.
Moving on to the cooking side of things:

There are many ways to cook the chicken for this simple chicken salad, and I have a few suggestions below:
Slow Cooker Chicken–

You'll find a whole slew of recipes on this post, as well as various different ways to use the chicken in as well.

Pressure cooking chicken

– One of my favorite ways to make chicken for the week. And you can enjoy the chicken in many recipes. Thie recipe gives you the choice to use frozen or fresh chicken breasts. Simply add a couple of minutes if you opt to use frozen chicken. It takes only 10 minutes to cook or if you want succulent shredded chicken it takes only 14 minutes. You decide if you want it cut into a chunky style or shredded. It'll take about 4- 5 more minutes of cooking time in the pressure cooker to be able to shred the chicken or don't do a quick release with the pressure, do a natural release. The chicken will be tender enough to shred.

Oven roasted chicken breasts

– Bake at 350° on a baking sheet until tender. This usually takes 30-40 minutes depending on how thick they are. 

Poach chicken –

 This method involves simmering the chicken in a pot on the stove until it's fully cooked and a meat thermometer reads 165°. I love poached chicken (but not boiled chicken breasts they get too dry, so keep an eye on the chicken!)


*You'll often see "How to boil chicken for chicken salad" online when you search for cooking options. The chicken however should not be boiled at a high temperature or at a rapid boil or you'll have a tough and dry piece of meat. Poaching keeps the chicken tender and moist. If time is an issue, you can cut the chicken into pieces to help it cook a little faster. 
Rotisserie chicken  –

My favorite way to cook this is to not. I

pick up one at the store. 😉 And I have over 30 recipes to make dinner easy as well.

Canned chicken

– This is always a quick no-cook option. Simply rinse and drain and you're ready to go! 

You can grill chicken, or use a grill pan which will give the chicken salad a great toasted flavor, use an outdoor grill or a grill pan, I often cook chicken for the week like this.
If you have extra leftover cooked chicken, making chicken salad with it is a great use. If you want more recipes using chicken check this out.
The great thing about this basic chicken salad is how versatile it is, there are so many ways to transform it.
You can choose to have the chicken cut into chunks, or shred it for a finer texture.
The basics for this delicious chicken salad are chicken, mayonnaise, celery, and celery salt/celery seed, and salt and pepper to taste. That's it. However, I'll add in ingredients as I have them available to me.
Here are a few extra ideas for
chicken salad ingredients
:
Add in a little bit of mustard (spicy brown or dijon) for some tang, or you can use dry mustard.

Add in a hard-boiled egg for a creamier texture.

Add in diced red onion for a bit of crunch and added color and flavor

Dried cranberries make a festive display and add a great sweetness

Apples and walnuts for both texture and flavor to kick up chicken salad

Almonds and grapes for some extra flavor and texture, adding fruit to it in the summer keeps it fun!

Add a teaspoon soy sauce, sliced almonds, and top it with some mandarin oranges for a Chinese chicken salad.
Sometimes you need to make more than a couple of serving and for this reason, I have some serving suggestions to add as well:
Serving Options:


6 Servings

3 cups cooked chicken (1 lb chicken) 

½ cup mayo


4 Servings 

1 ½ cups chicken 

1/4 cup mayo


2

Servings

1 cup chicken = 2 servings

1-2 tablespoons mayo
Okay, before we get cooking here's a couple of notes to keep in mind:
Be sure to mix the chicken with the mayo before you add additional ingredients or the results could be watery.

If the chicken is cold, once you've mixed the salad, you can serve it immediately. If however, you've just finished cooking the chicken, allow it to cool at room temperature, then mix it with the mayo and refrigerate it for best taste.
To begin:
Cut or shred your chicken into bite size pieces.
Dice your celery. Why a dice? I like a little celery in every bite.
Put your chicken in a bowl and add mayo. Mix until well combined. Be sure to combine the chicken and the mayo first before adding celery so the chicken salad will not get watery as it sits.
Add in your celery and spices and stir until fully incorporated.
Adjust salt and pepper as desired.
You can add some mustard for a great tangy flavor, add in some celery salt/seed.
Add in any additional item you prefer, nuts, fruit etc.
How long will chicken salad keep in my fridge?
Five days in an airtight container.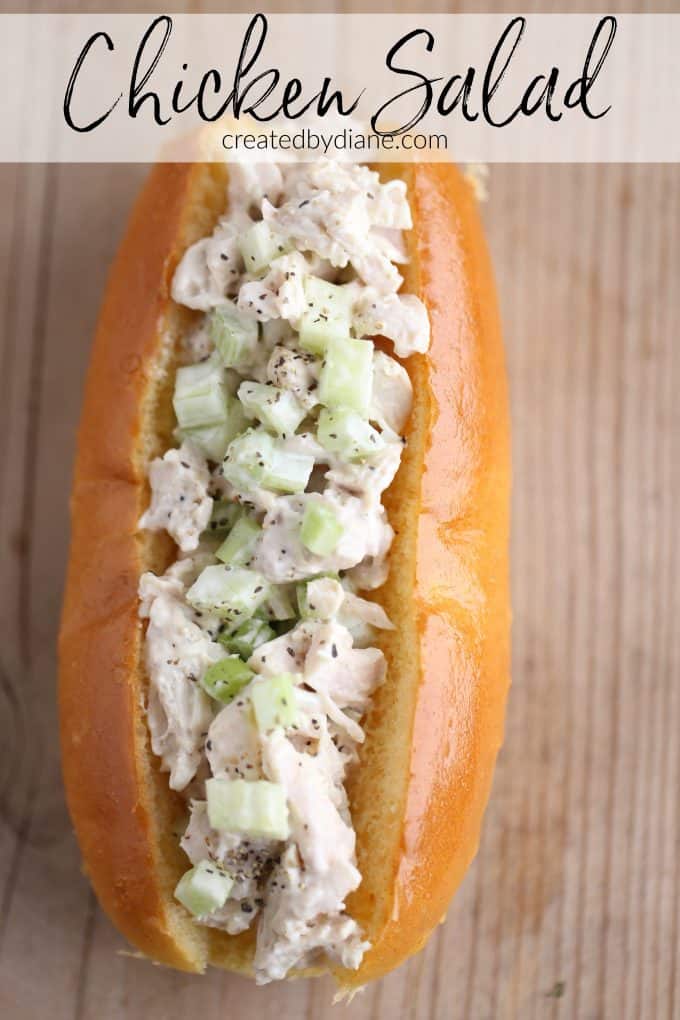 Do you have a vegetarian option?
I suggest using canned or cooked chickpeas in place of the chicken for a great option. Parsley is also a great addition to this!
If someone doesn't like celery, is there a good replacement?
Celery is fairly central to the flavor of this recipe. However, if you wanted to do without it but still wanted some crunch, you could replace it with onion, or leave it out altogether. 
Be sure to check out these pretty spring rolls that can be filled with chicken salad.
More delicious varieties of Chicken Salad:
And be sure to give these egg salad options a try:
Chicken Salad
Basic chicken salad recipe to fit everyone's taste for a quick easy meal.
Author:
Diane Schmidt, Created by Diane
Recipe type:
Chicken, Main Dish
Ingredients
3 cups cooked chicken (1 lb chicken) 6 servings
½ cup mayo
1 stalk celery, diced
1/8-1/4 teaspoon celery salt or celery seed
pinch of salt and pepper
*optional: add mustard or dry mustard
Optional serving sizes
1 ½ cups chicken+1/4 cup mayo = 4 servings
1 cup chicken+1-2 tablespoons mayo = 2 servings
Instructions
Cut or shred chicken into small pieces.
If shredding chicken it's best to do that while the chicken is warm, but allow any chicken to cool completely before mixing with mayo.
Mix the chicken with mayo first (this prevents the chicken salad from becoming watery as it sits if you are not eating it immediately)
Next, add in the celery, celery salt/seed, and add some additional salt if desired and black pepper to taste.