The perfect companion to a lazy day indoors, or a sunny summer day outside, this Lemon Pepper Chicken Salad brings comfort and joy in every bite!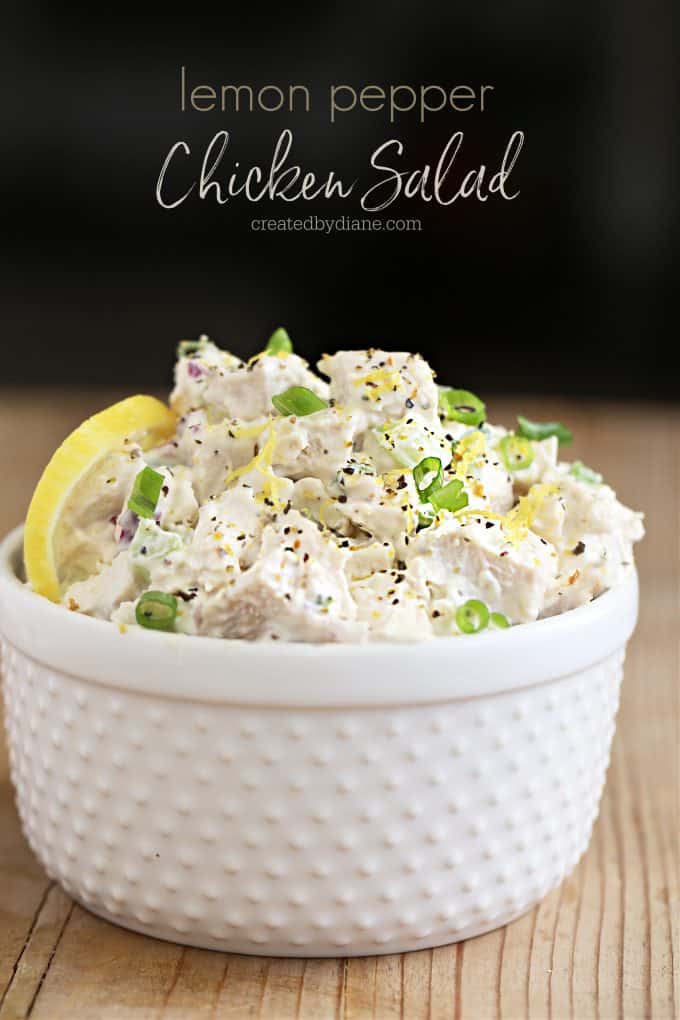 It's a staple in most households. Chicken salad is easy to mix together and can easily be made from a leftover cooked chicken like my Lemon Pepper Chicken Legs. It's versatile too. You're able to add and take away ingredients to suit each and every taste.
This is one of my favorite ways to serve it though. The lemon adds freshness and the black pepper a zing. And you can pair it with bread like these 2 Homemade Loaves of Bread with Homemade Butter.  Or serve on top of a bed of lightly dressed greens or with one of my delicious salads such as my Kale Salad with Lemon Dressing.
As mentioned you can use leftover chicken or even turkey in this recipe. Or if you want to use freshly cooked chicken you may do that as well. I have some great tips for cooking chicken breasts. And when I'm short on time, I'm not afraid to pick up a rotisserie chicken from the grocer of pre-cooked chicken from the deli. Either one works wonderfully.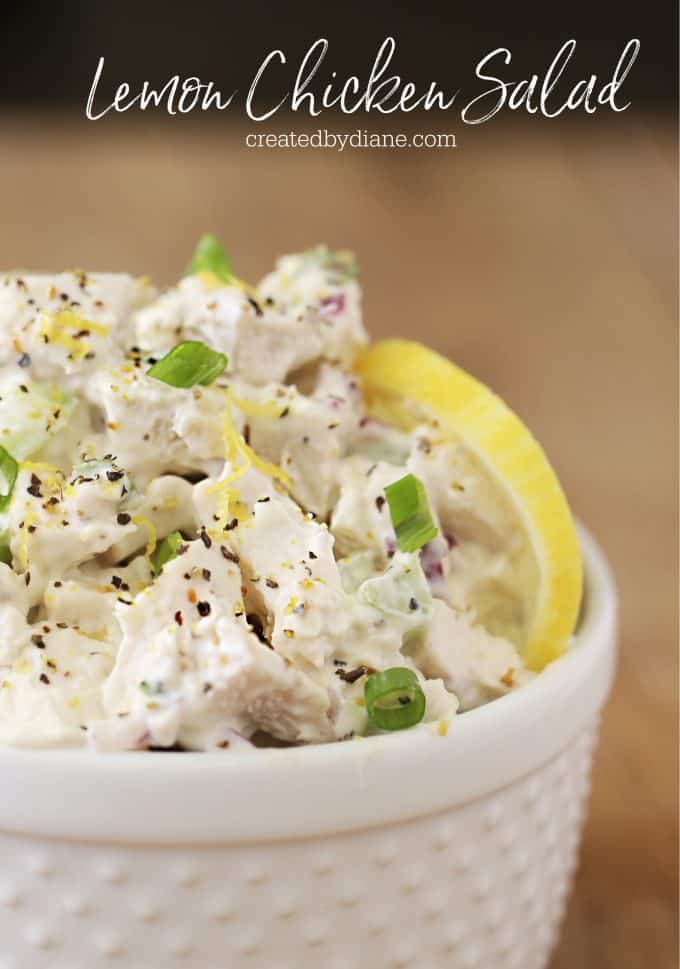 To begin, cut or shred your cooked chicken. There is no wrong way to do this, it's all dependent on your own preferences, so cut or shred however you like! 
*A couple of tips, however, if shredding, it's best to do while the chicken is still warm. But you do want to be sure your chicken is cool before mixing in with the mayo.
Dice your celery. I do this to make sure there is an even distribution in the chicken salad. I love the naturally salty flavor that celery has and I like to have a little bit in every bite. Dicing the celery helps with this!
Next, mix the chicken with mayo and lemon juice, then add in the lemon zest and lemon pepper seasoning.
Stir in your celery and salt to taste.
Taste it, and adjust salt if needed.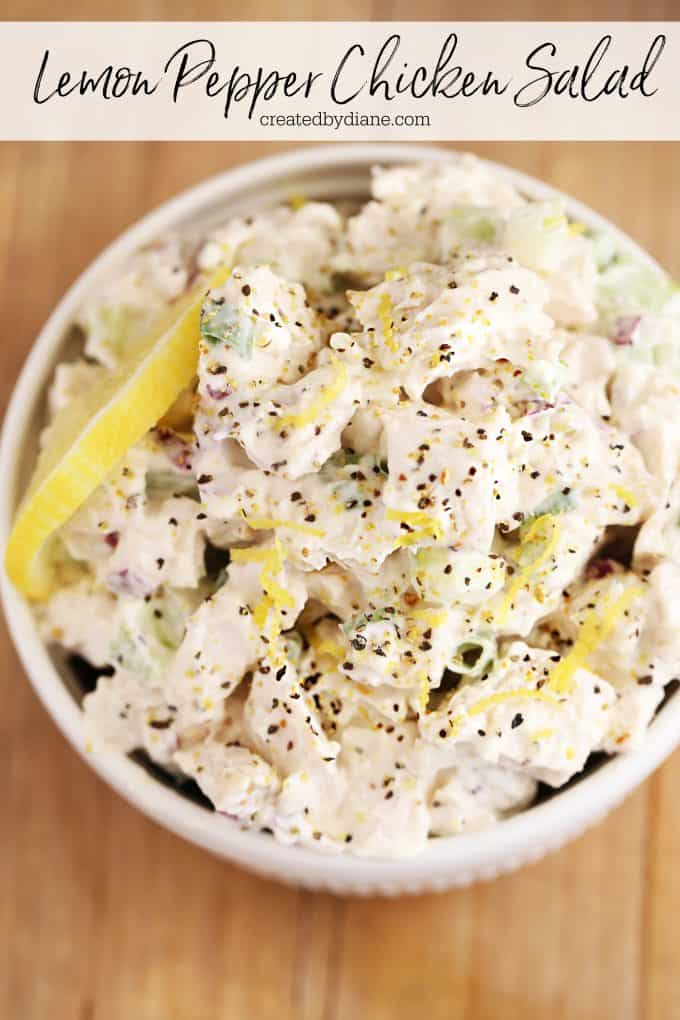 Do you have some suggestions for add-ins?
Yes, I do! A boiled egg can be added for some extra protein and creaminess. Some people like onion in their chicken salad. It can be good. I suggest a 1/4 red onion diced or a sliced green onion. You can add in a grated carrot, slivered almonds, or some dried cranberries for some fun flavor options.
How long will this salad keep in the fridge?
If stored in an airtight container, it can keep up to 5 days.
Lemon Pepper Chicken Salad
A fresh flavored lemon chicken salad that will make any day feel like spring! It's perfectly tangy and delicious.
Author:
Diane Schmidt, Created by Diane
Recipe type:
Chicken, Main Dish
Ingredients
3 cups cooked chicken (1 lb chicken) 6 servings
½ cup mayo (homemade or purchased)
1 tablespoon lemon juice
lemon zest, from 1 lemon
1/4 teaspoon lemon pepper seasoning
1 stalk celery, diced
pinch of salt
options
red onion, diced
green onion, sliced
slivered almonds
dried cranberries
Instructions
Cut or shred chicken into small pieces.
If shredding chicken it's best to do that while the chicken is warm, but allow any chicken to cool completely before mixing with mayo.
Mix the chicken with mayo then add in the lemon juice along with the lemon zest and lemon pepper seasoning.
Stir in the celery.
Add in any additional items like red onion, green onion, almonds or dried cranberries.
Add salt to taste.