Why is this chicken salad so special, let me share… it really has such a great flavor profile, it's tangy and creamy, crunchy and this special chicken salad will remind you of summer, with all the many great feelings that come with it!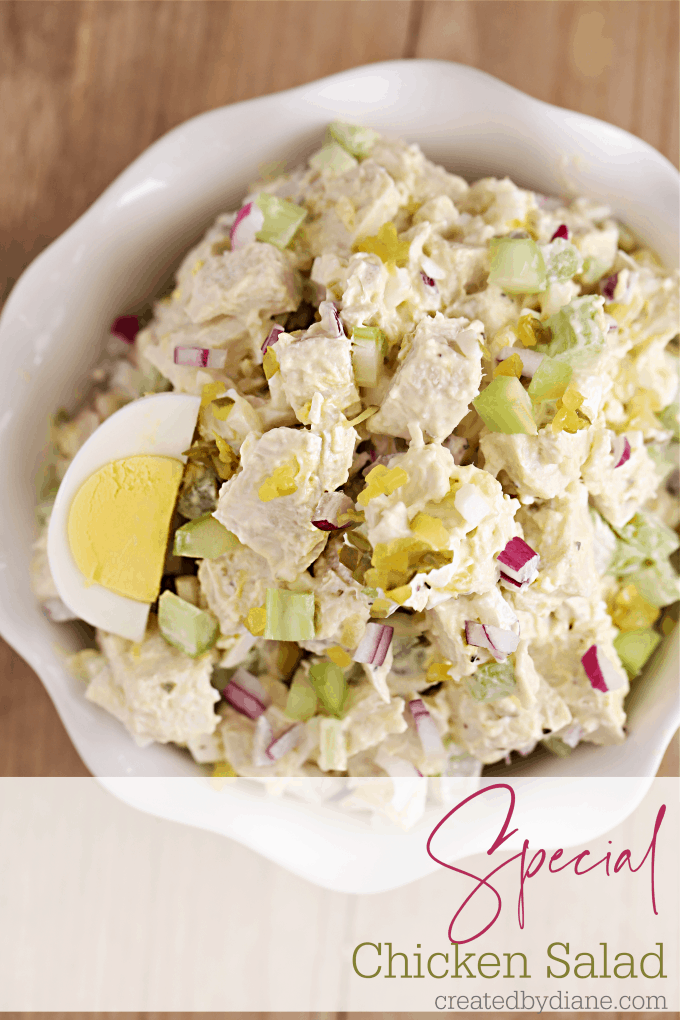 No matter what time of year, this recipe is the best way to bring a warm-weather feel into your day.
When I'm at the grocery store I'm always buying chicken… aren't we all. Don't skip buying some extra chicken because you'll not only want to have chicken for dinner such as my brown sugar soy chicken, taco marinated chicken, and this great chicken enchilada recipe. You will want to keep this chicken salad in rotation from now on!
The flavor is very similar to the chicken salad Chick Fil A used to serve, it was always my daughter's favorite, as soon as she got her driver's license she told me that was one of her go-to foods, that she would go and get. So one day I had her bring me half of the sandwich so that I could try to duplicate it for her.
We talked about what she liked most about it and how we could replicate it just to her liking… and this recipe won her over.
This recipe is a total celebration to my sweet girl, time sure flies by I'm sure Chicken Fil A hasn't made their chicken salad in at least 3 years and that would mean time has sped up again and she's has gotten even older. I'm sure she knows how special she is… but if she ever doubts it, this chicken salad is named just for her.
This chicken salad recipe is great on a warm summer day, so put the ingredients on your shopping list, this is a must-make!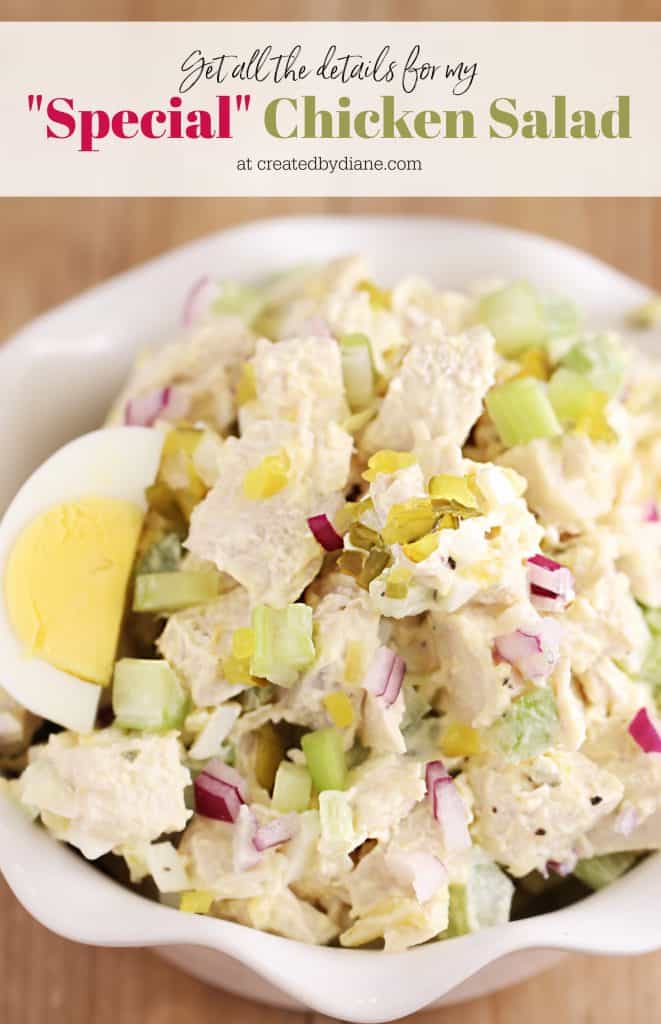 Chicken salad is such a humble dish, but there's nothing humble or simplistic about the flavor it packs. Two things that make this salad so good are the dill relish, which adds a crispness and zing, while the egg provides a creamy texture and balances everything in a rich creamy flavor. And the flavor the celery delivers a great crunch and the flavor is an undeniably perfect pairing with the light spice of the red onion which is the finishing touch this recipe needs to make it wonderful. 
It can be served all by itself simply by diving your fork into it, it's great on any bread, toasted, croissants, or on a nice big green salad or toss it into a pound of cooked macaroni noodles for a great pasta salad! I have quite a few things I enjoy having with it. Here are some of the items you can add if you have on hand to make this chicken salad extra special to your own liking:
sliced almonds
sesame seeds
dried cranberries
walnuts
grated carrots
pickled jalapenos
green olives
some fresh herbs like basil, dill, or chives will also add some amazing flavor options.
Now as for cooking the chicken, be sure to check out my post on Basic Chicken Salad here with tops and how to cook the chicken,  or what to buy to make it easier.
To begin, cut or shred your pre-cooked chicken into small pieces. If shredding chicken it's best to do that while the chicken is warm, but allow any chicken to cool completely before mixing with mayo.
Next, chop up your celery and red onion according to your own preferences. I like a little chunk to my celery but like my onion cut a little finer. 
Chop your boiled eggs. Check the post out on cooking the eggs, or you can buy them hard-boiled eggs if you want to.
Mix together the chicken with mayo, mustard. Then add in the celery, celery salt/seed, and add some additional salt if desired and black pepper to taste.
That's it! How simple was that?!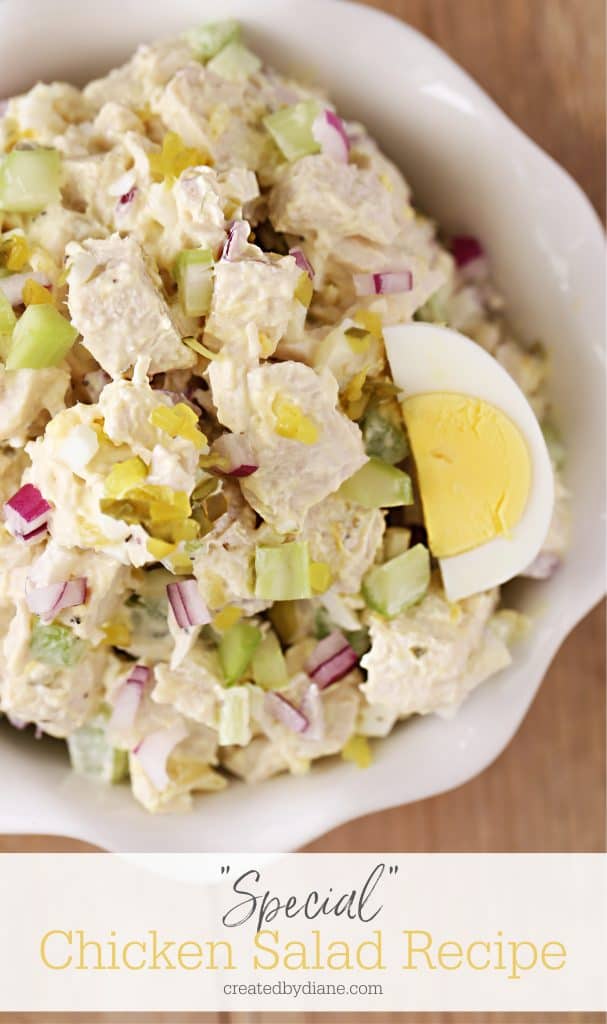 Do you have tips on cooking chicken?
Yes again! I cook in bulk but whether you like to meal prep for your week or just throw a few chicken breasts on the grill at a time, this post is for you! Have an instant pot or pressure cooker? Then, this post is for you as well!
What are some variations I could try?
I listed a bunch of optional items to add, you could also add cherry tomatoes, or why not add some crispy bacon, swap out the mayo for ranch dressing or make homemade mayo, which is always a great option. 
What can I use instead of dill relish?
You can chop up dill pickles, blot them with a paper towel, then chop the pickles fine before adding them to the chicken salad. If you don't like dill pickles you can use sweet relish or bread and butter pickles, but for me it's sour tangy pickles all the way!
 With the weather warming up be sure to give this great Chocolate Strawberry No-Bake Cheesecake a try it's perfect!
Special Chicken Salad
A truly flavorful chicken salad recipe that is similar to the discontinued Chicken Fil A recipe, full of flavor.
Author:
Diane Schmidt, Created by Diane
Recipe type:
Chicken, Main Dish
Ingredients
3 cups cooked chicken (1 lb chicken) 6 servings
½ cup mayo
1-2 hard-boiled eggs, chopped
1 tablespoon dill relish
1/4-1/3 teaspoon mustard
1 stalk celery, diced
2-3 tablespoons diced red onion
1/8-1/4 teaspoon celery salt or celery seed
pinch of salt and pepper
Instructions
Cut or shred chicken into small pieces.
If shredding chicken it's best to do that while the chicken is warm, but allow any chicken to cool completely before mixing with mayo.
Stir in the hard-boiled eggs, celery, and red onion.
Mix the chicken with mayo, mustard, then add in the celery, celery salt/seed and add some additional salt if desired and black pepper to taste.