This easy to make pumpkin ice cream recipe is not only worth making, it's worth stocking your pantry with pumpkin to enjoy it all year long.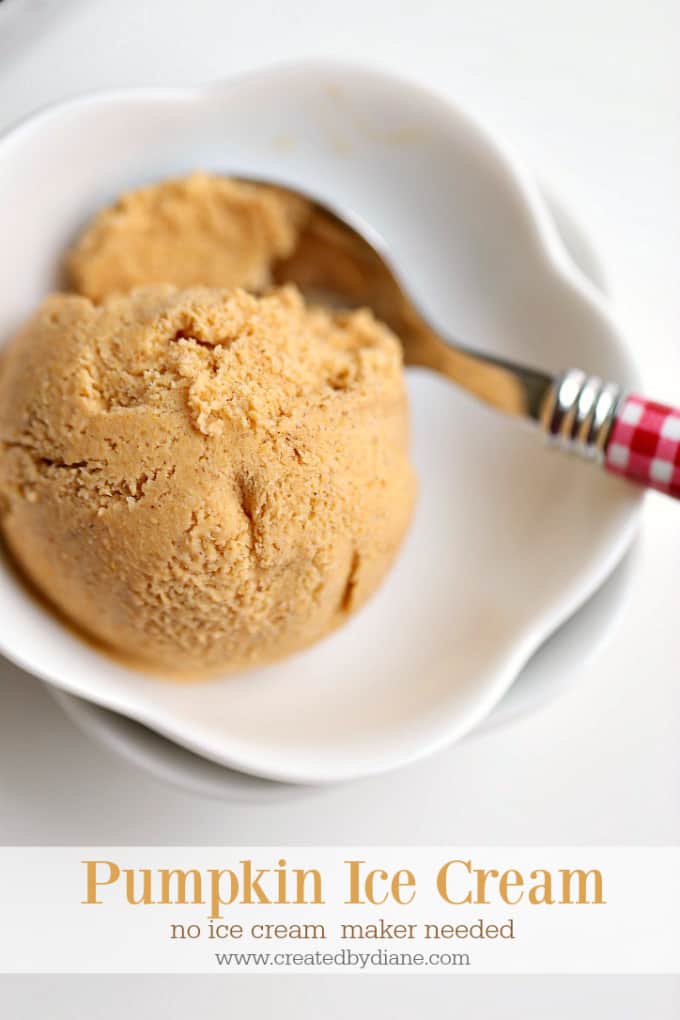 You head me right PUMPKIN all year long,
I love pumpkin and recall some 30 years ago having it for the first time. I worked in an ice cream shop and FELL IN LOVE,
you heard me, one bite in and I could not get enough of it.
It's smooth and creamy and has this incredible spiciness that is so wonderful, you know that flavor of an ice cold pumpkin pie, oh I love sneaking a piece of pumpkin pie for breakfast the morning after Thanksgiving.
It always drove my dad nuts that I didn't eat "breakfast food" in the morning, but I haven't changed after years… I still like pizza for breakfast Check out my 20-minute pizza dough recipe and my breakfast pizza recipe one of my all-time favorite breakfasts is Spaghetti and Eggs. I do LOVE toast and there are many options here on my Toast Overload Post.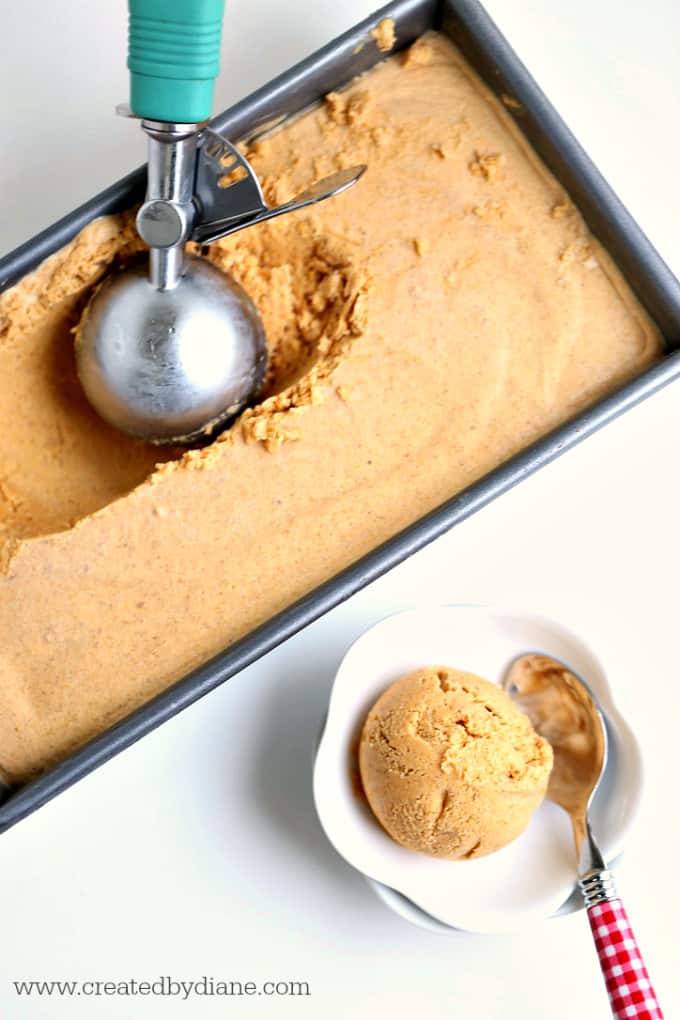 I love making homemade ice cream, but I'm really into this EASY version. I don't typically use an ice cream maker, especially since this method is so easy.
I do use a mixer.
I haven't thrown all modern appliances into the wind!
You simply take heavy cream and whip it into whipped cream, add the sweetened condensed milk, pumpkin, vanilla and pumpkin pie spice.
There is one thing I've done to the pumpkin puree to ensure the ice cream does not have any watery-ness to it as that makes the ice cream more icey… and less creamy. I like CREAMY!
I place the pumpkin puree in a fine strainer lined with two paper towels for 5 minutes while I whip the cream and get everything else ready, the water drains right out and then I squeeze out the excess moisture from the pumpkin and that is what will prevent the ice cream from having too much water in it.
I typically make the ice cream the day before I'd like to serve it, as it does take 6 or 7 hours to freeze it, so I just make it and freeze it overnight.
Pumpkin Ice Cream
Ingredients
2 cups heavy cream
1 cup drained pumpkin
1-14 oz can sweetened condensed milk
2-1/2 teaspoons pumpkin pie spice
2 teaspoons vanilla
Instructions
Whip the heavy cream (with an electric mixer or by hand with a whisk)
Gently whisk in the pumpkin, sweetened condensed milk, pumpkin pie spice, and vanilla.
Don't over mix and don't whip or deflate the "whipped cream".
Place the mixture into a loaf pan or dish you can freeze, cover with plastic wrap and freeze overnight or until frozen about 7 hours.
You can add in some graham cracker pieces for a fun pumpkin pie style ice cream if you prefer things mixed in your ice cream, or simply place a few graham crackers in the dish of ice cream when serving.

kin