Lavender Chocolate Chunk Frozen Yogurt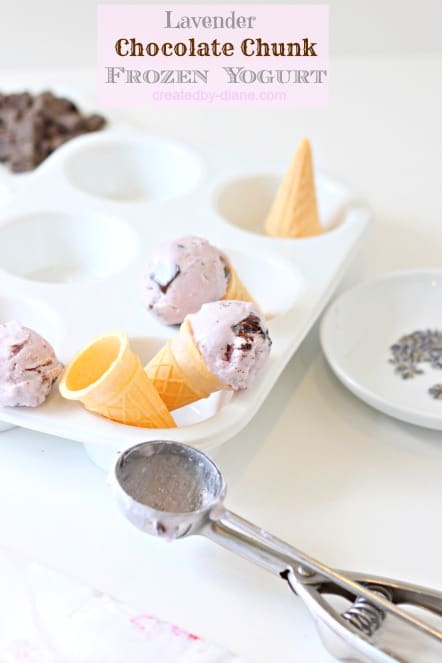 The sun has been shining LOTS and LOTS here and the temperatures sure are getting up there.
To cool down, I made a fun and simple frozen yogurt,
I'm been thinking a lot about getting an ice cream maker and wondering if I would just make a batch a day and sit and enjoy it on the couch in my pj's and wouldn't get anything else done…
YES, that is how much I love ice cream.
I don't even tend to buy it much as it doesn't last long with me around.
A spoonful here, a milkshake there…the memories of enjoying all types of ice cream treats comes flooding back from my first job.
It really was perfect…I even got to play around with flavors and create fun new items…all made out of ice cream and the best part was if it wasn't a winner with my boss, I still got to eat it anyway!
So I haven't dove in and bought an ice cream machine yet, but I did borrow one from my friend. She's the BEST that way!
I couldn't wait to make something in it, but never really checked to if I had everything I needed to start, sadly I didn't…no cream…
So I decided since I am trying to NOT explode out of my bathing suit this summer and watch a little more of what I'm eating and choosing better options,
this was perfect…..
I had yogurt and decided to give frozen yogurt a try.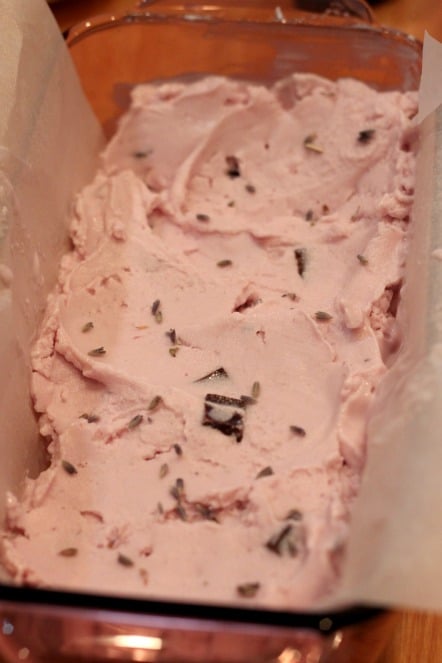 It was so easy, just mixed up a few ingredients, poured it into the ice cream maker and minutes later (about 15) I had frozen yogurt.
I then stirred in some chocolate chunks and topped it with lavender and put it in the freezer.
It would have been just fine to have eaten it all them, but I was trying to wait and share with everyone else…
I froze it for about an hour and could scoop it out.
I left some in the freezer longer…overnight and it was too rock hard to scoop, so I left it on the counter for 20 minutes or so and then I could scoop it.
I added a  little vodka, having heard that helps in to not freeze so hard, but it didn't seem to help. I'm sure if I added WAY more it would have, but really it was so good right out of the machine, I think that is the fun of making it at home. It's softer and makes it easier to devour the whole thing without getting a brain freeze!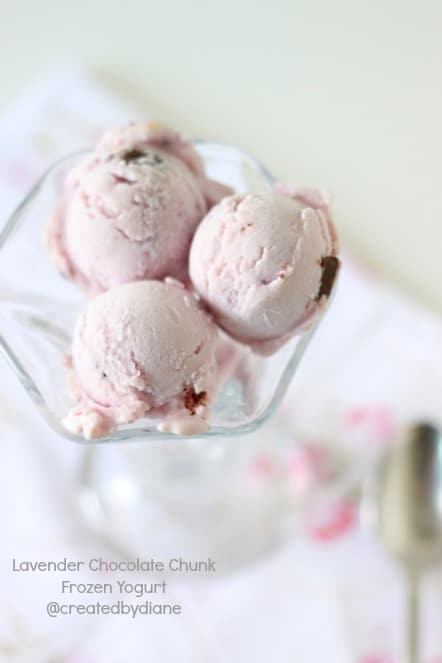 Can't wait to make more frozen treats this summer.
What is your favorite? Ice Pops, Ice Cream, Frozen Yogurt? Smoothies? Let me know, I may just give it a try!
Lavender Chocolate Chunk Frozen Yogurt
Ingredients
2 cups plain yogurt (I used greek yogurt)
1/4 cup sugar
1 teaspoon vanilla extract
10 drops lavender extract
1 teaspoon vodka (although that can be omitted as I found it didn't work out for easier scooping)
1/4 teaspoon lavender
1/2 cup chocolate chunks
Instructions
Mix yogurt, sugar, vanilla, and extracts (and vodka if you are going to try it, make a tablespoon or so would help for easier scooping)
Place in ice cream maker. (The ice cream maker I used has to have to bowl frozen, be sure to do that the day ahead)
Run ice cream maker according to directions.
Then scoop out the frozen yogurt and stir in chocolate chunks and lavender pieces. Place frozen yogurt into a serving dish and enjoy or spread in a loaf pan to put into the freezer to firm it up a bit.
Notes
I added 10 blueberries that I heated in the microwave and pressed and strained through a fine strainer, to give this the pretty lavender color, without using artificial coloring.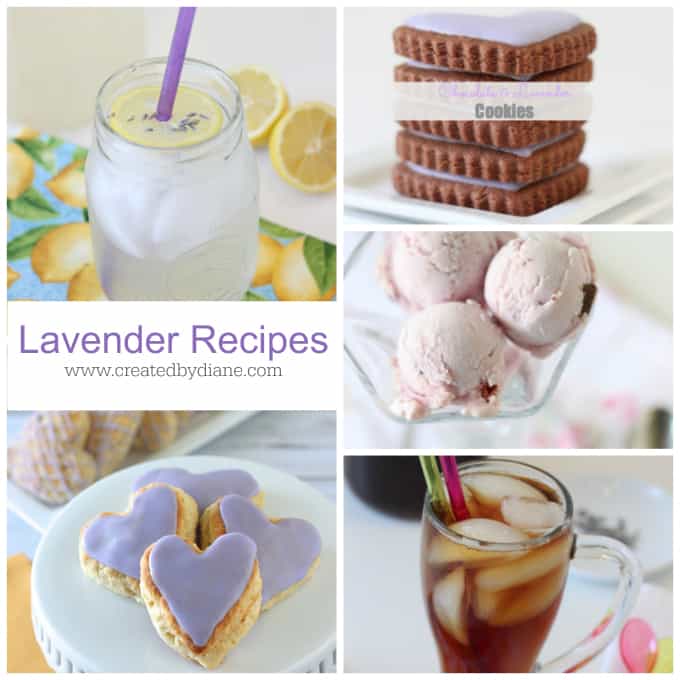 Lavender Chocolate Chunk Frozen Yogurt