The amazingly delicious flavors of pineapple and spam add a sweet and savory combination to fried rice that you'll find irresistible!   
Luau Fried Rice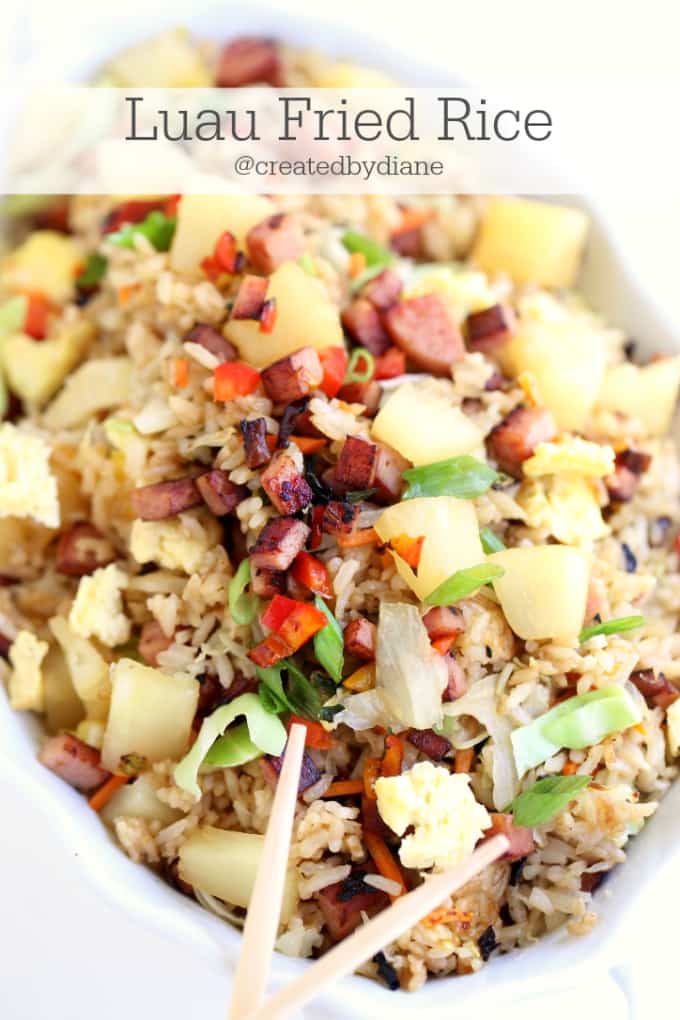 I grew up hearing about spam, that is was in a can. That is about all I knew of it.
Fast forward many years and someone gave me a can of spam and said I needed to try it.
Well… it sat in my pantry for months. Then one day I decided to make it, and as they say, the rest is history.
Needless to say…
I loved it, but I only love it when it's cooked CRISPY!
Now add that great crispiness with the sweetness of the pineapple and you have a sweet and savory dish and I just LOVE that.
This is one of my go-to dishes. I just love the flavor combo and so does my family.
I even love enjoying this for breakfast! If you like non-traditional breakfast foods take a look to see if missed my
If you like non-traditional breakfast foods take a look to see if missed my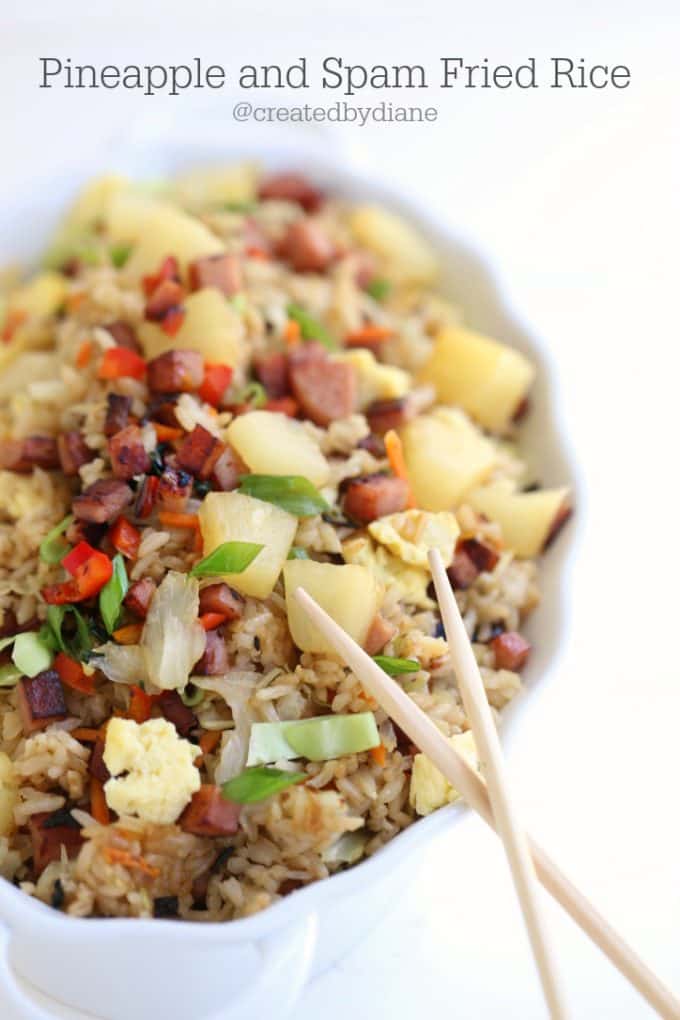 One of the best things about this dish is that it's easy to have the items needed on hand. I have eggs and coleslaw packs in my fridge all the time. If you don't have a coleslaw pack, simply cut some cabbage fine, and add some shredded carrots.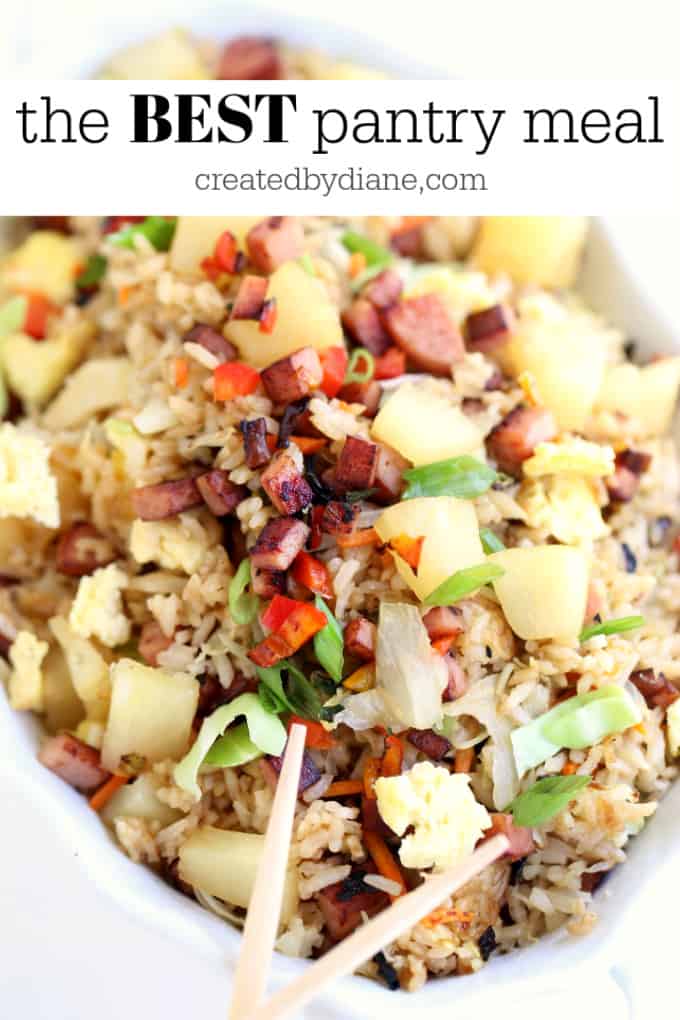 What can I make with items only in my pantry?
We've all asked ourselves this, haven't we… 
this recipe is the answer!
And it's my all-time favorite pantry meal.
mostly because it's the combination of sweet and savory flavors that are irresistible!
Using Rice, a can of Spam, a can of pineapple and some soy sauce even without any extras… this is delicious.
Now if you have some eggs, cabbage, green onions, carrots, and peppers, go right ahead and add them. This recipe is very accommodating to whatever you have on hand… but made with the first 3 simple ingredients and adding in some soy sauce, you've got a delicious meal and it's filling and flavorful. Just what you'd want if you don't have lots of options but have some staples on hand.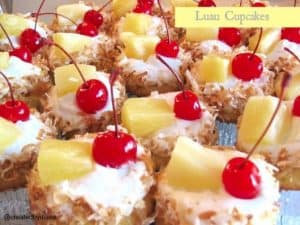 If you want a fun dessert idea to make with this Luau Fried Rice, make these Luau Cupcakes. You can use the leftover pineapple juice for them.
After being in Hawaii, I came back with all sorts of fun recipe ideas and I'm just getting around to make some of them. This was top on my list!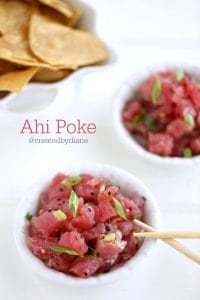 Ahi Poke was another, you can find that recipe here.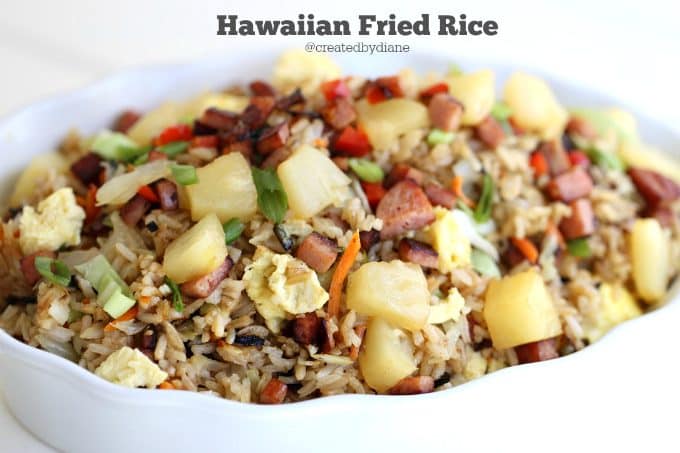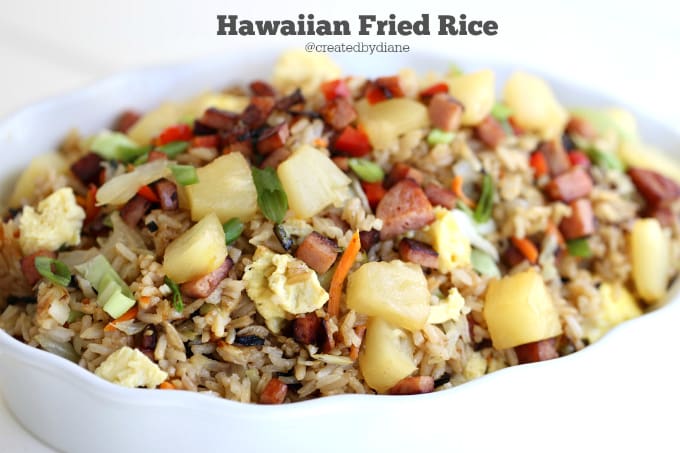 How can you make Chinese food at home?
Well, there are many easy ways to make your favorite TAKE OUT RECIPES at home, and THIS post is full of options and they are not just for Chinese food, although I have included 15…
Yes, FIFTEEN recipes on how I make Chinese take out at home. ANd the post is full of MANY more as well.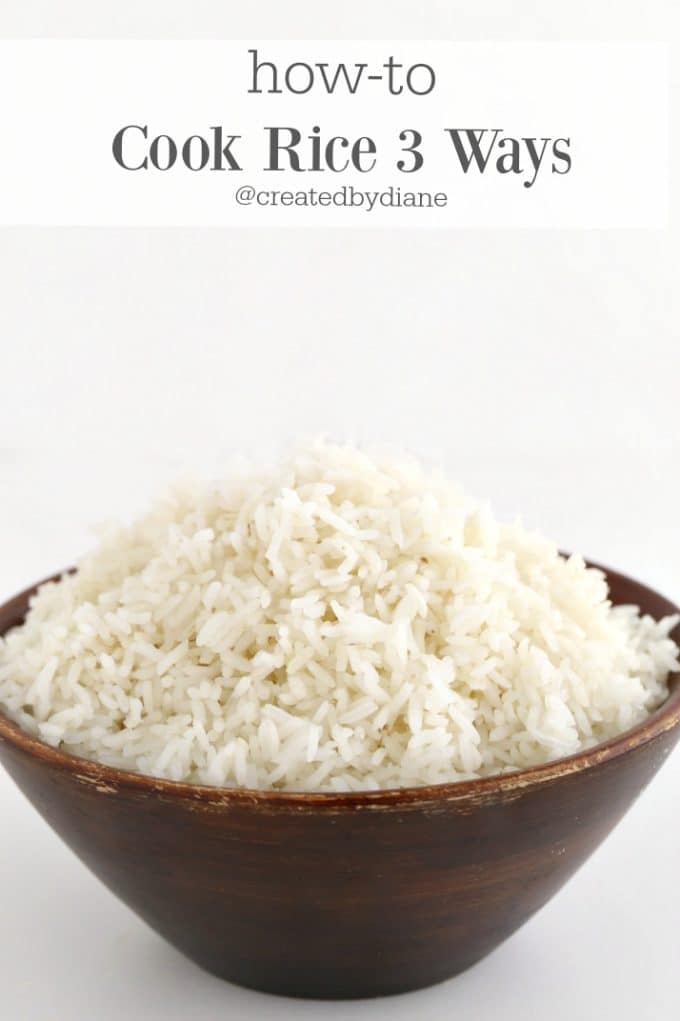 How should I cook rice?
Be sure to check out my post on how to cook RICE 3 ways. It's full of information and you may just find a whole new favorite way to cook your rice.
There are so many options on rice nowadays.  You can even buy rice fully cooked. Since it's already at room temperature it's just about perfect for making meals super fast! 
I do love regular long-grain rice for fried rice, and my other favorite is basmati rice.
In this Bacon and Egg Fried Rice Recipe, you can see how I make sure my rice will fry up nicely and OMG yes, I'm a huge fried rice fan!
And if you still want some more variety in your fried rice options you may want to see my Chicken and Sausage fried Rice.
Luau Fried Rice
Ingredients
1 1/2 cups long-grain rice
3 cups water
1/2 teaspoon salt
1/2 cup red pepper (sliced or diced)
6 green onions diced
4 eggs
1-14 oz can spam
1 1/2 cups coleslaw mix (or sliced cabbage and carrot)
3 tablespoons soy sauce
1 teaspoon garlic
1 teaspoon ginger
3 drops chili oil
2 teaspoons sesame oil
1 can pineapple chunks in juice (drained, reserve 1/4 cup for sauce) Cut pineapple smaller if desired
1/4 cup reserved pineapple juice
Instructions
Cook rice
Bring water, rice, and salt to a boil, then simmer on low for 15-20 minutes until tender.
Dice and cook spam.
Scramble eggs and cook them in a pan over medium heat.
Saute coleslaw mix with green onions and peppers.
In a large skillet heat, sesame oil with garlic and ginger for 1 minute then add in pineapple juice, soy sauce, chili oil, and heat until hot, add in the rice and saute on high, then add in spam, pineapple, coleslaw mix, green onions, peppers, and scrambled eggs.
If you want more ideas to use a coleslaw pack in sign up HERE for email updates from Created by Diane, I developed recipes using a coleslaw pack that are easy and delicious!