There are many varieties of Ahi Poke available while I was in Hawaii, back on the mainland….not quite as much. If you've enjoyed Ahi Poke in Hawaii or anywhere else for that matter you will LOVE this recipe.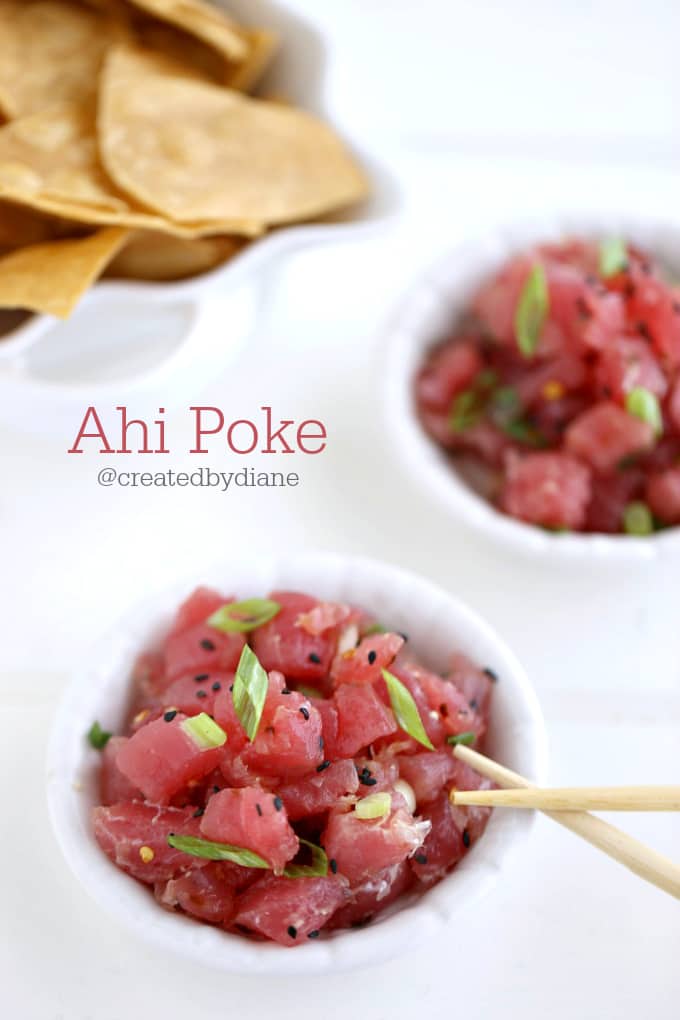 Ahi Poke
Don't miss one delicious recipe and get my FREE e-cookbook click here!
Poke is a raw fish salad, if this is not your thing, skip on over to my recipe tab here and find a sweet treat to feast your eyes on instead.
More for me I always say.
I am a sea lover! I love the water and I enjoy eating just about anything that comes out of it (within reason of course). I love fish, shrimp, clams, lobster, muscles, oysters… you get the idea.
I do love going out and eating sushi but have really no interest in rolling it myself. But oh this is SO EASY!
When I was in Hawaii I could not get enough Poke, I loved that it was available everywhere. We went into the grocery stores and they had many varieties, wasabi, spicy, tsunami, Cali roll, Shoyu (soy sauce) the bins of poke were endless.
Feel free to add any additives you like. Wasabi, spicy… add more crushed red pepper or sriracha, Cali roll, avocado, cucumber, carrot, and more green onion, shoyu (soy sauce) and if you find Aloha Soy Sauce… it's really yummy, the possibilities of varieties are endless.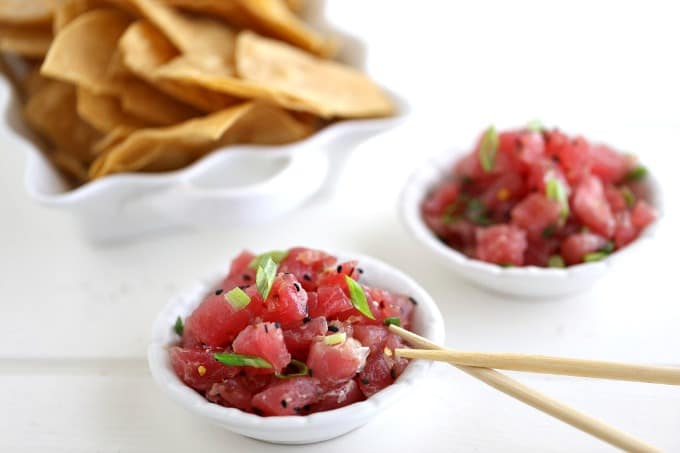 Grab some chopsticks and in no time you'll enjoy this delicious Ahi Poke!
You will also enjoy the Ahi Poke wrapped in lettuce leaves, over a salad, over rice, in an avocado, and one of my favorites with crispy chips, tortilla chips, and terra chips are great with poke, or simply enjoy it off chopsticks or a fork!
Ahi Poke
Ingredients
3/4-1 pound Ahi Tuna
1/2 teaspoon coarse kosher salt
1/8-1/2 teaspoon crushed red pepper
2 teaspoons sesame oil
2 diced green onion
1/4 teaspoon minced fresh ginger
1/2 teaspoon minced fresh garlic
1/4 teaspoon black sesame seeds
Instructions
Cut tuna into small pieces 1/2 inch cubes or smaller I find are great for having the flavors marinade into the fish well.
Mix in salt, crushed red pepper, sesame oil, onion, ginger, garlic and sesame seeds mix into fish well and chill in an airtight container for one hour minimum before serving.
Serve with tortilla chips, over cole slaw mix, in lettuce leaves or by itself, it's delicious.
Notes
*Consuming raw fish has risks, consume at your own risk.
I have found a poke mix available at a nearby store and tried it a few times and while it was flavorful and good, I really wanted to make it at home without having to purchase a mix. While my version does not have seaweed, it is really delicious and full of flavor.
If you are interested in trying the more authentic seaweed version…
This is the Ahi Poke Mix I purchased, I found it on Amazon.