Do you love the taste of Thai food and want to create some at home… This Easy Thai Peanut Chicken recipe is the perfect recipe to make. It's creamy, delicious, and packed full of amazing Thai flavors. It's ready fast and perfect for a weeknight meal.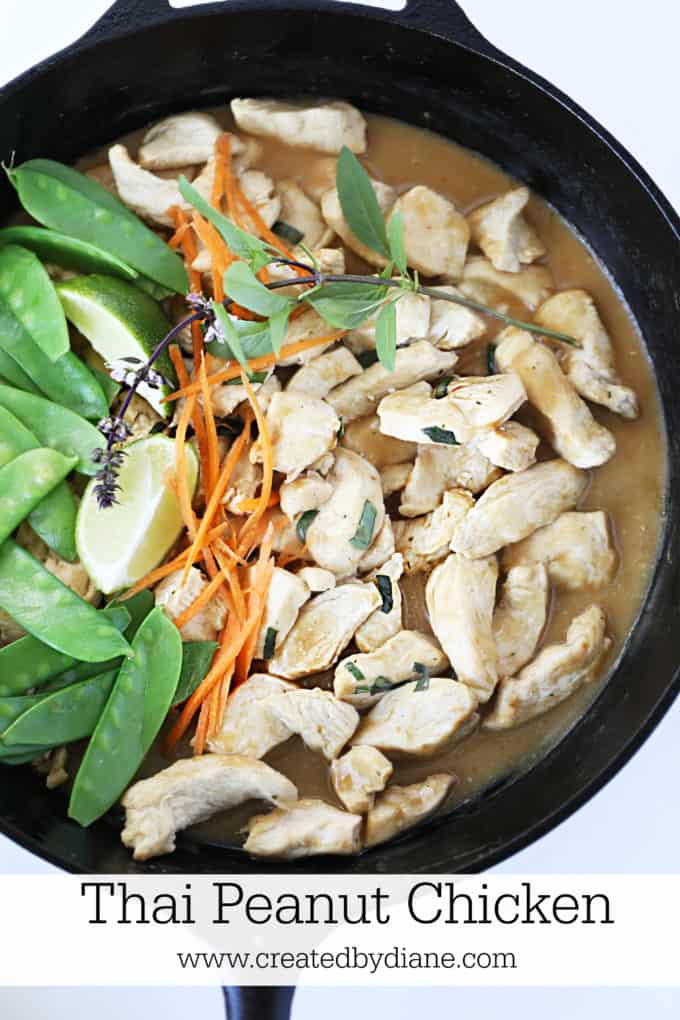 I'm not gonna lie… anytime we get to choose what type of food to order in and enjoy, my mind immediately goes to Asian food, especially Thai!
There's just something amazing about the flavor combinations. I honestly don't think that I've ever had a Thai dish that I didn't like…
but then one day I realized that a lot of these dishes are ones that I could be making myself at home so this is how this Thai Peanut Chicken dish was born. You may not see this Thai dish on a menu of a Thai restaurant, it has all the delicious flavors from some of my favorite Thai dishes.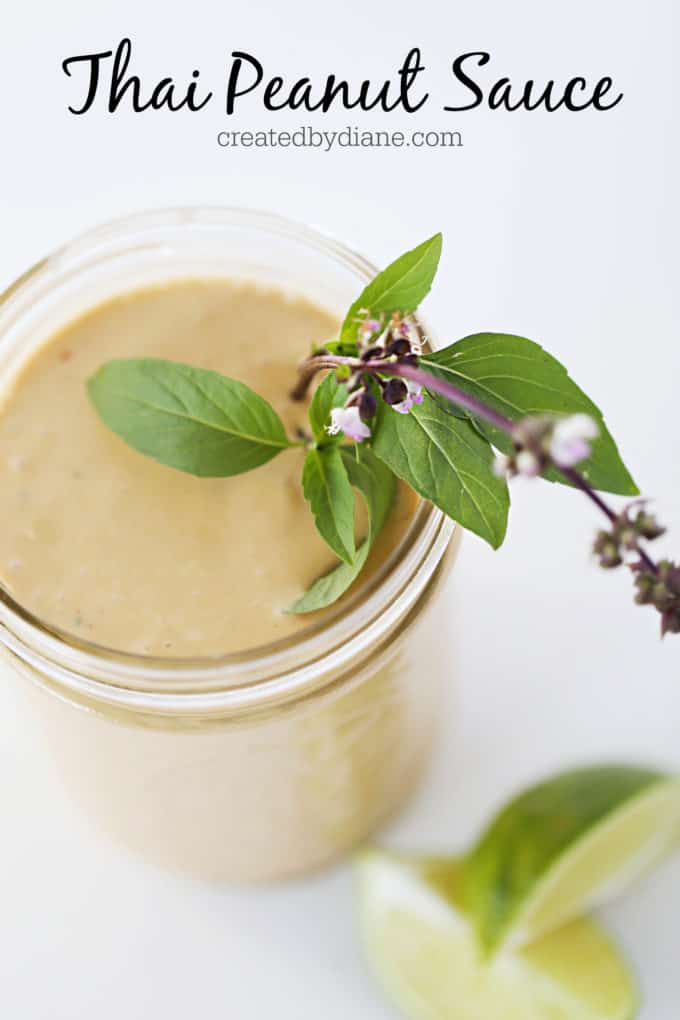 What is Thai peanut sauce made of ?
coconut milk
chicken broth
cornstarch
soy sauce
peanut butter
garlic
crushed red pepper
lime juice
Thai basil
If you're looking for a thick dipping sauce for wraps, cooked chicken, or veggies, leave the chicken broth and cornstarch out, mix the sauce in a blender and serve.
The printable recipe below is to cook the chicken, it's saucier with the chicken broth and cornstarch to thicken the sauce as it cooks.
Be sure to take a look at my other post on the peanut sauce, and its many uses, like spring rolls and OMG it's great on ice cream too!
What do you use peanut sauce for?
What can I additions can I make to this peanut sauce?
Ginger can be added for a fresh flavor, and to spice it up, add some chili oil, chili paste or more crushed red pepper.
Can this dish be made peanut-free?
Yes, I used peanut butter, but you can use your favorite nut butter in the recipe. And you can always top this dish with chopped peanut or cashews before serving for an added crunch.
How can I prevent the chicken from becoming tough?
Do not boil the sauce, a low to medium simmer is best. You can cook this in a pressure cooker, be sure to time it correctly if the chicken is cut small like in the skillet, it won't take long to cook.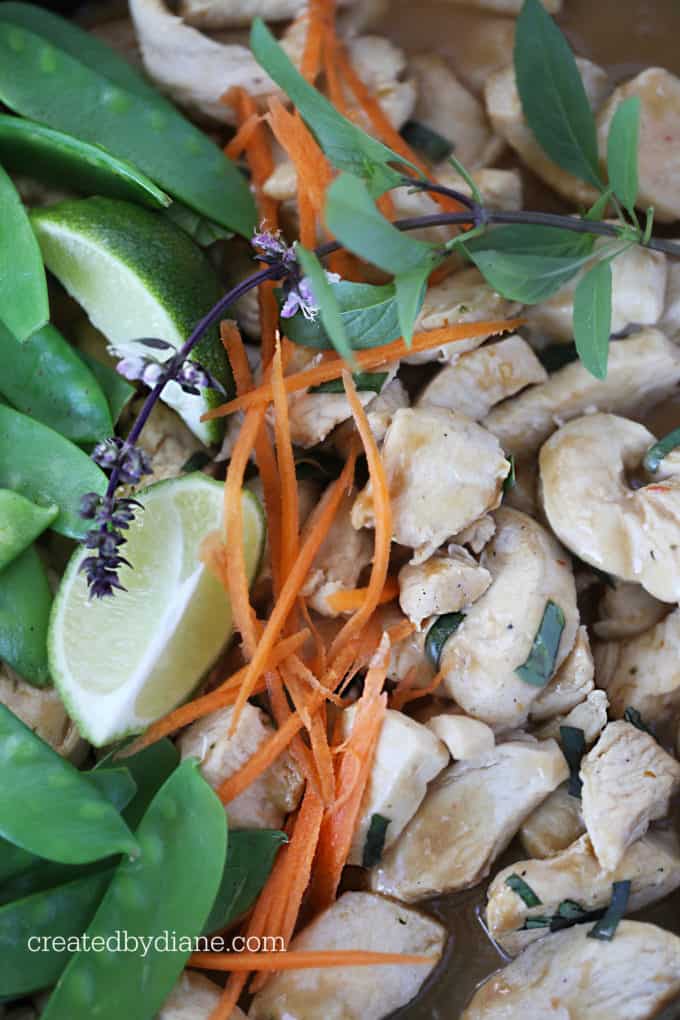 What should the internal temperature be for the chicken to be cooked fully?
In order for the chicken to be done completely, the internal temperature needs to be at 165°. Using a meat thermometer is the best pay to get the correct internal temperature. And so that you don't overcook it, it's easy to overcook boneless skinless chicken breasts, especially when they are cut into small pieces. Be sure to keep your eye on the temperature, and turn down the temperature medium-low.
How should I serve this dish?
This dish is great with vegetables like the snow peas shown, great with broccoli, carrots, and asparagus. 
You can also pour the sauce over pasta for a delicious noodle dish, rice noodles or angel hair pasta are great options, and this dish goes great over rice which makes this a meal one you'll want in your weekly rotation!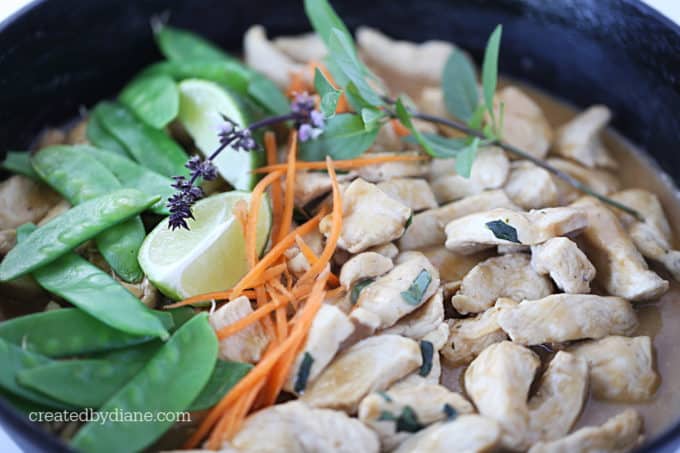 Once you make this Thai Chicken meal one time, you're never going to want to go out for Thai food again. It's just that good… and super fast to whip up. It'll save you time and money. It's less expensive to cook at home and in the time it would take you to order take out and have it delivered or pick it up, you could be digging your fork into this yummy dish. It's a win-win!
The combination of flavors and spices is certain to have you coming back for more. Gather up your family and friends and share this delicious recipe with all of them. They will surely become fans of this simple chicken dish as well.
And if you want to mix up the flavors, go ahead and add in a tablespoon of curry to this dish, YUM!
I cook most of my meals in cast iron and this is the skillet I have, use, and LOVE. I actually have 4 of them.

Thai Peanut Chicken
Ingredients
2 chicken breasts, sliced thinly (1.5 - 2 pounds)
1 cup coconut milk
1 cup chicken broth
2 tablespoons cornstarch
1 tablespoon soy sauce
2 tablespoon peanut butter
1 teaspoon garlic paste or minced garlic
1/8 teaspoon crushed red pepper
1 tablespoon lime juice
6 leaves Thai basil, chopped
Instructions
In a tall jar with an immersion blender or traditional blender add coconut milk, chicken broth, cornstarch, soy sauce, peanut butter, garlic, crushed red pepper, and Thai basil. Blend until smooth.
In a skillet heat sauce on medium-low heat, then add chicken.
Cook on medium to medium-low heat to cook chicken tender. Don't rapidly boil chicken, it will become tough.
Cover the pan with a lid while cooking.
When chicken reaches 165° internal temperature you can turn the burner off, and squeeze lime juice over the chicken.
Taste the sauce and add salt if desired.
Stir and coat chicken, and serve.
I add snow peas and grated carrots to the dish before serving. Add any cooked or raw vegetables you prefer. This dish is great with cooked broccoli, peppers, onions, and asparagus.
Top with fresh Thai basil.