This Turkey Banh mi Sandwich is so full of flavor. One bite and you will never look at a turkey sandwich the same way again!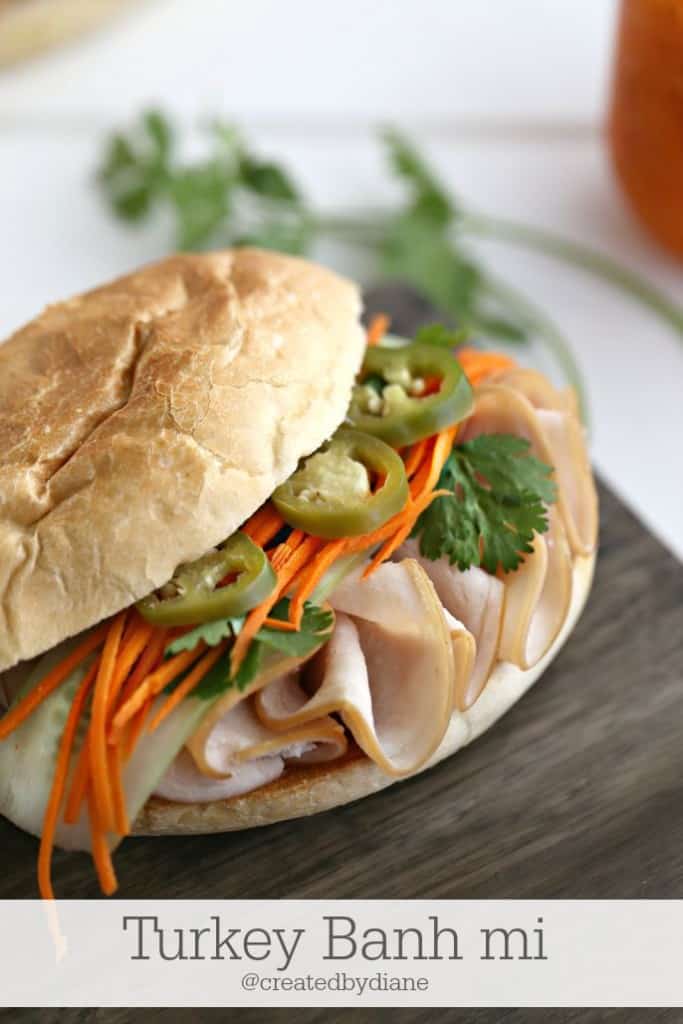 Turkey Banh mi Sandwich with Pickled Carrots and Jalapeños
Pin this on Pinterest to save it for later!
Follow Created by Diane on Pinterest to see some delicious recipes!
 This is the type of sandwich that you can enjoy each and every week, but there is nothing basic about it.
Actually it's so full of flavor it should come with a warning….
you know the type of warning like, be careful one BITE and you will be craving this sandwich ALL the time!
The better the ingredients, the better the sandwich.
Take a look at all those layers…that means there are lots of flavors and textures and to me that equals greatness.
One of the highlights of this sandwich is the pickled vegetables. They only take a few minutes to make and are SO worth it for all the flavor they have.
These pickled carrots and jalapeños are so good, I could just about eat the whole jar!
Once you have a jar of these made, you will find all sorts of thing to put them on, including salads, wraps and tacos. Don't you just love when things are multi-purpose.
Turkey Banh mi
Ingredients
2 rolls
8 oz package Foster Farms Natural Honey Roasted and Smoked Turkey
2 lengthwise slices from a peeled cucumber
cilantro
Pickled Carrots and Jalapenos (recipe follows below)
Instructions
There are two items to make ahead for this sandwich. They are easy and each only takes few minutes. They pack lots of flavor and are worth making for that extra deliciousness you know you love.
Be sure to print the Peanut Sauce Recipe and the pickled carrots and jalapeño.
Slice rolls and place under the broiler for a minute or two just until he bread is lightly toasted.This will give the bread a great texture and something for the sauce to hold onto (instead of running off or soaking in and becoming soggy)
Spread some peanut sauce on the bottom portion of the roll
Place the turkey on top of the sauce (don't skimp, add plenty of meat it's key to layering all the flavors and having a fantastic sandwich)
Next add a slice of cucumber.
Then add some pickled carrots and jalapeños
Top with fresh cilantro
Pickled Carrots and Jalapeños
Ingredients
4 carrots
1 jalapeño
1 cup water
1/2 cup rice wine vinegar
1 teaspoon sugar
1 teaspoon salt
Instructions
Julianne the carrots and slice the jalapeño
Place them in a glass jar (a 16 oz canning jar works best as it can handle the heat of the boiling liquid without breaking)
Bring the water, vinegar, sugar and salt to a boil.
Pour liquid over vegetables and allow to cool, then place lid on top and refrigerate.
You can use them within 30 minutes, but my preference is to eat them cold. I typically I make these the night before I make the Banh mi sandwiches (I also often make the peanut sauce the night before as well. It allows the flavors to come together)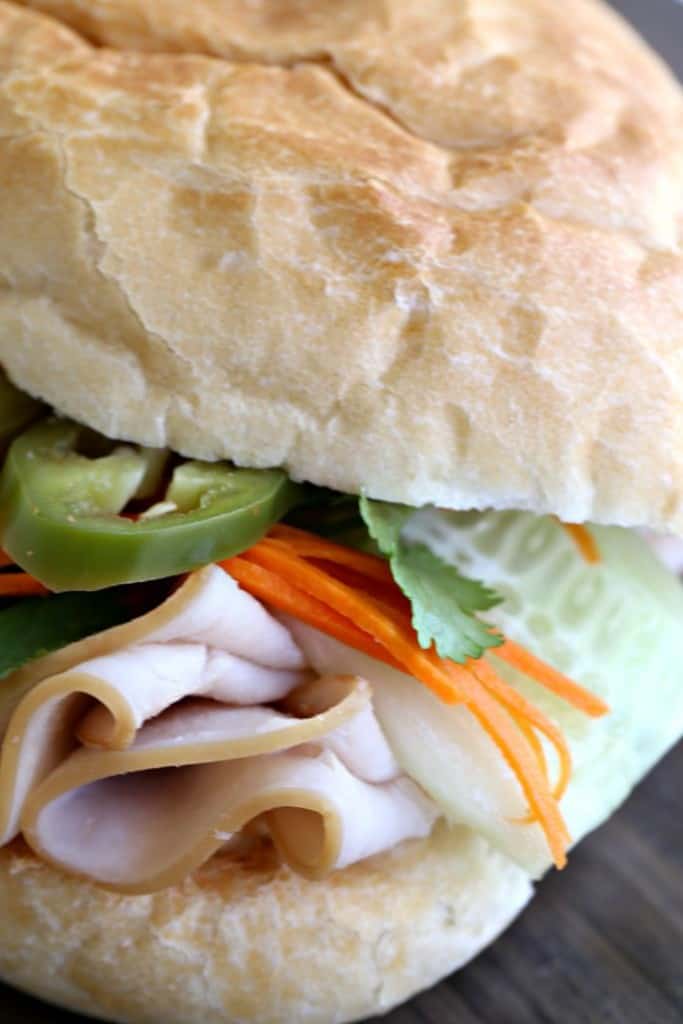 Slice the rolls in half, then spread on some peanut sauce (click here for my Thai Peanut Sauce Recipe) then pile on the turkey, don't skimp….there needs to be a good ratio between meat and bread.
Next you'll add a long slice of cucumber then top it with some of the pickled carrots and jalapeños along with fresh cilantro.
Don't you just want to GRAB it and TAKE a huge BITE!!!
This is a sponsored by Foster Farms All Natural Turkey Breast. All opinions are my own.