]Pumpkin Cheesecake Hand Pies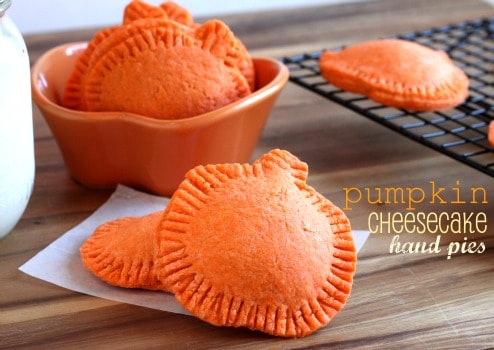 I just LOVE this time of year.
Everything is ORANGE, 
the weather is cooling off (well not really…it's still over 100 here) but I'm sure it's cooling off somewhere, where the leaves are turning colors and they have apple trees full of apples and hayrides through orchards.
To bring some FALL into these hand pies I thought it would be fun to color the pie crust orange,
and I LOVE it!
They look so pretty and festive and besides I won't be getting any real pumpkins until the week of Halloween. It's pretty hot here all October and…..well…..they rot in the heat after they have been picked. So these are going to have to do until then, or I'll have to come up with some other orange pumpkin ideas.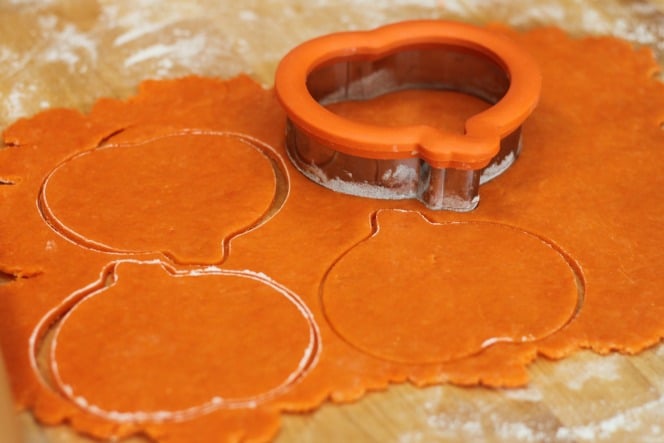 Prepare the pie crust and roll it out onto a floured surface and cut with pumpkin cookie cutter. (I used the Wilton Cutter)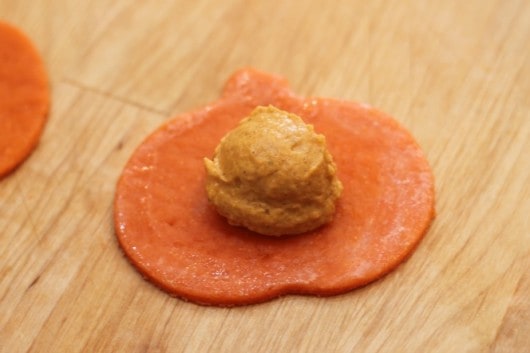 Place a tablespoon of pumpkin cheesecake pie filling into the center of half of the pumpkin pie cut outs, and wet the edges so the top pie pieces will stick to the bottoms pieces.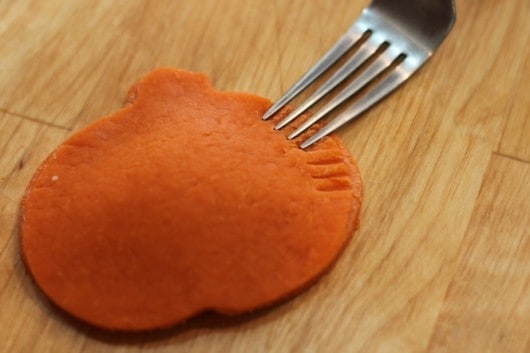 With a fork, press down the edges around the pumpkins so the filling doesn't come out.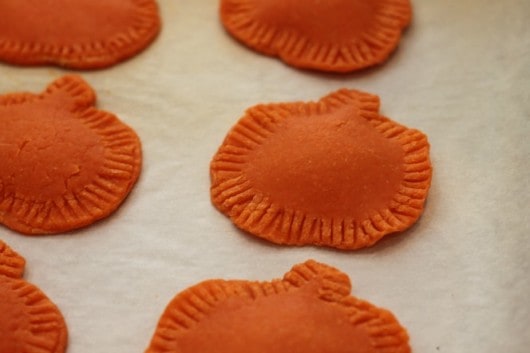 Place the pumpkin cheesecake hand pies on a parchment lined baking sheet and chill them for 10 minutes before baking.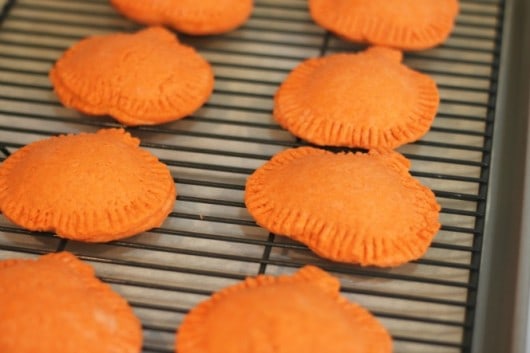 Enjoy these hot out of the oven!
Pumpkin Cheesecake Hand Pies
Ingredients
Pie Crust:
2 cups flour
1/2 teaspoon salt
2/3 cup shortening
5-6 tablespoons COLD water
1 teaspoon vanilla extract
5 drops orange food coloring (Americolor)
Pumpkin Cheesecake Filling:
1/2 cup room temperature cream cheese
1/2 cup pumpkin
1/4 teaspoon pumpkin pie spice
5 tablespoons sugar
Instructions
Place flour and salt into a bowl and cut in shortening with pastry cutter until it all resembles coarse crumbs.
Mix water with coloring and vanilla and add it to the flour mixture.
Blend until smooth, then roll out on floured surface and cut with cookie cutter.
Filling:
Beat cream cheese until smooth.
Add pumpkin, pumpkin spice and sugar until all blended.
Place a tablespoon of filling into the center of half of the pumpkin pie cut outs.
Place the other half of the pie crusts on top of the filling.
Wet the edges of the pie crust with your finger and then press a fork around the edges so the pie crusts stick together and are crimped.
Place the filled pie crusts into the refrigerator for 10 minutes
Bake at 375 for 20 minutes.
Maybe you'll prefer them with icing….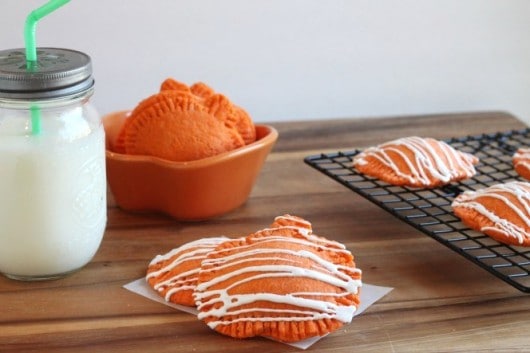 Icing: Mix 1 cup powdered sugar with 2-3 tablespoons water and a tablespoon corn syrup and drizzle the tops with icing.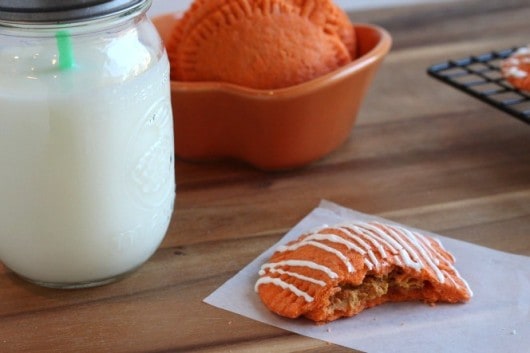 With all this chatter about pumpkin, and pumpkin cookie cutters are you ready for Fall to begin…
if so here are many, many more fun ideas to make with a pumpkin cookie cutter…..
Take a look: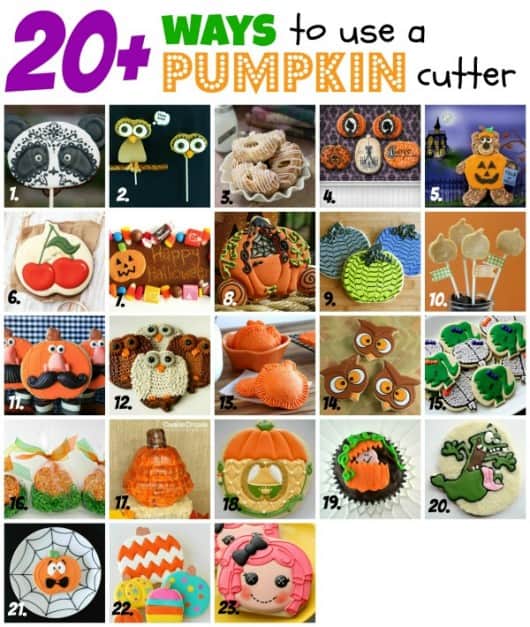 2. Owl S'mores on a Stick, Kitchen Fun with my Three Sons
3. Pumpkin Cheesecake Pasties, Bakingdom
4. Halloween Pumpkin Wall, Arty McGoo
5. Cocoa Krispies Trick or Treat Bears, Hungry Happenings
6. Creative Cherry Cookies, Lila Loa
7. The Ultimate Halloween Candy Bar, Dollhouse Bake Shoppe
8. Halloween Pumpkin Carriage Cookie, Trilogy Edibles
9. Easy Cheveron Pumpkin Cookies, Lizy B Bakes
10. Pumpkin Fudge on a Stick, The Decorated Cookie
11. Funny Face Pumpkin Cookies, Munchkin Munchies
12. Woodland Owl Cookies, The Bearfoot Baker
13. Pumpkin Cheesecake Hand Pies, Created by Diane
14. Wide Eyed Owl Cookies, Simply Sweets by Honeybee
15. Zombie Girl and Brains Cookies, Not Your Momma's Cookies
16. Cookie Cutter Pumpkin Fudge, The Partiologist
17. 3-D Pumpkin Cookie, Cookie Crazie
18. Faberge-Style Pumpkin Coach, Oh, Sugar Events
19. Peek-a-Boo Pumpkin Cupcake Topper, Sweetology 101
20. Slimy Green Ghost Cookies, Pink Little Cake
21. Silly Pumpkin Face Cookies, Klickitat Street
22. Pretty Painted Pumpkin Cookies, Glorious Treats
23. Lalaloopsie Cookies with a Twist, SweetSugarBelle
A BIG thanks to Callye (Sweet Sugar Belle)  for organizing this, it was great fun to participate and I just LOVE all the clever ideas everyone came up with.