Pumpkin Spice, oh the aroma….. the name alone makes you think you can smell the yumminess!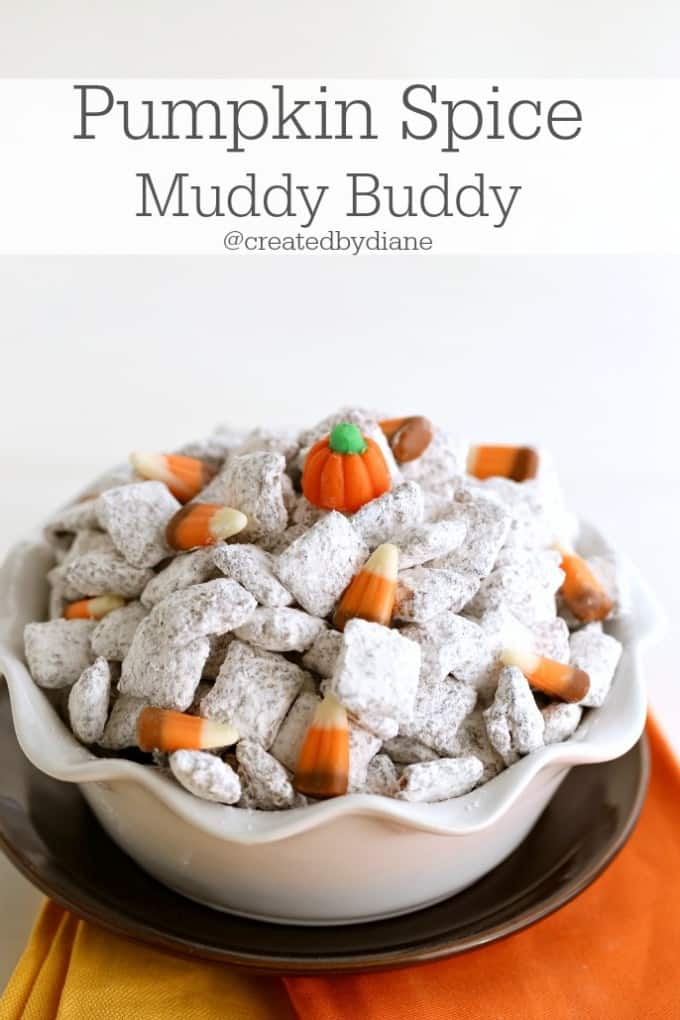 Pumpkin Spice Muddy Buddy
Pin this on Pinterest to save it for later!
Don't miss one delicious recipe and get my FREE e-cookbook click here!
Fall would not be complete without a fun Pumpkin Spice Treat, says me!
This is so easy and delicious, and as addictive as crack…
so I'm told.
In minutes,  you can enjoy this no bake, no cooking, so fuss treat.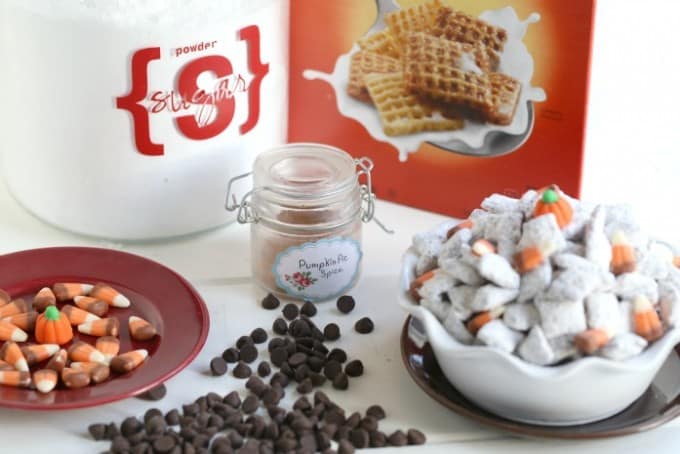 You'll need a box of cereal, I like a honey nut or cinnamon cereal for this (Chex work well for this)
Grab your favorite chocolate, I like dark chocolate, but made a batch with milk chocolate and it was super delicious too. If you are a white chocolate fan, you can use white chocolate or orange candy melts and that will give the cereal an orange coating before the powdered sugar, which looks pretty.
Next  you'll need the pumpkin pie spice, you can find my recipe for my favorite mixture of Pumpkin Pie Spice Here
And then the powdered sugar.
Pumpkin Spice Muddy Buddy
Ingredients
1 12oz box Chex cereal (I loved the honey nut with this. I also used the cinnamon Chex, that was very cinnamon, so only use that if you love cinnamon. I think the pumpkin spice was more of a hit on the honey nut cereal)
1 12 oz package chocolate chips
2 cups powdered sugar
3 tablespoons graham cracker crumbs
3 teaspoons + 2 teaspoons pumpkin pie spice
candy corn/pumpkins for decorations
Instructions
Place cereal in large bowl
In microwave proof bowl melt chocolate for a minute or two.
Heat it for 30 seconds, stir it, heat it for 30 and stir and continue until it's all melted.
Mix 3 teaspoons of pumpkin pie spice along with the graham cracker crumbs into the chocolate, then pour it over the cereal with a wooden spoon or spatula. Stir to coat the cereal completely.
Add 2 teaspoons of pumpkin pie spice to the powdered sugar and pour that over the chocolate coated cereal. Toss until all the chocolate on the cereal is coated well. Add more powdered sugar if needed.
Use a strainer and place the mixture into the strainer to remove the excess powdered sugar.
It's ready to serve. Decorate with candy corn/pumpkins if desired.