What is it about seeing a bowl of nuts…. I kinda go nuts for them.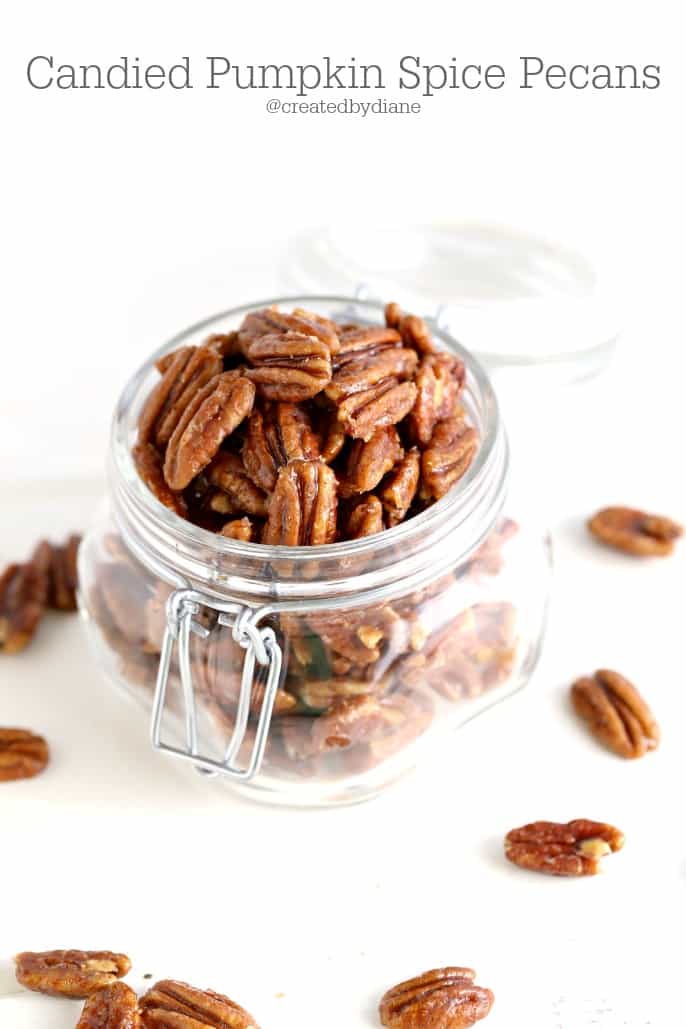 Candied Pumpkin Spice Pecans
Don't miss a single recipe created by Diane, sign up for email updates and get every delicious recipe
delivered to your inbox. Plus get my FREE e-cookbook. Click here.
It's such a perfect snack and with the added flavor of pumpkin pie spice,
these will be your favorite from now until at least spring flowers start popping up!
Everyone enjoyed the warm spicy flavor and the sweet coating.
They were really irresistible.
Candied Pumpkin Spice Pecans
Ingredients
2 cups whole pecans
1/4 cup water
1/3 cup sugar
1 1/2 teaspoon pumpkin pie spice
1/2 teaspoon coarse salt (if desired)
Instructions
In saucepan heat water and sugar along with pumpkin pie spice
place pecans in sauce and mix well and cook for 1-2 minute to coat pecans well.
Place pecans on parchment or wax paper lined baking sheet and let nuts cool and candy coating harden.
Salt the nuts for a sweet and salty flavor before candy coating hardens.
Click here for my Pumpkin Pie Spice Mix Recipe