Pumpkin Mocha Donut Cake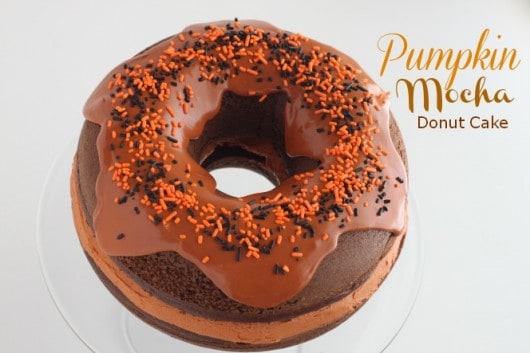 If you like donuts….
and coffee….
and pumpkin….
well then you have stopped by the right place today!
It's a Pumpkin Mocha Donut Cake.
It has all the delicious flavors of a Pumpkin Mocha, mixed with the best parts of a filled donut and yes there are cute sprinkles on top as well! It's cuteness overload.
One whiff of this and you will want it for breakfast every day of Fall.
It's a donut so it's perfectly acceptable to eat it for breakfast! Trust me!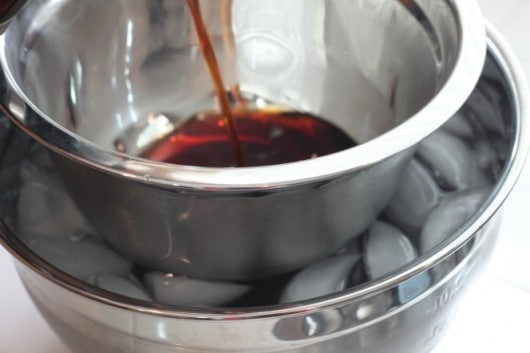 To cool the coffee quickly so you can add it to the cake mix and frosting, place the coffee in a bowl over a larger bowl full of ice water. It will cool the coffee very quickly, otherwise if you add hot coffee the eggs will begin to cook in the cake batter, and the butter will melt in the frosting. If you have leftover coffee, pour it over ice with some milk or cream and enjoy a homemade  iced coffee.

Pumpkin Mocha Donut Cake
Ingredients
1 box German Chocolate Cake Mix
1/2 cup coffee, brewed with 16 oz water.(I used Starbucks Italian Roast)
3 eggs
1/2 cup pumpkin puree
2 tablespoons oil
2 teaspoons pumpkin pie spice
Instructions
The strongly brewed coffee will replace the water in preparing the cake mix and also be used for the frosting for the filling and the icing.
Mix cake mix with 1 1/4 cups strong brewed cooled coffee, oil, pumpkin, pumpkin pie spice and eggs on low for 30 seconds then medium for 2 minutes.
Spray cake pans with baking spray.
Split batter into the two donut pans or this could be baked in a bundt pan and cut across the middle to add the filling.
Bake the two donut pans for 25-30 minutes on 325 as they are dark coated.
Cool cake for 10 minutes, then turn out to cool completely on wire rack.
Frosting for filling:
half cup butter
one and a half cups powdered sugar
two tablespoons strongly brewed coffee
quarter teaspoon pumpkin pie spice
a few drops orange food coloring
Mix until smooth and spread onto the evened cake and place the other piece of cake on top.
Icing on top:
one cup powdered sugar
one tablespoon cocoa
one teaspoon pumpkin pie spice
one tablespoon strongly brewed coffee
(a few drops of white food coloring lightened up the dark brown to a pretty color)
Pour the icing on top of the cake and add sprinkles.
Notes
If you bake this in a bundt pan, check package for baking time.
This could also be baked in two 8" round cake pans. If you'd like the frosting or icing thinner add a teaspoon of water at a time until desired consistency is achieved. If you prefer frosting or icing thicker add more powdered sugar.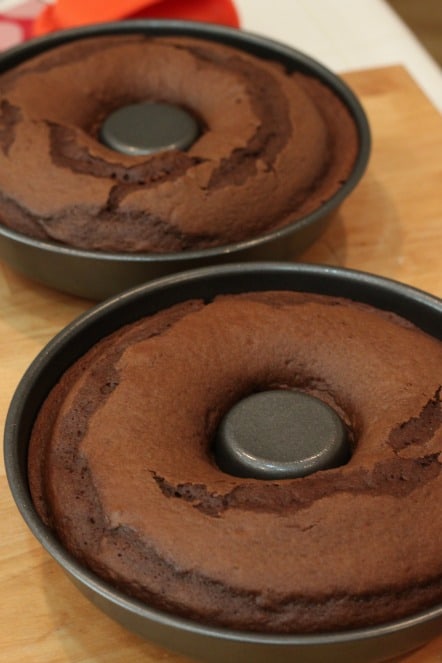 As soon as I saw these cute Entenmann's Jumbo Donut Cake Pans I just had to have them, I love baking donuts and couldn't wait to make a donut cake. Will it being October and the unofficial PUMPKIN month is sure seemed like a good idea to make it a cozy warm Pumpkin Mocha flavor.
I evened off the cakes a bit so they would be flat when the filling was added and yeah I had fun eating the parts I cut off, you know quality control and all….I have to test them, right?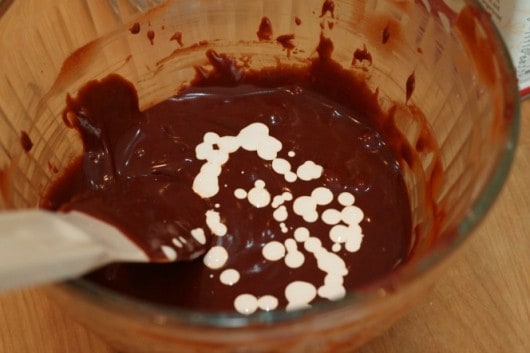 After I made the icing, it was just a little darker in color than I wanted, so I added some white food coloring to brighten it up a bit and it turned out just how I would have imagined a Pumpkin Mocha color would look, all warm and full of the colors of Fall.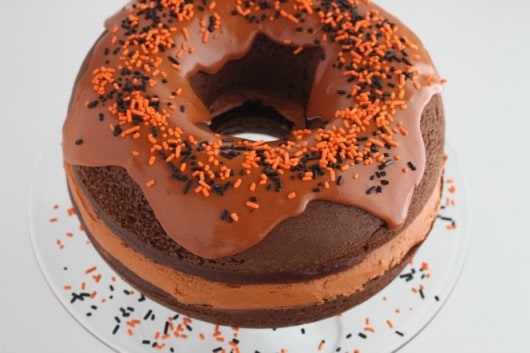 What is your favorite part about Fall, is it the cooler weather, the leaves all turning colors, or is it all the yummy Fall flavors?